The goal of any good fat burner is obvious, it's to help you get the body that you really want. As you'll probably know there's a lot of supplements and vitamin products which don't do what they say they will, meaning you won't see any results.
Recently we've been looking at the best fat burners for women. In this Leanbean review we'll give you a better idea of the benefits of this product and whether it works.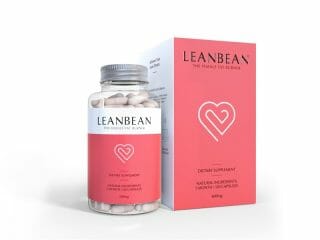 What is the Leanbean Fat Burner?
Leanbean is a female fat burner supplement made purposefully to be used with an athletic training program. The company behind the product advertise it as the first fat burner properly formulated for women.
Leanbean claims to help remove fat from all over the body. As we know for women some of the worst spots to tackle include the arms, thighs, and butt.
Leanbean is not designed to help you build muscle although everyone knows that burning fat involves getting a more defined body. The aim is to change the balance between your muscle and fat content and create a shape that is a lot more toned overall.
What's in it? 
Here we review Leanbean's ingredients. Its contents mean it's suitable for women for a number of different reasons;
High in appetite suppressants – As women are liable to snack more than men.
Uses natural caffeine – Does not include high stimulants found in many bodybuilding supplements.
Includes Estrogen balancing ingredients – Turmeric, Vitamin B6 and B12 act against adverse effects of Estrogen.
Leanbean includes Garcinia Cambogia and Raspberry Ketones with the clear target of reducing your cravings and stopping you cheating with your eating habits. Aside from these ingredients, Glucomannan adds more discipline into your diet, this extract is great for helping you feel full.
When it comes to metabolic rate and thyroid stimulation Leanbean does not use Caffeine Anhydrous, however, it does use Green Tea, Cayenne Pepper and Green Coffee Extract. These natural ingredients raise your body temperature through thermogenesis a process which is well known for helping you burn fat.
It's an overlooked fact that if Estrogen increases too much in the body then it means your fat percentage goes up. Some natural ingredients like Turmeric and Vitamin B and even Green Tea have shown promising results at helping you manage this properly. Leanbean includes big doses of all three.
To round it all off there's a good mineral and antioxidants content with Chromium and Zinc thrown into the package. These are meant to improve your resistance to carbohydrates by improving the performance of insulin.
Is it Effective?
Regardless of what's in the product, can a fat burner really make a difference?
If the science is to be counted on then Leanbean does seem to be one of the most effective choices. The combination of the ingredients and the different roles given to each one result in a super quick shred.
This supplement's effectiveness is driven by having a deep root in appetite suppression, as scientists are now saying that girls are likely to be hit by cravings more than the guys.
Those users that work out will more than likely be requiring some extra energy and the mixture of Green Tea and Green Coffee is included exactly for that reason.
The stimulant properties of Cayenne Pepper add another thermogenic boost. The idea is to raise your body temperature and to keep it elevated for regular periods in the day, as the heat is what is needed in order to help you burn calories.
Dosage
Leanbean's four capsules a day are taken separately, this makes sure you get a new boost once the last capsule has been broken down fully by the body. Here is a breakdown of what's listed in the supplement facts table;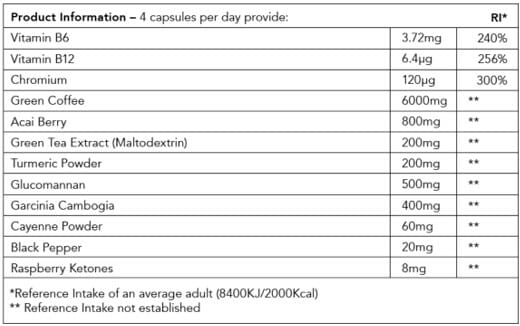 Can you simply take Leanbean lose weight?
The point of a good fat burner is that you'll burn more calories, it's not a free pass to hit the fridge, however. If you do this you won't see the benefits. These supplements exist to help you take a cut one step further, for high-quality results you'll need to remain focused on your diet and exercise.
What certifications has Leanbean got?
Leanbean is made in the UK and US so the exact certifications can vary a little depending on what country you're in.
However, the main thing to know is that the product is certified GMP meaning it's made according to a high standard of manufacturing practice. It's also produced in FDA certified facilities which ensures every finished unit is made to the best quality possible.
Side effects?
Generally, the ingredients found in Leanbean are easily withstood by the body. However, Cayenne Pepper and Green Tea can both create a feeling of heat in some people, this may come to the fore during exercise and might cause you to sweat more.
Money-back Guarantee 
Leanbean comes with the option to try it for 90 days if it doesn't deliver the results it says it will then you can send it back for a refund.
According to the terms and conditions however, you must have bought the three month supply and taken it each day as directed in order to qualify for the guarantee. There are a couple of other obligations as well, in that you do need to have done at least some exercise and attempted to stick to healthier diet during this time
A good deal?
Leanbean sits somewhere toward the top end of the market when it comes to price, the cost isn't obscene though, there are a few competitor products that are significantly higher than this;
Pricing
1 month – 120 caps:$59
2 months – 240 caps (USA and UK):$118
Bikini Body Bundle: 3x months of Leanbean + 1 free box, 1 workout guide + Free worldwide delivery,$177
90-Day money-back guarantee.Read terms of use on the website.
The three-month bundle comes with a fourth bottle added for free as well as a training guide.
Leanbean Summary
Pros
Designed for women in 3 ways: Curb appetite, natural stimulant boost, Estrogen Block
Clever Formula: Attacks fat & enhances performance from all angles
Based on science. A number of the best fat burners in 1 capsule.
Honest doses: Doses of each ingredient listed transparently on the label.
Tailored. Specifically created for fitness models' fat burning needs.
Feminine bottle: Finally a supplement that's been made only for women
Positive reviews – Loved by customers
Cons
Final Say on Leanbean
It may come in a pretty box but don't be misled this is a custom formulation that means business. Smartly adapted and crafted for women, this popular fat burner has multiple benefits which mean it can work whatever your goal. Looking to halt your hunger sensations in their tracks? Then this product offers the fat burning fiber to get your appetite on a tight leash.  More focused on powering up your workouts? Leanbean has been designed for athletic competitors, meaning it will provide the required energy to help you feel that energy burst in the gym.
If you found this review helpful and want to learn more about this supplement including customer testimonials?
Website: www.leanbeanofficial.com
(Visited 132 times, 1 visits today)