(Last Updated On: March 11, 2022)
While our bodies are tremendous machines with many powerful uses, that doesn't mean they are perfect. Over time, we stop producing compounds at the same rate as before. Our energy levels slowly decrease, our metabolism starts to slow down, and our bones become more brittle. This is just a fact of life and something that will happen, no matter how clean you eat or healthy a lifestyle you live.
The only way to slow these debilitating aspects down (and in some cases, actually reverse them) is by taking supplements. And while all supplements have their benefits, one of the more unsung heroes out there is collagen supplementation. Collagen, more than any other aspect of our biology, plays a profound role in our bone and joint health as well as our skin vitality.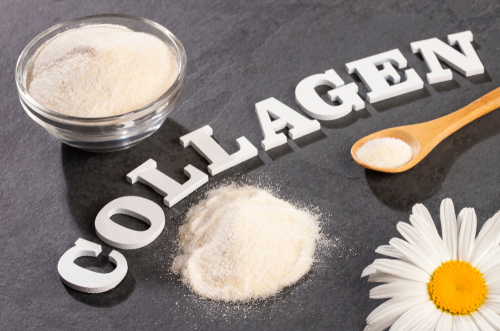 By taking quality collagen supplements, you can begin rejuvenating the skin, strengthening the bones, and making your body healthier and stronger than it may have been for years (and even decades) previously.
However, the keyword to this was the word "Quality". There are a lot of different collagen supplements there, with only a few delivering on what they promise. In this overview, we've found 11 of the Best Collagen Supplements on the market today, with all of them shown to present incredible results. If you are interested in transforming your life and seeing dramatic shifts in your physical health, look over these amazing supplement options and see which is best for you.
11 Best Collagen Supplements
Collagen Hydrolysate by Transparent Labs
Best Collagen Overall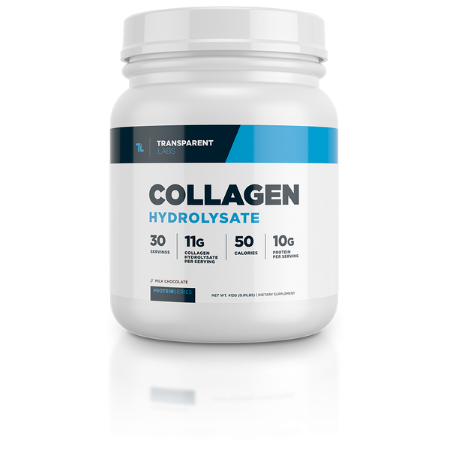 Transparent Labs has put together some impressive supplements in the past. Their Collagen Hydrolysate Protein Powder is no exception.
Made with some of the highest purity levels currently on the market to date, Transparent Labs' collagen powder works to greatly reduce wrinkles and worn skin while significantly improving bone and joint health.
Whether you're an athlete, someone who's noticing a few more wrinkles across their brow, or just a person that wants to get a jump on their overall health, taking Transparent Labs' Collagen Hydrolysate Protein Powder is the best option out there.
Pros
Ideal For Resisting Wrinkles
Great For Overall Health
Helps With Skin, Bone, & Joint Health
Offers 10 Grams Of Protein Per Serving
Cons
Available at: TransparentLabs.com
Kylea Collagen Peptides Powder
Another Great Collagen Peptide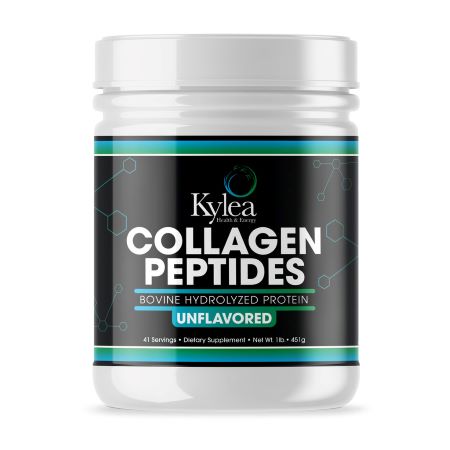 Kylea Collagen Peptides is, without a doubt, one of the best options for collagen peptides on the market. Packed with 11 grams of grass-fed pasture-raised hydrolyzed collagen, Kylea Collagen works to improve the body while never including any soy, gluten, or GMOs into the system.
The same goes for any artificial additives or sweeteners. Kylea Collagen prides itself on putting together a top-of-the-line product that everyone will love.
Each serving of Kylea Collagen comes with 10 grams of protein as well as 18 different amino acid profiles, all of which work to dramatically improve your physical body tremendously.
As you see, there are many other great working collagen options on this list. However, I'd be lying if I didn't say that, even among this list, Kylea Collagen is a stellar option worth considering.
Pros
Fully Supports & Strengths Bones And Joints
Helps To Restore Hair, Skin, And Nail Growth
Reduces And Eliminates Bags & Wrinkles
Is Entirely Gluten, GMO, And Soy-Free
Contains No Artificial Chemicals Or Sweeteners
Uses hydrolyzed collagen derived from grass-fed pasture-raised cows
Cons
Is Not Available In Offline Stores Or Retail Chains; Must Be Purchased Online
Related: Best Diet Pills on the Market for Women
Glow-Getter Collagen by Cira
Best Collagen for Women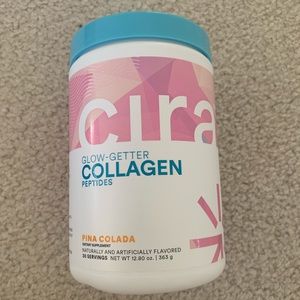 While there are a ton of supplemental options on this list (all of them great, mind you) that doesn't mean they will all work the same or have the same level of effectiveness for everyone. Specifically for women, though standard collagen peptide options can still work well enough, it may be worth it to look into something that more effectively targets the unique physicality of the ladies.
This is where Cira Nutrition's Gl0w-Getter comes in. Designed particularly for the female body, Glow-Getter Collagen is an incredibly high-quality supplement that works to improve the body's overall health and wellness, both internally as well as for training and performance. As such, women of all ages, body types, and activity levels will see tremendous improvements with Glow-Getter, all without taking in the excessively high levels of collagen and protein that are in other brands.
It may seem odd that you take "less" protein in your collagen, but the female body needs considerably less in comparison to a man, often metabolizing it out of the system anyway. Cira also makes its taste a great option, offering three different flavors (Pina Colada, Strawberry Kiwi, and Unflavored).
If you're a lady and want to enjoy a beverage that tastes amazing while also greatly improving your overall health, Cira's Glow-Getter is an option you should look into.
Pros
Has Some Fun & Tasty Flavors
Part Of An Established And Reputable Company
Greatly Improves Skin, Nails, Hair, And Physical Performance
Cons
Contains Some Artificial Flavorings
Only Available From The Website
Price Is Just A Little High For Its Service Size
Available at CiraNutrition.com
Berry Gen Restore
Best Collagen With Antioxidants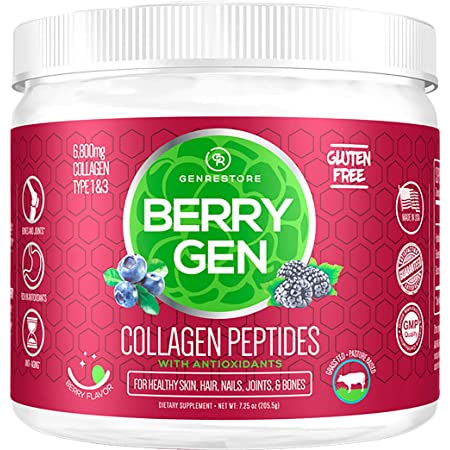 If you've been looking for a collagen option that works to improve more than just your bones, joints, and skin, then you may just have found what you're looking for with the Berry Gen Restore.
This supplement marries together the incredible benefits of collagen with the well-researched and studied effects of antioxidants. Ultimately, this has resulted in a supplement that significantly improves weight loss, the immune system, and one's sleep & overall energy in addition to all of the other aspects from collagen.
The Berry Gen Restore is 100% natural. It has helped numerous people reach their health goals as well as proving vital in the attaining of their ideal bodies.
Pros
Tastes Amazing
Does Help Revitalize You
Contains Blue Berry & Black Berry Extract
Works Great For Smoothies And Yogurt Bowls
Cons
Very Pricey
Does Contain Sucralose
Only Has 6.2 Grams Of Collagen
Vegan Collagen Booster by Future Kind
Best Collagen for Vegans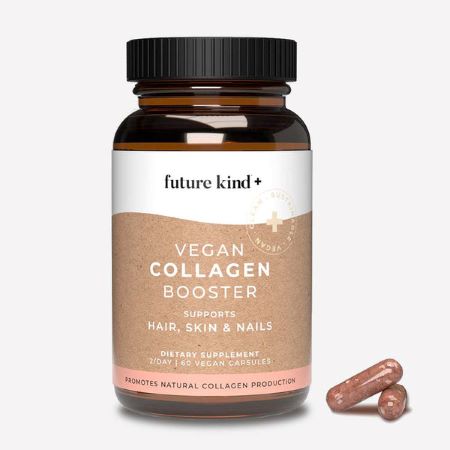 Considered, by far, one of the best collagen supplements out there – especially for vegans – the Vegan Collagen Booster by Future Kind is a 100% vegan supplement that makes things as transparent and easily understood as possible. Rather than hide behind "proprietary blends" (which are just there to hide what's actually in the product), Future Kind puts it all out there on display, so you know what you're putting in your body.
But how can you expect to get quality collagen from vegan sources? Well, Future Kind has you covered there as well. Each bottle comes with 30 servings of vegan capsules containing as many as 16 different nutritional ingredients. Below is just a brief list of what's included and how it can help your body:
Amla Extract: An ancient medicine with a lot of history attached to it, Amla Extract has been shown to help with skin hydration and some cancer-fighting properties.
Aloe Vera Plant Extract: Another plant product that hosts certain compounds that fight bacteria growth and works to treat skin problems and topical wounds.
Grape Seed Extract: A vegan collagen ingredient if there ever was one, grape seed extract improves blood flow in the body while also boosting collagen synthesis, thus granting the skin much more protection.
Though hardly the cheapest option on this list, Future Kind excels by putting together a list of ingredients that have been proven to aid in collagen and skin repair. If you can, strongly consider looking into what they have to offer.
Pros
100% Vegan
Is Completely Transparent With No Proprietary Blends (You Know Exactly What You're Taking)
Hosts Over 16 Natural And collagen-boosting Nutrients, All Of Which Very Potent
Cons
Price Is Certainly Not Cheap
Orgain Keto Collagen Protein Powder with MCT Oil
Best at a Drug Store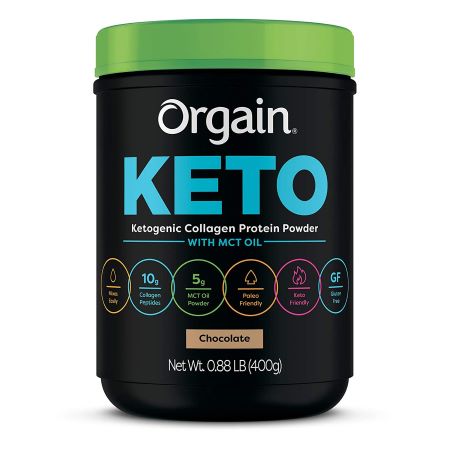 There are a lot of different collagen products out there on the market today. That said, one of the biggest pitfalls that you'll need to be on the lookout for is the inclusion of certain sugars and sweeteners.
While miraculous for the body, collagen can tend to have a bit of a rough aftertaste on its own and is often treated with some sugary flavors to improve the quality of the taste, especially when not taken as a capsule or pill.
This becomes a bit of a problem for those looking to improve their physical build while also performing a ketogenic lifestyle. Keto-friendly foods and supplements are packed with protein while containing very few carbs or sugars.
If you are looking to stay on the keto train while also enjoying benefits to your skin, hair, and nails, there are only a small few that can accommodate you. Orgain is one of those few.
Orgain Keto is a great option that is very much a keto-friendly alternative for those who want all the amazing benefits of an improved collagen-based body and those who want the ease of going to the store and picking up a great product without waiting on weekly shipping times. Orgain also gets much of its benefits from over 5 grams of MCT oil powder. This boosts one's fat content (another essential for keto followers) while also speeding up one's metabolism by helping them quickly digest and break down the MCT in their body for energy and benefit.
Orgain Keto is a stellar option for anyone serious about their body's health while also not interested in taking in a ton of sugars and carbs. It's reasonably priced and even comes in a chocolate flavor so you won't miss out on the taste factor either.
Pros
Completely Keto-Friendly
Reasonably Priced
Tastes Very Good Despite No Sugar
Offers All Of the Collagen-Based Benefits Along With The MCT-Based Benefits
Is Available At Stores
Cons
Only Has One Flavor To Choose From
NutraCollagen Collagen Maximizer
Best Unflavored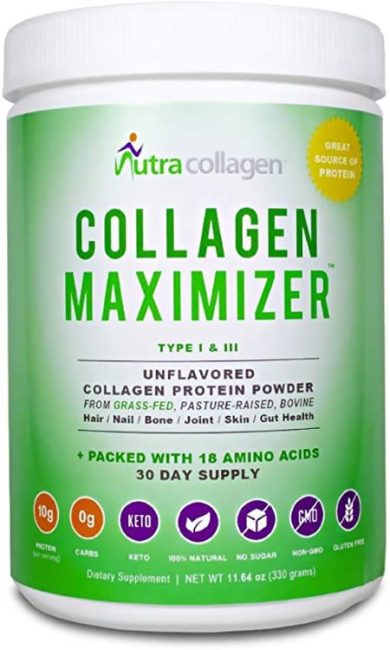 For most people, taking collagen by itself, there is always an issue of taste that they'll have to contend it. At the best of times, unflavored collagen simply tastes like "chunky water". Meanwhile, the collagen's texture can be distractingly bad in other instances, making it downright impossible to finish.
NutraCollagen fixes this issue by making something that is so pure and free of any additives and chemicals that the result is a very healthy product that is very good for you and something that tastes surprisingly good and smooth as well.
If you want all the benefits of collagen while not having to bog yourself down by excess flavors and sweeteners, strongly consider checking out what NutraCollagen has to offer here.
Pros
Surprisingly Affordable For What It Offers
Is Vegan and Keto Friendly
Has No GMO or Gluten
Cons
Not Ideal For Those That Want A Drink With Flavor
Vital Proteins Natural Whole Nutrition Collagen Peptides
Best Collagen on Amazon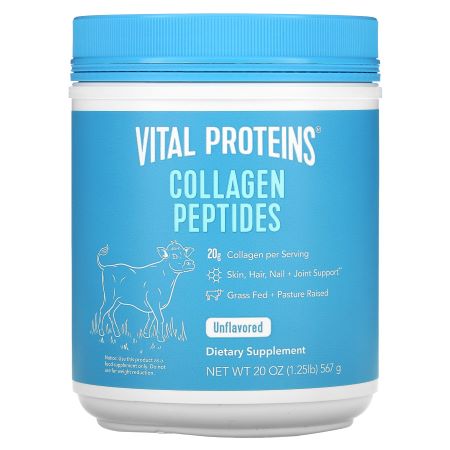 For those looking to get a real boost of collagen per serving, look no further than Vital Proteins Collagen Peptides. This collagen supplement takes the natural amount of collagen per serving and doubles it. This means you're getting double of all the benefits to your hair, skin, nails, and overall body. In addition, Vital Proteins adds hyaluronic acid and vitamin C to their supplement, furthering its tremendous health benefits.
Vital Proteins supplement is made without any gluten or dairy products, nor are there any added sugars included. Simply put, if you're looking for something that tastes good, is jam-packed with collagen, and has a dramatic role to play on your health, Vital Proteins is a great option to check out.
Pros
Offers 20 grams of Collagen Per Serving
Is Whole30 Approved
Uses hyaluronic acid
Very Affordable
Has A Full List Of Amino Acids, Including Arginine, Serine, Leucine, and Isoleucine
Cons
Doesn't Have Any Flavored Options
MO4T Premium Multi Collagen Powder
Best Keto-Friendly Collagen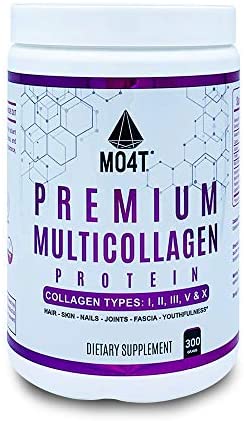 Collagen is, without a doubt, an essential aspect of one's health. The problem is that, for most keto followers, there aren't a ton of options out there that aren't offsetting much of this benefit with sugar and artificial sweeteners and other chemicals.
Thankfully MO4T is one of those rare exceptions. Not only do they produce a super clean and pure collagen source that is entirely free of antibiotics and growth hormones, but it is also derived from healthy sources like chickens and eggs that are exclusively collected from America's Midwest farms. This goes the same for their pasture-raised cows and wild, cold-water fish.
Put simply, MO4T makes it their mission to provide collagen powder at an incredibly high level of quality while also making it very reasonable in terms of the price. It's a must-buy, in my opinion.
Pros
Reasonably Priced
All Ingredients Are Locally Sourced
No Sugars Or Carbs Of Any Kind
Cons
Does Not Have Any Flavors To Play With
Trunature Healthy Skin Verisol Collagen
Best Collagen in Capsule Form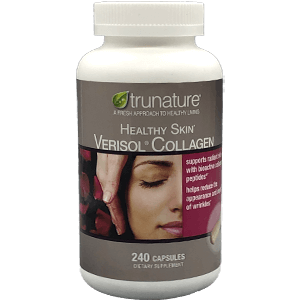 One of the biggest challenges that come with taking collagen is its taste. For many, the solution is simply to mix it with a water or milk base to make it more palatable. The challenge with this is that, no matter what, you're adding in more calories and unknown variables. Instead, the better option is just to take it as a capsule. This way, you get all of the benefits without any unwanted risks from sugars or sweeteners to the taste.
One of the best options out there is none other than Trunature and their incredible capsule supplements. Not the ideal option for those looking for tremendous physical gains or as an athletic boost, the Skin Verisol Collagen capsules can help focus on improving your skin, hair, and nails dramatically in a very short time.
Pros
Can Be Taken Via Capsule
Super Affordable
Clinically Proven To Show Dramatic Effects On The Body
Good alternative to collagen powders
Cons
Does Not Contain Much Protein Or Collagen Compared To Others On This List
Capsules Use Magnesium Stearate
Collagen Hydrolysate by Transparent Labs
Best All-Natural Collagen Supplement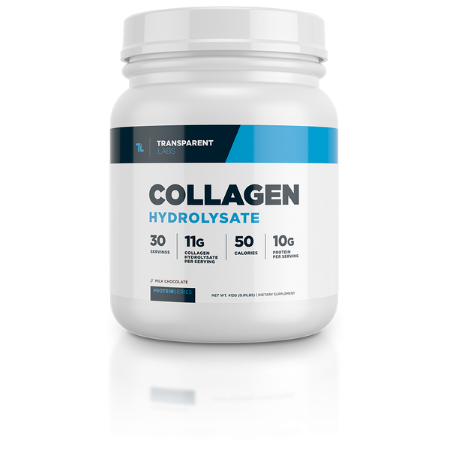 Rounding off our list, we have the starting option on here with none other than Transparent Labs' Collagen Hydrolysate. As we mentioned earlier, there is a lot to love about this incredible collagen peptide, namely that, as the name implies, its ingredients are clearly marked and incredibly sparse. Ultimately, the only thing you're getting out of a serving of their collagen mix is, well, collagen. Suppose you decide to opt for their chocolate flavor. In that case, you'll add in a bit of chocolatey goodness with some cocoa powder and stevia, but even then that's all. No artificial ingredients, no sucralose, no additional sweeteners or sugars.
As touched on as the first option, it is very affordable when you consider what it includes. In addition to no additional bad ingredients, Transparent Labs sought to beef up the good ingredients. You're getting 11 grams of collagen with 10 grams of protein. There are around 30 servings per container with only 2 grams of carbs and less than a single gram of sugar in each of them, and this is for the chocolate version!
If you're looking for the best option out there, Transparent hits on all fronts except your pocket. Similarly, if you want a great all-natural option, that doesn't load up with a ton (or any) artificial ingredients, Transparent is still the option for you.
Pros
Is Surprisingly Affordable
Contains No Artificial Ingredients Or Sweeteners
Offers Almost No Carbs Or Sugars
Cons
Doesn't Have Many Flavors To Choose From
While All-Natural, It May Not Be Keto-Friendly (Emphasis on "May")
Available at: TransparentLabs.com
Benefits of Collagen
There are many benefits to collagen supplementation. Collagen is the most abundant protein in the body and is found in connective tissue, skin, bones, muscles, tendons, and cartilage. It helps keep these tissues strong and elastic. Here are some of the top benefits of collagen:
1. Collagen supports joint health. Cartilage, the tough connective tissue that lines joints, is mainly composed of collagen. Cartilage helps to cushion and lubricate joints, and when it deteriorates, as it does with age, it can lead to joint pain. Supplementing with collagen may help to preserve joint health.
2. Collagen helps keep skin looking young and healthy. Collagen is a key component of skin, providing strength and skin elasticity. As we age, our bodies produce less collagen, which can lead to wrinkles, thinning skin, and other signs of aging. Supplementing with collagen can help to combat these effects.
3. Collagen aids in wound healing. Wounds typically heal faster when they contain more collagen. Supplemental collagen may help wounds to heal more quickly and completely.
4. It supports bone health. Bones are mainly composed of collagen, and as we age, our bodies produce less of it. This can lead to conditions such as osteoporosis. Supplementing with collagen may help to preserve bone health.
5. Collagen is a good source of protein. Protein is essential for healthy muscles, skin, bones, and other tissues. Collagen provides an excellent source of protein, which may help to support overall health.
So if you're looking for a way to improve your joint health, keep your skin looking young and healthy, speed up wound healing, or just boost your protein intake, consider supplementing with collagen. It's a safe and natural way to improve your health and appearance.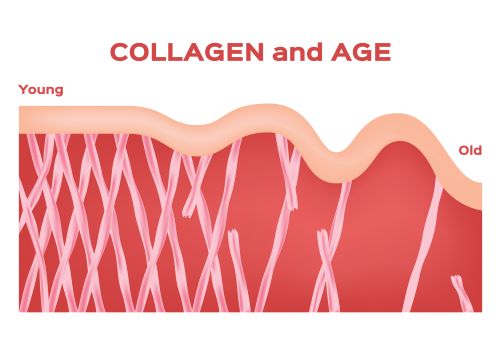 How to Get More Collagen Without Supplements
If you're not interested in taking supplements, there are still ways to get more collagen into your diet. Here are a few tips:
1. Eat foods that are high in collagen. Some good sources of collagen include bone broth, beef, chicken, pork, fish, eggs, and dairy products.
2. Drink lots of water. Drinking plenty of water helps keep skin hydrated and may help to promote collagen production.
3. Avoid smoking and excessive sun exposure. Both smoking and sun exposure can damage collagen and lead to premature aging.
4. Use a good-quality moisturizer. Keeping skin moisturized can help to prevent it from becoming dry and brittle, which can lead to loss of collagen.
By following these tips, you can increase your intake of collagen and enjoy the many benefits it has to offer.
Wrap Up
Have you tried collagen supplements? If not, it might be time to give them a try. Not only are they good for your skin and hair, but they can also help improve your joint health and digestion. We've rounded up the best collagen supplements on the market, so check them out and see which one is right for you. Thanks for reading!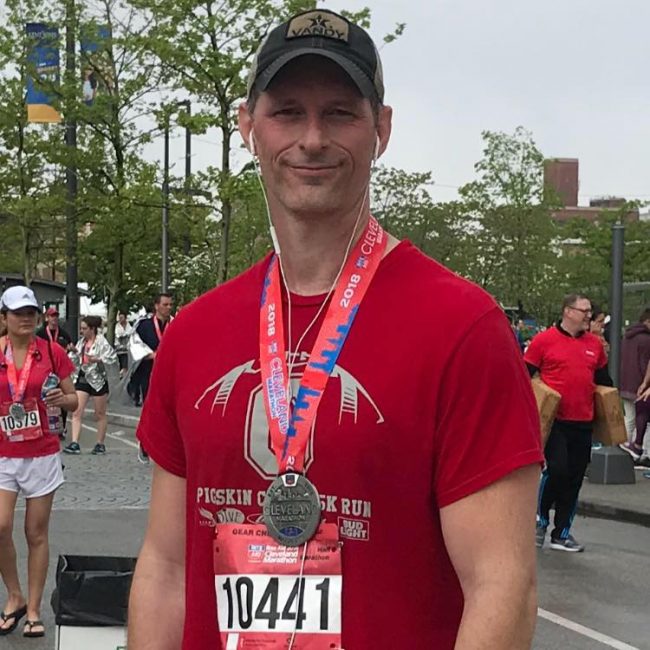 Ryan is a former college wrestler and lifelong fitness fanatic. He has run half marathons, done mud runs, placed in body transformation contests, coached wrestling and now coaches girls soccer. Not to mention he has also tried literally hundreds of supplements over the years and has a vast and thorough supplement knowledge. He has written for Muscle & Strength, Testosterone Junkie, The Sport Review and other publications. He is also the editor in chief of this website. Feel free connect with him on his LinkedIn page below.