I think just about everyone out there would like to burn a bit more fat and lose a few unwanted pounds.
Fat burners can be a great help when it comes to doing this but many people do not like the fact that most fat burners contain caffeine.
The good news is there are fat burners out there that work great and do not contain caffeine.
Let's go over what to look for in a good fat burner and then we will take a look at the best fat burners on the market that don't use caffeine.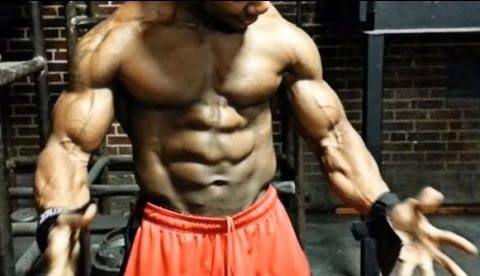 How Fat Burners Work
When it comes to fat burners there are a couple of things they do that make them work so well at burning fat. The first is that they have ingredients like Forskolin that increase your metabolism. This means that you will be burning more fat day and night even if you are just sitting on the computer or even taking a nap.
The second thing they do is lower your appetite. Fat burners have ingredients that will make you less hungry throughout the day so you eat less and therefore don't consume as many calories.
When you combine these together you get an effective supplement that burns fat day and night.
Best Fat Burner Ingredients
When it comes to having an effective fat burner you need to have the best ingredients. Here are some of the best ingredients when it comes to fat burners.
Acetyl L-Carnitine – This is an amino acid that is derived from L-Cartinine, it plays a key role in fat metabolism by transporting fat into the mitochondria where it is burned for energy. This is also something many people are deficient in so their metabolism doesn't function as it should.
Forskolin – No that doesn't say foreskin but it sure looks like it does when you look at it real quick. Forskolin is a newer fat burning ingredient that stimulates the release of fatty acids from stubborn adipose tissue. Studies have also shown forskolin to decrease bodyfat and increase lean muscle mass in men and it is very effective.
5-HTP – 5-
HTP is an ingredient that has been shown to reduce appetite in overweight and dieting individuals.
Rhodiola Rosea – This flowering plant has been shown to help reduce the stress of dieting on the body which helps keep your metabolism going strong. It also has been shown to stop binge eating in animal studies.
Cayenne Pepper Extract – This pepper is shown to increase fat burning through thermogenesis and has been shown to release more stored fat from the body to be burned.
Fucoxanthin – This one is a new ingredient that has a lot of promise. In an animal study it has shown to significantly reduce weight gain in a high-calorie diet.
Ingredients to Watch Out For?
Some fat burners still use ingredients that are unnatural and can be dangerous. They have been known to cause high blood pressure, insomnia, mood swings, jitters, high blood pressure and more.
The ingredients you want to avoid are:
Ephedra – This is a dangerous stimulant that has effects on the heart and the nervous system. It has been banned in the USA but can still be found in some countries.
DMAE – This ingredient has been shown to cause headaches, insomnia and severe muscle tension.
DMAA – This is another ingredient that has been banned in the USA but can be found abroad. This ingredient can cause the arteries to narrow and lead to heart attacks.
Synephrine – This ingredient is ok in small doses but some companies use way too much. This one has a long list of side effects but some of the most important ones are headache, nervousness, nausea, and drowsiness.
Watch Out for Proprietary Blends
When it comes to fat burners and pretty much all other supplements one thing to watch out for is proprietary blends. These have become a bit of a problem in the supplement industry and it is only getting worse.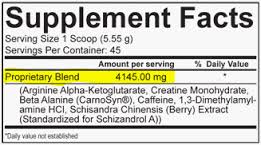 A proprietary blend is where the manufacturer puts a bunch or ingredients together in what they call a blend and they only tell you the size of the blend. They do not tell you how much of each ingredient is in there so you have no way of knowing.
This is not good if you want to avoid side effects and actually know what you are getting in a product.
Best Fat Burners Without Caffeine
Now that you know all about fat burners let's get to the list of the best fat burners that do not contain caffeine.
#1 Physique Series Fat Burner Stim-Free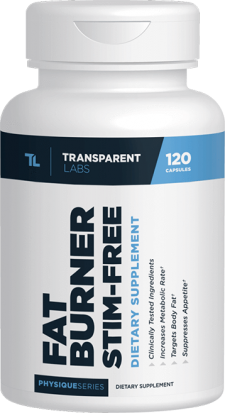 Topping off our list we have a really nice fat burner that doesn't contain caffeine or any other stimulants and is still ultra effective.
This one has been on the market for a couple of years and has really emerged as the premier caffeine free fat burner on the market. It is made by Transparent Labs and all of their products are really good so having this one in first place isn't really much of a surprise to us.
Taking a look at the ingredients on this one and it is really stacked. They start off with a nice dose of Forskolin which is one of our favorite fat burning ingredients. This product actually uses a higher grade of Forskolin known as Forslean which is even more pure and more effective. On top of that, they use a nice dose of Acetyl L-Carnitine which will help speed metabolism. On top of that, they use 5-HTP to reduce appetite and cayenne pepper to increase your bodies thermogenesis.
This product is priced at $49.00 for a bottle which is above average but isn't too bad compared to some. The price also goes down when you buy more than one and you can use the coupon code TL10 to get 10 percent off as well so that helps.
This product is also made in America so you don't have to worry about it being made cheaply in China or somewhere like that.
Highlights
Uses a strong dose of Forskolin our favorite fat burning ingredient
Uses 5-HTP to reduce hunger
Coupon code TL10 save 10% at checkout
Made in America
Buying in bulk lowers the price
Great reviews online
Any Negatives?
Above average in price
Only available on customer website
Website: www.transparentlabs.com
#2 Hydroxycut Hardcore Stimulant Free by Muscletech
Next, on our list, we have one from the manufacturing giant Muscletech. This one is another good one that can help you burn fat without the use of caffeine or other stimulants.
Taking a look at the ingredients on this one and they start off with L-Carnitine L-Tartrite which is a good metabolism booster. They also use coffee bean extract which slows the rate your body absorbs fat from food and helps reduce blood sugar levels. On top of that, they use Kudzu root which recent studies have shown may inhibit the metabolism of fat. They also use Cayenne Pepper extract but they don't use enough of it to really do anything.
Overall this one has 8 active ingredients and it stacks up pretty well but they are missing some ingredients like Forskolin and 5-HTP so we could not put them in the top spot.
Highlights
Made by a big name manufacturer
Uses Kudzu root and coffee bean extract
Helps with water weight
Buy one get one half off
Any Negatives?
Not enough Cayenne pepper extract
Doesn't use Forskolin or 5-HTP
Made in China
Website: www.muscletech.com
#3 CLK by Cellucor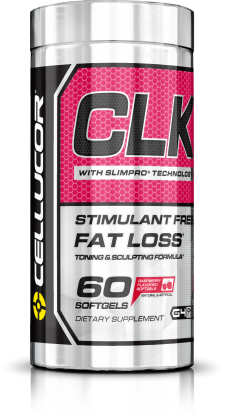 Next up we have CLK Stimulant free fat burner by Cellucor. This one also has so pretty good reviews and ingredients. Let's look a little further into what this one is made of.
This one uses a very basic formula with four active ingredients, these are CLA, L-Carnitine, raspberry ketones, and DHEA. While these are effective ingredients the DHEA can cause side effects as we mentioned earlier. Another problem is three of these ingredients are in a proprietary blend so it is impossible to tell the dosing on those ingredients and how effective they might be.
This one is also a bit high on the price side. While the list price is $30 for a bottle the bottle only contains 60 capsules which is half of what the other choices are. This can make it tough to choose this one if you are on a budget.
The reviews on this one are mainly favorable but some do not like the price.
Highlights
Uses effective ingredients
Mostly favorable reviews
Large manufacturer
Any Negatives?
Uses DHEA
Uses a proprietary blend
Expensive
Website: cellucor.com
#4 Quadracarn by Beverly International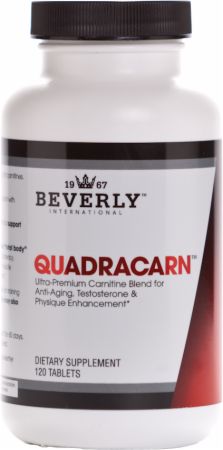 In fourth place, we have Quadcarn from Beverly International. This is one that actually doubles as a fat burner and a testosterone booster, although the testosterone boosting abilities of this product are a bit suspect.
Looking over the ingredients and this one has a good dose of Acetyl L-Carnitine HCL which we like, they also use L-Carnitine L-Tartrate and 2 other forms of carnitine. While carnitine can be effective to burn fat they could have helped themselves out by using some other ingredients.
Price wise this one is about average for the market at $30 for 120 capsules. They don't have any extra savings when you buy in bulk.
Highlights
Uses a good dose of Acetyl L-Carnitine HCL
Average in price
Any Negatives?
Not diverse enough ingredients
Not effective for testosterone boosting
No savings when buying in bulk
Website: store.beverlyinternational.com
#5 Quadra Lean by RSP Nutrition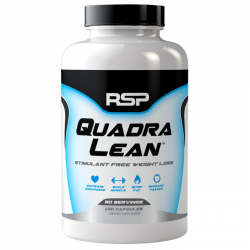 Rounding out our list of the best fat burners without caffeine we have Quadra Lean by RSP. This one features four active ingredients designed to get your metabolism going faster and to help fight hunger.
This one has a good dose of Garcinia Cambogia which is effective at reducing hunger so you eat less during the day, They also use L-Carnitine to increase metabolism as well as Raspberry Ketones to keep your body burning day and night.
This one is also good at increasing energy so you can dominate your workouts.
This one also has some really good reviews online from customers.
We do wish this one had more effective ingredients but it is still a decent product.
Highlights
Uses Garcinia Cambogia to reduce hunger
Good for increasing energy
Good reviews
Any  Negatives?
Not enough effective ingredients
Website: rspnutrition.com
Conclusion
There you have the 5 best fat burners that don't contain caffeine. Our favorite is Fat Burner Stim-Free by Transparent Labs for its  top of the line ingredients, top reviews and the fact that it is ultra effective at increasing your metabolism and decreasing appetite all without the jitters of caffeine.
Just remember the fat burner isn't going to do all the work for you. You need to follow a good diet and put your time in at the gym. Then a good fat burner will take you to the next level.