How did you get started in bodybuilding/fitness?
What really peaked my interest in fitness, beyond what I was already intrigued by, was making the Sioux Falls Skyforce (NBA-D league) dance team, I was a Skyleader for two seasons and loved the fact that I was dancing again. Within those 2 years I learned even more about fitness and nutrition, and at that point was in the best shape of my life. It was then that I learned the difference between bulk training and building lean muscle, and what I needed to do to look the way I wanted. So what's next?
Who doesn't love a good challenge? I was looking for the next thing that would challenge me physically, then the opportunity presented itself and I met with my now trainer/coach and friend Brandan Fokken. He prepped me for my first competitions and advised me through every step. I pushed myself every day and it paid off as I took 1 st in my class and Overall in the bikini division in the 2012 NPC Upper Midwest and 1st in my class for the NPC Gopher State, this qualifying me for Nationals. I prepped over the next few months I trained like I never had before, that paid off when I placed 11th in my bikini class at the 2012 NPC Team Universe. I still continue to compete because I love it; while inspiring and motivating others.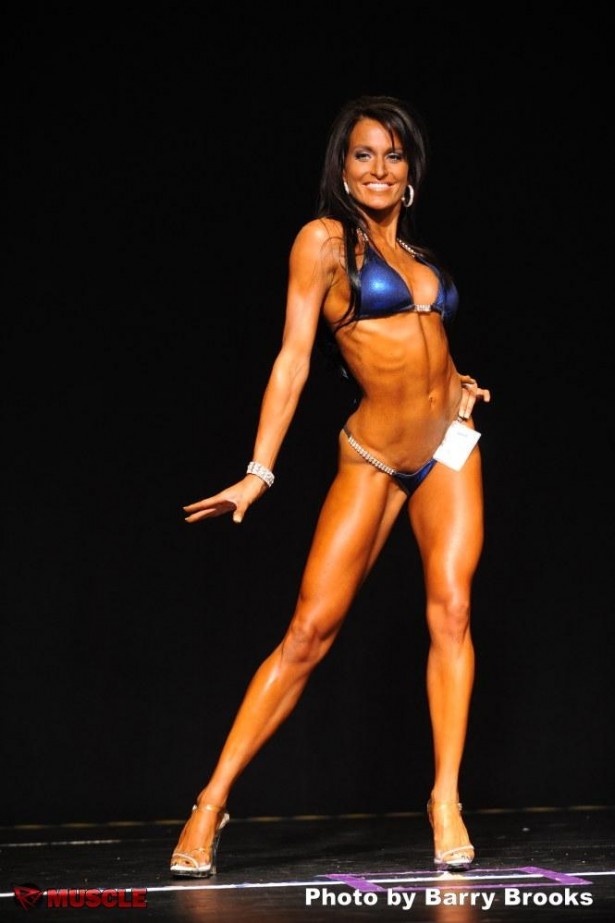 What is your favorite body part to train?
I find most girls say they prefer training legs, I differ I love lifting shoulders and upper body.
Can you give us a sample of your routine?
Monday: Legs/Glutes/Calves/Cardio
Leg press 4 sets (15-12-12-10)
Ball wall squat with weight 4 sets (15-12-12-10)
Leg extension 3 sets (15-12-10)
Sumo squat 3 sets (15-12-10)
Standing hamstring curl "on leg extension machine" 4 sets (15-12-10-15)
Seated hamstring curl 4 sets (15-12-10-15)
Calf raise on leg press 4 x 15
Bent knee calf raise 3 x 12
Inner thigh machine 3×20
Outer thigh machine 3 x 15
Cardio: 50 min. run with 25 min. of HIIT mixed in
Tuesday: Back/Rear delts/Abs/Cardio
Lat pull-down 3 sets (12-10-8 reps)
Close grip pull-down 3 sets (12-10-8 reps)
Single arm row 3 sets (15-12-10)
DB Pull-overs 3 sets (15-12-10)
Bent over rear delt-raise with DBs 3 sets (15-12-10)
Full sit-up on stability ball 4 sets (30-25-20-15)
Crunches 4 sets (30-25-20-15)
Leg raise with hip lift 4 sets (30-25-20-15)
Cardio: 40-50 min.
Wednesday: Chest/Biceps/Calves + cardio:
Incline chest press 3 sets (15-12-10 reps)
Pec fly with DBs 3 sets (15-12-10 reps)
Pec fly on machine superset with pushups to failure 3 sets (15-1210 reps)
EZ Bar curl 3 sets (15-12-10 reps)
Alternating DB curl 3 sets (15-12-10 reps)
Standing calf raise 3 sets (15-12-10 reps)
Seated calf raise 3 sets (15-12-10 reps)
Cardio: 50 minutes with 25 minutes of HIIT
Thursday: Cardio
Friday: Plyometrics/Cardio
Box squat jumps 3 x 30
Lateral box jumps 3 x 30
Split squat jumps 3 x 30
Tuck jumps 3 x 30
Lateral bounds 3 x 30
Side hops 3 x 30
Squat jump (progressing forward)
20-30 minutes of additional cardio (either HIIT or steady state depending on how your body is feeling)
Saturday: Shoulders/Triceps/Abs/Cardio
Shoulder press 4 sets (15-12-12-10)
Cable side raise 4 sets (15-12-12-10)
Cable front raise 4 sets (15-12-12-10)
Rear delt fly on machine 4 sets (15-12-12-10)
Bent over rear delt fly with DBs 4 sets (15-12-12-10)
Lying triceps extension 4 sets (15-12-12-10)
Cable underhand triceps extension 4 sets (15-12-12-10)
Full sit- up on stability ball 3 x 50
Double crunch 3 x 50
Bicycle crunch 3 x 50
Cardio: 45 min.
Sunday: Cardio

What are your 3 favorite exercises?
Barbell Bi-cep curls
Box jumps – I have a love-hate relationship with these.
Pushups – makes me feel tough
What kind of music do you listen to when you are working out?
I listen to a little bit of everything new pop music, hard rock, and yes a little country mixed in after all I was born a country girl. Top favs right now are Rihanna, Nicki Minaj, and Breaking Benjamin, and this will change bi-weekly.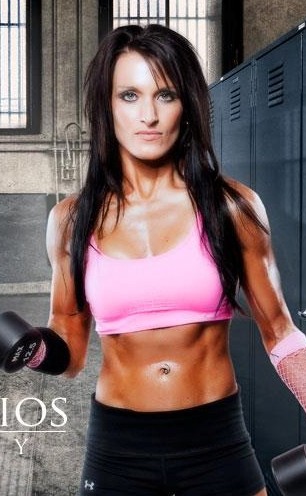 We all have at least one, what is the most embarrassing song on your iPod?
Haha ..A Jock Jams remix version…I mean I who didn't love it in the 90's?
Something different I do listen to is various comedian clips; it makes steady cardio fly by. If you are going to try this, I recommend being aware of your surroundings as people will wonder what you are laughing about.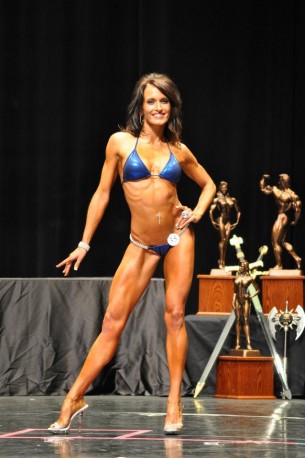 What does your diet look like when you are trying to get lean?
Meal 1: 4 Egg whites and ½ c oatmeal
Meal 2: Whey protein shake and banana
Meal 3: 4 oz. Chicken broccoli/asparagus, brown rice
Meal 4: Whey protein shake, natural peanut butter
Meal 5: 4 oz. Lean Beef, ½ c. Spinach, 4 oz. sweet potato
Meal 6: Casein protein shake, natural peanut butter
List the top 10 foods we would find in your kitchen
Eggs, eggs, and more eggs.
P28 bread
Oatmeal
Deer Meat/Fish
Turkey
Sweet Potatoes
Brown Rice
Spinach
Pretty much anything Walden Farms makes.
Protein may not be considered a food item but it consumes a couple shelves in my pantry.

What kind of cardio do you like best and why?
Any type of HIIT cardio makes time fly and allows me to feel like I just dominated my workout!
If you could give somebody only one fitness tip what would it be?
You want abs? – Make them in kitchen.
Tell us about your biggest bodybuilding/fitness influence?
Jamie Eason is definitely at the top, she is so inspiring in everything she does.
My trainer and friend Brandan Fokken, he is an overall great person and an asset to the fitness industry.
Some of the top IFBB Bikini Pros have also inspired me, allowing me to push myself harder because of the big goals to attain and they have shown me how inspirational and motivating you can be to others.
Other influences include some of the awesome people I have had the pleasure to meet at competitions, so many competitors are down-to-earth and I love hearing about everyone's different fitness journey.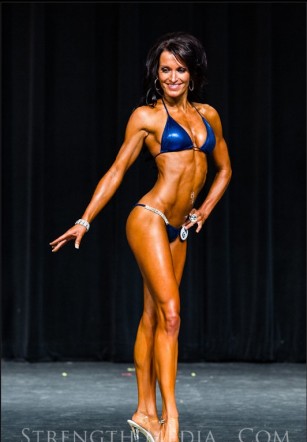 Favorite cheat food?
That's a toss-up between waffles, pizza or ice cream… (I can tell you where the best waffles in the Sioux Falls, SD area are!)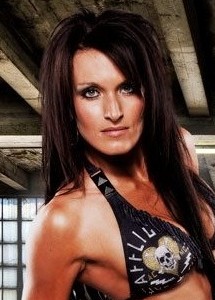 Do you take any supplements?
Multi-Vitamin, Vitamin B, C, D, Magnesium, Calcium, Fish Oil, Glucosamine, Glutamine, Whey Protein, l-arginine pre-workout
What does the future hold for you?
I wish I had a crystal ball to tell you the answer to this, but what I do hope the future holds is to continue to be a role model for all people who are in fitness and to those interested in fitness. I would like to be able to help other competitors and individuals looking to better themselves.
Someday I hope to obtain an IFBB Pro Card and really make an impact in the fitness industry!
Ashley Kurtenbach
Facebook Page: www.facebook.com/AshleyKurtenbachBikiniCompetitor
Have you Pushed Yourself Lately? Do it in 2012! Sign up for a Spartan Race!