(Last Updated On: December 9, 2017)
How did you get started in bodybuilding/fitness?
I always loved working out; and, like many, I used to focus mostly on cardio in my early years and randomly worked on the machines at the gym. But, my workout never seemed structured or organized in any particular manner. In 2006, six years after having my third child at 39yrs of age, I needed to step up my program if I wanted to have my body back. That is when I was approached by a trainer who asked me if I ever considered competing. He gave me a list of contacts, local coaches, photographers, league information on competing. That was the beginning of my incredible journey into the NPC which lead me to earning my pro card in Figure in 2011. During this time, I decided to get accredited as a personal trainer and make fitness my new career.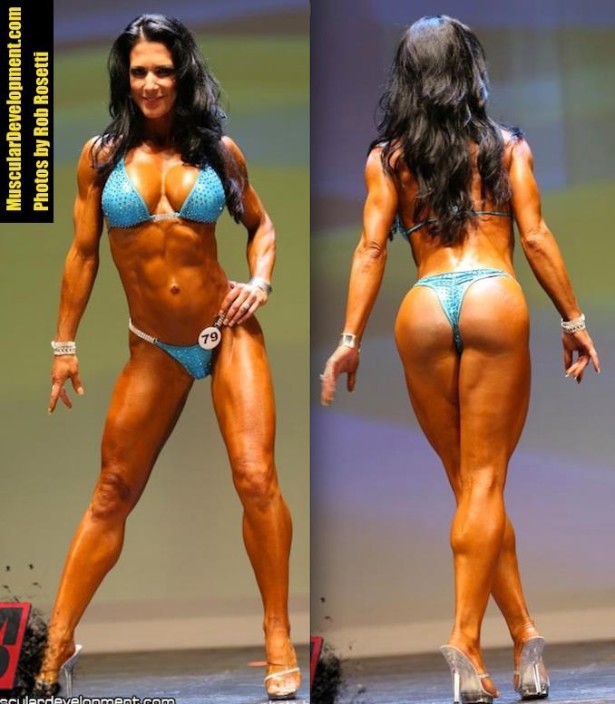 What is your favorite body part to train?
As a Figure competitor, I have always enjoyed working out my delts as my favorite body part. Ironically, I have switched to competing as an IFBB Pro Bikini competitor in which my training has changed a bit. Given the mass that I had built over the years; and, the look I am trying to achieve as a Bikini competitor, I really need to be careful how much I train my upper body. Currently, I have increased my cardio significantly and there is much more focus on my legs and glutes.
Can you give us a sample of your routine?
In the last six years, I have broken down my workouts to include 5 days of strength training with legs, chest, shoulders, bi's and tri's , back all separated out for a 45-60 minute session. I typically do at least 30 minutes of cardio 5 out of 7 days in off season and ramp this up to split cardio of approx. 35 min in the a.m. and 30 minutes in the p.m. 4-5 days a week. It is dependent on my goals for the look I am trying to achieve. Recently, I have shifted this focus now that I am competing in Bikini. It is as follows:
1) Chest, back, and shoulders
2) Quads
3) Hamstrings
4) Glutes
5) Light Total Body
I still do 5 30-minute cardio sessions with the focus on uphill walking and Stairmaster or
Stepmill to hit the glutes and tighten and build rather than lose fat.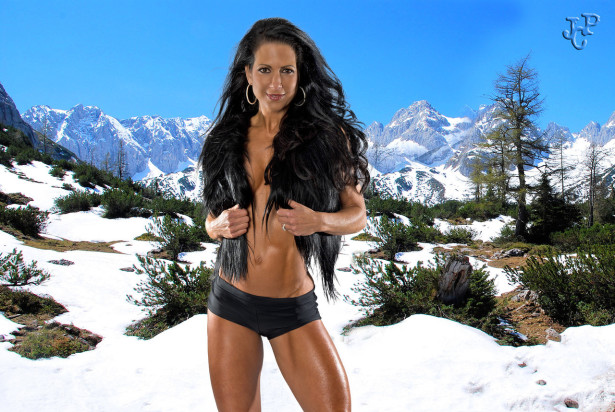 What kind of music do you listen to when you are working out?
I'll admit it… I am addicted to top 40.
We all have at least one, what is the most embarrassing song on your iPod?
My motivational song, which is also the most embarrassing song on my Ipod, is Eminem's "Remember the Name."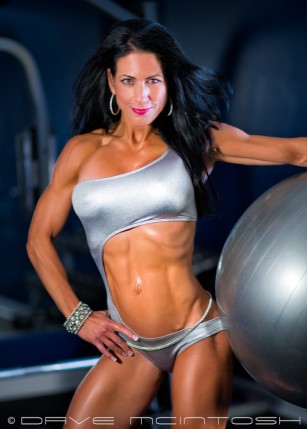 What does your diet look like when you are trying to get lean?
Two gallons of water daily, six to seven small meals made up of several meals of fish (Cod, Orange Roughy, Tuna, Tilapia) with FRESH vegetables (asparagus, peppers, peas, green beans) and smaller meals of Egg white omelette, Chicken and Flank-steak. However, I lean out very easily; and, if not careful I can get too hard whether it is in Figure or Bikini. Preparing for a shoot or a Bikini competition, I stick with a bit more healthy fats and veggies and even more fatty fish like Salmon instead of Tilapia.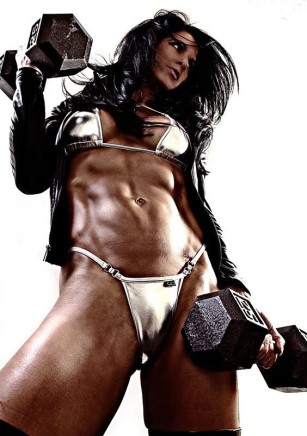 List the top 10 foods we would find in your kitchen:
Oatmeal
Liquid egg whites
Crystal Lite w/ Truvia
Chicken
Flank-steak
Salmon
Peanut or cashew or almond butter
Rice cakes
Greens (spinach, romaine, lettuce)
Almonds.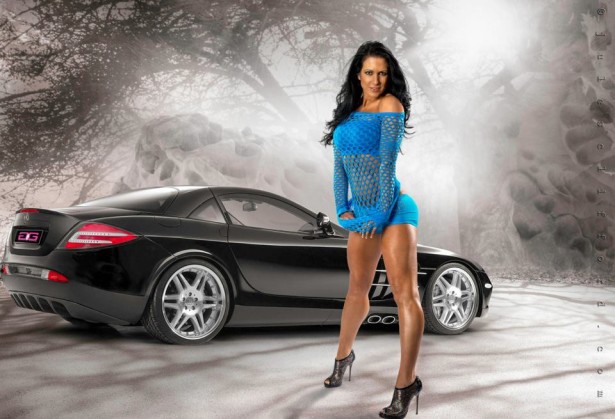 What kind of cardio do you like best and why?
I enjoy working out on my stairmaster with switching up my foot placement and doing intermittent TRX plyo moves. I enjoy this combination because it works the quads and glutes best when changing foot placement, backward stepping helps tighten my glutes best and builds them, while forward flat foot placement works my quads. I enjoy jumping off the stairmaster to do plyos on my TRX because it breaks up the workout and burns my glutes and quads nicely with 20-30 hop squats and altering split jumps.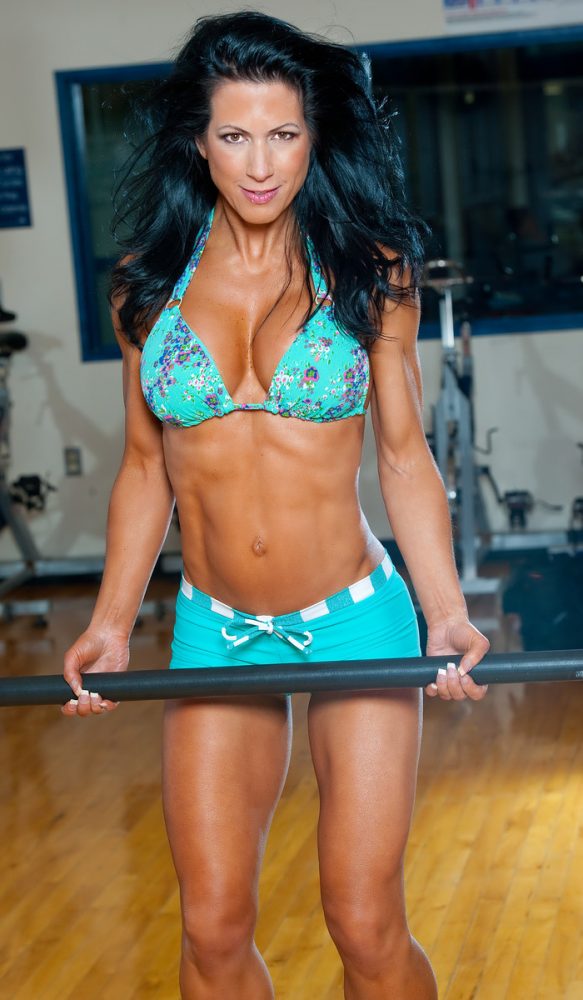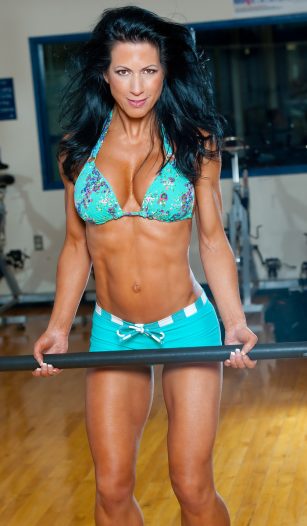 If you could give somebody only one bodybuilding tip what would it be?
Make sure you fuel your body with the proper nutrition. Consult a coach if you are unsure of how to do this, because the last thing you want to undue is your hard work. If you are not eating correctly in sufficient quantities to fuel your growth, you will simply be cannibalizing hard earned muscle. If I were allowed to give two, my second tip would be: Have FUN!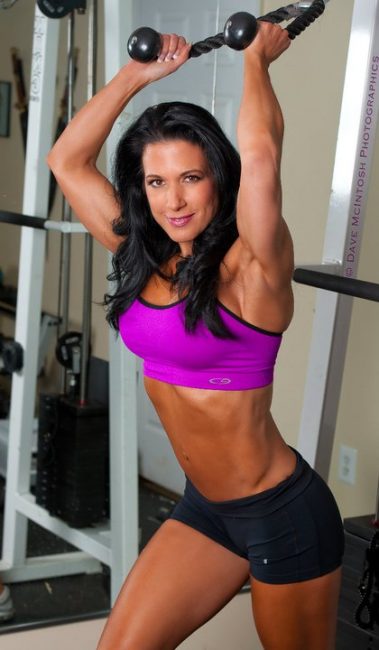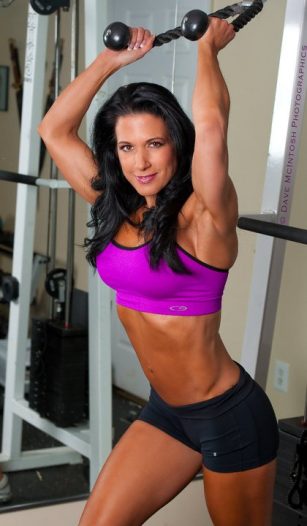 Tell us about your biggest bodybuilding/fitness influence?
My coach Mike Davies of Fitness Factory and my Fitness Factory family have been the most influential throughout my fitness career. Mike has guided my decisions and helped me to gain perspective of the mental/physical challenges of the journey. I have made long lasting friendships through my affiliation with the Fitness Factory.
As far as athletes, I have always admired the physique of IFBB Figure Pro Tiffany Procopio and with my foray into Bikini, IFBB Bikini Pro Dayna Maleton is my idea of what a bikini-physique should be. In my opinion, both athletes have a bit more mass than the average figure or bikini athlete. Muscle is sexy and I love the sleek look of the way it lies beneath the surface of the skin to shape the human form.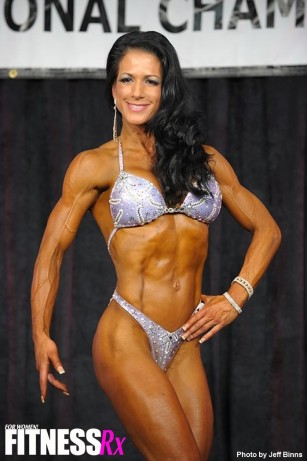 Favorite cheat meal?
I am taking a bit of liberty with this question and identifying the three things that are a staple for my post competition cheat… Nachos, Pizza and Chocolate Cake. I have to knock all three of these items off my list or my cheat will not end until I do. And, that can get very dangerous…

Do you take any supplements?
Yes, on a regular basis. At my age, I look to maximize all the nutrients I consume in my meals and ensure that I have a proper balance of everything I need for healthy, natural and injury free training. I rely upon HMX by Image-Nutrition.com for my Pre-training supplement in conjunction with glutamine and a battery of other vitamins and minerals. Nitro-Pro whey protein isolate in chocolate is my favorite protein supplement also found at Image- Nutrition.com and SPARK energy drink from Advocare are my regular staples. I may incorporate other supplements into my diet dependent on my goals and where I am as I prepare for my competition.
What does the future hold for you?
I have been in figure for six seasons, however, I made my debut in the IFBB Bikini Pro show in Miami in Dec 2012. I am expecting to continue with Bikini for the 2013 season. As a former NFL cheerleader, I like the freedom of posing with personality using my own style of physique presentation. Although I miss working my delts to get a fuller bigger shoulder cap, this is not the look of bikini, so I am tweaking my physique to align with the composition of this division.  I aspire to be the first 52+ bikini competitor to make it to the OLYMPIA stage. Along the way, I hope to be a positive role model for all women that want to compete but see age as a barrier. I am proof that one does not need to be in their 20's to have an athletic, fit and feminine body.
In addition, I am mentoring and coaching a group of dynamite athletes, Granite Girls/Team Granite by Janet Lynn West in bikini, figure and physique. I am growing this team and excited to see each athlete develop to their greatest potential while feeling very fulfilled in my role of guiding them. My desire to mentor and coach is based on the positive experience I gained by one of the greatest in the industry, Mike Davies.
Janet Lynn West
Facebook Page:  www.facebook.com/pages/IFBB-Pro-Janet-Lynn-West
Facebook Page: www.facebook.com/pages/Granite-Girls-by-Janet-Lynn-West
Website: www.JanetLynnWest.net
Website: www.Janetlynnwest.com
Get absolutely ripped in just 90 days with P90X – Click here