(Last Updated On: March 5, 2018)
How did you get started in bodybuilding/fitness?
In 2008, I started training as a professional USA Track and Field athlete fresh out of college.  I moved to Clermont, Fla at 22 years old, and yes I sacrificed another degree, going home, and somewhat of a normal life to pursue a dream.   I was coached by Olympic Gold Medalist Dennis Mitchell (Green Machine), a tough but genuine, passionate, and admirable coach who helped me gain my confidence back professionally, and experiences that would make me grow up as a woman.  I slept, ate, and trained world-class 5-6 days a week for two years to only injure myself right before the first meet of the season, which made it impossible for me to make Olympic trials. I tried to come back, but I just couldn't quite get myself together. Mentally, I lost every bit of motivation and confidence. I was tired of being broke (financially), injuries, and years and years of disappointment of not being able to reach my full potential. Discouraged, is the word that describes the way I felt as I decided to walk away from the sport altogether.
In the of Summer 2009, I had enough of being off and living a regular life of just getting up working a job and coming home feeling empty. Track had been a part of my life for so long that I felt this void. I was so used to setting these goals for myself that when I had none to meet, depression set in, and I knew I had to do something. I decided to train for my 1st Figure competition in Atlanta, and I won overall and earned my pro card! I competed in a smaller league for about a year or two, until I decided this was exactly what I wanted to do, so I did my research and decided that I would join an international league of competitors that are considered to be the best of the best.
Right before I decided to participate in fitness competitions, I started boot camp in different locations around Atlanta. I began to understand that I was more than a trainer or an instructor, but an example of what women would like to embody. The emptiness from not competing on the track became a vital source of my happiness. The competitions gave me a reason to start back training. Helping clients reach optimal heath became my motivation as well.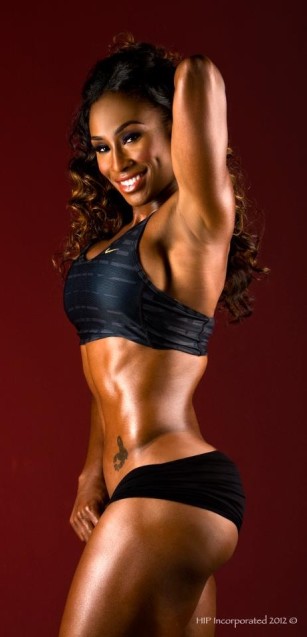 How did training with USA Track and Field influence the way you train for fitness?
Training for track and field is more or less my blue print for success.  Track has not only been my go to for staying fit & in shape, but has been the trainer my for life. The discipline that it takes to be a track athlete is implemented in every facet of my life, whether it's career, fitness & the figure world, or dealing with people. A small portion of my discipline and motivation help others reach optimal fitness goals. I believe once you train the mind to BE THE BEST, you are then capable of anything.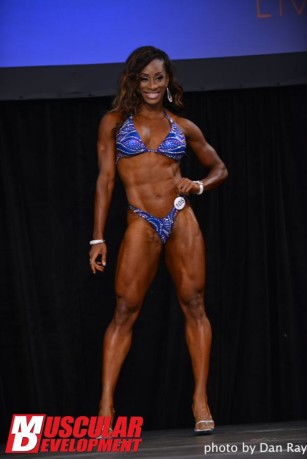 You have trained for both track and field and fitness competition at a high level, which would you say is more difficult?
Track and field was physically & mentally demanding and require a lot of time. Nutrition has been my biggest challenge when it comes to prepping as a figure competition. Finding a balance of what works well with your body and not being able to cheat can be and has been the most challenging when it comes to being a figure athlete. However, clean eating is the best thing that could have ever happened to this athlete!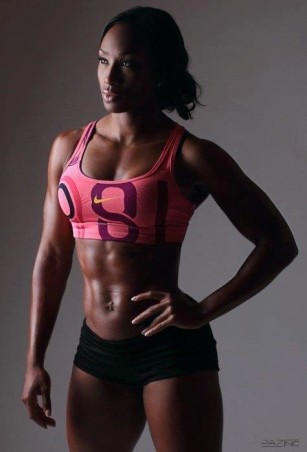 Can you give us a sample of your routine?
Monday- Track & Back
Tuesday- Track & Moderate to heavy Legs with focus on quads
Wednesday- Plyo
Thursday- Active rest; day pool and yoga day
Friday – Track workout; light plyo, legs & a focus on hammy's and glutes
*Wed and Thurs are sometimes switched
Saturday- Total body routine or active rest
Sunday- Rest and Recovery
What kind of music do you listen to when you are working out?
Hip Hop and Pop/Rock mostly, some heavy metal. Nirvana, Drake, Queens of the Stone Age, and Beyonce are a few to name. Makes me go into "BEAST MODE"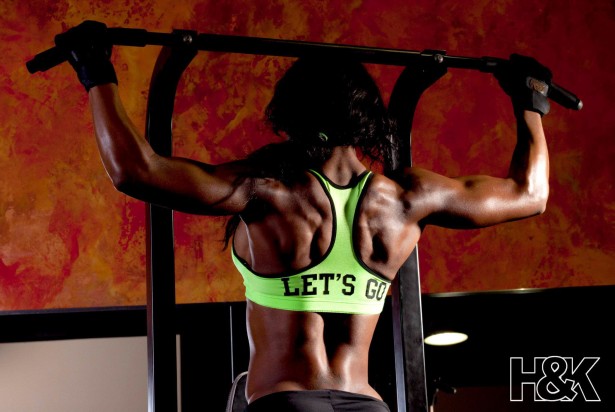 We all have at least one, what is the most embarrassing song on your iPod?
Can't touch this by MC Hammer 😉
What does your diet look like when you are trying to get lean?
I cut back on carbs that have a high GI (glycemic index) such as brown rice and whole grains earlier in the day. If I eat fruit it's first thing in the morning or right after a hard session of cardio. I fill up on veggies per meal instead of eating carbs.
List the top 10 foods we would find in your kitchen:
Organic Chicken
Tilapia loins
Oatmeal
Salmon
Lemons
Chobani Greek Yogurt
Mushrooms
Zucchini
Blueberries & Strawberries
Garlic
What kind of cardio do you like best and why?
HIIT (High Intensity Interval Training), Plyometrics and track workouts are my favorite because they are the most effective and they yield quickest results.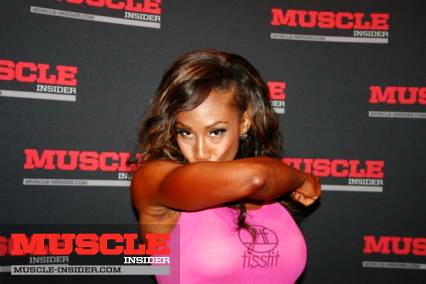 If you could give somebody only one bodybuilding tip what would it be?
The key to bodybuilding is balance and proportion in every aspect.
(Mental, Training, Nutrition)
Favorite cheat food?
Tiss' 4 Cheats: Chocolate, Chicken Wings (Lemon Pepper), Chips with Guacamole, and Cheese!!
Do you take any supplements?
Yes. Omega 3-6-9 L-Carnitine, Glutamine, Amino Acids, Vitamin E and Calcium supplement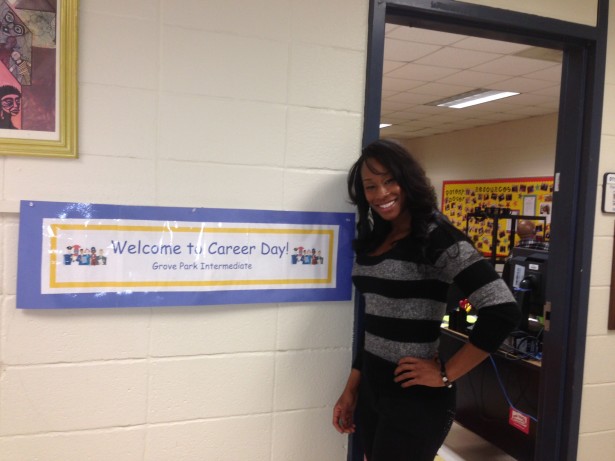 What does the future hold for you?
I just recently received my IFBB pro card! I just finished 2 shows in New York and Toronto. I would love to become one of the top competitors and ladies in the ranks of Figure Olympia and Arnold. I have my own wellness company so I am looking forward to becoming a successful entrepreneur/mentor in the world of fitness, and hopefully a chance to get back on the track…. Just to see where I am. I am pretty positive I still have it! I would love to be married with two maybe three kids in the future.
Tissilli Rogers
Instgram @tissfit