(Last Updated On: January 1, 2018)
How did you get started in bodybuilding/fitness?
I started lifting very early, in middle and high school during the track offseason. I always enjoyed the challenge of lifting heavier weights and beating my maxes. I kept up weight training through college while on the Track and Field team at Florida State University. Some of my teammates mentioned a couple of times that I should get into fitness modeling, so I've been trying to make a name for myself in that area. I wouldn't call myself a body builder, because I'm always training for and competing in running events and challenge courses. I don't build my body for show, I build it for functionality.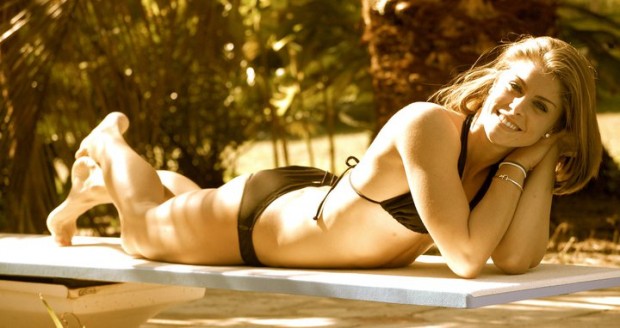 What kind of an influence has your track and field background had on the way you train?
My training is largely influenced by the workouts we did for track, both in and out of the gym.  A lot of the lifts that I do were part of my track and field weight training and I like to do similar gym workouts as I did in track. I also have other workouts that I took with me, like medicine ball workouts, ab workouts, circuits, and plyos. I'll be going back to school at Texas A&M soon and I can't wait to get back out on the track itself! Sprints, speed work, and resistance training are all really great workouts and I'm excited to get them back into my training routine.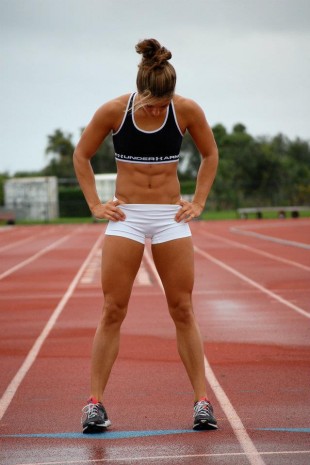 What is your favorite body part to train?
I enjoy ab workouts. Call me crazy, but I think they are fun. There are so many different exercises that strengthen the core, so it's easy to mix it up and not get bored with it. Plus, I throw them in between lifts to give my other muscles a break between sets, so they're great for that as well.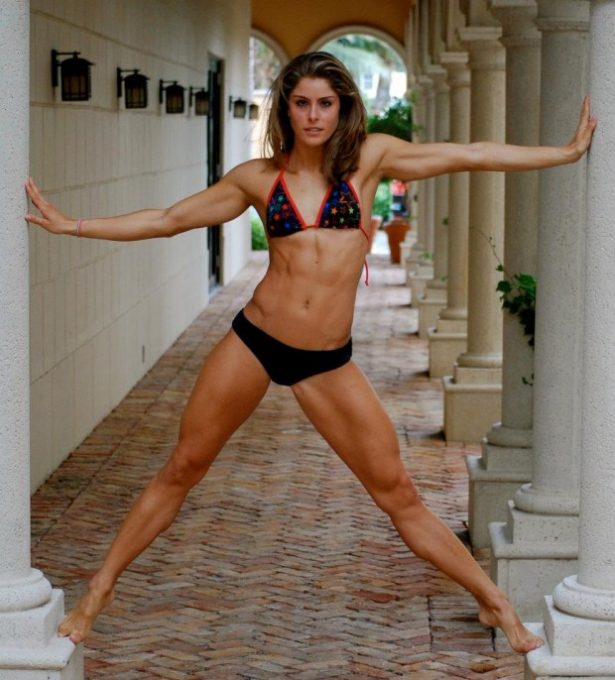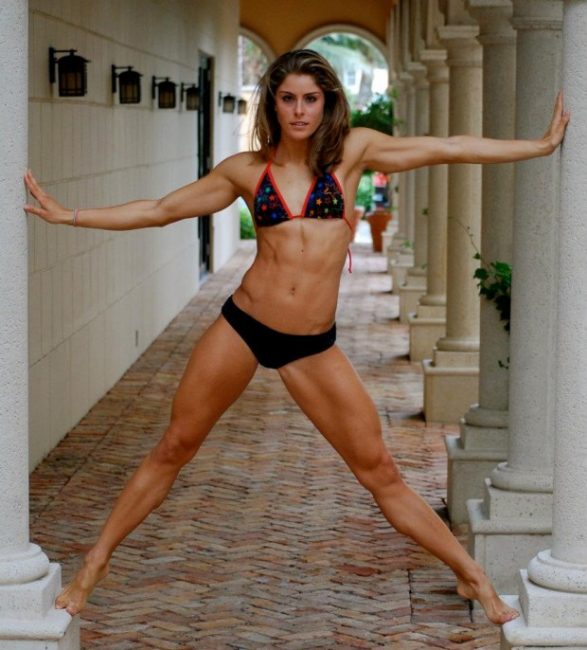 Can you give us a sample of your routine?
We have an outdoor gym where I work and I like to do my power lifts there. I try to make most of my lifting workouts into fast-paced circuit training, so I do a lot of supersets. For example, I'll do 3-4 sets of 2 different circuits. One circuit may be push press, squats, and calf raises with abs in between each exercise. I stay moving quickly between them pausing just for a drink of water. Then I'll take a 5-10 minute break and do another circuit, such as pull ups, power clean, and kettle bell squats with abs in between each of those as well. This routine results in workouts that double as cardio and strength training. For a weekly routine as well as some other workouts that I like to do, check out the exercise section of my blog (http://erinsimmonsfitness.wordpress.com/category/exercise/)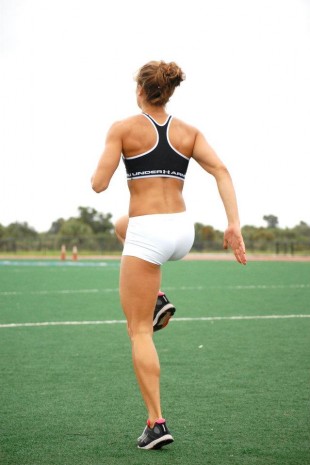 What kind of music do you listen to when you are working out?
I listen to all kinds of music. Some days, I like to work out to 80's rock, other days it's rap. It really all depends on my mood and what's motivating me that day.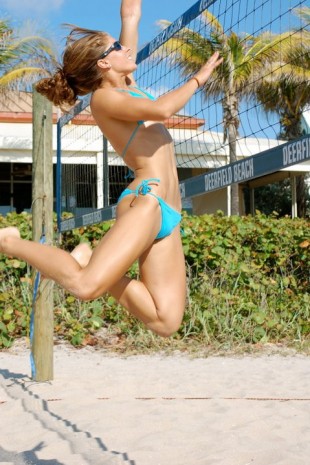 We all have at least one, what is the most embarrassing song on your iPod?
I probably have a lot of embarrassing songs! But if I had to pick just one, I would have to say it is "Wannabe" by the Spice Girls.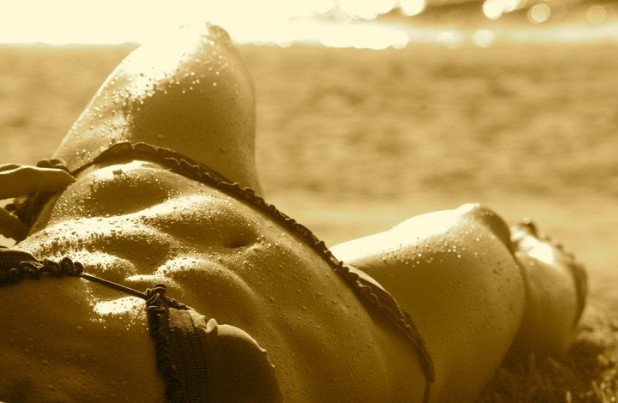 What does your diet look like when you are trying to get lean?
If I'm trying to get lean, I usually actually start with cardio. A lot of my workouts, especially when I'm triathlon training, result in long cardio workouts that really help burn excess fat off. My diet stays relatively healthy, but if I really want to lean up I'll cut excess carbs. I never cut all carbs, because I need them for energy for all my training. But cutting down on excess carbs, especially sugars, can really help me get lean.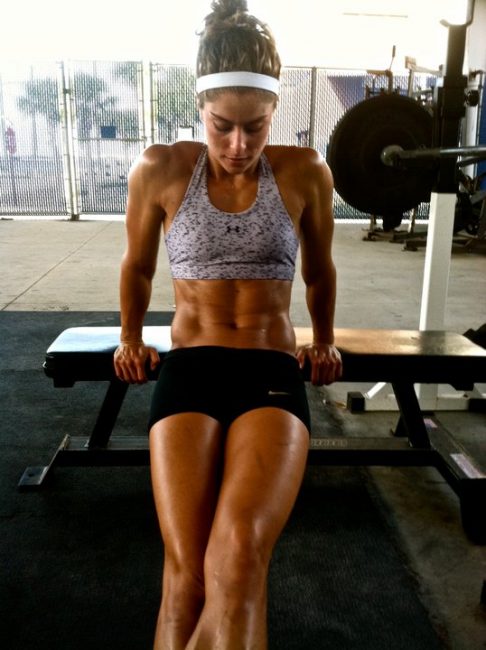 What kind of cardio do you like best and why?
I like my swimming workouts. I can really push myself and be much less injury prone than in any of my other cardio workouts. Swimming takes the pressure of my joints and helps strengthen my shoulders and core at the same time, so it's a great multi-tasker. Plus, it helps you to learn how to control your breath and get into a rhythm, which can carry over to other kinds of cardio. Paddle boarding and kayaking are two other great cardio workouts that are fun enough that you don't even realize you're doing cardio! So I try to work those in whenever I can.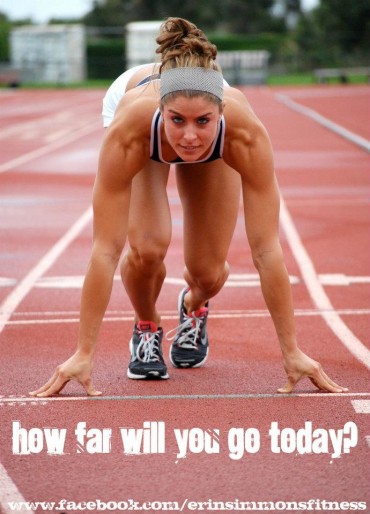 If you could give somebody only one fitness tip what would it be?
Don't let anyone else tell you what your goals should be. If you have set a goal for yourself, don't let someone tell you it's not realistic or you'll never get there. A lot can be accomplished by hard work and determination. Never let anyone take that away from you.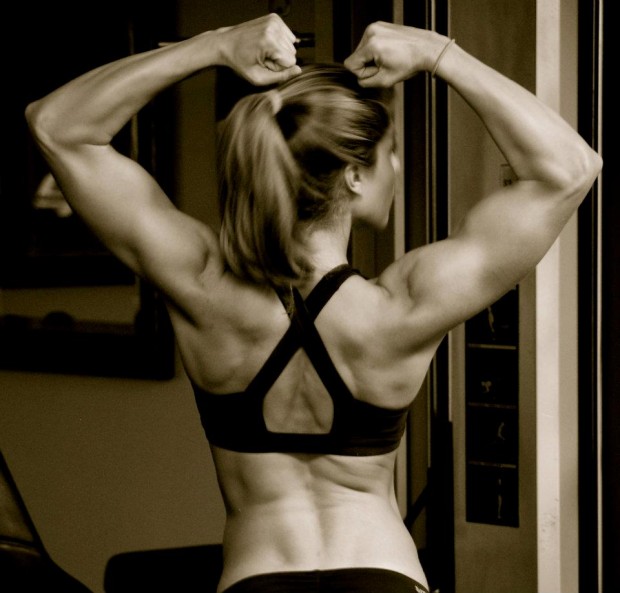 Tell us about your biggest bodybuilding/fitness influence?
I would have to say that as a kid, I used to watch the Olympics with extreme admiration for the athletes. I would pay most attention to the swimming, running, and gymnastics. I remember telling myself that one day, I would go there. While it doesn't look like that goal will exactly pan out, the athletes that I used to watch really motivated me to want to at least be the best that I could be and to push my limitations. Once I got on the track team and found my niche, I was able to compete not only against others, but against myself. Even though I was on a team, I enjoyed the ability to personally rely on and challenge myself by beating my times and distances. I do the same thing now that I'm into racing and triathlons. The inspiration I got (and still get) from watching Olympic athletes and even having been out on the track with some of them has really been a great motivator for me.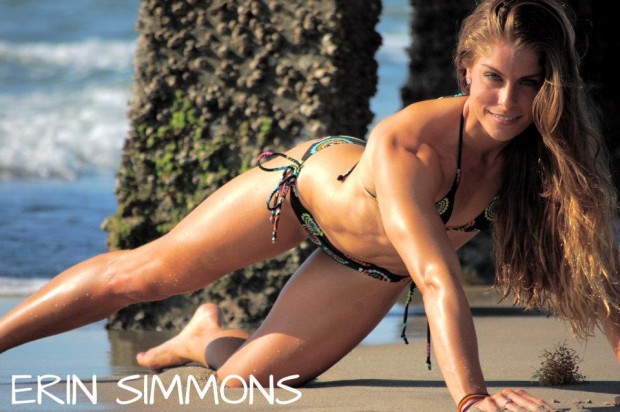 Favorite cheat food?
Ice cream with Girl Scout cookies! I try to make this a little bit better by just taking a spoonful of frozen yogurt and putting it between two thin mints for a mini ice cream sandwich.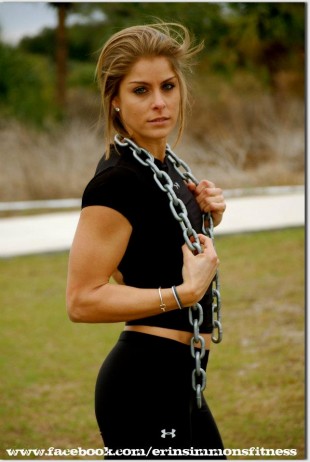 What does the future hold for you?
Good question! In terms of life in general, I'm going back to school this fall for my doctorate in Fisheries and Wildlife Biology where I'll be specializing in marine fisheries management. As far as fitness goes, I'll definitely be keeping up with my training and I'm hoping to be able to work as a volunteer grad student coach for the track team at A&M while I'm there. I've got a couple races planned this fall, an Ironman 70.3 and the Spartan Beast. I hope to get into some sort of modeling contract, but that is still up in the air. All I really know for sure is that I am going to keep lifting and training for as long as my body will let me!
Erin Simmons
http://www.facebook.com/erinsimmonsfitness
http://www.erinsimmonsfit.com
http://twitter.com/#!/ErinSimmonsFit
http://www.youtube.com/ErinSimmonsFitness