(Last Updated On: April 23, 2017)
 How did you get started in bodybuilding/fitness?
It all begin after I had my first son, I was terrified of being one of those moms who wore their pajamas all day long or big frumpy sweaters during the Holidays.  I wanted to feel sexy again. I wanted to be a good example to my children and not use the fact that I had kids to carry around what some women call 'baby weight' even after their kids are teenagers.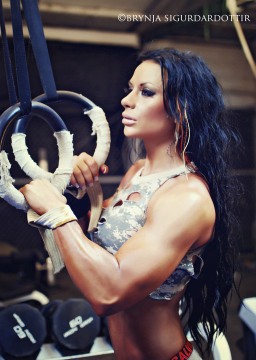 I hear you are into CrossFit training as well, how did you get interested in that?
Well, I have a highly competitive nature. I also have the fast twitch muscles so I love sprinting compared to long distance running, being able to push myself to a point where I want to barf and the workouts are typically under 20 minutes means it's a pretty intense workout. Plus you put me up against girls and guys who are just as athletic as I am then it's a great competition.  I tried it once I was shocked by how hard it was.  It KILLED me, so it was a love at first sight kinda thing.  I've been hooked ever since.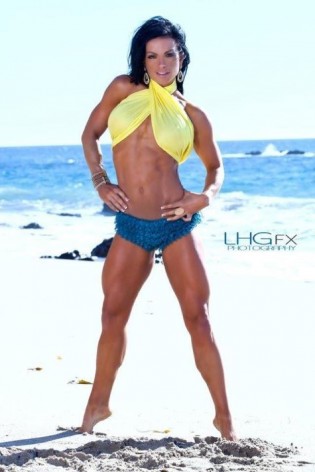 How often do you do CrossFit training as part of your routine?
I CrossFit Train at least 4x a week.  Sometimes I'll complete a WOD with the first wave wait 5 minutes and do it again with the second wave only to try and beat my first score, I've never been able to beat myself the second go when it is a back to back workout. I always push myself.
Have you ever thought about competing in CrossFit?
I have actually, I almost made it to Regionals last year and I pulled out because of an IT band injury I got during a soccer game.  I have so much technique to learn with CrossFit but making it to regionals 2013 is on my to-do list.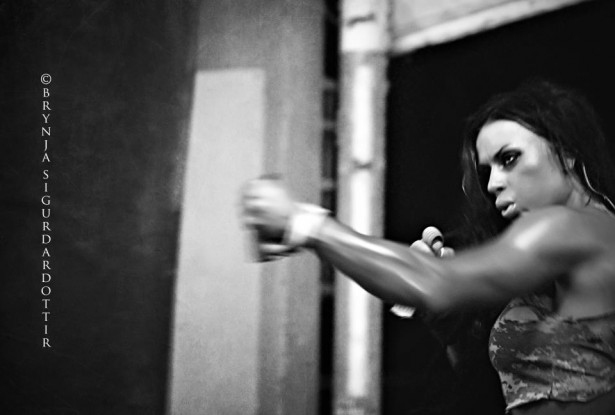 Do you do any other non-traditional training?
I do, I have trained at an MMA gym called Pure Bread. I was doing 2 a days.  Talk about an ass beating, I rolled with guys that didn't care that I was a girl they didn't train with me any differently and that's why I loved it.  They were rough with me.

Can you give us a sample of your training routine?
Monday,
Morning RUN/SWIM
Afternoon HEAVY LIFT Glutes and Shoulders
Evening CrossFit WOD
Tuesday,
Morning Sprints on the track
Afternoon, HEAVY LIFT Chest and Triceps
Evening CrossFit WOD
Wednesday,
Morning CARDIO inside, stairs with ankle weights 50 minutes
Afternoon, PRACTICE TECHNIQUE
Thursday,
Morning Run/SWIM/Run
Afternoon Heavy Lift Back and Biceps
Evening CrossFit WOD
Friday,
Morning Track Sprints
Afternoon, Heavy Lift Shoulders and Legs
Evening CrossFit WOD
Saturday,
Practice Technique
Sunday, REST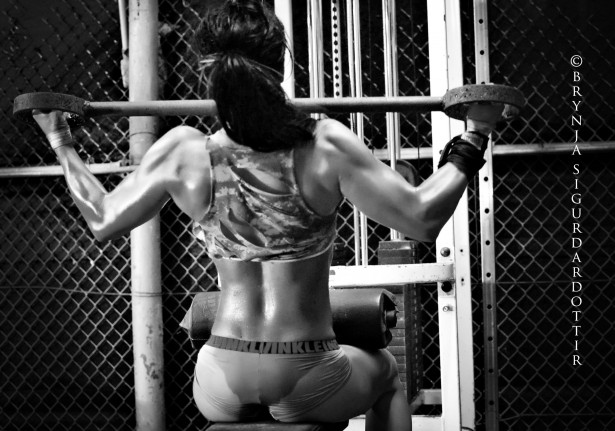 What is your favorite body part to train?
My favorite body part to train is glutes, I spend my fair share of time doing deadlifts.  I've worked really hard at getting a bigger booty and I take pride in it. The days I train glutes I always look forward to the ass beating, literally.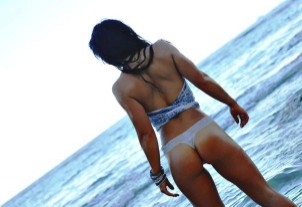 Least favorite CrossFit exercise?
Clean & Jerks, it is a weird movement for me, something that I need to become more comfortable with.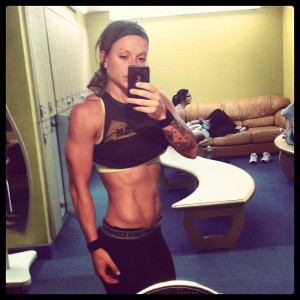 What kind of music do you listen to when you are working out?
Rock, Rap really anything with a great beat.
We all have at least one, what is the most embarrassing song on your iPod?
Hahaa, I have some Disney songs on my IPod, there are actually great cardio beats, you just have to make sure you're not caught singing out loud which I have before.  I have songs like The Lion King, Little Mermaid and Aladdin.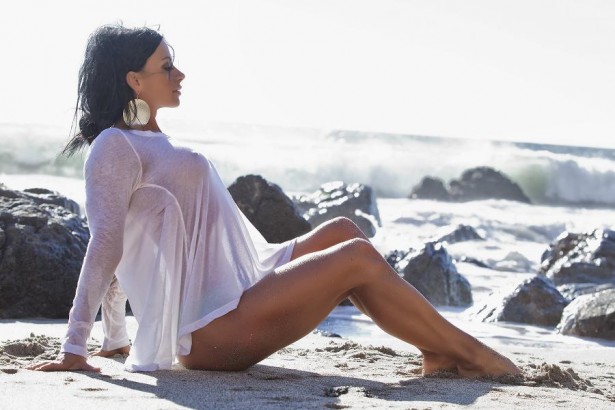 Who has your favorite physique in the fitness industry?
Christmas Abbott, A CrossFit Athlete.
What does your diet look like when you are trying to get lean?
I go by the rules of Paleo 95% of the time, I love it. When Im dieting down, I cut all of my carbohydrates from sweet potatoes, and even veggies eating just protein.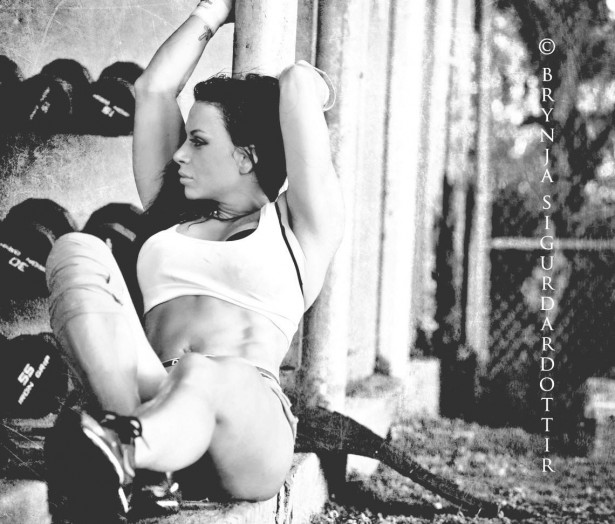 What kind of cardio do you like best and why?
I love cardio outside like run/swims, hill sprints, track workouts and other similar cardio exercises.  If i'm going for duration inside, I hit the big stairs and go about 45-50 minutes with ankle weights on.
If you could give somebody only one fitness tip what would it be?
To never give up on your goals, I see it all the time people who get upset and feel defeated the moment it gets hard.  Of there are going to be difficult times, you're changing your body and your athletic abilities.
Tell us about your biggest bodybuilding/fitness influence.
Sarah Hoey, I met her during Lamaze class when we were both extremely pregnant. We trained for our first show together and we've been best friends ever since.  She has always encouraged me to continue to produce my best. To always put my best foot forward.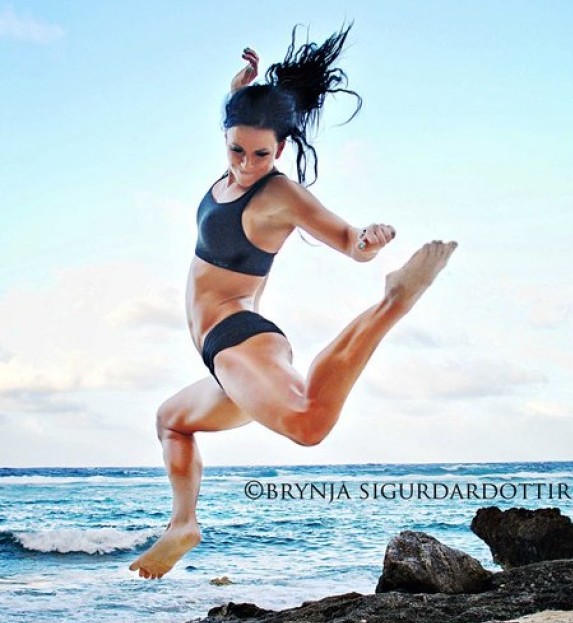 Favorite cheat food?
Flourless peanut butter cookies
Do you take any supplements?
Yes, the supplements I currently take are CLA from MUSLCEPHARM, BCAAs from MUSCLE PHARM, C4 from CELLUCOR, R3 from CELLUCOR, Protein (this is whey, so its not Paleo, since it's a dairy) from MUSCLE PHARM, fish oil and multivitamin all purchased from  www.bodybuilding.com


What does the future hold for you?
I have so much I want to accomplish; I would like to get more involved with the Wounded Warrior Project. I want to make it to the CrossFit games and keep rising the bar in fitness modeling and be the top recognized model in the fitness industry, but to also be known for an incredible Athlete.
Ashley Horner
Website: www.ashleyhorner.co
Facebook Page: www.facebook.com/ashleyhornerfitness
Facebook Page: www.facebook.com/BlaineGamacheAshleyHorner
Facebook Page: www.facebook.com/BecomingExtraordinary
Team www.bodybuilding.com
www.bodyspace.com/ashleyhorner
Twitter@hornerashley
Instagram@ashley_horner
[wp_ad_camp_1]