(Last Updated On: April 21, 2019)
How did you get started in bodybuilding?
I trained for about 4 years before I decided to compete. I really had no intention when I started weight training of ever doing a show. In San Diego, where I lived after college, I had a lot of people tell me I had the right frame for Figure, but I thought they were crazy. I was not ready to put in the time needed to do a show.
When I moved to New York, I started training at NYSC. After a few months of working out, I felt bored with what I was doing. I decided to get a trainer again and learn some new stuff and get some motivation back. I started training with a trainer at the gym that was an NPC Bodybuilder. He also told me from the start that I had the look and the frame for women's Figure. But again, I was not ready to even think about training for a show.
After a month or so of training with him, he invited me to go to his upcoming show, the NY Metro in 2007. I saw him win his class and win the Overall. This is when the show bug bit me… I still remember the energy and the excitement I had within me while watching the show. I knew that this was something I could do. SO that was it. I decided right then and there that I'd start figuring out when my first show would be. In June 0f 2007 we started training for the Eastern's which was in November 2007, and I haven't looked back since!
What is your favorite body part to train?
I LOVE to train shoulders!!! But, this year I had to hold back. My shoulders were very dominant, so I had to tone it down to create a more balanced look.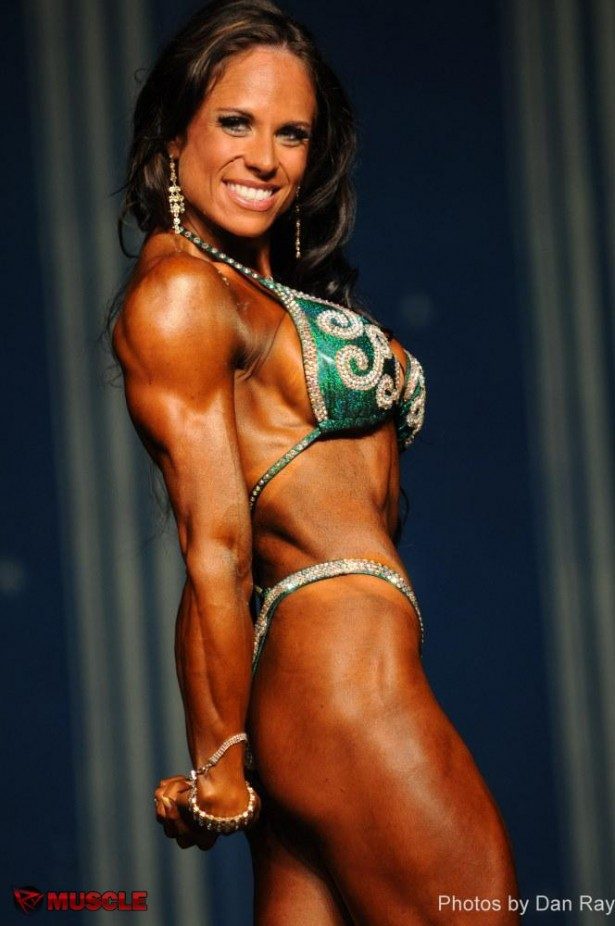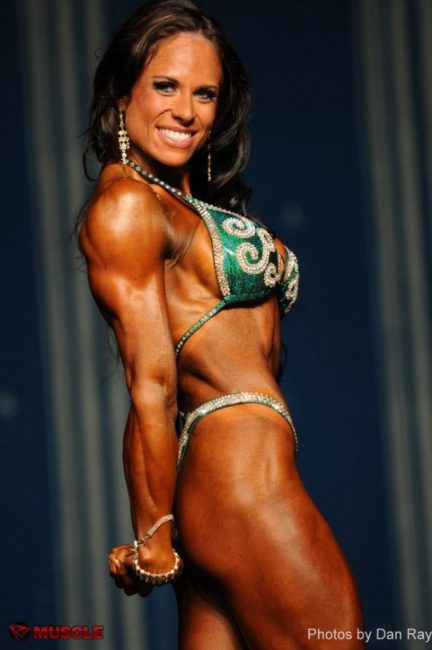 Can you give us a sample of your routine?
Well, it had changed a lot over the past year. Last year and off season, I was training one body part per day, splitting legs into two days. During season, since February and my first show, my training changed drastically. It seemed the look the WP was leaning toward was a more toned down look than what we all had expected. I still had dominant shoulders, so they were taken out of my training cycle. I also only did two exercises for chest, to minimize any simulation of my shoulders. So basically I was doing legs twice a week, back , and arms, and that was it. Pretty boring I must say.
After the New York Pro, the look is now turning to a more muscular look, and I for one and totally thrilled! I am in my off season now, and I am back to training one body part a day, even shoulders!
What kind of music do you listen to when you are working out?
While lifting, I usually listen to metal or rock. During cardio, its pretty much anything that can keep me going. I sometimes also listen to books. I just finished grad school, so I needed to maximize my time, and listening to my books during cardio was great!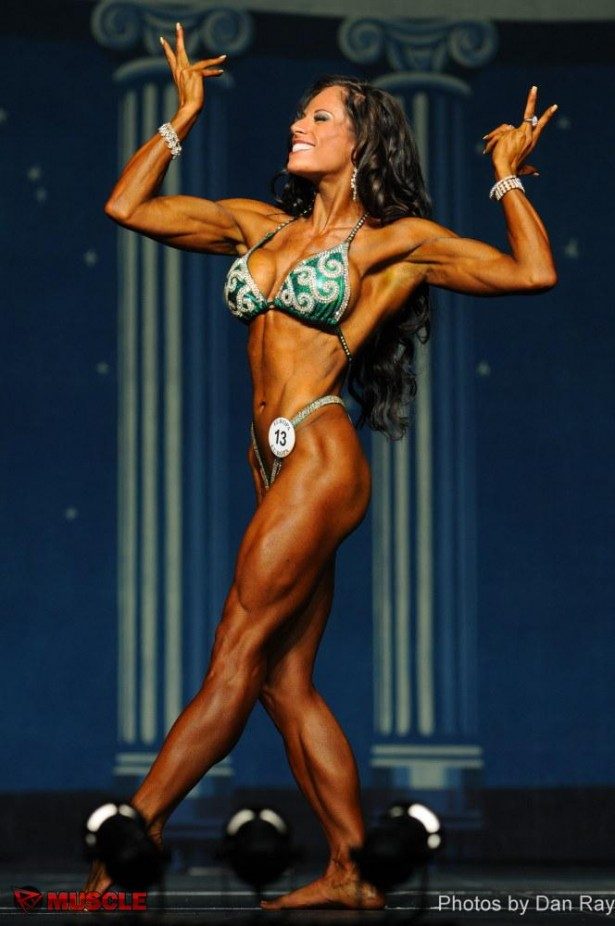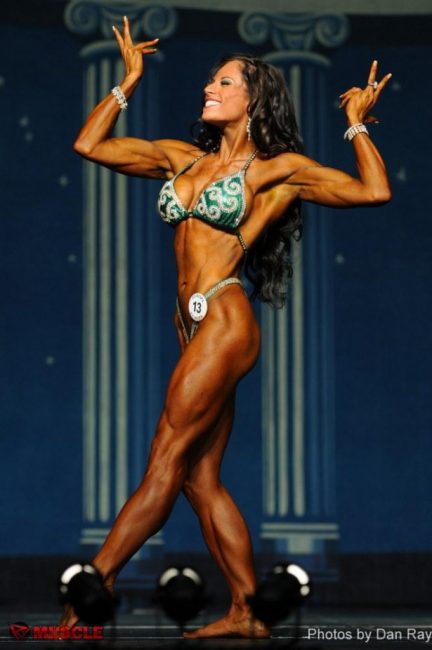 We all have at least one, what is the most embarrassing song on your iPod?
Haha! Justin Bieber – Never say Never hahaha! Every time it comes on I make sure I turn the volume down so people don't hear it LOL!
Favorite sports team?
Born and raised J..E..T..S.. JETS JETS JETS!!!!!!!!!!!!!!!!!!!!!!!!!!!!!!!!
I'm also a Yankees fan.
Tell us about your switch from figure competition to physique?
I moved to the WP because I needed a change from Figure. My record at NY and CT Regional/Local shows was awesome, but the second I stepped on a National stage, my long road of heartache, confusion, and feelings of being discouraged set in. It was a long few years struggling to fit the "new look" of Women's Figure. In 09 they softened the overall look to the figure competitor, and I was all of a sudden on the outs. I tried so hard to conform my look to be what the judges were looking for but failed. Time and time again I was getting LAST call outs in classes of 50…. In 2010 I did 5 shows, from the Arnold Amateur all the way to The Nationals, bringing a new look to the stage each time. I had perfected the task of being a chameleon, yet under it all, I still was too muscular and hard for what they wanted. As I stepped off stage at National, I vowed to NEVER compete again. I was done. What was I putting my heart and soul into? Getting last call outs? Hell No!
A friend came up to me and told me they were coming out with a new division that would be perfect for me. Of course, at the time I didn't want to hear it. But as time went on, and I talked to more of my friends about it, I made the choice to make the move. What did I have to lose…. I was already at rock bottom…
Once I decided to make the switch to the WP, I only had a solid month to "bulk up" so I began training like a mad woman! At this time I also decided to do my own prep, so I started my diet at 18 weeks out instead of the normal 16, just to give myself some time to tweak things when needed. I also worked with Michelle Brent on my posing. She is a top National NPC Female Bodybuilder, and has been at it for over 20 years! I knew she would be able to help me with the routine and with the posing. There were no set standards for the posing, so it was Michelle and I testing it all out to see what poses would accentuate my best features.
At Jr USAS, I placed 4th and was told I was a little too lean and needed to tone down the striations in my shoulders and glutes. I had planned on waiting to do the USAS in July, but decided that I needed to jump in and do the JR Nationals in Chicago. Best decision I've made, because that is where I won my class and earned my IFBB Pro Card!
Since there were no pro shows in 2011, I had a longer off season and started prep in November for the first WP Pro show in February in Arizona, where I placed 3rd. At the Orlando Europa, I placed 2nd and was very pleased. At the NY Pro, I placed 12th. This was disappointing to say the least. BUT on a positive note, the women that they chose were way more muscular than prior winners. This look is more along the line of the look we all thought the division would lean towards. So in the end it was a very positive thing, and I am excited to work it in the off season!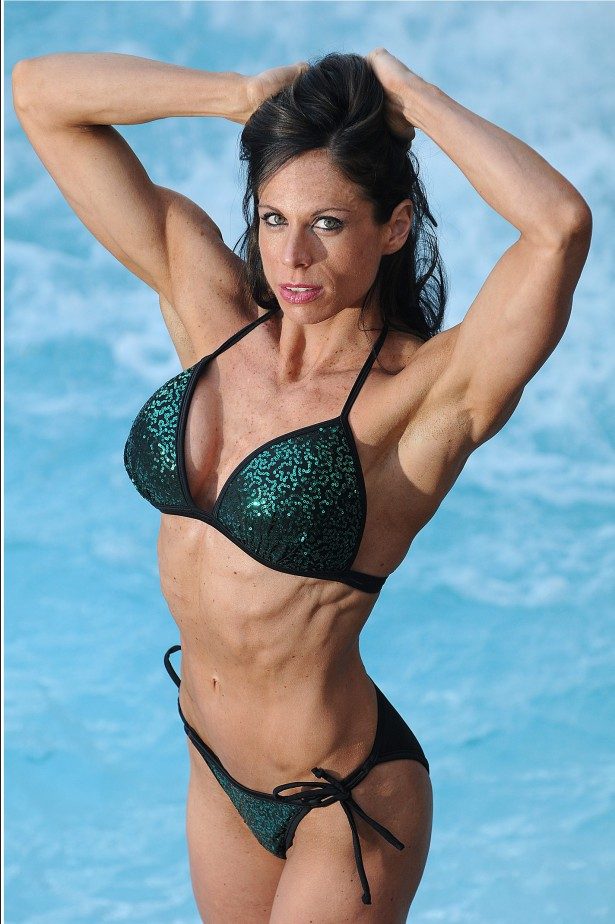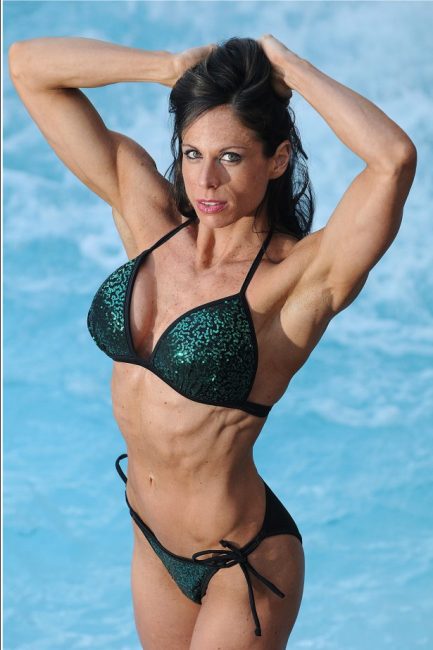 What does your diet look like when you are trying to get lean?
I have done my own diet for the past two years. When i am dieting for a show, its low to no fats, moderate carbs and high protein. I don't do well on fats. I pull them from my diet at about 8 weeks out. Seems to work for me!
 What kind of cardio works best for you?
I know a lot of people run stairs, do high intensity cardio and all types of crazy stuff. I have bad knees, so I do low intensity cardio. On the treadmill I am always on a very high incline, walking at a fast pace. For the stairmill, I am always at a faster pace, usually level 10.
If you could give somebody only one bodybuilding tip what would it be?
Do your own research on anything a coach or trainer advises you to do or take. I have seen so many ladies, and men too, mess up their metabolisms, take supplements they don't need, or get injuries because they just believe what they are being told without asking why or researching things on their own. The best thing I ever did with the two coaches I have used, is to ask questions. I asked so many questions and did so much research that I realized I knew enough to do my own prep.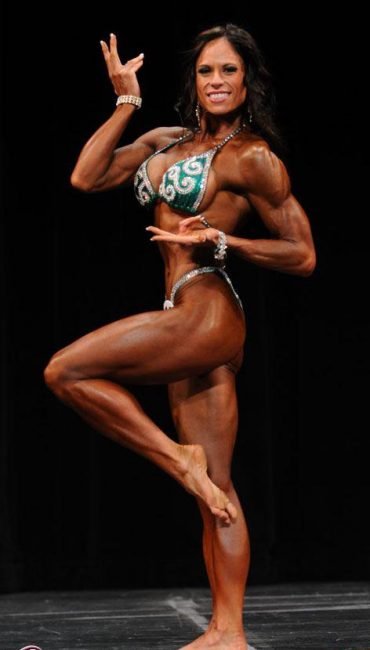 Tell us about your biggest bodybuilding influence?
This is a good question. I feel that a lot of people put too much of their blind faith in actors, famous athletes, and other celebrities. I was very lucky to have parents that love me and have supported me in all my adventures. My parents taught me about strong morals; that I needed to believe in myself, and that self worth and self values are things that you never turn your back on; how to set goals and the strategies on how to reach them; that I could be, or do anything I set my mind to; that struggles make you work even harder, and that there is always a way to make changes in your life.
I can honestly say my parents are the strongest influences in all aspects of my life, bodybuilding included.
Favorite cheat food?
Anyone who knows me would say Cold Stone Ice Cream! And Burgers and Fries!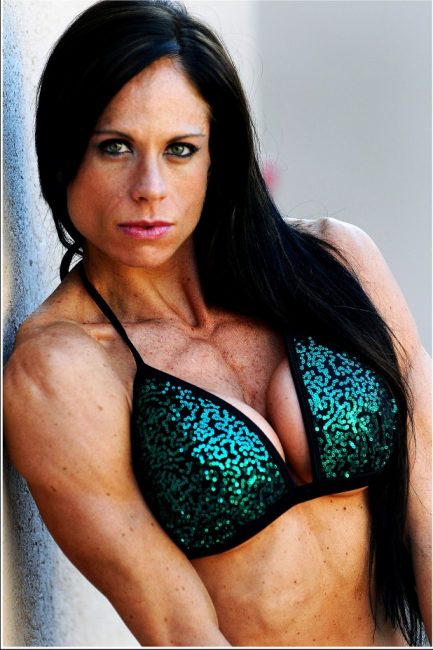 What does the future hold for you?
I am in the off season now, I am trying to add a bit more muscle to my frame. I am excited for this off season. I love setting goals and the journey to reach them.
I am hoping that my placings this year are good enough to get an invite to the Arnold next year! That would be such an honor! As a figure girl, I did the Arnold Amateur, I would be so honored to stand on that stage as a Pro!
I will be tracking my off season progress through videos and commentary produced by my amazing sponsor Iron Mag Labs! These will all be posted on my facebook fan page, IFBB Physique Pro JillyRev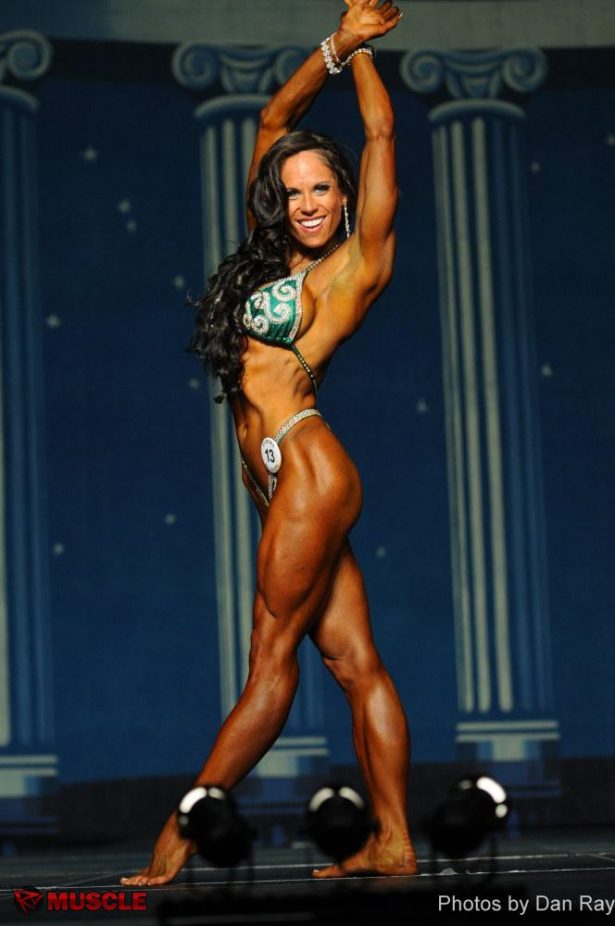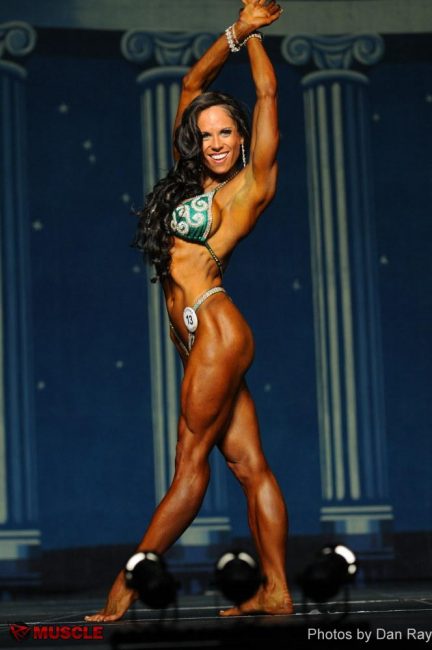 I want to thank a few people for their support:
My sponsor, IronMagLabs. They have been amazing. They have fantastic products that have helped me be my best on stage! I am very proud to be a part of such a great company that really cares and give such amazing support.
My parents, without their guidance I would not be who I am today.
My boyfriend Donny, he's the light of my life, my partner, my strength, my biggest fan, and the love of my life.
Kenny Wallach and the Montanari Brothers at Golds Gym New Haven. They have been there for me and brought me into the family. I am very lucky to have their support.
Jill Reville
Sponsor: IronMagLabs.com
Facebook: Jill Reville Facebook Fan Page
Get absolutely ripped in just 90 days with P90X – Click here