(Last Updated On: April 16, 2019)
Jennifer Caron decided it was time to get fit and change her life. She lost 60 Lbs over the course of a year and has become a fitness competitor. She sat down to talk with us.
What made you start your transformation?
Every year I'd say to myself "this is the year" but then the year would go by and I made no effort to better myself. Well, my friend invited me to her bodybuilding competition and I went to show her support. That was all it took. I asked her what I needed to do and she sent me in the direction of a trainer named Bill Murphy out of Woburn, MA. I learned what I needed to do and I did it. It wasn't easy but I made it happen and I am so glad I didn't wait any longer.
Did you have any setbacks along the way?
Haha.. Not so much set backs. It was just the normal sweet tooth cravings. It was nothing a little will power couldn't fight.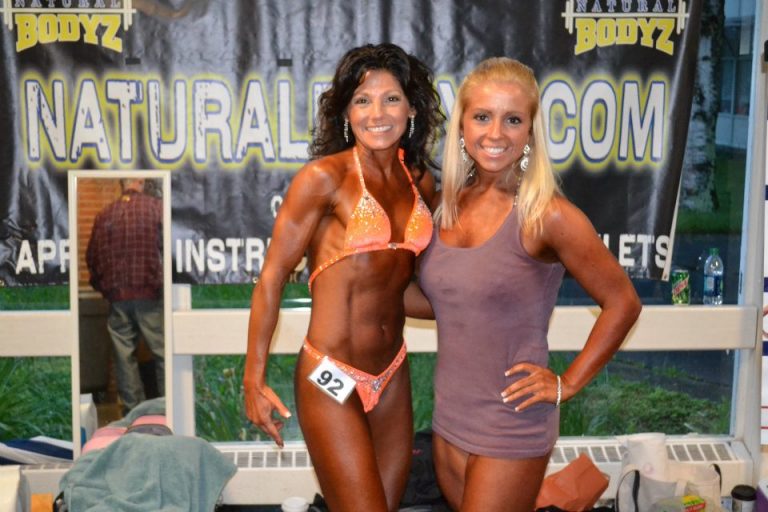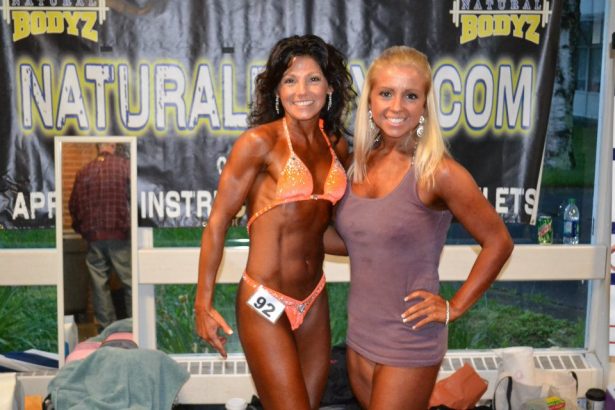 What would you eat in a typical day?
Here is a typical day:
Protein-Carbs-Fats-Calories
Breakfast
2 Morning Star Breakfast patties16g-8g-6g-160cal
Walden Farm Pancake syrup 0g-0g-0g-0cal
Snack:
1/2 Locarb Pita 3g-4g-1g-30cal
1tbsp Teddie Organic Peanut butter 4g-4g-8g-96cal
4 celery sticks 2g-8g-0g-30cal
Lunch
2 cups spring mix lettuce 3g-3g-0-10cal
Kens Lite sun dried tomato dressing 0g-6g-4g-60cal
Deli Turkey-no preservatives 4slices(chopped) 15g-1g-1g-80cal
Baby Carrots 1g-8g-1g 35cals
Snack
Protein shake 51g-7g-2g-240cal
55 Goldfish Crackers 4g-20g-5g-140cals
Dinner
4oz grilled chicken 44g-0g-9g-260cal
Greenbeans 1cup 2g-7g-0g-35cal
Snack
Chobani Greek Non-Fat Plain 6oz 18g-7g-0g-100cal
1/2 cup blueberries 1g-11g-0g-41cals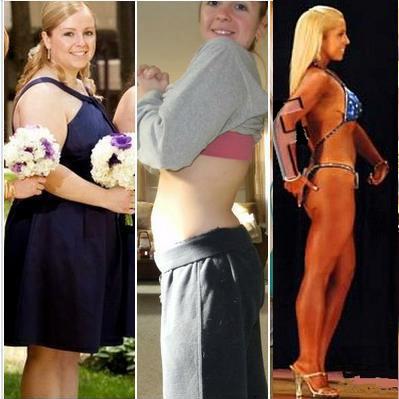 What did your exercise routine look like?
I would do a minimum of 30 mins of cardio at a moderate intensity that would make you break a sweat. 2 of the 7 days, I would do HIIT(High Intensity Interval Training) for 20-25 mins. At the end of every workout, right before I leave the gym, I would do 5 minutes of HELL. (Run as fast as you can for 5 minutes until you have nothing left to give.)
Monday – Biceps and Triceps, 30+ mins of Cardio, 5 minutes of HELL
Tuesday – 30+ mins of cardio, abs, 5 minutes of HELL
Wednesday – Lower body, 30+ mins of Cardio, 5 minutes of HELL
Thursday – 30+ mins of cardio, abs, 5 minutes of HELL
Friday – Chest, Shoulders, Back, 30+ mins of Cardio, 5 minutes of HELL
Saturday – 30+ mins of cardio, abs, 5 minutes of HELL
Sunday – 30+ mins of cardio, abs, 5 minutes of HELL
What advice would you give someone looking to do the same kind of transformation?
Don't wait!! There isn't anything but excuses stopping you from getting the body you deserve. You need to be emotionally ready for the experience though. There are many obstacles like holidays, get togethers with friends, etc… but you just have remember why you are doing this. It is important to set goals. Know your ultimate goal but make sure you set mini goals along the way to keep head in the game. You want to stay accountable, so I would also suggest keeping a food diary and use myfitnesspal.com. I swear by that website.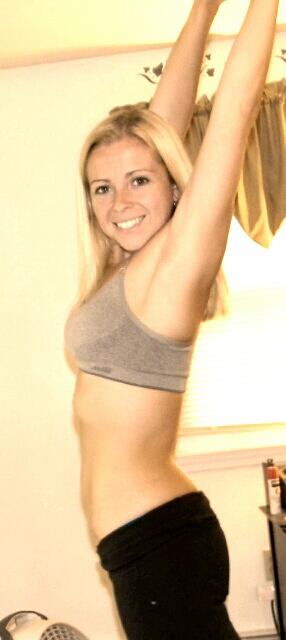 What made you decide to become a fitness competitor?
It was actually something I had never even considered before. I knew I needed a goal to shoot for though, a goal that would be so out of reach that my only choice would be to dive in 100%. It was a decision I was nervous about because I had never felt comfortable in the spotlight. I am so thankful I decided to go out of my comfort zone. I learned a lot about myself.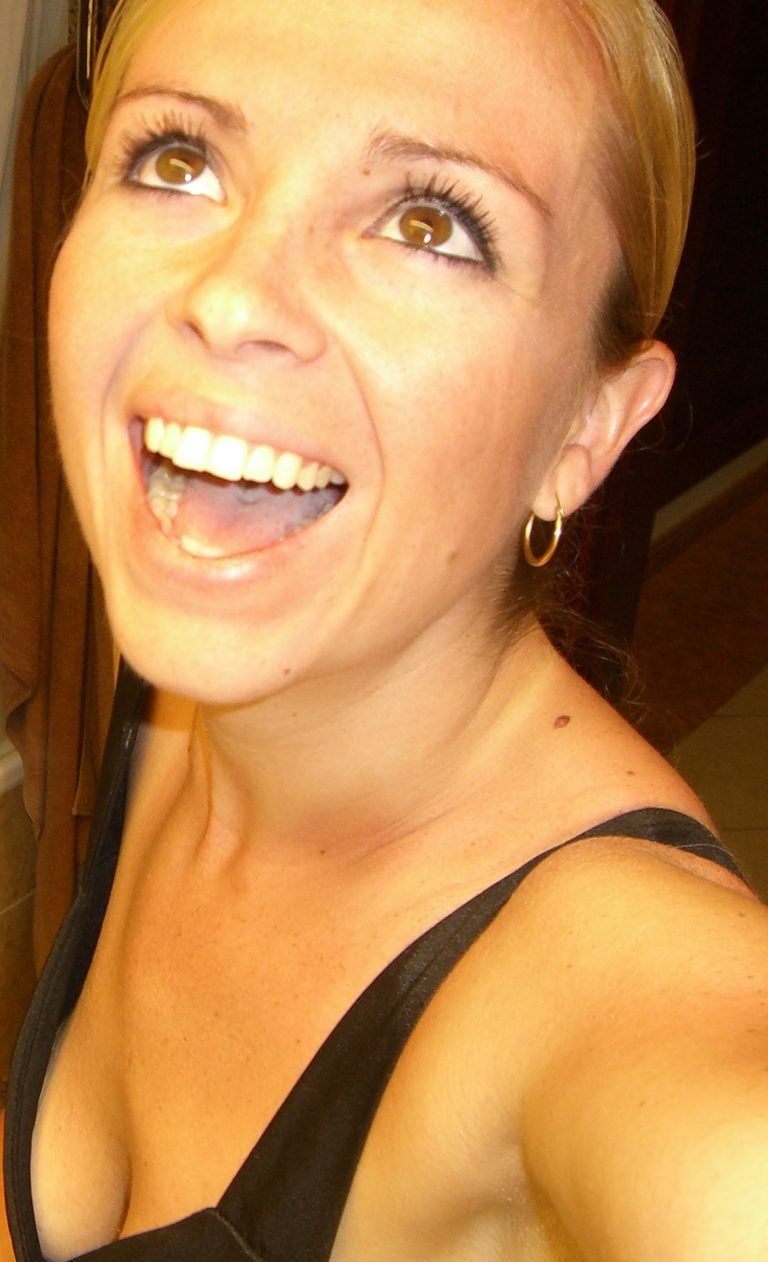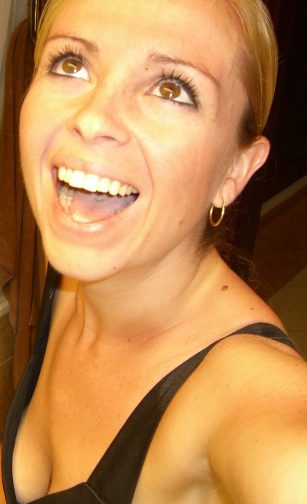 What kind of music do you listen to when you are working out?
Something fast. I always liked Titanium by Sia. It really depends on what I was doing. Sometimes I would turn on the techno music because the faster the beat, the faster I would run. I would usually just put Pandora on my phone and tune in to some fast workout station.
We all have at least one, what is the most embarrassing song on your iPod?
Hahaha, I would have to say Wannabe by the Spice Girls.

What kind of cardio do you like best and why?
I like to mix it up at the gym. I would try to do a different cardio machine each day. I like a little variety in my workout.
Do you take any supplements?
Yes, I do. I take 1st Step Pro-Wellness whey protein, Multivitamin, fish oil, B-12 and a Biotin supplement.
What does the future hold for you?
I am currently just enjoying my off season although I am still working out 5-6 days per week. I am looking into competing again in 2014.
Jennifer Caron
Facebook Page: www.facebook.com/JenniferCaronInspirationMotivation