(Last Updated On: August 27, 2016)
How did you get started in bodybuilding/fitness?
It was about two years ago when my mother decided to start training for her first bikini show. I knew nothing about the sport but I saw how hard she trained and the dedication it took to get her where she needed to be to step on that stage and let's just say, I was more than impressed. I decided to give it a whirl and I was hooked off the bat. Since then, my mom has switched over to figure and I've had the pleasure of competing in 7 shows in the bikini division. We've competed at two shows together so far and I can almost guarantee that there will be more to come in the future. Definitely a great bonding experience! I love my mama!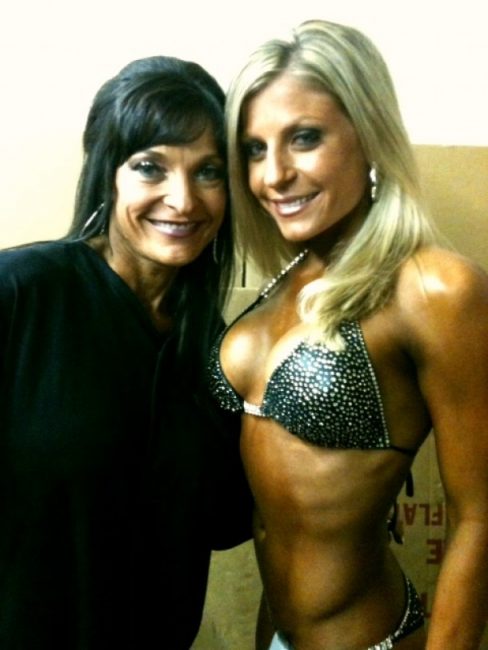 What is your favorite body part to train?
I would definitely have to say LEGS! Growing up they were always the strongest part of my body. I attribute that to the many years of soccer, gymnastics and volleyball. I love pushing myself and seeing how heavy I can actually lift/squat/lunge etc. I must say, that at times I am quite surprised by the amount of weight my legs can handle 🙂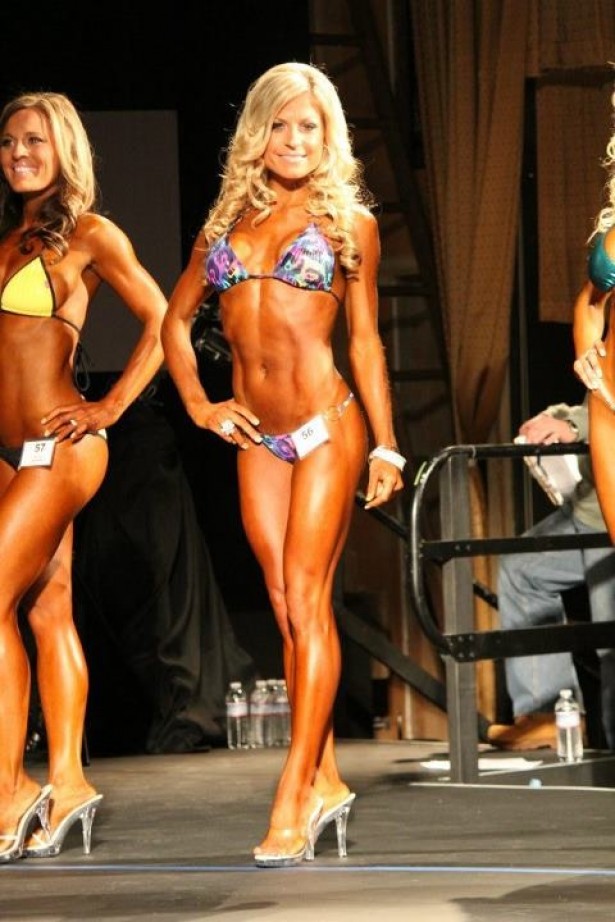 Can you give us a sample of your routine?
Absolutely!
Right now I am currently training my legs 3 times a week. I have been preparing for a photo shoot for the past couple of weeks so in order to cut up quickly I have lowered the number of sets and raised the number of reps. If I was trying to build muscle I would do the opposite by increasing the sets and lowering the reps which would allow me to lift a lot heavier.
Leg extensions – 3 x 20 reps
Lying leg curls – 3 x 20
One-legged lunges (on bench) – 3 x 15 (each leg)
Squats – 3x 20
Calf raises – 3 x 20
Hip extensions (a.k.a. Cable kickbacks) – 3 x 12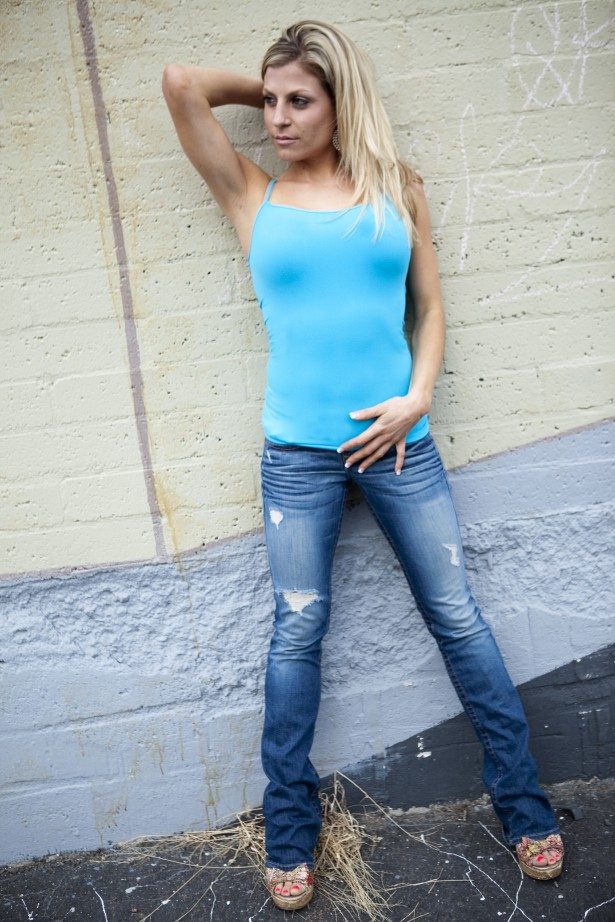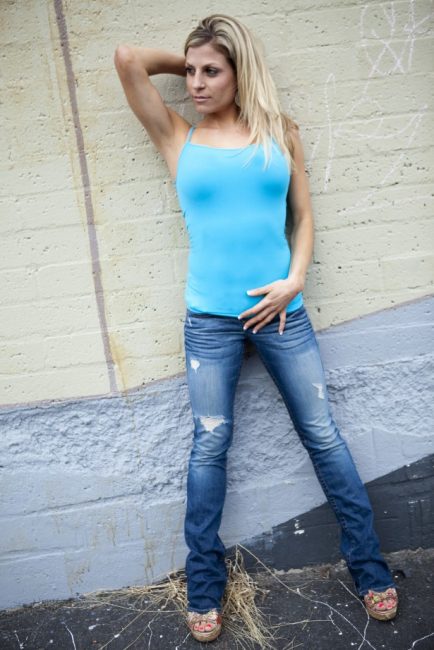 What kind of music do you listen to when you workout?
Hip hop and house music. Or pretty much anything with a good beat. Dreaded are those days when you get to the gym and realize that you forgot to charge your iPod or phone………..
 We all have at least one, what is the most embarrassing song on your iPod?
I have a couple iPods in my gym bag that don't really get used anymore. I have listened to all the songs on there so many times that I end up skipping 8 songs before I find one that I can actually stand listening to. After spending more time playing with my iPod than actually working out, I decided it was time to switch over to pandora….so much more variety and you never know what's coming up next. Love it!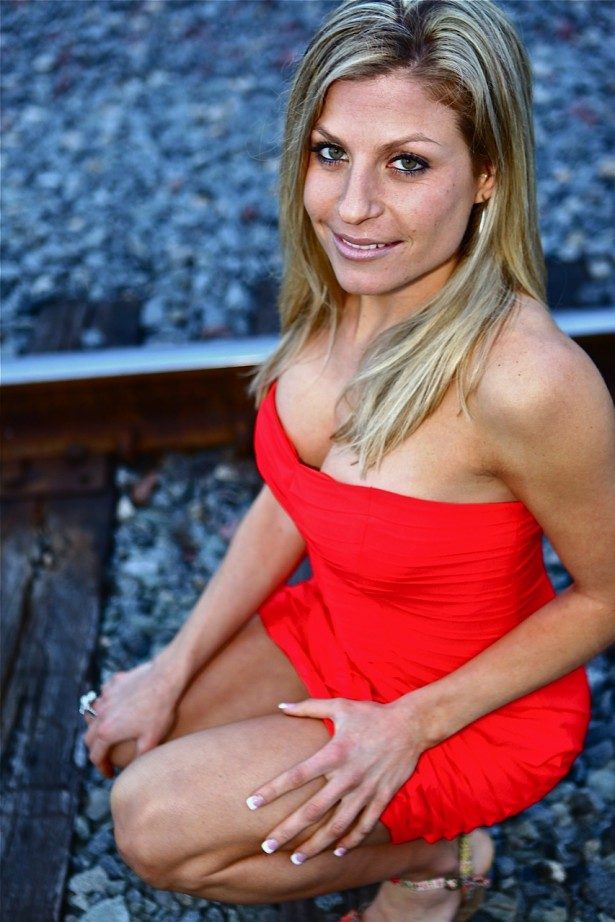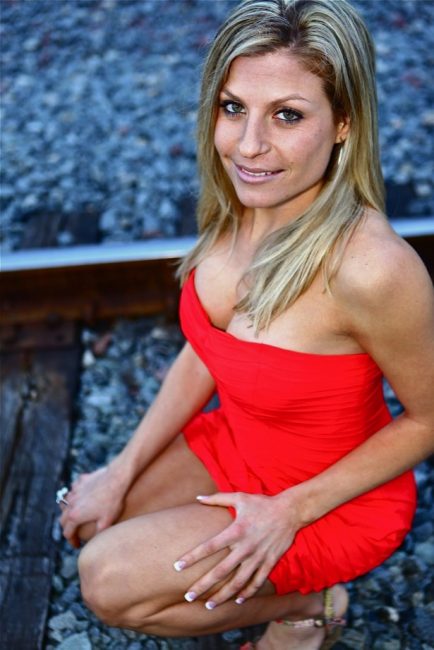 Who is your favorite physique in the fitness industry?
There are so many great physiques out there in this industry but if I had to choose one I would say Amanda Latona. She has great abs and a nice booty!!!!! She is also very sweet in person which adds to her beauty.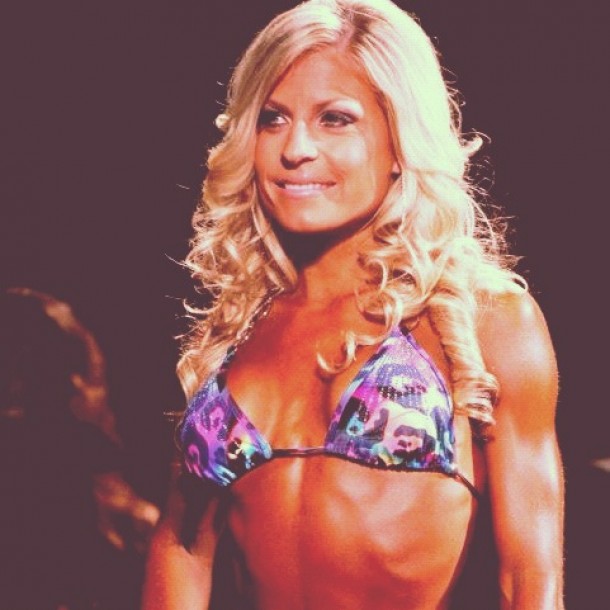 What does your diet look like when you are trying to get lean?
Meal 1: 4 egg whites, 1/3 cup oatmeal
Meal 2: 4 ounces white fish, 1 cup asparagus
Meal 3: 4 ounces ground turkey, 1 cup green vegetable, 4 ounces sweet potato (yum!)
Meal 4: 4 egg whites, 10 raw almonds
Meal 5: 4 ounces chicken, 1 medium salad w/2 tbsp of balsamic vinegar, 1 ounce avocado, 1 cup green vegetable
Meal 6: 1.5 scoops protein powder, 1 tbsp organic peanut butter, mixed with water
 What kind of cardio do you like best and why?
I love the stair machine…….ok, let me rephrase that….. Out of all the cardio machines at the gym, I like the stair master the best. I really feel it targeting the hamstrings and glutes (always trying to improve these!). If Im outside doing cardio, I really enjoy going on walks around my neighborhood. They've got a ton of hills and beautiful houses to look at:) Beach walks/runs are nice too!
When I am in training for an upcoming show, however, I REALLY dislike cardio. It's when I'm in the off season that I feel like I could run/bike/swim for hours at a time…it's a mental mind game that I enjoy playing with myself.. 😉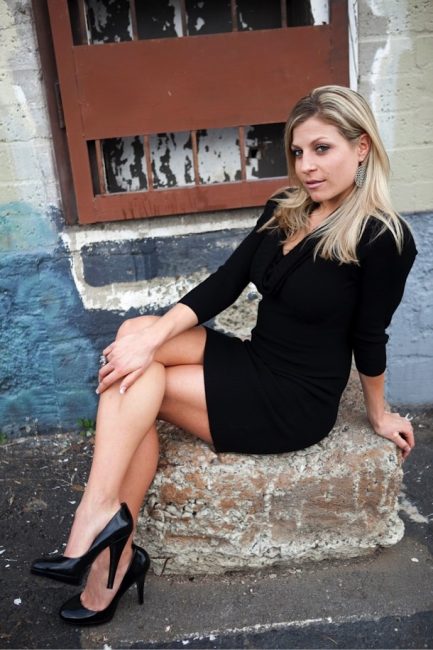 If you could only give somebody one fitness tip what would it be?
Diet is key! You can't work off bad nutrition. For years I believed that if I ate that greasy burrito or that big bowl of cheesy pasta, I could easily work it off no problem….WRONG! I was spending hours in the gym everyday and seeing no results. It was then I knew it was time for a change. Fruits, vegetables, whole grains and lean meats are a MUST!!!
 Tell us about your biggest bodybuilding/fitness influence?
Thats a no brainer. My family for sure. Like I said before, my mother was the first one to spark this competitive bug and now my brother has joined in this year and is competing in the physique division. It's awesome to have a support system that understands exactly what your going through when dieting/training for 12 straight weeks. We talk to each other almost every day and I absolutely love it:)
 Favorite cheat meal?
After a show, I would do almost anything (notice almost) to get my hands on some peanut butter pretzels, wasabi peas, and trail mix with m&m's. It's almost a ritual for me to have all 3 of these packed away in my bag ready to be ripped open after I step off that stage. Delicious!
 Do you take any supplements?
 -Multivitamin
-Vitamin D
-Digest-All
-L-Carnitine
-ALA
-CLA
-Pre-workout drink
-Whey Protein
-ZMA
What does the future hold for you?
As for competing, I am taking the rest of this year off to try and build more lean muscle. I did 6 shows last year and that definitely took a toll on my body. It is time for a well deserved break! It is my turn now to cheer on my brother (Brad Petersen) and mom (Tina Petersen) at their upcoming shows. Be on the lookout for them!!
Career wise, I am looking at going back to school to get another degree in the Health Care field. For me, there is no better feeling than caring for those in need. Definitely looking forward to the future!
Charlene Petersen
Website: www.charlenepetersen.com