(Last Updated On: February 26, 2017)
What made you start your transformation?
I became a competitive gymnast at age two and a competitive cheerleader at age 10. I continued cheering and gymnastics throughout junior high and into high school. At the start of my junior year, girls started to give me a hard time about my weight. I wasn't overweight, but the girls were catty and loved drama. They always made comments about how my body didn't look as athletic as it performed. It didn't take long for the comments to bring me down. I eventually stopped cheer and gymnastics because I was depressed. When I realized I shouldn't let girls bother me, I went to the gym and spent the entire summer before my senior year there. When school started, I did online classes and Cross Fit, but it wasn't for me. Two trainers at LA Fitness, Ron and Kevin, said I should look into fitness shows, but I wasn't sure where to start, so Ron and Kevin hooked me up with an amazing personal trainer named Janis Garrido. I started training with Janis in November 2012. She said if I worked hard enough I could enter a bikini competition. I busted my butt every day and stepped on stage in March 2013 after three months of hard work and dedication. I placed fourth in the NPC bikini open class D. I was 17 years old and it was the best experience of my life. A few weeks after the show, I was offered a sponsorship from Total Nutrition in West Palm Beach, Florida. I recently competed again on June 29, 2013, at the Anna level and placed fourth in teen and third in open class D to qualify for nationals. My goal is receive my pro card and get into fitness modeling. I did photo shoots recently with Jim Beriau and Corso Photography and had a blast. I don't consider this a onetime thing. This is my lifestyle and I do it because I enjoy it; not to prove girls from high school wrong. My journey is about being successful in the health and fitness industry by making an impact in the lives of others so they can reach their goals.
 Did you have any setbacks along the way?
Dieting in the beginning was difficult because I'm young and there are many parties and dinners to attend that create distractions. I learned to pack food and prep for the week. I decided to quit staying up late when I train in the morning because my body needs rest. I don't bother going out because it gets in the way of my goals and future.
 What does your workout routine look like?
I do cardio 5 times a week 45 minutes a day when I am on contest prep and when I am on my off season I keep my cardio 4-5 times a week doing 30 minutes a day because I am trying to keep my muscle on and not lose it. I lift four times a week hitting back/hamstrings, chest/triceps, quads and shoulders and biceps. Saturday I do a group boot camp with my Precision Diva team at the beach doing all un-weighted workouts.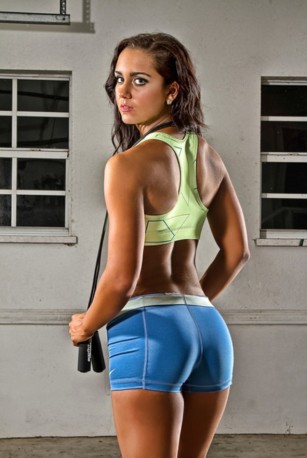 What kind of music do you listen to when you are working out?
I like to listen to anything that will keep me focused and pumped throughout my workouts. I prefer Lil Wayne and Calvin Harris they have great upbeat songs and always keep my energy up during my workouts.
 We all have at least one, what is the most embarrassing song on your iPod?
I have all of Brittany Spears songs on my iPod.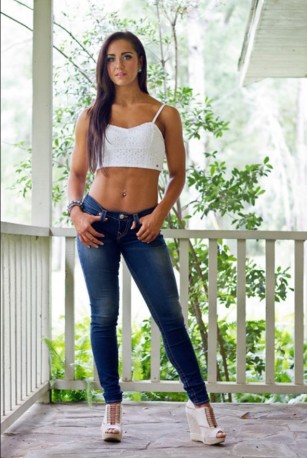 What does your diet look?
My diet during contest prep is stricter then when I am off season. During my contest prep I keep my carbs in the morning and try not to eat them past 2 pm. I cut out all processed foods and stick to my proteins and green veggies. I also limit my intake on protein shakes because my body doesn't digest them very well.
Meal 1 – 1/3 cup oats and 4 egg whites
Meal 2 – 4 oz protein and 4 oz complex carb
Meal 3 – 2 rice cakes, 2 tbsp almond or peanut butter
Meal 4 – 4 oz protein and 1 cup mixed greens
Meal 5 – 5 oz protein and 1 cup mixed greens
Meal 6 – 4 egg whites and 1 cup spinach
 What are the top 10 foods we would find in our kitchen?
 Oats
Almond butter
Peanut butter
Spinach
Asparagus
Grilled chicken
Tilapia
Eggs
Sweet potatoes
Brown rice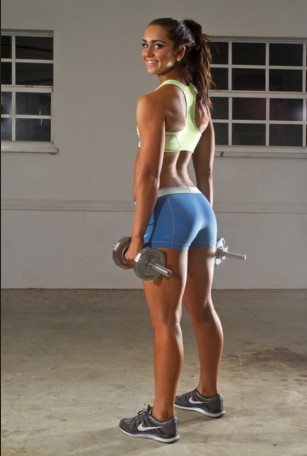 What kind of cardio do you like best and why?
I like to do any type of HIIT training; I prefer to do my cardio on the stair stepper or on the treadmill or outside running and sprinting. I feel with HIIT training I am always switching up the intensity of my workout and always get a good push during my cardio. Rather than if I do a steady pace cardio I am not pushing or struggling and have the strong intensity that I do when I do HIIT training.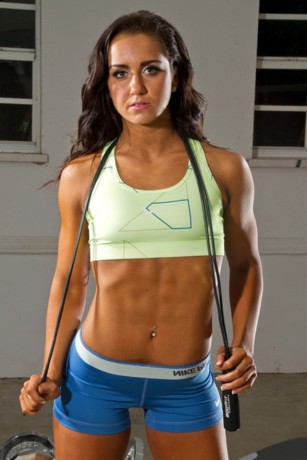 What advice would you give someone looking to do the same kind of transformation?
I would say don't give up and never let anyone or anything stop you from reaching your goals. Don't compare yourself to some else's journey, pay attention to yourself and only yourself and you will see the changes you want.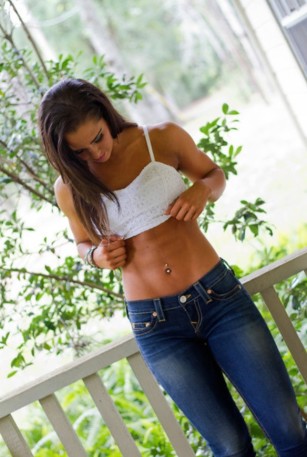 Tell us about your biggest fitness influence?
My biggest influence would be how I was bullied throughout high school. I was made fun of and didn't have many friends because of my weight. I was always athletic but never knew how to eat clean and that led me into the fitness world. I left school my senior year and decided to take online classes and started to live at the gym. I soon found a coach who was able to show me the right diet and the correct workouts and she soon pushed me to compete. If I wasn't ever bullied or overweight I don't think I would be here today. I don't look up to anyone in the fitness world or aspire to be like anyone I aspire to be a better me, each and every day I look in the mirror. I have learned if I wish to be like someone else it is only a set back and I will never reach my goals. My advice to you is to look in the mirror and wish to be a better you and to compare your changes to yourself and only yourself.
Favorite cheat food?
My favorite cheat meal is frozen yogurt topped with Reeses! I have a thing for chocolate and peanut butter.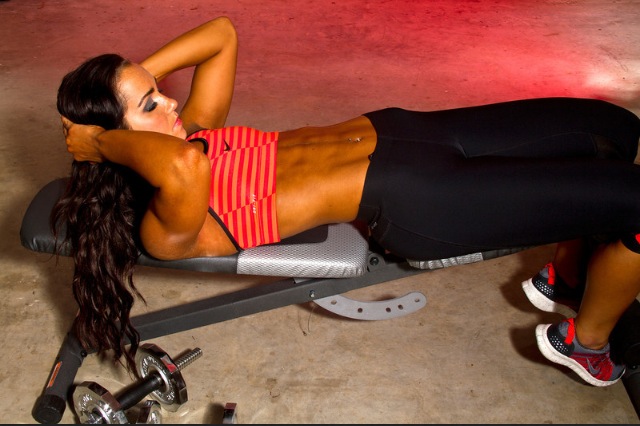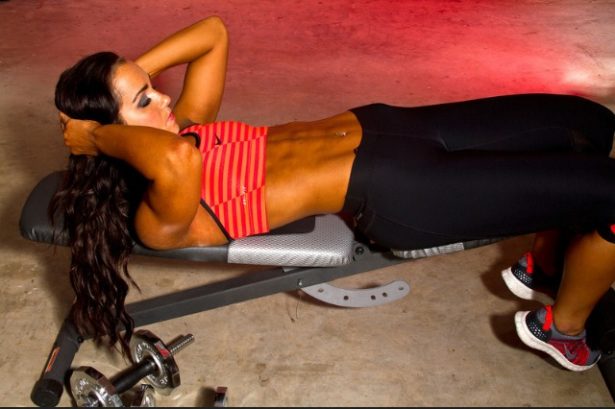 Do you take any supplements?
Yes I do, I take the best of the best Pro Supps! I never really believed in taking a lot of supplements because every supplement brand that I have tried I never got any results from it. Once I became part of the Pro Supps team I started to take more and more and have only got the best results from them. I take a fat burner called DPNX2 from Pro Supps in the morning which is a good caffeine boost for the day and always keeps my appetite suppressed which is what I love. For my pre workout I take Mr. Hyde from Pro Supps which gives me the best pumps for workout. My intra workout I take AminoLinx from Pro Supps and it is the best aminos on the market. They keep me going through my workout and help with recovery. For my post workout when I am off season I will take Pro Supps TCF isolate whey protein or Karboloic chocolate flavor.
What does the future hold for you?
My future plans are to receive my pro card, which I hope will happen in the next year, and compete against the best of the best. I want to compete at the Olympia in the future and step on stage with the best. I will pursue a career in fitness modeling and work with the top fitness photographers in the industry. I'm looking to open a personal training gym to help others reach their goals like I'm reaching mine.