(Last Updated On: November 2, 2021)
Multivitamins are great because they serve to fill in all those nutritional gaps in your diet, and even better if they're tailored to your physiological needs.
Powher is a fine example of a dietary supplement that's meant to support women's nutritional needs. Take a look at our Powher Multivitamin review below.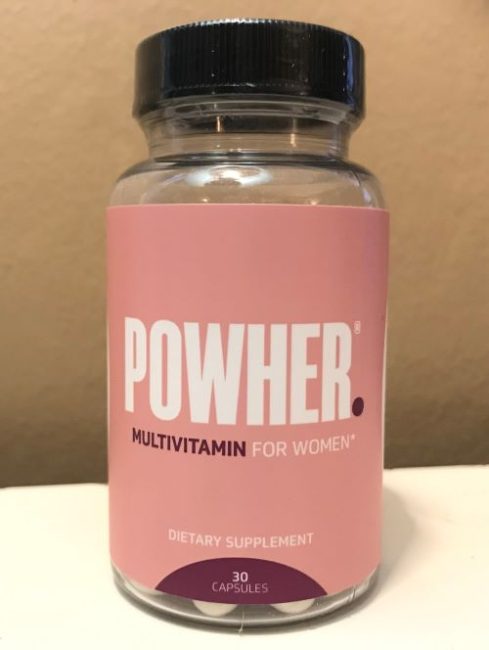 Who is Powher Multivitamin For?
Powher caters to a specific niche, particularly women who think they need additional supplementation.
Powher Multivitamin is a branded supplement, a 'for her' product that's designed to support women's lifestyle regardless of age, lifestyle, genetics, or health history.
Powher is different from other supplements in many ways- one, it's tailored for women (and thus has all the right ingredients at the right dosage), it's made by leading registered dieticians to support overall health, and three, it's in the form of a convenient capsule, which makes intake easier compared to drinking a shake.
Official website: powherofficial.com
Related: See the Top 15 Fat Burners for Women
Powher Multivitamin Key Ingredients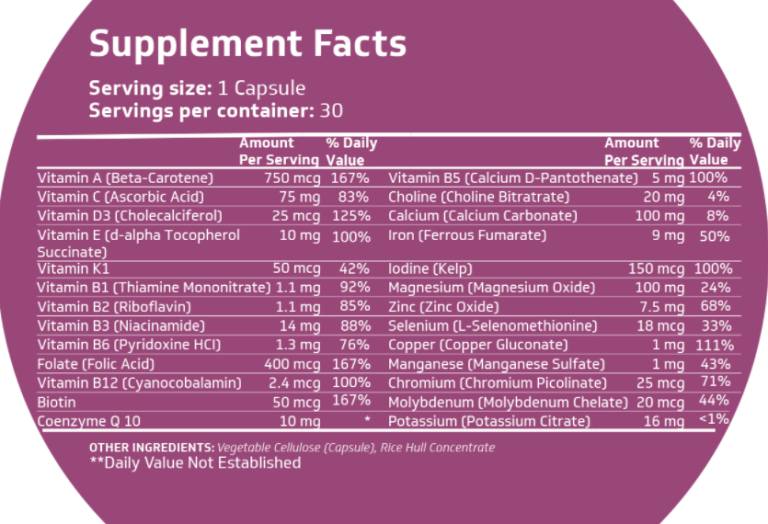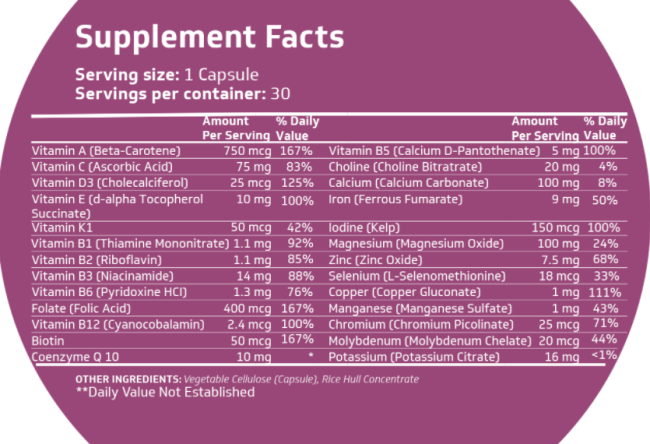 Because Powher is a women's multivitamin supplement the ingredients are slightly different compared to a men's multivitamin. Folic acid, choline, biotin and iron, in particular, are in higher doses, which we'll touch on in a little bit.
The manufacturer maintains that these four ingredients play an important role in women's health. Aside from that, they included vitamin D, B vitamins and coenzyme Q10 to give you a boost in workout performance and recovery.
Folic Acid
Folic acid is super important not just for pregnant women but for everyone as well. In the body, vitamin B9 is essential for DNA production, carbohydrate breakdown and the formation of red blood cells.
In workouts and physical activities, folic acid delivers oxygen to the muscles to prolong time to exhaustion.
Powher delivers 400mcg, or 167% of your folic acid daily value per capsule. This means you get the essential nutrient even if you didn't eat foods that have it during the day.
Choline
Choline is an important B vitamin for both sexes, but it benefits women in a special way. While the component is well-known in muscle-building circles due to its ability to improve stamina and muscle performance, it does offer benefits outside the gym, particularly supporting brain development, the nervous system and liver function.
Choline dosage in Powher is about 4 percent DV, or 20mg per serving and should be enough to give you all the listed benefits.
Biotin
Although it's not implied, Powher multivitamin works very well when paired with a workout routine or exercise mainly because of its performance components.
Biotin is a prominent ingredient in Powher, and it helps with energy conversion. The carbohydrates you eat are turned into fuel so they won't get stored as fat, so it works as a semi-slimming supplement as well.
Biotin can also help promote healthier and more beautiful nails, skin and hair. There isn't a recommended daily value for it, but you can see that Powher has 50mcg per serving.
Coenzyme Q10
Antioxidants are always good for the body, and Q10 is no different. Its primary role is to provide energy to the cells and reduce oxidative stress whenever you work out or do physical activities. For gym enthusiasts, the effect of Q10 is reduced downtime after gym sessions so you can bounce back faster the next day or so.
Iron
Women tend to have a higher risk for anemia due to their monthly cycles. As such, it's absolutely vital to supplement with iron if you don't have enough in your diet.
Iron is connected to the blood and powers your day-to-day activity. If you're not constantly getting it, then Powher can help- it delivers 50% DV per serving at 9 milligrams.
Rounding out the nutritional department are beta carotene, vitamin C, vitamin D3, vitamin K1, vitamin E, thiamin, riboflavin, niacin, pantothenic acid, vitamin B6, vitamin B12, calcium, iodine, magnesium, zinc, selenium, copper, manganese, molybdenum, chromium and potassium.
Benefits of Powher Multivitamin
Being a women's multivitamin supplement, Powher mainly caters to delivering their nutritional needs in careful and precise dosages.
Here are the benefits you can gain when you start taking Powher multivitamins.
Developed by Registered Dieticians
What we like about Powher is how the ingredients and dosage are carefully measured, and not just by any person- these are registered dieticians who know what they're doing.
As such, you wouldn't find fillers, artificial sources and components that could harm your body. Everything is considered and doses, with choline, iron, Q10 enzyme and folic acid leading the way.
Few other supplements can boast this claim, and for this reason Powher deserves praise. It's not just for how, either- you get a fully transparent label with the DVs (daily value) and dosage intact.
Specially Formulated for Women's Health
Powher can be labeled a true women's supplement because the blend benefits women more than men. You can say that it's specially formulated for women, regardless of age, occupation and lifestyle.
We'd like to point out that Powher works best when you combine it with regular exercise and gym workouts. There are certain ingredients, namely iron, vitamin D3, vitamin B1, biotin, calcium and choline that work better if you assume an active lifestyle.
In the same vein, women can take Powher as a supplement for those nutritional gaps they may have missed on their diet. Regardless, it's a great supplement to have and a convenient one at that.
GMP Certified
The manufacturers of Powher have made it a point to follow GMP, or good manufacturing practices to ensure their products conform to quality standards and are fit for consumption.
Each bottle is made in a BRC or FDA registered facility. This means you get a safe and highly effective product that works as advertised. The registered dieticians come into play here as well- they make sure that you get only the best components per nutrient and at the right dose, too.
Powher can be shipped easily to the UK and US, and also worldwide via a tracked delivery service.
Convenient Way to Supplement
While Powher multivitamin works quite well with its other Powher-branded pre-workouts and supplements you can take it on its own and round out your nutritional intake daily.
As a capsule it's very easy to take- just one a day and with a glass of water after a meal. Instead of having to plan and prepare meals that give you all the nutrients you need, you can skip that every once in a while and take the multivitamin. Of course, nothing beats whole foods, but Powher Multivitamins is pretty close to the real deal.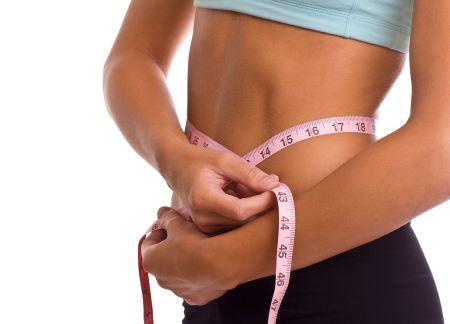 How to Take Powher Multivitamin
To get the most of your multivitamin supplement you should always read the directional label of the product. With Powher, the official website lists that you should take a capsule alongside food and a glass of water (8 ounces).
Take heed that Powher is supposed to be taken by adult women, which means children and teens aren't supposed to take it. For men, there are specially formulated products that cater to their needs. This goes the same with pre-workouts and post-workout supplements.
Also, it shouldn't matter too much what time of day you take the multivitamin. What's important is that you remember to take it every day as intended.
Pricing on Powher Multivitamin
The makers of Powher have made their multivitamin supplement available through a one-time purchase or via a subscription plan.
You can save more with a subscription plan and when you get it at a longer length of period compared to single purchases. To give you an idea, a single bottle of Powher costs $39.99 and should last you a whole month, while a monthly subscription costs only $35 and you'll have the multivitamin delivered to your doorstep every 30 days. You can save 12 percent and cancel anytime, too.
The ultimate package is 3 bottles of Powher Multivitamins delivered every 90 days for only $96. You save 20 percent and get benefits such as free shipping as well.
The official website supports several payment methods, including PayPal, credit cards and others. Checking out is easy and the site is responsive.
What About Shipping with Powher Multivitamin?
Buying the Powher Multivitamin is easy and relatively painless. The site offers a good view even on mobile so you can get to where you need to go in just several taps or clicks.
Powher multivitamin supplements can be shipped worldwide, and ordering and having it delivered to the UK or USA shouldn't pose any problems. Like established merchant platforms it allows you to track where your product is and when you can expect it to arrive on your doorstep.
The manufacturer does a good job of making ordering a bottle of Powher Multivitamin seamless- most Powher Multivitamin for women reviews have the same remarks which means shipping is fast and consistent.
Conclusion
Powher Multivitamin is a step in the right direction when it comes to giving users what they need in a physiological and health sense.
Women will most likely experience an immediate effect in their health and well-being, especially when they take it regularly. The combination of choline, iron, folic acid and Q10 enzyme work together quite well and provide a welcome boost in your day-to-day activities.
Official website: powherofficial.com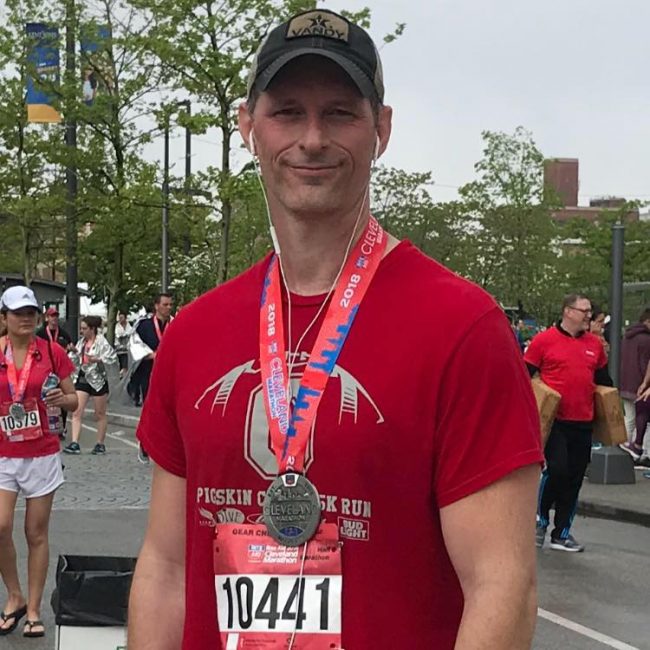 Ryan is a former college wrestler and lifelong fitness fanatic. He has run half marathons, done mud runs, placed in body transformation contests, coached wrestling and now coaches girls soccer. Not to mention he has also tried literally hundreds of supplements over the years and has a vast and thorough supplement knowledge. He has written for Muscle & Strength, Testosterone Junkie, The Sport Review and other publications. He is also the editor in chief of this website. Feel free connect with him on his LinkedIn page below.