(Last Updated On: July 18, 2018)
Brad Castleberry is a highly controversial powerlifter/bodybuilder who we called the most hated man in bodybuilding.
He saw the article and was actually really cool about it. He decided to sit down with us to set the record straight on some things in this interview. Here is what he had to say:
Were you much of an athlete growing up?
I was very athletic and always interested in testing my fitness abilities. I was raised by a single mother along with my brother and sister. We weren't able to play any sports due to her limited time and resources. My dad always took us to the gym with him and I fell in love almost immediately. From there I learned and applied.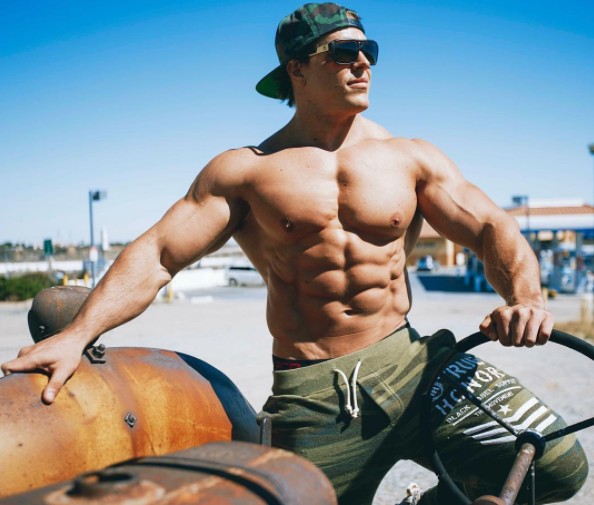 How did you get started in Bodybuilding?
From a young age, I was always infatuated with working out. This included curling dumbbells, bars, situps, pushups, and anything that required strength. I was around 8 years old when I became fascinated with muscles, flexing and bodybuilders. I was 12 years old when my grandparents gifted me a bench press for Christmas. This was really how it all started. I consistently worked out at my house from ages 12 – 17, and then finally bought my 1st gym membership. I joined a local LA fitness which introduced a lifestyle I never became sick of. I have always been self-taught and figured it out along the way. To learn more, I would simply study others at the gym and try to mimic the same workout. It was a simple 'watch and repeat' type of method. I noticed flaws in people's workouts and knew there were better movements and functions to make the workout more effective. I would then recreate these workouts into my own style to give me the results I was chasing after. It was a long process and many ups and downs, but I was always persistent. This is what created the physique I have today.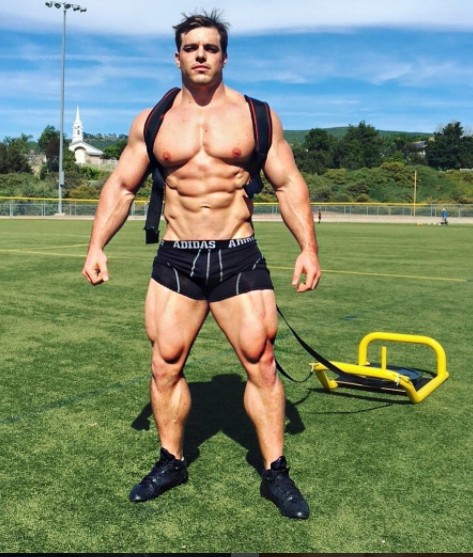 Any plans on entering any powerlifting or bodybuilding competitions?
I don't have any desire to participate in any powerlifting competitions, although I appreciate the sport and athleticism the competitors have. I don't lift for anyone other than myself. I have always pushed myself only because of the love and passion I have for this sport. I didn't get into lifting to compete with other powerlifters, I fell in love with the feeling and outcome I receive as a result of it. I am, however, highly motivated to enter into a bodybuilding competition when I feel the time is right in my life. I am more passionate about how I look rather than the weight I can push. I do enjoy throwing a massive amount of weight around, but that type of exercise is only to help me achieve physique I am after. Right now, I am very involved with my company, traveling and meeting my fans, family and friends, and always pushing my limits.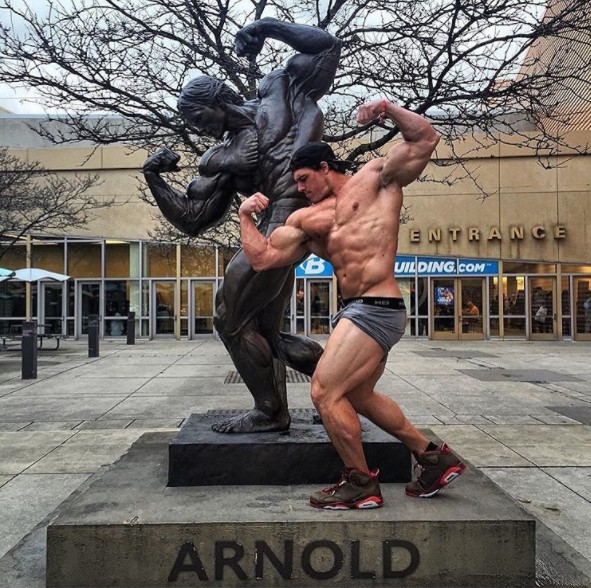 What is the biggest misconception about you?
The biggest misconception I feel is that people who see my Instagram page or see videos floating around the web almost immediately discredit my lifts, workouts or the work I put in. They see me as a punk who doesn't take the sport seriously, but in my head, I feel like I'm one of the best trainers, bodybuilder, and motivators in the world. I guess I'm one of those guys you'll have to meet to love! I don't care that there are people who knock on my lifts, I just want it to be known that I LOVE what I do and I am so humbled that I can positively influence the fans who I inspire. People don't understand that I have a life outside of the gym. What people don't see is that away from the camera, I help others every day, I have a family who I love, I train twice a day, etc. Not everything is documented, nor should it be. I do realize that my fame came from being who everyone knows of me on their screen, so I have to keep that up!
What does your diet look?
My diet is very clean. I eat healthy, but not too strict. It's more about quality, well-rounded foods, and at eating on a scheduled time. Everyone is different and require different amounts of food, but I can always find a flaw in someone's diet if I get to know them.
What are the top 10 foods we would find in your kitchen?
Steak
Potatoes
Bananas
Almonds
Peanut Butter
Bread
Protein powder
EGGS
Oatmeal
Brussel sprouts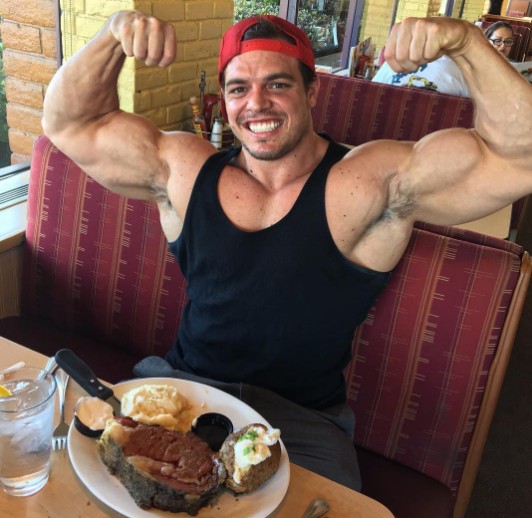 What are your favorite and least favorite exercises?
My favorite exercise is the wide grip pulldown. I love my back days! Most people under train back, simply because they cannot easily see their back. This causes an overdeveloped chest and pulls your shoulders and arms forward. Not a good look! I love to get a big pump and I love the look and feel of a wide back.
My least favorite exercise is stretching. I always stretch for 10-15 minutes after every workout. I know that stretching is the most beneficial thing you can do for your body and help muscle growth. It is also the most tedious and least fun. It's time-consuming, but I never skip it. You'd be surprised how much you can grow your muscle and strength if you incorporate stretching into your workouts. Also, stretching helps prevent injury.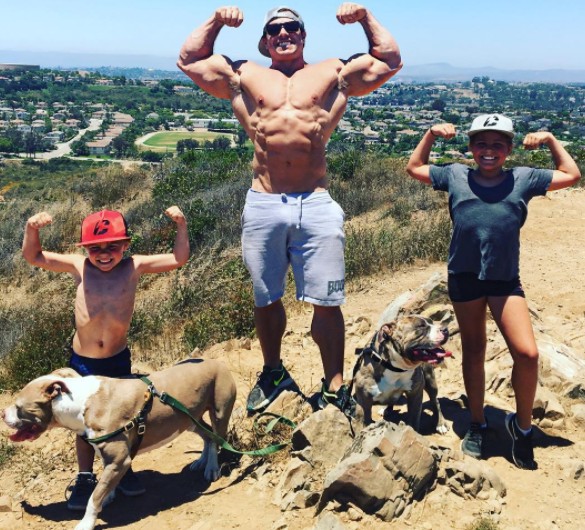 If you could give somebody starting in bodybuilding some advice what would it be?
Don't compromise the quality of your movement or full range of motion to lift heavier weight.
I have always lifted to create a certain look I want to achieve while staying functional and flexible. My workouts are not only to lift heavy amounts of weight.
There is a difference between building quality muscle and gaining strength. Focus on function, then looks.
The one thing that greatly impacted the overall look of my body was eating healthy. My physique drastically changed when my diet shifted to include healthier foods.
What do you say to people who think you use fake weights?
When the whole fake weight claims started popping up, it was pretty humorous to me! I have a great sense of humor in and outside of the gym. I love living a very happy, stress-free life with my friends and family. To build what I have created takes a lot of hard work and with anything worth creating will come controversy. To me, that's a good thing. People will have their doubts, and that's fine! I'm here to motivate, and as long as people are putting in their best in the gym and need to make these claims to justify not hitting their goals, so be it. But for the true followers, I will keep pushing myself so that you keep pushing yours.
It's funny to think people claim I use fake weights at a commercial gym. This isn't a private gym or garage where something like that could be feasible. I travel to 3-4 different gym locations every week and always post up video stories and posts of my lifts. I'm with gym buddies and sometimes a fan who wants to work in with me. When my body feels right I'll get someone to record the lift I'm doing and if it looks good, I'll post it up! I'm not lifting for the weights, I lift for my mind and body and the way it makes me feel. I want to thank everyone who makes it seem that what I do is impossible, because sometimes, it almost seems kind of impossible to me, too! I've done this for so many years, the lifts you see is just me being me. I imagine it would be pretty tricky sneaking in a bunch of fake plates, but I guess anything is possible! I should honestly try that sometime, can you imagine the virality that would create?!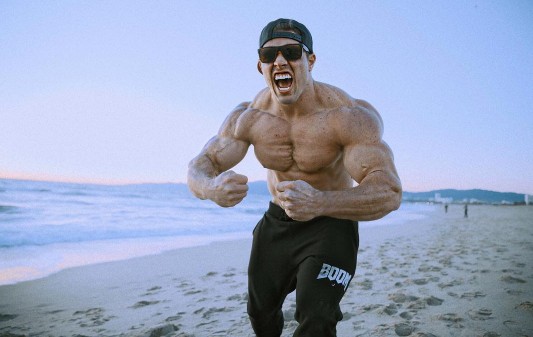 Do the haters bother you or do you say bring them on?
Not at all! I love it! I've never run into someone who hates me in the gym, or in my personal life. It seems that all the haters are hating behind their screens. I will say that whenever I hit up a fitness expo, I have none stop lines of fans wanting to meet and take a picture with me. I will ALWAYS make time for my fans and share some words to help others accomplish their goals. Every day I run into a fan who asks me questions about fitness and health or to snap a quick picture.
I barely acknowledge the hate. I have a busy personal life which makes it difficult for any of that to affect me. Some say I have thick skin, but words that may hurt someone else rarely impact me at all. I'm simple – I admire muscles, hard work, and dedication. I'm all about helping others and try to keep the hate and negativity away. It's all about being positive and helping others.
Are you humble?
I'd like to think I am very humble. I've been through it all and I know what it takes to put in the work. People who don't know me personally only see what they read online or what I post on social media. I have created an image which has proven to gain a following so I'm going with it! People aren't only following fitness icons because of their athleticism, they are following because of their personalities. Think about Connor McGreggor! People hate to love him and love to hate him. I do what I do because I love what I do! I saw an opportunity and I just keep putting in the work nonstop. I'd be doing the same exact thing regardless if I had 400 followers or a 10 million. Nothing would change. My personality is who I am. I am a caring person, I have 2 kids, everything I have to my name I worked for. Nothing will change that.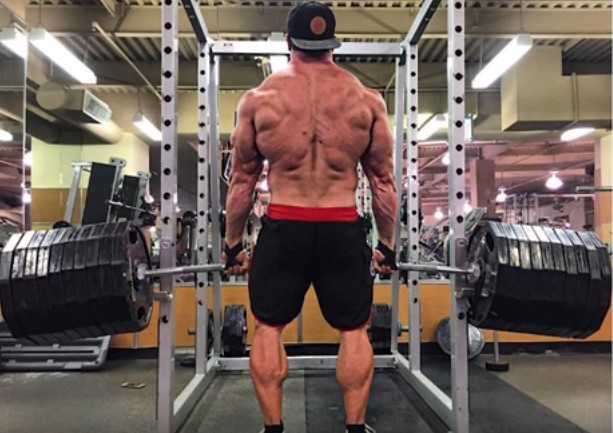 Do you really break records or are you just trolling the haters?
Breaking records all day! Haha!
(I really believe that I'm breaking records. I am pushing myself, my body, and my mental strength daily. I only compete with myself, so in my eyes, I am winning every day and breaking my own records on the daily.)
To me world records aren't about having a certificate or having a judge tell you, you are good or not. I have learned over many years, politics has taken a toll in bodybuilding; people telling you what is wrong, or what is right, what you can, or can't do, what is or isn't acceptable. This type of judgment limits your imagination and your potential. I bring hope and positivity to others who I see at the gym and that makes me feel what I do, worth it. When I was young, I was an outcast. I know what it feels like to not fit in or to walk into a gym and be unmotivated or scared. If I can do it, others can as well. That's the only reason I started this whole social media thing.
Tell us about your biggest bodybuilding/fitness influence?
Arnold S and Ronnie Coleman. I aspired to have a physique like Arnold and have the strength of Ronnie.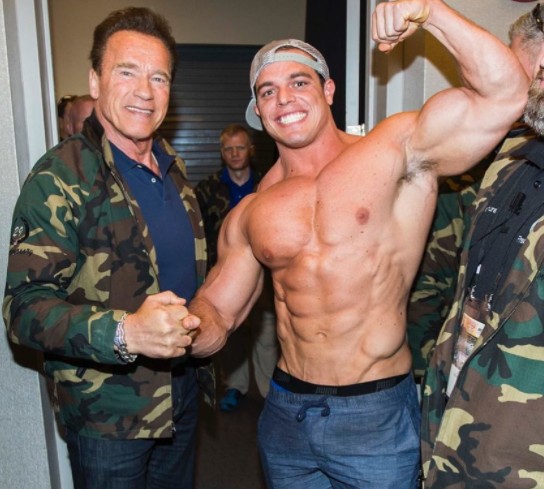 What made you start Castleberry Nutrition?
I started Castleberry Nutrition (www.castleberrynutrition.com) on the foundation that I wanted to produce a true and honest good product that works. I saw a gap in the industry that I wanted to fill. I witnessed many supplements companies popping up out of nowhere and simply undercutting the next guy just to make a quick buck. Most of these companies were fly-by-nights. I have tried many supplements and researched their ingredients which made me realize that a large part of the supplement industry is sketchy. This is when I saw an opportunity. I made a ton of connections during my bodybuilding career which enabled me to study the supplement industry and learn how supplement manufacturing works.
Many manufacturers started trends throughout the industry by adding fillers, cutting corners and produce brilliant marketing pieces all to dupe the consumer. Most claimed incredible results and always under-delivered. What does that mean for business longevity? It's terrible. I wanted to be personally involved with the product that had my name attached to it. This is why I never accepted sponsorship deals with supplement brands.
Once I formulated the very ingredients and dosages I need to consume personally, I started manufacturing in bulk in my (GMP) certified facility. I wanted full control over where the ingredients came from, what dosages, how many ingredients, etc. As a professional athlete, I couldn't afford to consume anything that would have a negative impact on my health.
I wanted to give people a product they could take and know what they are consuming. I really want to offer up-and-coming athletes a quality product that not only works for them, but something they believe in and feel they are getting their money worth. I stand behind my supplements
Manufacturers created brilliant marketing pieces that duped consumers to believe they had high-end products that promised incredible results. I had the vision to create legitimate products that had REAL ingredients that actually work. I wanted something that I could take personally.
Favorite cheat food?
Mexican food! Can't go wrong with a carne asada burrito with some rice and beans.
What supplements do you take?
Pre Workout – BOOM
Intra/Post – Boost BCAA
Post Protein Shake
Vitamins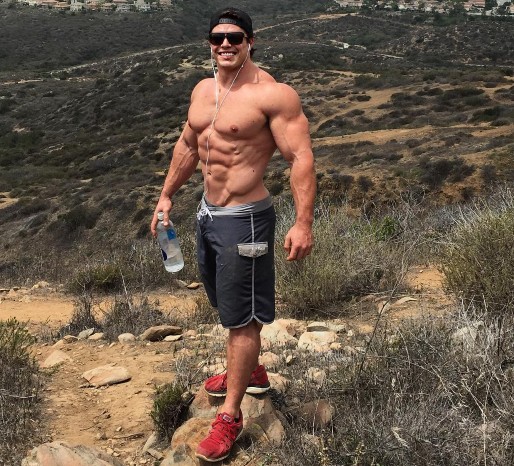 What does the future hold for you?
I want to keep doing what I am doing for many years to come. I want to keep the brand alive and impact others for the better. I want to better people's lives. I turned this passion and love of fitness into a career. I am always learning and want to continue to grow my knowledge. Anything is possible. Hard work, dedication, keeping the fire alive, never let anyone tell you-you can't do something. I'm living proof that if you don't give up, anything can be achieved. Don't ever let the negativity cloud your vision. The journey will not be overnight, but believe and understand the process and the path you travel to reach your goals. Appreciate the ups and downs, for that, is what makes you who you are.
Website: www.castleberry nurtition.com
Instagram: @bradcastleberry
Facebook: www.facebook.com/bradlycastleberryofficial