(Last Updated On: January 31, 2016)
We have all seen wrestlers or fighters with cauliflower ear. Now picture that cauliflower ear being punched and exploding like the top of Mount St, Helens. It's gross to even think about but it happened this weekend at UFC 180.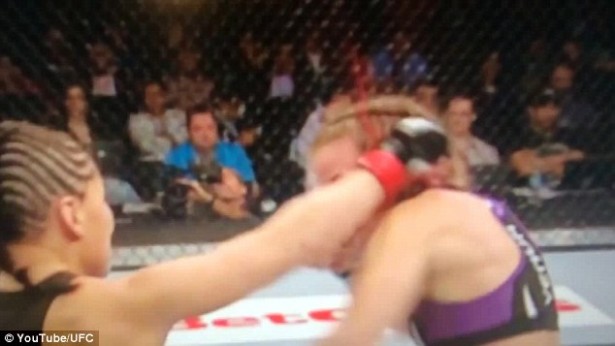 During the first round of the women's Bantamweight fight between Leslie Smith and Jessica Eye, Eye connected with a right hook that exploded Smith's ear. They tried to repair it as best they could in the corner between the 1st and 2nd round but the fight was called at a little over a minute into the second round, it got progressively worse and was basically falling apart. Eye began to target the ear after it exploded and was starting to mangle it.
"When I connected and saw her ear blow up, that became my main target," Eye said after the fight. "I was going to keep hitting it until they stopped the fight or it fell off."
Smith was a trooper and wanted to continue saying "I could still see. I still had my hands. I wanted to fight. I'm disappointed,". I have a feeling once she watches the video and can gets a look at her ear in the mirror she will probably better understand why the fight was stopped.
Videos is below and it is definitely graphic and NSFW.