(Last Updated On: April 1, 2021)
If you have watched much MMA you know that these girls are for real. MMA girls can kick some serious butt and it is a sport that can be seriously entertaining.
Also you have probably noticed that some of them can be pretty easy to look at. After all, they are in amazing shape. This led us to the conclusion that we need to rank the hottest female MMA fighters in the world.
The girls on this list are from all different MMA leagues and rankings. Some of them are much better fighters than others but that doesn't really matter here. On this list, the hottest and best looking MMA fighters rise to the top. Here are the top 25 hottest female fighters in the sport today.
25 Cat Zingano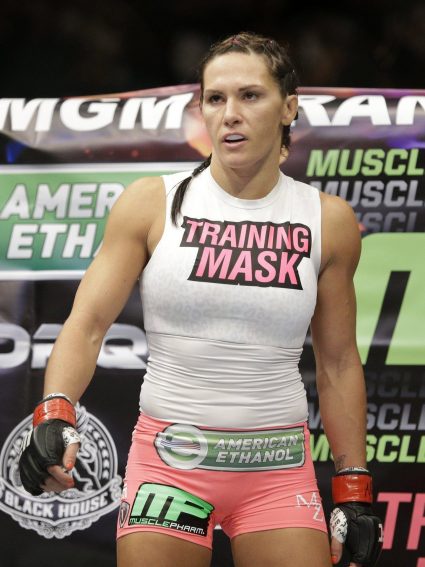 Cat Zingano is a Bantamweight fighter with the UFC. She started wrestling at age 12 and went on to wrestle at the University of the Cumberlands and MacMurray College where she was a  4-time All-American and National Champion. She began her pro career in 2008 and worked her way through Invicta FC and Strikeforce to the UFC and is now one of the top-ranked female fighters in the world.
24 Rachael Ostovich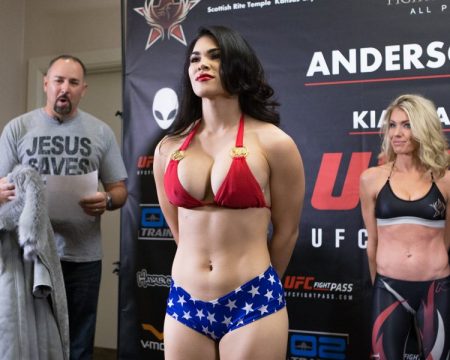 Rachel is a UFC fighter in the Flyweight division. Rachel started her MMA career in 2010 going 6-0 as an amateur. She went on to have 4 pro fights with Invicta FC and is now with the UFC. She fights out of Honolulu, Hawaii.
23 Melissa Sophia Karagianis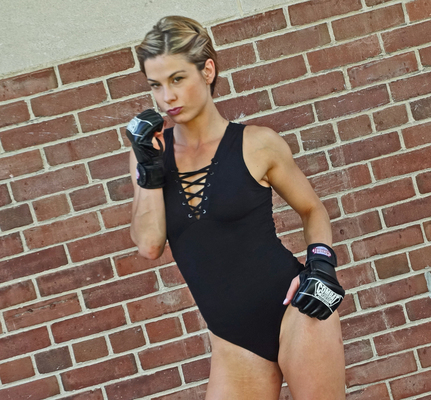 Melissa is a pro fighter in the Atomweight division. She fights out of Toronto, Canada. She is currently fighting with King of the Cage. Hard to believe she is the only Canadian on the list.
22 Bruna Ellen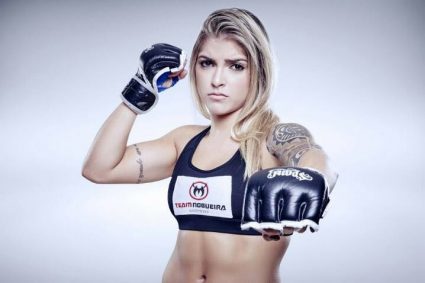 Bruna is a Flyweight fighter out of Brazil. She currently fights with Bellator where she has a 2-1 record as we write this article.
21 Ashley Yoder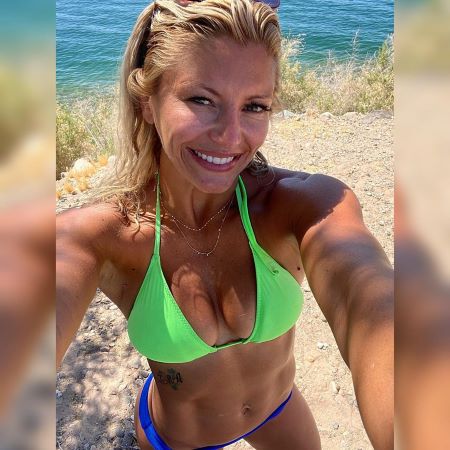 Ashley is a strawweight in the UFC. Yoder was on The Ultimate Fighter back in 2016 she didn't win the show but was able to join the UFC afterward anyhow. She is also a dog lover and has a dog name Beth.
20 
Cynthia Arceo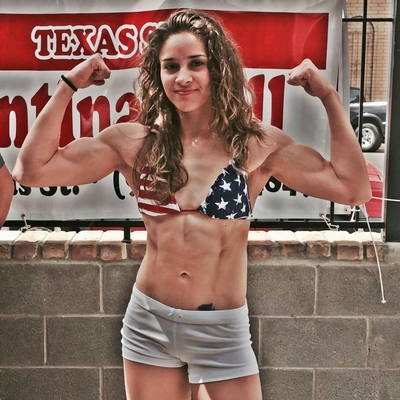 Cynthia is a professional mixed martial artist out of El Paso, Texas. She is currently fighting with King of the Cage where she is the Strawweight champion.
19 Grace Cleveland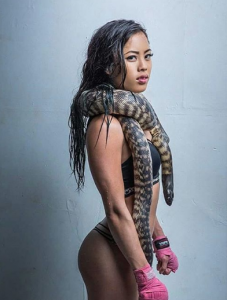 Grace Cleveland AKA the "Thai Kitten" also fights with King of the Cage. Grace was born in Thailand but was raised in Colorado. She is an Atomweight fighter that trains with High Altitude MMA in Colorado.
18 Andy Nguyen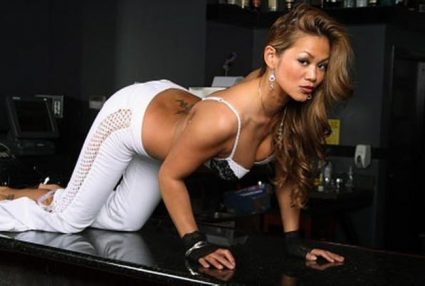 Andy "The CrAsian" Nguyen is from California and was exposed to MMA when working as a ring girl. Eventually, she realized she would rather be in the ring as a fighter instead. She currently fights with KOTC and has a been winning about half of her fights.
17 Andrea Lee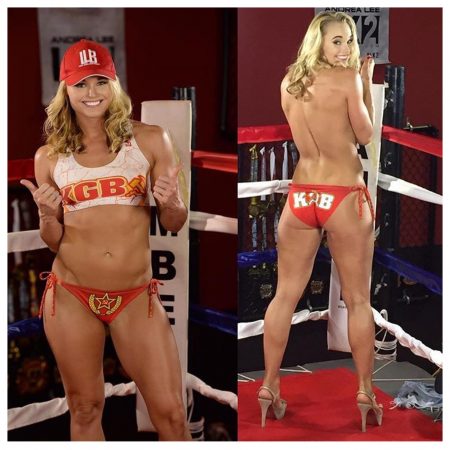 Andrea Lee is an American MMA fighter who is currently signed with the UFC. Andrea became interested in MMA by watching it at her waitressing job. This led her to find a trainer and it was quickly obvious that this would be her new career. She has gone on to become one of the most accomplished fighters in the world today.
16 Tecia Torres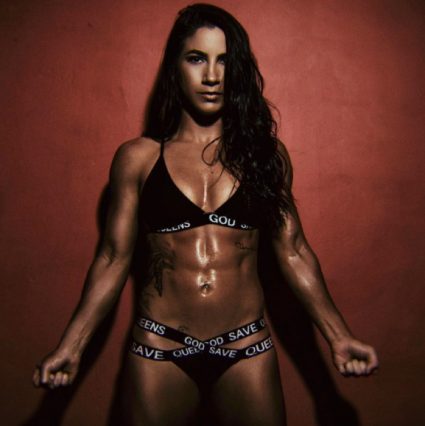 Tecia is of Puerto Rican decent and fights in the Strawweight division in the UFC. She took up taekwondo at the age of 3 and became a black belt after 12 years. She also competed in Muay Thai as an ammeter with a 16-4 record. She started her amateur MMA career in 2011 and went pro in 2012. She won her first 7 pro fights and went from going undefeated with Invicta FC to being one of the UFC's top female fighters. As of the time this article was written she has only lost one pro fight.
15 Holly Holm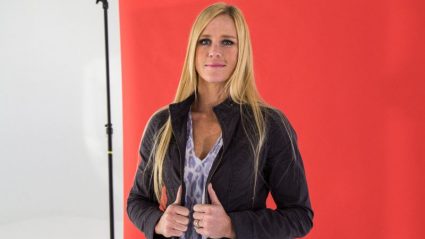 Many people know Holly for knocking out Rhonda Rousey with a nasty head kick in a fight that shocked the world to win the world title. She then went on to lose that title but has bounced back and still one of the top fighters in the sport.
14 Claudia Gadelha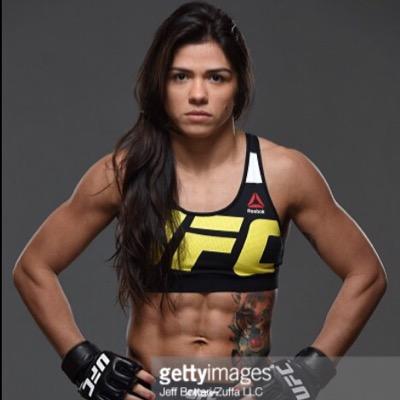 Claudia is a Brazilian Strawweight MMA fighter with the UFC. Her parents would not tolerate her practicing martial arts growing up so she had to do it in secret starting at age 14. From there she fell in love with it and was eventually allowed to train and became an expert in BJJ. She started in MMA career in 2008 and won her first 12 fights making ot to the UFC and becoming one of the best female fighters in the world.
13 Bruna Vargas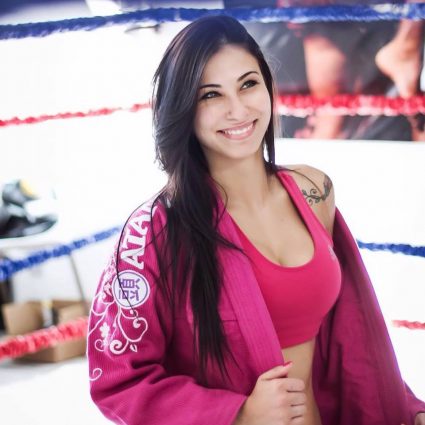 Bruna Vargas is another Brazilian fighter in the Flyweight division. She is currently fighting with Bellator but has yet to win a fight with them.
12 Randa Markos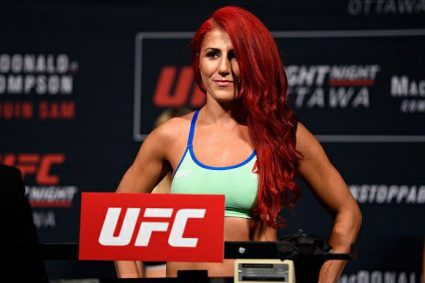 Randa is an Iraqi-Canadian fighter who is in the Strawweight division with the UFC. Randa was born in Iraq but moved to Canada at the age of 3. She was a wrestler in high school and made the switch to MMA after meeting her future husband who was also an aspiring MMA fighter. She learned jiu-jitsu in a local gym and began her MMA career in 2009. She worked her way through various local leagues and made her way on to The Ultimate Fighter and has had 6 UFC fights since.
11 Lena Ovchynnikova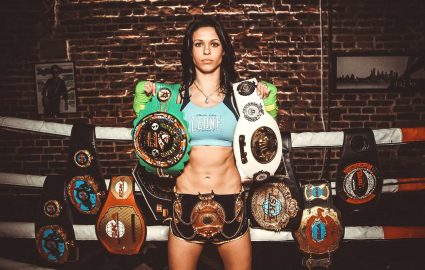 Lena is a Ukranian mixed martial artist, kickboxer and Muay Thai fighter. She is in the featherweight division in kickboxing and the flyweight division in MMA. She is very experienced as a pro in both kickboxing and MMA and is currently focusing mainly on her MMA career fighting with Bellator. She hasn't had a kickboxing fight since 2015. You can see from the picture above that she wins a lot.
10 Alexandra Albu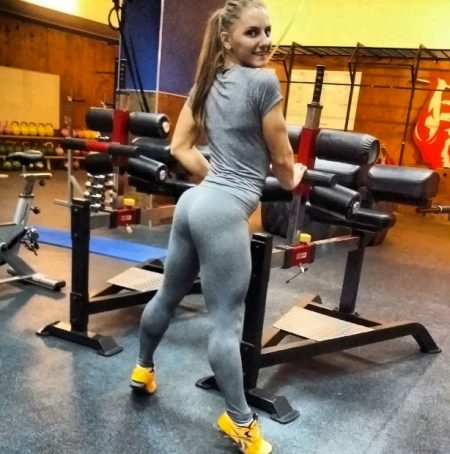 Aldu is a Moldovan-born Russian mixed martial artist. She fights in the Strawweight division with the UFC and is currently undefeated in 3 fights since turning pro. She easily has one of the best bodies on the list and she even has some twerking videos you can find online. We found the videos a bit underwhelming to be honest, she should stick with fighting instead.
9 Anastasia Yankova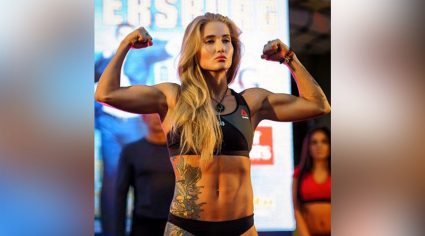 Here we have another Russian, she fights in the Flyweight division with Bellator. Anastasia took karate in her youth and then after a break from martial arts she took up Muay Thai after college and started entering kickboxing and Muay Thai tournaments.  After that, the rest as they say, is history. She has been fighting pro since 2013 and is 5-0 to this point.
8 Mackenzie Dern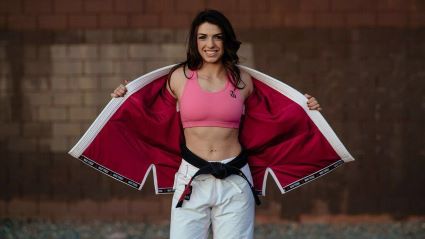 Mackenzie is another fighter from the UFC. She is a Brazilian Jui Jitsu specialist is a former world No. 1 ranked IBJJF competitor in the female division. She is married to pro surfer Wesley Santos and put her MMA career on hold due to pregnancy in 2019.
7 Jessica "Evil" Eye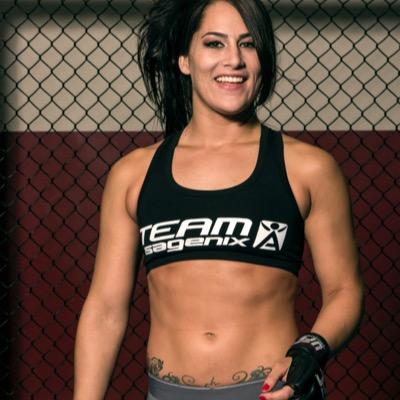 Jessica Eye is currently fighting with the UFC in the Flyweight division and is considered to be one of the best strikers in the business. She went undefeated as an amateur and then went on to crush the competition with Bellator before moving to the UFC.
6 Felice Herrig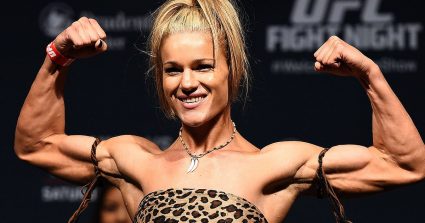 Felice is a kickboxer, Muay Tha fighter and mixed martial artist out of Illinois. She started fighting pro back in 2009 and made it to the UFC by 2014. She definitely has one of the best bodies in MMA and isn't too shy about showing it off either.
5 Brooke Mayo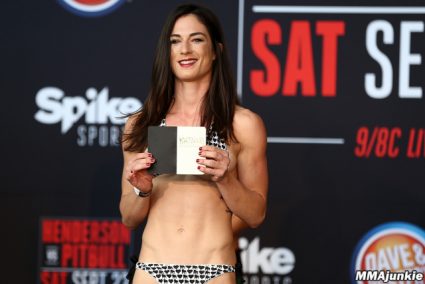 Brooke is a Flyweight fighter with Bellator who has only 2 pro fights under her belt. Brooke actually was a soccer player growing up and want to St. Mary's College on a soccer scholarship. After her soccer career was sidelined by injury she took up Combat Jiu-Jitsu and the rest is history.
4 Kaytlin Neil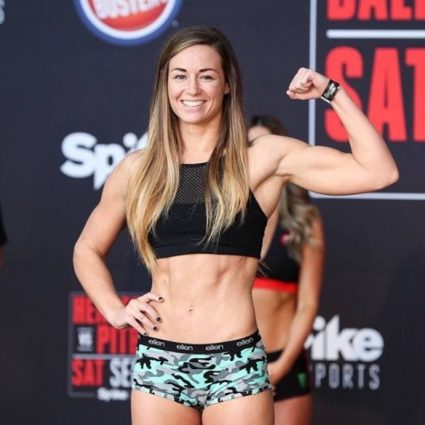 Kaytlin is a Bantamweight fighter with Bellator, Kaytlin is actually a former competitive cheerleader who took up MMA after being dragged to a fight by some friends. She currently fights out of Provo, Utah.
3 Michelle Waterson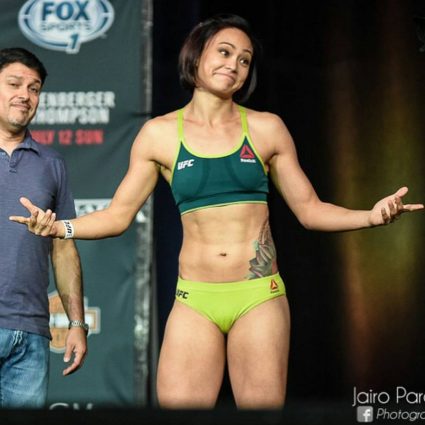 Michelle is a mixed martial artist with the UFC. She is also the former Invicta FC Atomweight Champion. Her nickname is "The Karate Hottie" which definitely seems appropriate.
2 Paige VanZant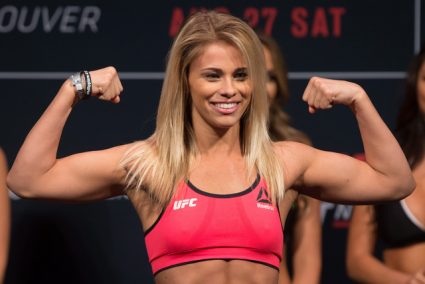 Paige is a Flyweight fighter with the UFC. Not surprisingly she is also a former model. Paige was brought up a dancer and even appeared in a commercial for Bissell and other advertising. Being bullied during high school is what sparked her interest in MMA. She started training at Ken Shamrock's gym and was fighting amateur fights by the age of 18. She blazed through the amateur ranks and Invicta FC to get to the UFC and is now one of the top ranked fighters in her division.
1 Jinh Yu Frey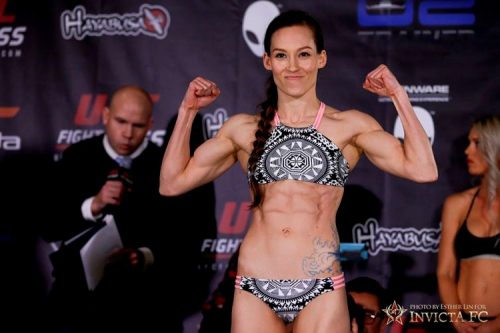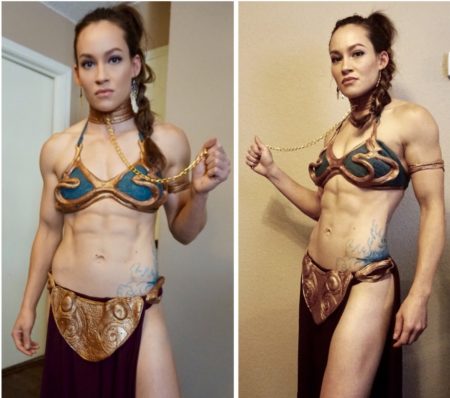 Here she is, the hottest female MMA fighter in the world.
Jinh Yu Frey is an Atomweight fighter with Invicta FC. In September of 2016, she was challenging Ayaka Hamasaki for the Atomweight belt but lost due to doctor stoppage. She is also a sponsored athlete with Onnit Nutrition and Hyper Sportwear among others. With her face and body, she could easily find modeling work if her MMA career fizzles out. On top of all that she has earned her MBA while working full time at a cancer facility in Arlington, TX. No matter what, the future looks pretty bright for her.
Wrapping it up
There you have the 25 hottest female fighters in all of MMA. It wasn't as easy to come up with this list as you might think. While we think we got it right let us know if we missed anyone in the comment section below. We will be updating the list from time to time and we may use your suggestions so feel free to help us out.