(Last Updated On: April 14, 2022)
If you haven't noticed track and field sprinters are pretty jacked, so much so that we decided it was time to make a list of the most jacked sprinters of all time.
While this is an all-time list you will find most of the athletes on here are from more recent times. As with other sports, the athletes keep getting bigger and stronger as time goes by so many athletes of today and recently retired sprinters are on the list. It's pretty similar to comparing NFL athletes of today to those of even 30 years ago, today's athletes are just bigger, stronger, faster and more jacked.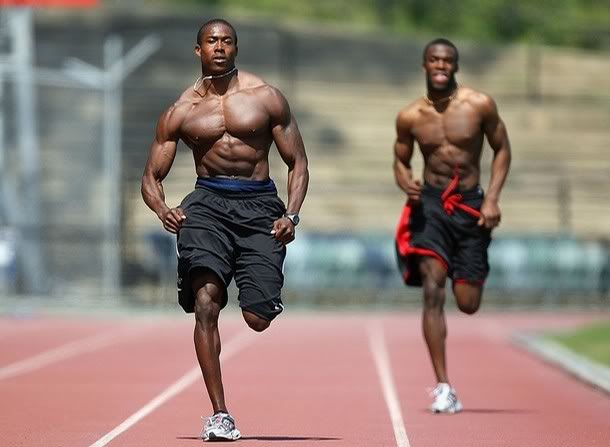 Why are Sprinters so Jacked?
There are basically 2 reasons why sprinters are jacked. The first one is that while they put their time in on the track they also put in a lot of time in the weight room. Common exercises performed by sprinters as part of their training include squats, cleans, snatches, deadlifts and bench press. Along with building explosive power these exercises also build serious muscle while remaining athletic.
The second reason sprinters are so jacked is because sprinting sheds fat like crazy while preserving muscle. We talk all about this in our article on why you need to sprint for a great body but sprints have been shown to burn fat much faster than just regular jogging would. In fact, this study by Gillen et al found that just 10 minutes of interval sprints burned as much fat as a person that did regular steady-state cardio for 50 minutes. That sounds impressive but you would think they must have been sprinting like crazy over those 10 minutes to burn that much fat, you would be wrong. Over the 10 minutes of sprint training they actually only did three 20 second sprints, the rest was done at an easy pace between sprints or was part of the warm-up or cool down.
So, if doing just three 20-sprints like in the study burns that much fat just imagine how much fat an Olympic level athlete would burn doing their sprint training.
Combine the heavy sprint training these guys do with weight training and it's really no surprise that they are jacked.
PED's and Steroids
We are not going to beat around the bush on this one, some of the people on this list have been busted for steroids and PEDs. Some of them have even been busted more than once.
That didn't stop us from putting them on the list though. If we are really honest with ourselves I think we all know that most if not all top-level sprinters use some kind of performance enhancement. It's the culture of the sport and if you don't take anything you probably don't stand much of a chance of making it to the top against others that do.
I also know many people on this list have never been busted for taking PEDs and we really hope that they aren't. But we just want people to know that we are not naive enough to think that all these guys are clean, we know they probably aren't. Plus we know some people will be making the "Roids!" comment so we figured we would let you know that we are aware of that.
Top 15 Most Jacked Sprinters
Now it's time to get to what you came here for. Here are the 15 most jacked track and field athletes of all time. We went with pro/Olympic level athletes only, no college athletes on this list.
15 Leroy Burrell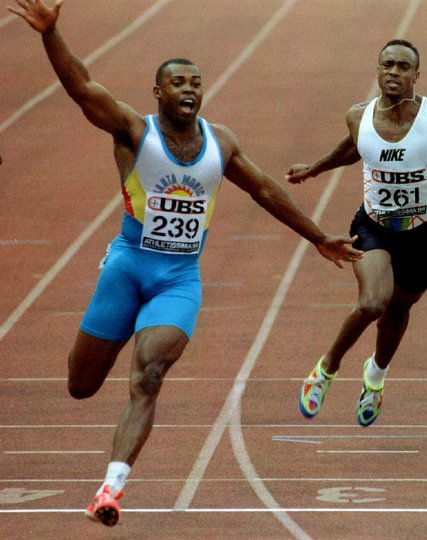 Starting off our list we have Leroy Burrell. Leroy was a sprinter for the United States in the late 1980s and early 1990s. He was one of the fastest runners of his time and set the world record in the 100-meter sprint with a time of 9.90 seconds. This record was broken by track and field legend Carl Lewis later that same year but Burrell set the record again in 1994 with a time of 9.85 which stood until Donavon Bailey broke it in 1996.
Burrell's career highlight was a gold medal in the 1992 Olympics in the 4×100-meter relay. Today he is the head track and field coach at the University of Houston, his alma mater.
14 Usain Bolt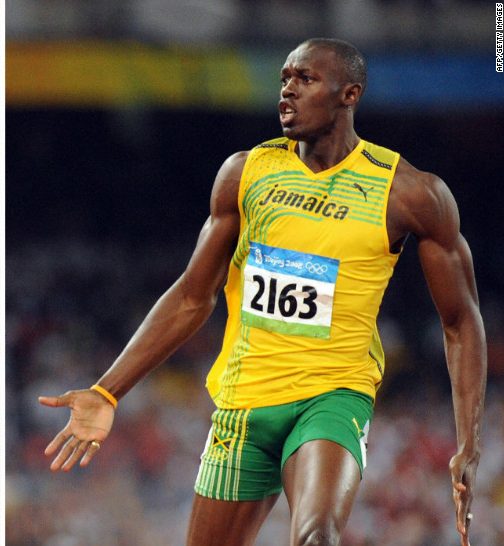 I don't think we really need to introduce this guy or give much background. Usain Bolt is the fastest man on the planet and has been for over a decade. He has won 8 Olympic gold medals and is an 11 time World Champion.
People don't really think of Bolt as being that jacked because he is tall and lean but just look at his arms and shoulders, the dude is a beast.
Related: See 15 Sports That Have The Fittest Athletes
13 Dennis Mitchell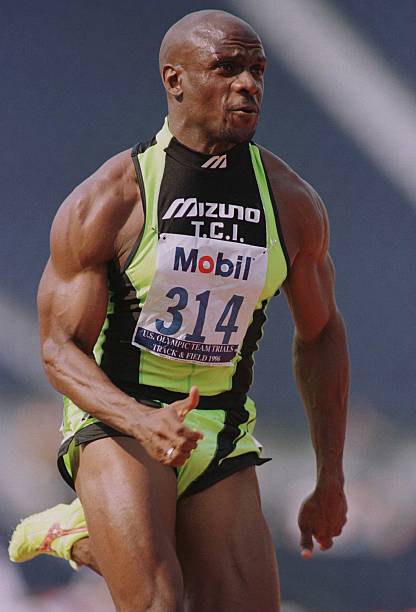 Dennis is a former American sprinter who dominated the early 1990's. He won a gold medal in the 1992 Olympic Games in Barcelona in the 4×100-meter relay as well as 2 gold medals in the World Championships.
In 1998 Dennis tested positive for high levels of testosterone and was banned for 2-years. His defense was that he had "five bottles of beer and sex with his wife at least four times . . . it was her birthday, the lady deserved a treat," which was accepted by USA Track and Field but not by the IAAF. I remember having a pretty good laugh about that explanation at the time.
12 Maurice Green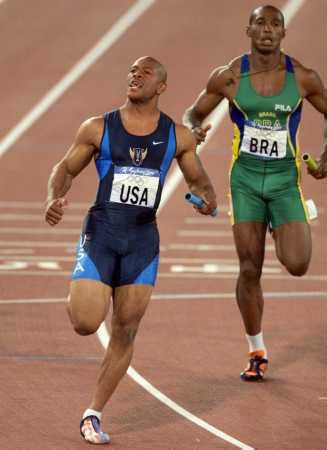 Maurice is another former runner for the United States who dominated the late 1990s and early 2000's winning many World Championships and Olympic gold along with countless other medals. Greene retired in 2018 and has been on Dancing with the Stars and other TV shows like Blind Date.
11 Asafa Powell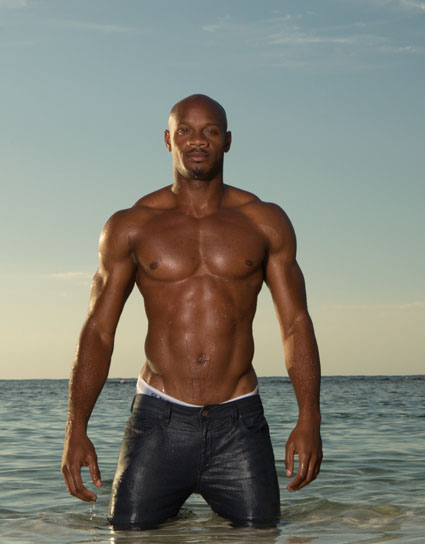 Asafa is a Jamaican sprinter who specializes in the 100-meter sprint. He held the world record in the 100 with a time of 9.77 and 9.74 seconds between 2005 and 2008. He won a gold medal in the 2016 Olympics in Rio and won 2 golds in the World Championships.
10 David Oliver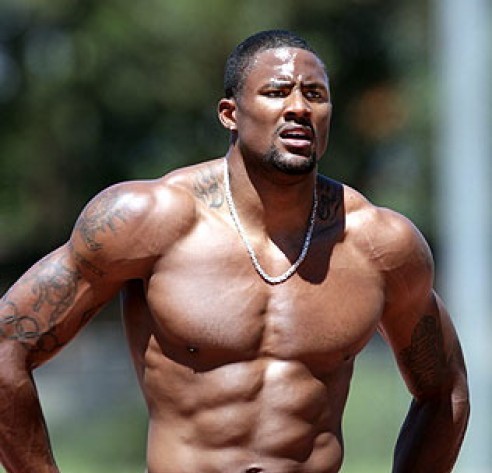 David Oliver is an American who specializes in the 110-meter hurdles. He says he doesn't lift weights as much as he used to but that he was once able to bench press 225 for 19 reps and squat 310 for 10 reps.
He won a bronze medal at the 2008 Olympics and has won a wide variety of other championships over the years.
9 Ben Johnson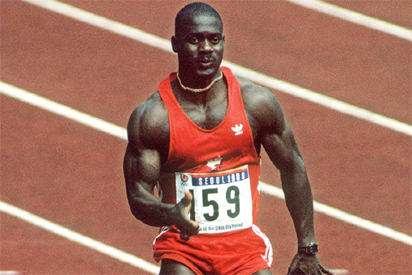 Johnson is a Jamaican born Canadian former sprinter. Let's be honest, when you think of Ben Johnson you think about steroids. How could you not? He was the poster boy for steroids in the 1980's.
No one who watched him against Carl Lewis in the 1988 Olympics as Johnson won gold only to have it taken away later when he tested positive will forget that.
After his suspension, he actually made a bit of a comeback in the early 1990's making the Canadian Olympic team in 1992 where he didn't make it past the semi-finals after stumbling out of the blocks.
At present he lives in Ontario and spends much of his time with his kids and grandchildren, he also released an autobiography.
8 Yohan Blake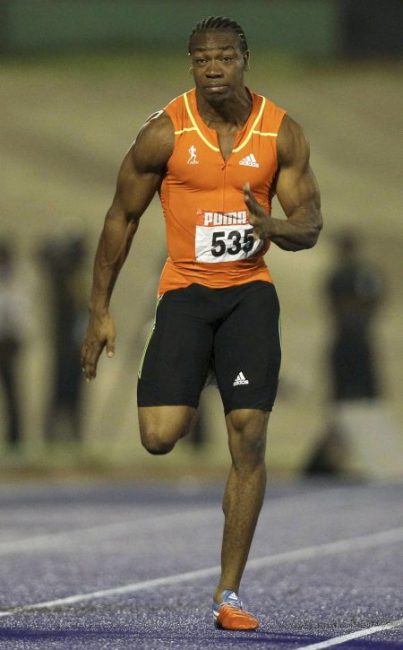 Yohan is another Jamaican sprinter. He does both the 100 and 200-meter sprints and in 2011 he was crowned as the youngest world champion ever in the 100-meter sprint.
He has won a gold medal in both the 2012 and 2016 Olympic Games winning the 4×100 meter relay and has won many other championships around the world while representing Jamaica.
Outside of track and field Yohan is a huge fan of cricket and has even played for the Kingston Cricket Club in the offseason.
7 Glenroy Gilbert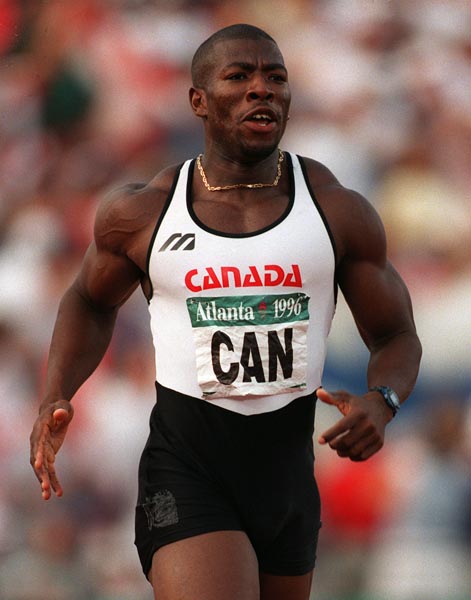 Glenroy is a former Canadian sprinter who was in his prime in the mid-nineties. He represented Canada in the 1996 Olympics where he won a gold medal in the 4×00 meter relay.
In 2017 he was named as Athletics Canada's head coach and was recently named to Canada's Sports Hall of Fame.
6 Micheal Johnson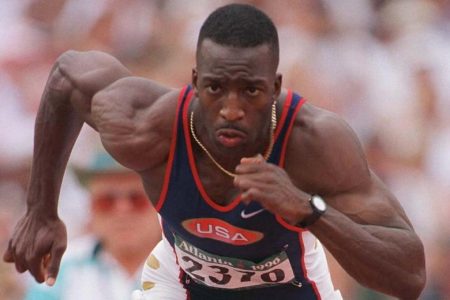 Micheal Johnson is an American sprinter who specialized in the 200 and 400-meter sprints. He basically dominated these events from 1992-2000 winning 4 Olympic golds and 8 World Championship gold medals.
He actually won another Olympic gold in the 4×400-sprint but gave it back voluntarily after a teammate admitted he took PEDs as part of the BALCO scandal.
He currently works with young athletes to help them reach their potential and also does some announcing from time to time.
5 Shawn Crawford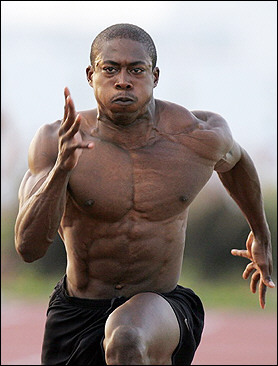 Shawn is another former sprinter from the United States and he may not be the most jacked on the list but we think he may be the most ripped.
Shawn competed in the 100 meters and 200 meters events. He won gold at the 2004 Summer Olympics and silver at the 2008 Summer Olympics in the 200-meters.
Shawn was a runner who was known for some interesting antics. At a Milan meet in 2002, Shawn wore a Phantom of the Opera mask while he ran the 200-meter race. During the race the mask came dislodged and obstructed his vision, he ended up running out of his lane and being disqualified. He claimed to have tested the mask in advance by sticking his head out of a car window while wearing it, apparently, that wasn't a good enough test.
In 2003 Shawn raced a giraffe and zebra as part of the show Man vs Beast. He actually beat the giraffe and narrowly lost to the zebra. He says that the zebra had a false start.
4 Linford Christie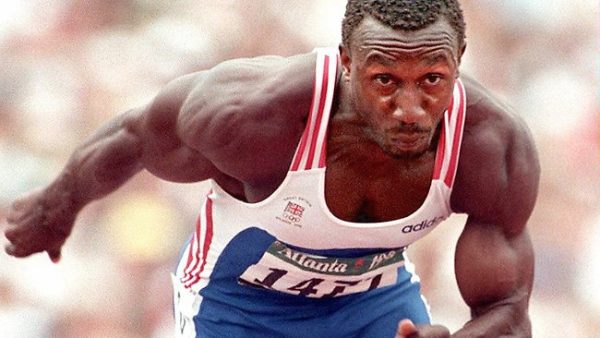 Linford is another sprinter that is Jamaican born, he ran for Great Britain. Lindford's track career went from mid 1980's through the early 1990's. His career peak was in 1992 when he won a gold medal in the 100-meter sprint. He also won several gold medals over the years at the European Championships.
Linford also faced a drug ban toward the end of his career for testing positive which got him banned from competition by IAAF. He never returned.
3 Harry Aikines-Aryeetey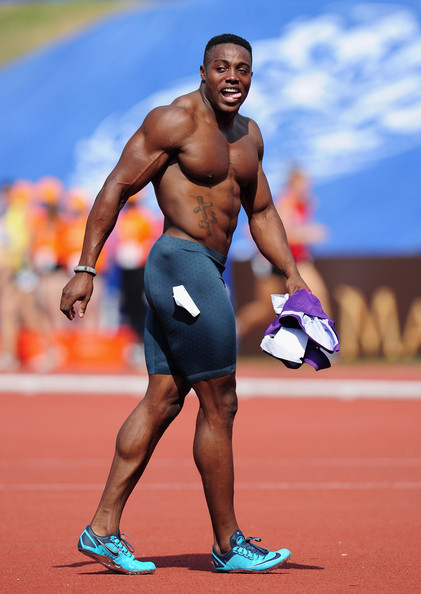 Henry is a British sprinter who had a stellar career as a junior sprinter but has not had as much success as an adult.  Winning a gold medal at the European Championships in the 4×100-meter relay as his main accomplishment thus far.
He has definitely put in his time in the weight room though. Below you can see footage of him power cleaning 170kg (375lbs) and there are also videos of him front squatting 200kg (441lbs), not bad at all.
2 Nesta Carter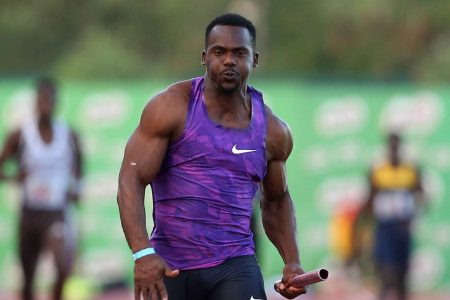 In second place on our list of the most jacked track and field athletes, we have Nesta Carter. Nesta is a Jamaican sprinter who specializes in the 100-meter sprint. He has won a gold medal in the 2012 Olympic Games as well as 3 gold medals at the World Championships.
He also won a gold medal in the 2008 Olympics but had that stripped when his frozen blood and urine samples were tested in 2016 and came back positive for the banned stimulant methylhexanamin. He is contesting the drug test, we will see how that goes.
1 Dwain Chambers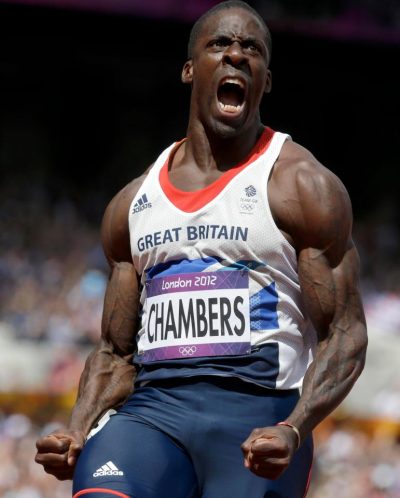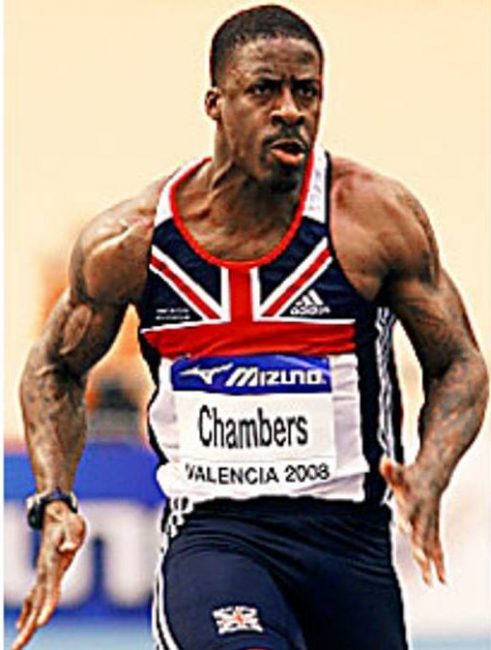 Topping off our list we have Dwain Chambers a former sprinter for Great Britain. He was absolutely jacked and was the easy choice for the top spot.
Dwain is one of the fastest runners in Great Britain's history and won many championships over the years and went to 2 different Olympic Games.
In 2003 he was banned from track and field in 2003 when he tested positive for THG and was as part of the BALCO scandal. He was stripped of his Olympic gold medal and was suspended for 2 years. This forced him to pursue other athletic endeavors and he tried out with the San Francisco 49'ers. He then briefly returned to track and field but didn't enjoy the same success and again tried to play American football.
He tried out for the NFL Europe football league and earned a contract with the German team the Hamberg Sea Devil's. His football career was cut short though due to a stress fracture in his foot and the league collapsed. After that, he also tried out for rugby with the Castleford Tigers but didn't earn a contract.
He then returned again to track and field again and had success capping off his suspension-filled on and off again career with an appearance in the 2012 Olympics.
As you can tell he also spent some time in the weight room. At his peak, he could bench 363lbs for 3 reps and squat 506lbs.
He is currently busy with family life but he still makes videos on his YouTube channel. We think he should write a tell-all book.
Wrapping it up
That is our list of the 15 most jacked sprinters of all time. Many of them are still active in track and field today so you should keep an eye out for them when it's on tv or when the next summer Olympics come around.
Let us know if we missed anyone in the comment section below, if they are worthy we will add them to the list.