(Last Updated On: August 2, 2019)
If you are looking to build muscle, then having more testosterone would be a good place to start. More testosterone generally means you have more muscle and an easier time building it.
Think about it, the biggest and strongest kid in 7th grade was the kid who had gone through puberty before everyone else and had way more testosterone than the other kids. It's also why men are bigger and stronger than women. And how do you think those female bodybuilders get big muscles anyway? They take testosterone that's how.
The truth is:
Having more testosterone makes it much easier to build muscle.
That's where the best testosterone boosters for building muscle come in, these natural supplements are more popular and more effective than ever and will make muscle building much easier and faster for you than it normally would be.
Let's take a look at the facts you should know about natural testosterone boosters as well as the best ones for muscle gains.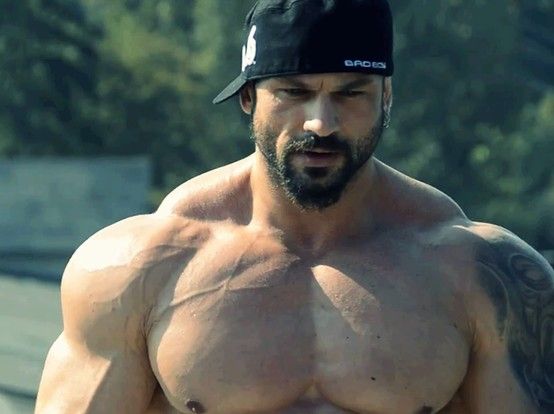 Going with Natural Testosterone Boosters
When it comes to boosting your testosterone, you can either go the natural route or go synthetic. The synthetic route means going to the doctor and getting shots on a regular basis. It also means your natural testosterone production will likely shut down and you will be stuck taking shots the rest of your life or have next to no testosterone in your body. Synthetic should definitely be a last resort.
On the other hand…
Natural testosterone boosters, on the other hand, are made from select herbs, vitamins and minerals that have been scientifically shown to work with your body to increase your own natural production of testosterone. And the great part is if you stop taking a natural test booster your testosterone levels will simply go back to where they were before you started taking them. This makes the natural route much safer and preferred.
Best Testosterone Booster Ingredients for Muscle Gains
When it comes to natural testosterone boosters that build the most muscle these are the ingredients to look for:
D Aspartic Acid
This is a big ingredient to look for if you are looking to build muscle. This is because it has been shown to not only increase your testosterone and lower estrogen which will help build muscle in itself, but it has also has been shown to pack more protein into your muscles leading to more muscle growth.
Other studies have also shown D-Aspartic Acid to increase growth hormone in animals. This is definitely an ingredient to look for when it comes to muscle building.
Oyster Extract
This is another really good ingredient that is actually pretty uncommon in testosterone boosters. As you may know, oysters are known to be a natural aphrodisiac. This is because they are loaded with testosterone boosting ingredients. Oysters are full of zinc which is the most important mineral when it comes to testosterone boosting.
They also have a large dose of magnesium in them and magnesium is another mineral that has been shown to boost testosterone levels. This is why the extract from oysters is such a great ingredient. Plus, eating oysters all the time would get old and expensive.
Zinc
As we just mentioned with the oyster extract, zinc is an important mineral when it comes to boosting testosterone. Studies have shown that increased zinc consumption leads to increased levels of testosterone. Studies have also shown that if you restrict zinc consumption then testosterone levels go down.
If you want your test levels up, then zinc is a big part of that. This is why most testosterone boosting supplements out there have a dose of zinc in them and usually a large one.
Magnesium
Now we move on to magnesium which is another important mineral for muscle gains. Magnesium has been shown to help with muscle fatigue, cramping, and soreness. This can lead to better workouts and more muscle gains.
Magnesium is also needed to metabolize proteins as well and as you probably know proteins are the building blocks of muscle. It has also even been found that men with more magnesium in their blood have higher testosterone levels as well.
Ginseng
Ginseng is a plant herb that is used for many things in the human body and boosting testosterone is one of them. Ginseng has been shown to increase sex hormones as well as boost testosterone levels. It is also a bit of an aphrodisiac which is a nice bonus.
Vitamin D
Vitamin D is something people get naturally from the sun. The problem is many of us don't get enough and people lack vitamin D because of it.
Studies have shown that people with low vitamin D levels have significantly lower levels of free testosterone so it is important to be sure you are getting enough.
Ashwagandha Extract
Ashwagandha Extract is a root powder that can lower cortisol levels in the body. This is important because cortisol can wreak havoc with your testosterone levels so keeping cortisol levels down can be a big help.
This ingredient works by reducing the effects of stress on the body, therefore the body produces less cortisol.
Tongkat Ali
This one is a Malaysian herb that has been used for many years to both raise testosterone levels and also lower estrogen levels, a very manly herb indeed.
What Low Testosterone Looks Like?
If your testosterone levels are low, you won't feel the same as you likely did in your younger years. Some symptoms of lower testosterone levels include:
Lowered muscle mass
Decreased strength
Increased fatigue
Increased body fat
Low bone density
Lowered sex drive
Lowered sexual function
This is not a fun way to live and your testosterone levels will continue to drop as time goes on. Luckily a good testosterone booster can reverse these symptoms and raise your testosterone levels back to where they once were and sometimes even higher.
Watch for Proprietary Blends
Proprietary blends have become a bit of a problem in the supplement industry. What the supplement companies do is take a bunch of ingredients and mix them together in what is called a "blend".
The problem is…
They only tell you how big the blend is and not how much of each ingredient is in there so you have no way of knowing. Many testosterone boosters and other supplements out there are proprietary blends, there will even be some on this list, unfortunately.
There are so many of them out there it is just unavoidable. When possible you should choose the supplement without the proprietary blend though so you know what you are getting.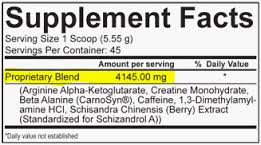 Best Testosterone Boosters for Muscle Gains
Now it's time to look at the best testosterone boosters on the market for building muscle. We have already covered the best testosterone boosters overall and now it is time to cover which ones you should choose if you are looking to pack on muscle and get big. Here are the top five muscle builders:
1 Testofuel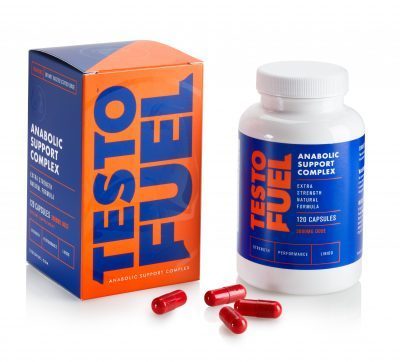 Testofuel is the premier muscle building testosterone booster out there right now. It has been out for a few years now and the competition is still trying to catch up with it.
But we're not the only ones who think TestoFuel is an awesome muscle builder. It has thousands of users in 178 countries, while it also makes the top spot on several "best testosterone boosters" lists.
This testosterone booster offers many benefits to anyone looking to build muscle. TestoFuel promises to help you:
Increase muscle-protein synthesis
Improve recovery and adaptation
Boost anabolic hormones safely and naturally
Become more focused and driven
Avoid discomfort and other adverse side effects
The nice part is TestoFuel doesn't contain actual testosterone, harmful steroids or hormones of any kind. Instead, it contains 9 natural nutrients which help prime your body for the bulk. Many of its ingredients play a key role in your body's ability to produce testosterone and other anabolic hormones.
Parts of the formula may prevent your body from producing too much estrogen (the female hormone), which can often be the enemy of muscle growth. It can also increase power output, reduce fat mass for more definition, while also reducing muscle damage for quicker recovery and faster results.
Like all Roar Ambition products, TestoFuel is made to FDA guidelines in the USA and to cGMP standards in the UK. These high production standards prevent contamination and ensure the product label accurately reflects its ingredients.
Because it's all natural, TestoFuel won't cause side effects and is safe to take – whether you're in preparation for competition or not.
The directions on the TestoFuel bottle tell users to take 1 capsule, 4 times per day. It doesn't specify the times of day you should take it, but that's not really important as long as you get your full daily serving.
There are 120 capsules in every bottle, which amounts to a 30-day supply. As the many testimonials on the product website show, TestoFuel gives best results if you use it for 90 days or more.
Ingredients
TestoFuel contains 9 ingredients. Here are its key muscle-building nutrients:
Vitamin D3: More a steroid hormone than a vitamin, D3 plays an essential role in your ability to boost testosterone and build lean mass. Research also shows the nutrient can increase power output, strengthen your bones and help prevent injury.
D-Aspartic Acid: Promotes the release of the Luteinizing hormone, a key testosterone precursor. The amino acid also acts on the Leydig cells to produce more testosterone in the testes, while also helping your body convert cholesterol into more of the male hormone.
Asian Red Panax Ginseng: Shown to decrease levels of creatine kinase – a major sign of muscle damage. This aids recovery and allows you to hit the weights harder and more frequently for faster growth.
Oyster Extract: As we say in the introduction to this list, Oyster Extract isn't common in testosterone boosters – which is too bad. This nutrient is packed with 59 trace elements which are essential – not just for your health, but for muscle growth too.
TestoFuel costs $65 per bottle – which isn't cheap by any means. That said, it still costs less than some of the newer testosterone boosters on the market.
As the best muscle-building product of its kind – not to mention a great all-rounder – TestoFuel represents great value.
What do other people say about TestoFuel for muscle building?
William says he gained 6lb of lean muscle after just 1 month on TestoFuel: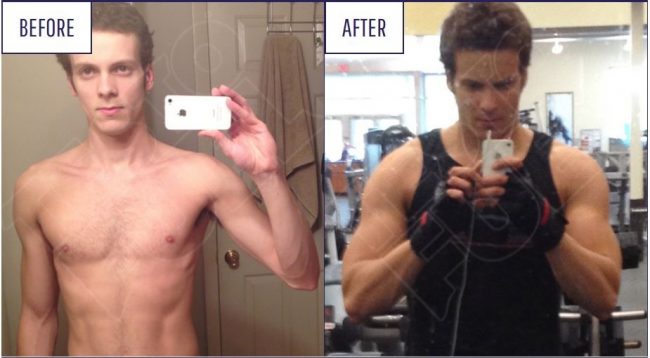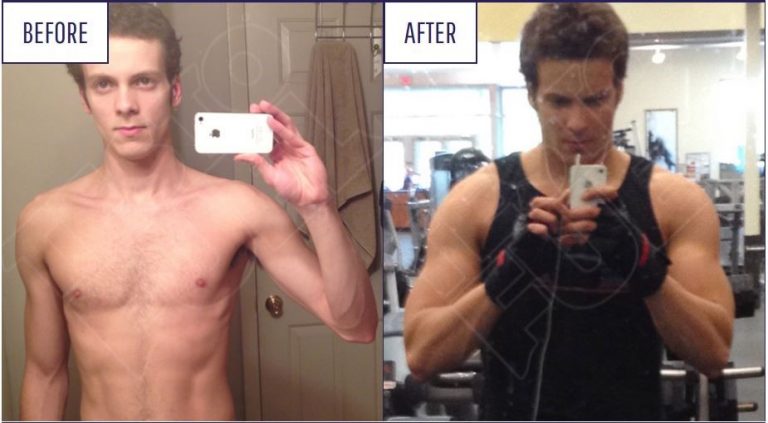 And bodybuilding legend Robby Robinson says he uses TestoFuel as a safe and effective alternative to steroids:
The highlights
Helps you build lean mass
Aids muscle recovery
Boosts strength in your muscles AND bones
Won't cause side effects
Safe, legal and effective for use in competition
The lowlights
Only available from the company website
Above average in price
Uses meat-based capsules (not vegetarian)
Conclusion
Despite increasingly stiff competition, TestoFuel is still our favorite testosterone booster for muscle building. With all the right all-natural ingredients in (pretty much) the perfect dosages.
Website: www.testofuel.com
2 Testogen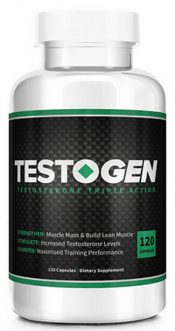 Next, we have another really nice muscle builder in Testogen. This one is actually very similar to Testofuel so it's no surprise that it is in second place, it is also less expensive so that could be a nice bonus.
Testogen also has a large dose of D Aspartic Acid along with zinc, Tribulus Terrestris which are all beneficial when it comes to building solid muscle.
One thing we really like about Testogen is that it is not only a solid muscle building but it also works really well for increased libido and sexual performance. To get this effect they use Panax Ginseng along with Zinc Gluconate and Fenugreek. This one really gives a nice one-two punch when it comes to both muscle building and
Another nice thing about Testogen is that it is not a proprietary blend like many of them are. That makes it much easier to determine its effectiveness.
Testogen also has free shipping worldwide as well as a money back guarantee if you aren't satisfied.
They also have some pretty solid reviews. Pricewise it is lower than the first choice especially when buying more than one bottle/
Highlights
Solid muscle building and test boosting ingredients
Works well for libido and sexual function
Good reviews
Free shipping
Less expensive especially when buying more than one bottle
Lowlights
Only available on the manufacturer's website
Website: www.testogen.com
3 Centrapeak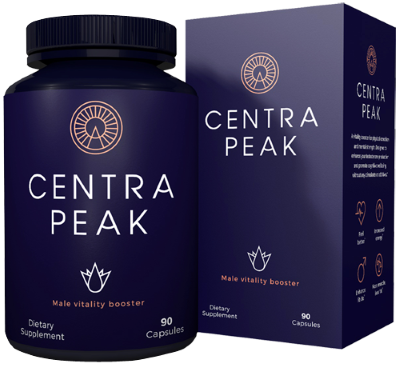 Coming in third place we have Centrapeak. This one is brand new to the market and is another one to consider for a good muscle builder.
Centrapeak is made to help you increase muscle mass, lower body fat and also increase your libido and vitality. What's not to like?
Taking a look at the ingredients on this product you will see that this one is also packed with proven ingredients like zinc, magnesium, Mucuna Pruriens, and  Panax Ginseng to help boost your testosterone levels. On top of that, they also use a really nice dose of Ashwagandha which reduces stress. This is important because stress releases cortisol and cortisol can be a real testosterone killer.
One thing about Centrapeak that is a bit different from the others is that it is also cognitive enhancer. Centrapeak uses ingredients like Rhodiola Rosea and Lion's Mane Mushroom to improve mood, reduce depression and decrease anxiety. On top of that Mucuna Pruriens also has been shown to improve cognition and concentration.
Pricewise this one comes in a bit above average but it is quite worth it. One bottle will run you $65.00 but there are savings to be had if you order 2 or 3 bottles. They also offer free shipping on all purchases in the United States so there is no extra cost which is nice.
Highlights
Generous doses of zinc, magnesium and Ashwagandha
Effective for muscle building and libido
Also works as a cognitive enhancer
Free shipping in the USA
Savings when buying in bulk
Lowlights
Premium price
Only available on the manufacturer's website
Website: Centrapeak.com
4 T-Booster by Performance Lab
We know Performance Labs are serious players and their T-Booster is seriously good.
It's been designed for performance. With a genius multi-pathway formula that keeps testosterone pumping in your system for longer.
So if you're looking to go harder for longer in the gym. You've have found your brand.
And it won't do you any harm in the bedroom either. Just saying.
It's all about the ingredients.
Performance Labs keep it clean and 100% natural. Perfectly safe to use every day.
The ingredients are unique and concentrated, in optimal quantities.
D-Aspartic Acid Calcium Chelate
Ashwagandha Extract
Mucuna Pruriens Extract
Luteolin
You'll find a very respectable serving of D-Aspartic Acid Calcium Chelate. That's a supercharged form of the proven muscle builder D-Aspartic Acid.
Improved bioavailability allows your body to absorb it better. That means more bioactivity in smaller dosages. And that means better results, quicker.
So hitting beast mode is just a couple of capsules away, every day.
Mixing Ashwagandha Extract – the 'Indian ginseng' – with the 'velvet beans' of Mucuna Pruriens and Luteolin (from orange fruit extract) makes for a potent cocktail of masculine tonics.
This helps slow the natural decline in testosterone, so is especially useful for men the wrong side of 30.
This T-Booster ticks a lot of boxes. And get this… you can put it to the test without risking a dime.
Performance Lab invites you to try their T-Booster for a full 30 days and if you're not 100% convinced, you'll get your money back. No quibbles, no questions, no worries.
Highlights:
100% natural and safe for daily use. Including prebiotic-infused capsules.
World class ingredients, concentrated for maximum impact.
Higher bioavailability, better absorption, optimal dosage.
Quality company. Great reviews. Worldwide shipping.
Money back if you're not 100% happy after 30 days.
Lowlights:
Website: www.performancelab.com
5 Test Freak by Pharmafreak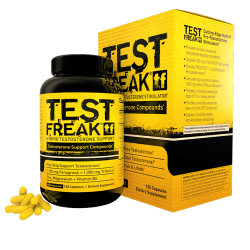 Rounding out our list we have Test Freak by Pharmafreak. This one is a good muscle builder and it helps with libido as well. In fact, it is also on our list of the best testosterone supplements for vitality. This one does both of these things pretty well and is one of the best testosterone products on the market obviously.
Test Freak has 3 complexes in it, they have one for testosterone boosting, one for estrogen control as well as one for DHT support. As for the ingredients, they use 2 forms of Fenugreek, Tribulus Terrestris, saw palmetto, zinc, and magnesium. This one also uses proprietary blend in each of the three complexes so again we can't be sure on the doses of most of the ingredients.
Test Freak can also be stacked with their other test booster Anabolic Freak. Anabolic Freak does have a large dose of D Aspartic Acid in it among other ingredients so it could be worth your while to use them together to get the most muscle building. It can be a bit of a pain to use them both and on the expensive side but both of them together should do well at building muscle.
Highlights
Works for both muscle building and libido
Uses a complex for testosterone boosting, estrogen control and DHT support
Can be stacked with Anabolic Freak for an amplified effect
Lowlights
Uses proprietary blends
Can be expensive when stacked with Anabolic Freak
Website: www.pharmafreak.com
Wrapping it up
There you have the top 5 testosterone boosters for muscle gains. TestoFuel is the winner for its ingredients, reviews, and money-back guarantee. Testogen is another a really good choice that is a little easier on the wallet and is also a solid muscle builder. These are the best out there right now if you are looking to build muscle and they will also help in other areas as well. The others on the list are also very good and have their own advantages. You can't go wrong with any of them really.
Just be sure to hit the gym hard and use some of the best exercises for building muscle and keep your diet in check. The supplements won't do it all on their own but they will help a lot.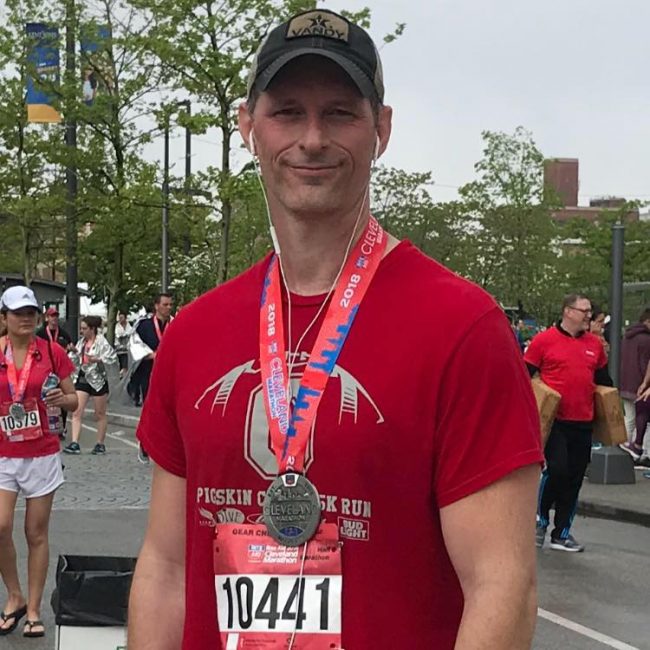 Ryan is a former college wrestler and lifelong fitness fanatic. He has run half marathons, done mud runs, placed in body transformation contests, coached wrestling and now coaches girls soccer. Not to mention he has also tried literally hundreds of supplements over the years and has a vast and thorough supplement knowledge. He has written for Muscle & Strength, Testosterone Junkie, The Sport Review and other publications. He is also the editor in chief of this website. Feel free connect with him on his LinkedIn page below.