(Last Updated On: November 5, 2020)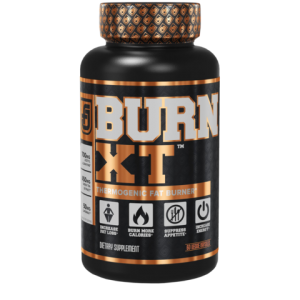 Does the Amazon.com supplement Burn XT live up to the hype?
Featuring only five ingredients it seems like manufacturer Jacked Factory have opted to focus on a handful of key substances to craft this budget bestseller.
But examining these five key ingredients is where we run into our first concern: doses. Are these ingredients sufficiently dosed to be effective for weight loss?
Short answer: No.
Longer answer: Disappointing straight off the bat. The active compounds amount to barely more than 1000mg. How are you meant to lose weight with just 1000mg of active ingredients per day?
Jacked Factory definitely includes enough stimulants for you to see an energy boost but we are not sure there are enough ingredients here to help you reduce calorie consumption in the long run.
Let's see how Burn XT fared in our full review.
What Is Burn XT? 
Burn XT is brought to you by Jacked Factory, a USA-based supplement manufacturer that prides itself in producing high quality, GMP-standard supplements, that are filler-free and safe for everyone.
Jacked Factory makes an impressive series of promises on its website. Most of these claims are backed up by the fact that their products are made from very effective science-based ingredients which are combined in effective doses.
Together with a full money back guarantee, Jacked Factory certainly make a good case for their wares, however, we couldn't help but notice that the ingredient list and the accompanying doses are on the low side.
See the best fat burners for women
How Does Burn XT Burn Fat? 
Burn XT is a thermogenic fat burner. This means that it aims to reduce body fat by raising the bodies' metabolic rate, burning an increased amount of calories and thus generating heat and raising internal temperatures. While this might sound impressive, keep in mind that the burning of any calories releases heat, and so all stimulants will have this effect, including the one you might even be drinking as you read this: caffeine!
Good old caffeine is Burn XT's not-so-secret thermogenic ingredient, along with the products of another plant which you will more readily associate with the prefix "thermo" – cayenne chili pepper.
Multiple clinical trials have validated caffeine's positive effect on energy and workout capacity, while the active compounds derived from cayenne chili pepper are proven to increase the oxidation of fat. (1, 2)
Burn XT is also designed to boost suppress appetite. And whilst there are no arguments surrounding its energy boosting effects, we are skeptical on the question of appetite suppression. To validate this we will have to take a closer look at the ingredients.
Related: Best Fat Burners For Men
Burn XT Ingredients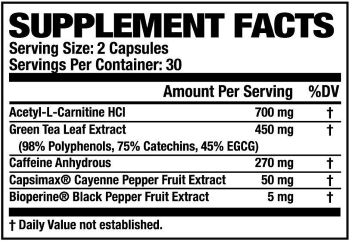 To their credit, the ingredients and doses of Burn XT by Jacked Factory are clearly displayed on the label. This is good for us but not necessarily for them, let's check the contents of Burn XT out.
Caffeine Anhydrous 
270mg of caffeine is a high dose and could potentially cause jitters. It is more than half the recommended daily dose for adults, and is equivalent to more than five cans of coke!
75mg is the proven dose when it comes to health claims, and many pre-workout supplements include a little more than that. For a fat burner, 270mg is on the high side and might not be appropriate for sensitive users. The fact this caffeine isn't from natural sources is also not ideal in our opinion. (3)
Acetyl-L-Carnitine 
This ingredient has received a lot of hype in the commercial press, however, there simply aren't a lot of scientific papers supporting its weight loss credentials – indeed, there are some negating them. This is Burn XT's main ingredient and, to be perfectly honest, it is underwhelming. (4)
Green Tea 
Solid ingredient, with proven weight loss credentials and a number of beneficial health effects. Unfortunately, the already large amount of caffeine in this supplement means it perhaps could have gone without it. The makers might have been wiser to have included a proven appetite suppressant like Konjac Fibre. The problem, of course, is that Konjac Fibre is expensive, so including it would have substantially increased the retail cost of this product. (5)
Piperine 
This is the branded version of this ingredient which is great to see. Piperine is predominantly used to improve the absorption of other active ingredients. Unfortunately, Burn XT is lacking a host of proven weight loss components, which means that the inclusion of Piperine here is actually rather futile.
Konjac 
A South East Asian plant popular in Japanese cuisine. The active ingredient in Konjac, known as Glucomannan, is a dietary fiber now common in weight loss products. A polysaccharide, it swells during the digestion process – it can absorb up to 50 times its weight in water — giving you the feeling of being full thus reducing appetite. Not only this, the polysaccharide has a probiotic – friendly gut bacteria promoting — an effect which has been shown to aid in weight loss. (6, 7)
Vitamin B 
The eight Vitamin B complexes – thiamine, riboflavin, niacin, pantothenic acid, pyridoxine, biotin, folic acid and cobalamin — are important cellular building blocks essential to good health. Supplementation of B vitamins has been shown to improve general mental health and release stress and a number of Vitamin B complex deficiencies have been associated with obesity. (8)
Zinc 
Another essential element, zinc is necessary for a range of metabolic functions; from protein production to the functioning of our senses. It is a common component in men's health supplements in particular, due to its correlation to male fertility. In regards to weight loss, studies have shown that obese patients given zinc supplementation lost weight while improving their body mass index and triglyceride levels. (9)
Side Effects with Burn XT 
Any product containing Acetyl-L-Carnitine may cause side effects. Some common adverse reactions to these ingredients are well known and include such symptoms as headaches, nausea, vomiting and upset stomach.
While Jacked Factory's product blurb promises, "jitter-free energy and enhanced focus", we have to take such claims with a pinch of the proverbial: Burn XT contains a lot of caffeine, and caffeine is well known for its ability to trigger a range of symptoms
In the manufacturer's favor, the ingredients, dosages, possible side effects and usage warnings are all clearly stated on the product labeling.
Burn XT Price 
Retailing at $29.99 from Amazon or Jacked Factory, Burn XT is within the budget range of fat burning and weight loss supplements. It costs less than half the price of its nearest competitor in the weight loss category and has a mid-range price in the fat burner bestseller list.
View our top 15 female fat burners 
Burn XT Reviews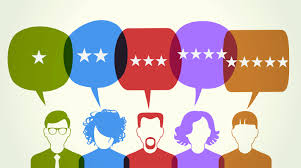 As with other products from Jacked Factory, there is no shortage of positive reviews on Burn XT. More than two-thirds of respondents on Amazon gave it the full five stars.
While the vast majority of users were happy with the energy boost provided by Burn XT, we couldn't validate many of these reviews with videos or photographs. This kind of supporting evidence is always welcome and helps give a better understanding of the actual results achieved by customers.
Pros and Cons of Burn XT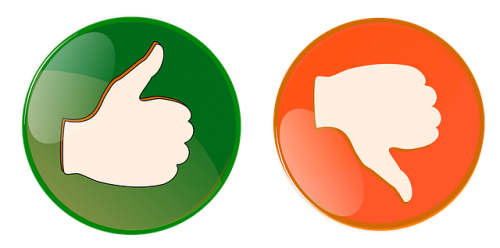 Pros: 
Affordable
Contains Green Tea, Cayenne and Piperine Extracts
USA manufactured, cGMP certified
Vegetarian-Friendly
Cons: 
High Caffeine content
Lacks Konjac, Vitamin B or Zinc
Low Doses
Conclusion on Burn XT 
If you are new to the fat burner market and just want to dip your toe in and see if 'thermogenesis' is for you, then Burn XT is an affordable entry-level product. It's perfect if you are a first-time buyer who doesn't want to fully commit.
On the other hand, if you already have experience with weight loss supplementation then it would not get our recommendation. It is under-dosed and missing some of the ingredients scientifically proven to work. While it may be trending way up there at #1 on Amazon, in our eyes it is an above-average fat burner but not the best on the market.