(Last Updated On: December 25, 2021)
Brooke Ence
Height: 5'7″
Weight 152 lbs
Location: Santa Cruz, California
Bio
Brooke Ence is blond, ripped and a top level sponsored CrossFit Athlete. She hasn't been around in CrossFit all that long though, she basically came out of nowhere in 2015 when she qualified for the CrossFit Games after only having been a regional competitor once before as an individual competitor.
Since then she has been kicking butt and taking names in her short time on the scene. She took 14th place in the 2015 CrossFit Games and is also at trainer at The Golden State. She is sponsored by NOBULL, Kill Cliff, and others and she also was in the new Wonder Women movie as an Amazon Warrior (about time they had a girl with muscle in one of those movies).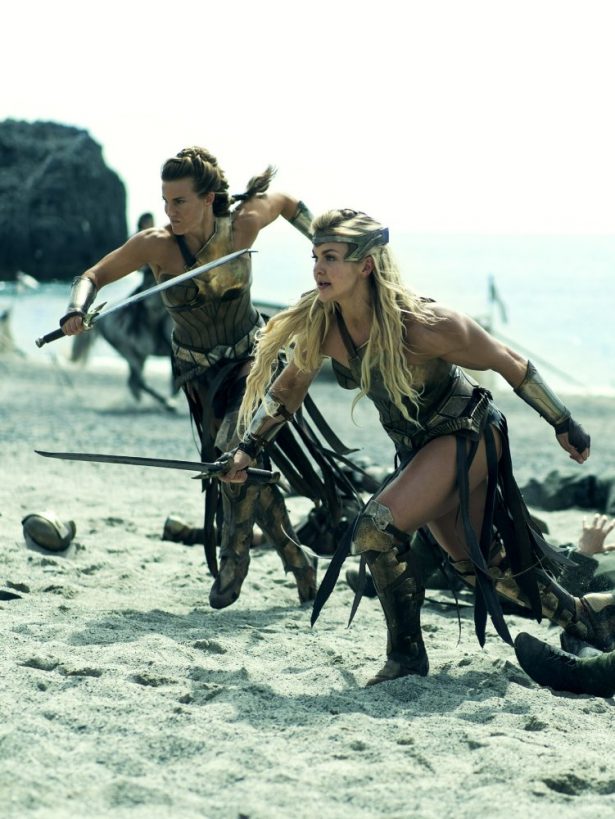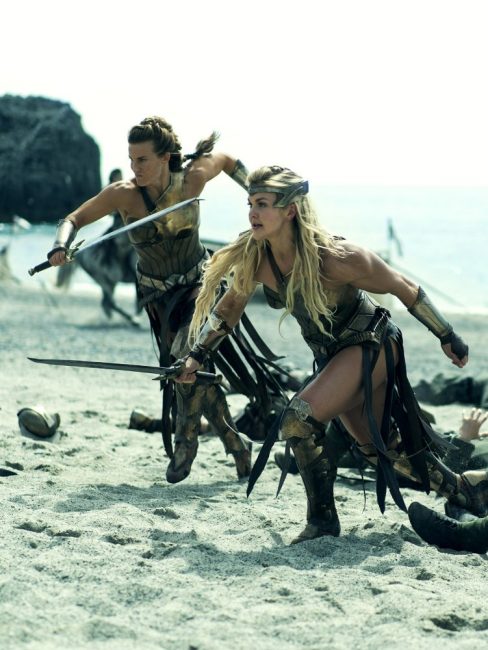 Growing up Brooke was always athletic playing sports like soccer, softball, and swimming. What she was really into though was dance. In fact, she was a modern dance major and the University of Utah. After college was training to join the Las Vegas show Le Reve. To join the show she needed to be strong to be able to do things like climbing ropes, this is where she took up CrossFit. She stayed with the CrossFit and never made it to Le Reve, she still loves to dance though. Also while in college she also did some figure competitions and won her first show in 2008 that qualified her for nationals. She ultimately decided it wasn't for her though.
Having started training for Crossfit back in 2011 she placed 1613th in the 2012 CrossFit Open her first year of competing, in 2013 she made it to regionals as a team competitor. By 2015 she would win her regional and move on to the games where she would take 14th overall for women and taking 1st in both the Snatch Speed Ladder and the 1-Rep Max Clean and Jerk (lifting 242lbs) events. In 2016 she failed to qualify for the games placing 6th in her regional.
For 2017 she had to withdraw from competing for the games due to nerve pain and severe neck herniations at C6 and C7. Needless to say this devastated her but she is focused on recovery and making a comeback for 2018.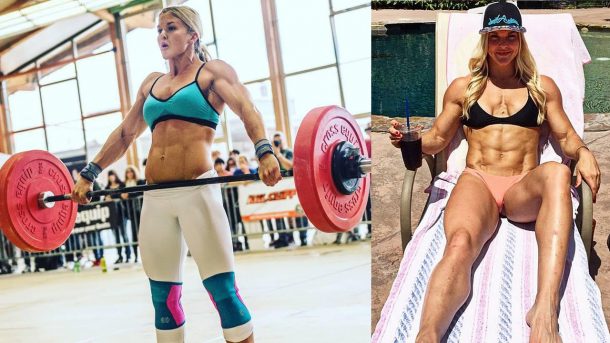 Brooke Ence in Wonder Woman
When she was training for the CrossFit games in 2015 Ence got a call to act in the movie Wonder Woman after the director of the movie saw a picture of her. Ence took a while to decide if she wanted to take the role for fear it may disrupt her training but she ended up taking the role.
Obviously, she did not have to do any physical training for the role since she is already in phenomenal shape but she did have to do a couple of weeks worth of stunt training to learn how to use a sword and for horseback riding.  It was a small part in the movie but everyone has to start somewhere. Below is a video of her at the movie premiere. She is taking acting classes and hoping to get more acting roles in the future.
Brooke Ence Workout Stats
Now let's cover some weight lifting, something Brooke knows a lot about. Spends much of her day in the gym either training or instructing others. She can spend 3-6 hours training for several days a week. To train this much she tries to get extra sleep and also naps during the day to stay rested.
Here are her max lifts:
Back Squat – 320 lb
Clean and Jerk – 253 lb
Snatch – 207 lb
Deadlift – 365 lb
Fran – 2:07
Filthy 50 – 24:38
Sprint 400m – 1:11
Run 5k – 24:00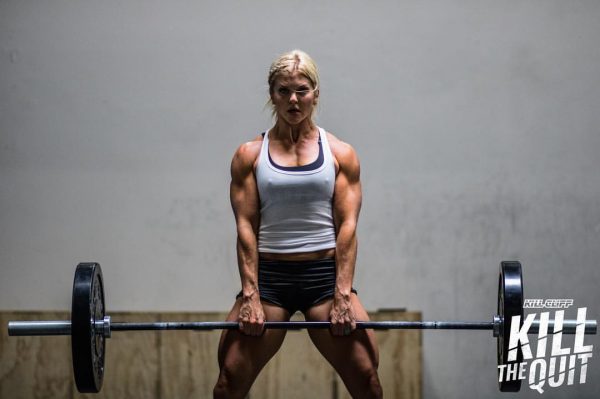 Brooke also uses a lot of Tabata training with her workouts. If you don't know Tabata it is an HIIT workout that uses 40 seconds of max effort followed by 20 seconds of rest for 4 minutes. Common exercises for Tabata training include kettlebell swings, rowing, med ball slams and farmer's carries. It might not sound that hard but give it a try and see how you do. It is a brutal fat-burning cardio workout.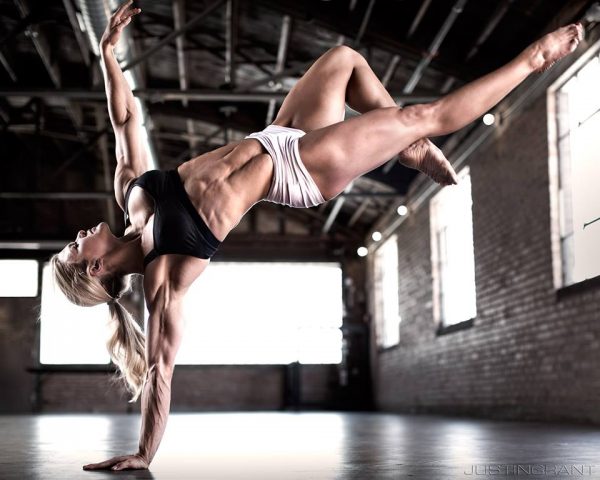 Brooke Ence's Diet
Unlike many CrossFit Athletes, Brook is not a die-hard Paleo dieter. She tried it and it didn't work for her. She also tried the Zone Diet and the ketogenic diet without success. She instead uses the method of counting macros because it is more flexible and she can cater it to her workout routine and schedule. She also tracks what she eats using an app on her phone so she knows where she is nutrition-wise throughout the day. She likes to eat a lot of whole foods, no processed garbage. Good food to keep her body in tip-top shape.
Brooke's Daily Meal Plan
Breakfast
4 Eggs
Bacon
Broccoli slaw
Squash
Salsa
Oatmeal
Pre-Workout
Lunch
Grilled chicken or steak
Brown rice
5:00 pm Snack
Dinner
Grilled chicken
Sweet potato
Squash
Asparagus
Brussels sprouts
After Dinner Snack
Non-fat Greek yogurt ( 21g protein, 7 g carbs), peanut butter
One serving of Brooke's favorite cereal (20-40 grams)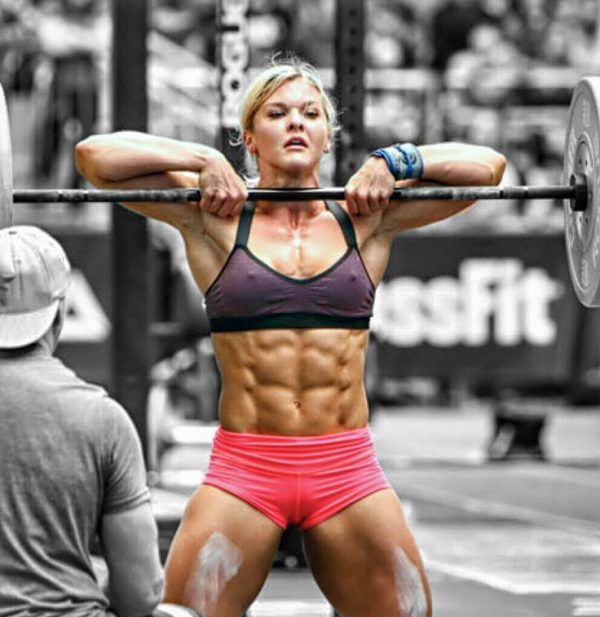 Supplementation
Brooke likes to get most of her supplementation through just eating good whole foods but she does use PurePharma SB3, Leanbean to stay lean, protein shake and sometimes a fish oil before workouts.