Many people out there prefer a home gym to the commercial gym. You can workout whenever you like, wear whatever you like…or wear nothing at all if you're into that. You play your own music and do not have to deal with some of the interesting characters that are common in just about every gym. We have compiled our list of the top 3 gyms for those of you that prefer to get your lift on in the comfort of your own home.
Different types of Home Gyms
There are lots of different types of home gyms out there from multi-station to bodyweight to single stack to power racks. For us we prefer the power rack style gym as they give you more of a true weightlifting experience than a machine does. However there are some machines out there that are better than others. Being that this article is about the best there is for your dream home gym we only picked the best of the best.
Here are the top 3 home gyms on the market for 2017:
Rogue W-4 Garage Gym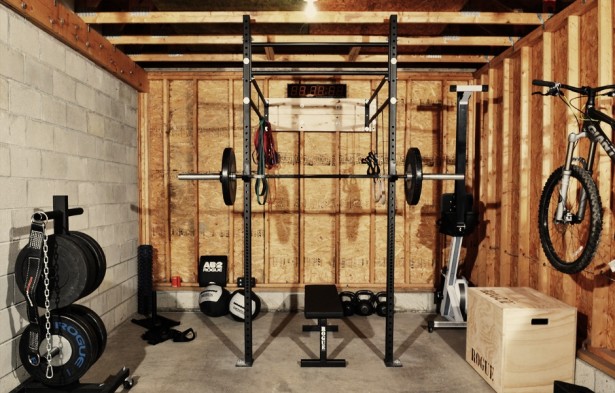 The Custom Garage Gym by Rogue is the cream of the home gym crop. Whether you love CrossFit, Olympic lifting or basically any kind of lifting with free weights the Garage Gym from Rogue will work perfect for you. The Garage Gym has you covered on everything from bench press to squat to chins to just about anything else you can do with a barbell and a rack. The rack is nice and heavy duty so you don't have to worry about it shifting or collapsing while squatting heavy loads or doing pulls ups.  It also features gymnastic rings for dips, jerk boxes, plate storage and more. The nice part is you can buy it all at once or piece by piece. You can also just buy whichever items you feel you need and skip the rest. Rogue has just about every type free weight equipment you can want and you can mix and match however you see fit. Overall if you are looking for a quality home gym that is strong and durable and gives you the ability to hit the weights like an absolute beast then this is the Garage Gym is for you.
Pros
Heavy duty build to withstand punishment and not even blink.
Can be bought piece by piece to help the budget.
American made. Let's face it, sometimes when things are built overseas they cut corners on quality.
Same day shipping gets it to you fast.
Buy a rig and shipping is free.
Cons
Takes up space. Not everyone has the space available in their garage or even the basement to accommodate this beast.
For more information on the Rogue Garage Gym follow this link – Economy Equipment Packages
Full Metal Industries – Garage Gym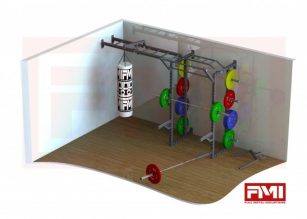 Full Metal Industries offers some amazing and solid products that we really like. The Garage Gym is another one of those products. It is made to be used in the garage so you will need the room to have it but it is worth it, it can also be used inside your house if you have room too since it is custom made. This bad boy allows you to train in almost any way you would want to. It has the power rack for all your squating, benching, pressing and power rack needs. It is stable and strong and can handle the loads of even a hulking beast. It also has multiple chin up bars and a monkey bar section that can hold a punching bag or other toys. The Garage Gym can also be upgrade or downgraded to fit your needs and your budget. Overall we loved the Garage Gym and would definitely recommend this bad boy to anyone who is really looking to take their home gym to the next level.
Pros
Made to fit your garage dimensions
Stable and strong construction
Able to upgrade or downgrade for your need and budget
Made in Great Britan and ships worldwide
Features accessories like dipping bars, grappler etc
Cons
Takes up space garage space that not everyone has
It is a premium product and is priced as such
Visit fullmetalindustries.com/product/garage-rig for more information on this product
Bowflex Revolution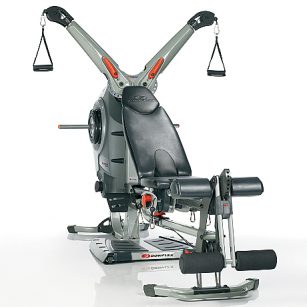 The Bowflex Revolution is perfect for those who do not have the space for the garage gym set up above and let's face it, most people don't. The Revolution folds up to 55 x 38 inches making it small enough even for those in a one bedroom apartment. Not to worry though, while is might fold up small this bad boy does over 1oo different exercises and can work every single body part to perfection.
Of course you can do bench press and leg press and more weightlifting exercises than I could reasonably list the Revolution also has a built in rowing machine so you can get your cardio in too.
The Revolution has up to 300lb weight resistance and moving from exercise to exercise is super easy. The variety of exercises and the ease of use make this machine something you will be happy to own and you will not regret it.
Pros
Folds up small (38 x 55 inches)
300lb weight resistance for upper body and 600lb for lower body available
Built in rowing machine for cardio
Wide variety of exercises
Cons
Not a true free weight experience
Shop for Bowflex Revolution Home Gym Today!
 Conclusion
So there you have our top three home gyms available on the market today. The Rogue Garage Gym is the best choice for those who prefer free weights and have the room for it while the Bowflex Revolution is an excellent choice for those who are short on space but still want a kick butt workout machine.
Now you have to promise me that when you buy one of these bad boys you won't let it sit around unused. These home gyms are way too good to sit around collecting dust and being a spot for you to hang your clothes. Please show them the love they deserve!