(Last Updated On: January 1, 2022)
After a particularly long day of training athletes usually look forward to some rest and relaxation.
Getting a massage isn't an indulgence, but rather a necessity. In order for those muscles to rebuild themselves, you need all the help you can get.
Now we all know that a massage service isn't cheap, and it's not really a viable solution long-term. However, technology has given us an alternative in the form of a massage gun.
Message guns are all the rage, these are the best ones for athletes to aid with recovery and to help release muscle tension with a deep tissue massage.
Let's get down to it!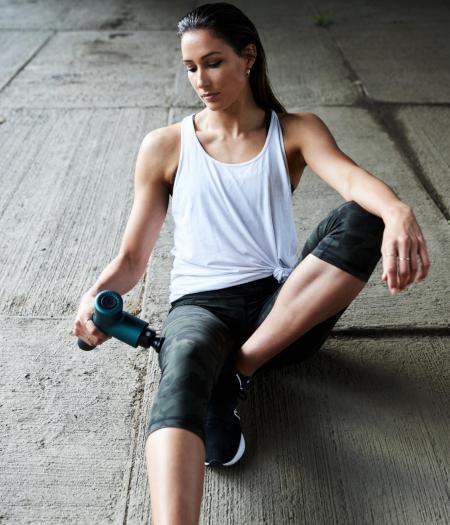 Best Message Guns for Athletes: Quick List
Related: Hands on Knees vs Hands on Head: Which is Better for Athlete Recovery?
10 Best Massage Guns for Athletes
These are the best message guns on the market for athletes and really just about anyone else.
Opove M3 Pro Massaging Gun
Best Message Gun Overall for Athletes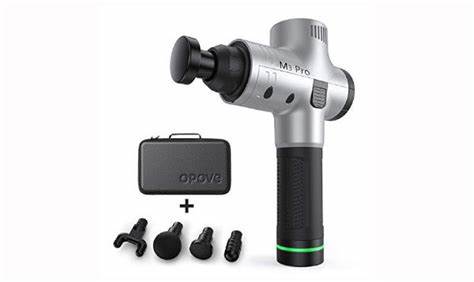 Website: opove.com
Starting off we have our best option the Opove M3 Pro Massaging Gun. Its quiet, lightweight and anti-drop form factor easily won our hearts and stands as one of the best in the massage gun market.
The M3 Pro packs a mean percussive punch, and it's a miracle how the manufacturer has managed to put in all that power and still make it portable and not sound like a hand drill when it's turned on.
The magic lies in the combination of Unique Glide technology and 24V brushless, high torque motor to provide 3-speed levels which max out at 3,200 PPMs. Noise output is rated at just 55 decibels, or the sound of moderate rainfall, which is really impressive!
The anti-drop shell is definitely something to write home about. The whole material is made from glass and nylon 66 fiber, which explains its lightness (at just 2.5 pounds), anti-fall, non-slip and water-resistant properties. Putting the head to where you need it is a simple exercise of point-and-touch.
Opove percussion separates itself from the pack with a higher amplitude (equaling 50% deeper muscle penetration) and approximately 60 lbs of force at 40x per second. This translates to better tension release and circulation within the target area.
Purchase of the Opove M3 Pro comes with a carrying case and four attachments. You can get it in Silver, Red, Black or Navy Camo depending on your preference. Battery life is rated at 3 hours, enough to get you through a week or so.
Pros
Powerful and quiet
Light and superbly durable
Has an auto massage mode
Less expensive
Cons
Exogun
Best on a Budget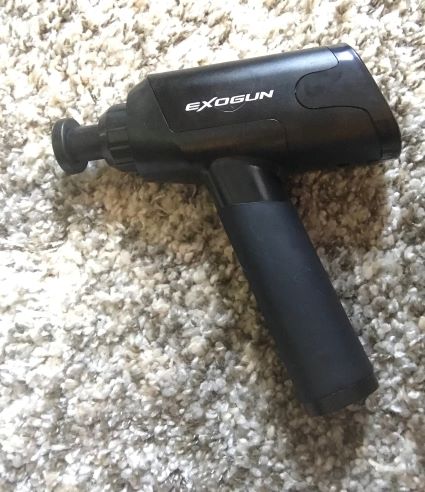 Website: Exogun.com
If we were to sum up the Exogun in one word it'd be 'simple'. It's actually praise considering how they managed to create a massage gun with straightforward yet useful features.
Case in point- a single button controls 6speeds, with the device having four unique attachments for the spine, neck, joints, large muscle groups and whole body. Those who've never operated a massage gun before will find themselves getting a post-recovery session with the power massager in minutes.
A single full charge provides up to 7 hours of therapy. It's relatively quiet at 45 decibels and portable at just 0.8 kilograms.
Full disclosure: This is the gun I own, in fact, that's a picture of it on my carpet above. I love it, no need to spend extra money on other guns, this budget massage gun gets the job done for less.
Pros
One button operation
Best budget option
Cons
Ekrin B37S
Best With Advanced Features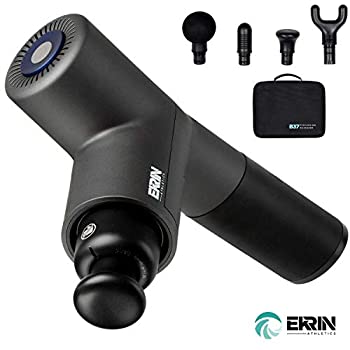 Website: EkrinAthletics.com
It's hard not to say 'wow' and breathe a sigh of relief when you're getting massaged by the B37S Percussion Massager after a tough training session. We absolutely love everything about it, and for this reason, the B37S is near the top of the list!
The B37S is the successor to the best-selling B37. It has more signature features and power for optimal deep muscle treatment. For one, it provides 30% more power at speeds 1 through 3 so your muscles get the treatment they need for faster recovery.
Speaking of speed, the B37S has variable 5-speed settings that range from 2,000 to 3,200 PPMs. When used in conjunction with the included 6 attachments (Round, Flat, Cone, Bullet, Fork and Silicone you get an array of percussive massage options for just about every muscle in your body.
The B37S also has Reactive Force Sensor, something that's not on other massage guns. It tells you how much pressure is being exerted for that particular speed so you can change to higher speeds or stay the course.
Ekrin Athletics has made a superb percussive therapy massage gun that hits all the marks in our books. A 15-degree handle promotes whole-body wellness and makes it super easy to reach the muscle you want to stimulate. The locking mechanism adds to the safety department and the grip is comfortable, even for long periods of time.
What impressed us the most is the long-lasting battery in the B37S. It's rated at 8 hours max run time, which can easily last for weeks on 15 to 30-minute sessions. Plus, you can use it anywhere, even in the bedroom thanks to the Ultra Quiet Tech.
All those features equate to an awesome price tag of $329.99. Color us super impressed!
Pros
Ultra-portable and has a travel case
More powerful than most
Quiet motor
8-hour battery life
Ergonomic design
Cons
Related: Ice Baths for Recovery: Do They Even Work?
Softerspot S3 Pro
Best High-End Message Gun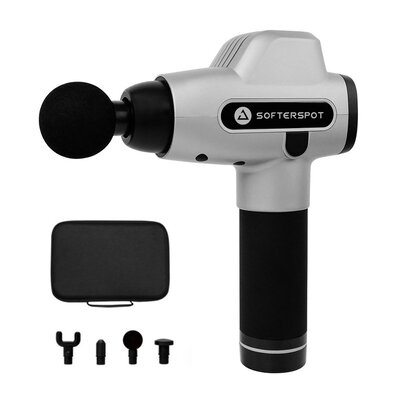 Website: softerspot.com
If AI and a massage gun had a baby then it will probably be the Softersport S3 Pro. All its features have the word 'Intelligent' on them, and the sleek form factor is super cool, to say the least!
The 'Chip Level' percussion gun promises the most pleasurable massage experience you've had. Unlike other massage guns that could, in the wrong hands, damage muscles, fascia and bones, the S3 Pro's Super Hit reads where you're pointing the head to and automatically adjusts the power via black technology algorithm.
And if that's not enough, the gun also detects the attachment you put in and adjusts the amplitude, intensity and percussion mode.
Instead of a mute operation, the S3 Pro converses with the user by broadcasting settings and changes. A mini control interface provides important details such as massage areas, head icons, percussion modes, battery life, and timer.
We'd wholly recommend the Softerspot S3 Pro to athletes who are dipping their feet in the world of percussive therapy massage guns. It's intuitive and doesn't require a thorough reading of the manual. Just change the attachment, set the speed you want and turn the device on then the S3 Pro does the rest. You'll be sure to get the right massage every time.
The S3 Pro only comes in one color and is a bit more expensive, but hey that's the price of entry for a smart power massager that's one of a kind!
Pros
Intelligent Super Hit chip
Patented massage attachments
Intuitive and superbly easy to use
High stall force rating
Cons
5. Theragun Pro
Best Handle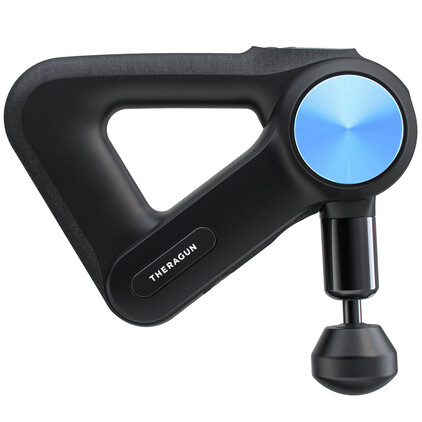 Website: Roguefitness.com
You won't believe the Theragun Pro is a massage gun unless we tell you so. The unconventional form is actually designed for a good reason, and it's actually somewhat genius!
The triangle multi-grip handle and rotating arm allow up to 4 unique positions and can reach virtually any spot in your body. It's ergonomic so you can hold the gun multiple ways and not get arm, hand or wrist fatigue.
Then there's the QuietForce Technology that delivers up to 60 pounds of force spread through 5-speed settings (at a max of 2,400 PPMs). The Pro model has six heads for a variety of areas.
Pros
Ergonomic design
OLED screen
Higher Quality than the Theragun Elite and Theragun Prime
Carrying case included
Cons
Super expensive
Not for sore muscles
6. Hyperice Hypervolt Plus- Bluetooth
Best Message Gun With Bluetooth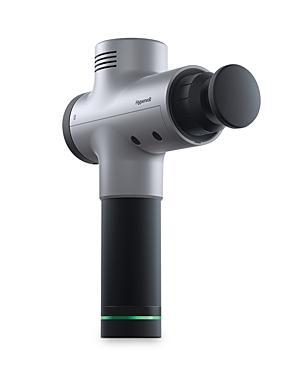 Website: Roguefitness.com
Okay, hyperbole aside Hypervolt offers a custom massage routine with a single tap of a button.
The way it works is the massage gun connects to your phone via Bluetooth. The HyperSmart app then runs the guided therapy so all you have to do is point the head and sit back.
The 'Plus' in the label means it's an improved version of the original Hypervolt. You get 30% more power through a 90-watt brushless motor.
Included in the device are 5 attachments, a pouch, a wall charger and the Hypervolt massage gun with Bluetooth. Battery life is rated at 3 hours on a full charge.
Pros
Auto-guided massage routine
Compact
Includes carrying case
Cons
Non-optimized handle
Underpowered
Tokfit T2
Second Best on a Budget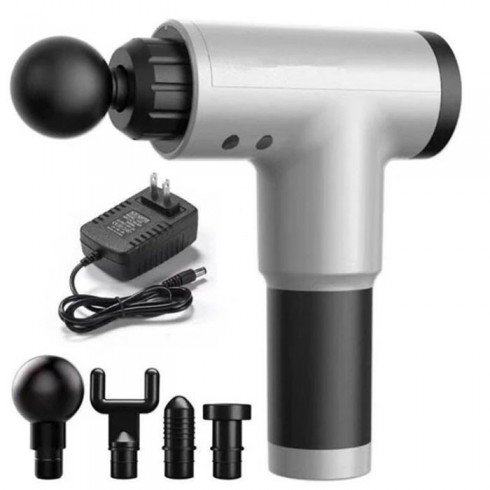 Website: Tokfit.com
Next on our list of the best massage guns for athletes we have the Tokfit T2. What we immediately noticed with the T2 is its price- at just $199 it's one of the cheapest on the list. However, to make a budget percussive therapy massage gun Tokfit has to cut some corners.
Let's start with the good- T2 has a 20-speed setting that ranges from 1,200 to 3,200 PPMs. At the opposite end of the head is a screen that displays frequency, battery charge, speed up or down and the on/off.
The bad is that it only has four head attachments and the material doesn't have as much heft as we would have liked.
Pros
Comes in Silver or Black
Has LCD readout display
Cons
Flimsy material
Only provides 3 hours of massage
8. Vybe Premium
Most Stylish Message Gun
Available on Amazon
VYBE has created a sleek-looking power massager with notable features to go with it. Unfortunately, we've had some issues with the attachments not staying on the head.
Max percussion speed bottoms out at 3,200 strokes per minute at the highest intensity level. It can push up to 30 lbs of force using the 8mm attachment. Every purchase includes a 100% customer satisfaction guarantee, which is a good thing.
However, weight and noise can be a huge damper in your plans. The Premium Massager Gun is rated at 60 decibels but it's closer to 80, and the thing is heavy at 4.4 pounds.
Pros
Customer guarantee
4-hour battery life on a single charge
Carrying case included
Cons
9. LifePro Sonic LX Professional
Massage Gun With the Best Attachments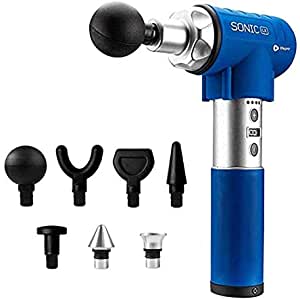 Available on Amazon
Those who love big numbers may like the Sonic LX Professional. It has a whopping 7 head attachments and 9 intensity levels to treat a wide variety of aches and pains. Speed can be as low as 15Hz or as high as 55Hz depending on what you need.
The built-in 2,400mAh battery runs up to four hours, and the included protective case is a bonus. What we didn't like was the 75-decibel noise and the way the Sonic LX kept slipping out of our hands.
Honestly, having lots of attachment heads is pretty overrated. The only ones I even use on my gun are the ball and the finger-like pointy one. The rest just collect dust.
Pros
Good range of speed and intensity levels
Decent battery
Lots of interchangeable heads
Cons
Loudest on the list
Non-ergonomic grip
10. Exerscribe VYBE Percussion
Sleekest Design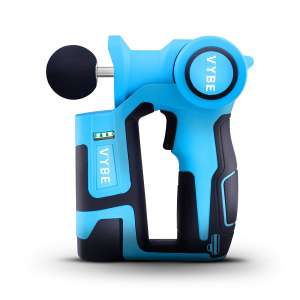 Available on Amazon
The percussive therapy massage gun from Exerscribe looks more like a hardware tool than a massage gun. Overlook that and you'll it to be a dependable yet flawed machine.
The VYBE Percussion only has three attachments- the Standard Ball, Large Ball and Cone. Speed settings are set at 6 with the maximum strokes at 2,400 per minute. Control is done via a twist-dial knob. A tilting massage head rounds out the details.
Pros
Bright color
Light at just 3.5 lbs
Cons
Only three attachments
Has a learning curve
What is a Massage Gun?
Anatomically speaking, a massage gun consists of a massage head at the end, a handle or grip to secure the device and a few buttons on the body for settings.
Like traditional massage, a percussive therapy massage gun can help relax tight muscles and improve blood flow. However, instead of 'kneading' the muscles and soft tissue, a massage gun utilizes vibration therapy, otherwise known as 'percussive' force.
Think of a massage gun as a mini jackhammer for your muscles and you'll get it down pat. They can be used after a particularly strenuous workout or just before a performance.
Keep in mind that a massage gun is unlike a roller foam in that you won't have to exert effort and can just 'point and press' to the area that needs it.
A massage gun can provide the following benefits:
Shorter Recovery Time
Getting a deep tissue massage is one of the best things an athlete can have post-workout. The percussive therapy of a massage gun can help relieve tension and prevent muscle soreness, which equals a shorter recovery time.
Massage guns target deep tissue, and when they're stimulated tissue and blood cell exchange becomes that much easier. Injuries heal faster, you perform better and experience a lower risk of getting hurt.
Effective Pain Relief
A massage gun brings vibrational healing using percussive technology. The constant pounding force goes into the deep muscle and improve lymph and blood circulation and thus results in optimized oxygen and nutrient delivery better than foam rolling can.
Muscle pain you can get from overtraining can be alleviated with the help of a power massage. It works on lower back, shoulders and neck, among other areas.
Also, a massage device is infinitely better compared to taking pharmaceutical drugs to ease the pain. It's more natural and you won't have all these substances running through your system.
Activates Muscle Cells and the Nervous System
The nervous system plays a vital role in physical health and performance. Aside from maintaining homeostasis it regulates muscle tissue activity as well.
When you use a massage gun in the right spots, it can get your nervous system up and running and cause muscle and skin vasodilation leading to improved mobility.
For athletes, mobility plays a huge role in their discipline, and a massage gun is a cost-effective way to a healthier nervous system. A one-time investment in a massage gun can go a long, long way.
Enhanced Range of Motion
A percussive therapy Massage gun can create a positive domino effect when you use it regularly. It works on ligaments, connective tissues, joints and tendons, all of which equal better range of motion.
Flexible joints are less susceptible to sprains and injury, while relaxed fascial tissue and muscles are good for blood circulation and flexibility. It doesn't take a rocket scientists to figure out that all these benefits lead to an enhanced athletic performance!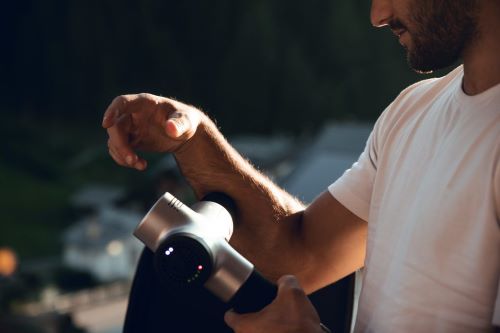 Features to Look For in a Massage Gun
So now that you know what a massage gun is and how it can help you with recovery, muscle stimulation and athletic performance, you could be wondering what makes a massage gun better than the rest of the products out there.
The best massage gun is one that has a long-lasting battery, a good spread of speed settings, is comfortable to hold and operate (even for long periods), is relatively quiet and affordable. Furthermore, you'll want an array of attachments for versatility and ample force to do what needs to be done.
Battery Life
Just how much battery will a massage gun need in order to be useful?
The less often you'll have the charge, the better it is for the overall user experience. Plus, you wouldn't want to get caught with a 'low battery' sign when you need a massage the most.
That said, battery life should run anywhere between 2 or 3 hours to 7 or 8 hours on a full charge for the massage gun to be dependable. Bulkier ones tend to have a larger battery life but they won't be as portable.
So, ask yourself this- is portability a major factor, or should I get a massage gun I can use at home?
Speeds
Speeds is a pretty straightforward feature when you're looking for the best massage gun. The more speed settings, the better (but you'll have to know what each one does).
In contrast, a massage gun can have a million speed variables and yet none of them can be useful in muscle recovery and healing. That said, you should read further on what each speed does and what technology is associated with it.
High-end massage guns sometimes have an 'adjustable' speed, which utilizes a chip to 'read' the muscle tissue and automatically shift according to the situation. Others will have slower but more impactful force for a specific function.
Design and Comfort
All massage guns come with a handle for holding and an end that goes to your muscles.
This simplistic mechanism makes for a variety of ways manufacturers could come up with different designs. To stand out from the rest of the competition they make it ergonomic (easy to hold) and coat the handle with substances that provide a better grip.
Remember, it's all about the user experience. If it makes it easier to reach those muscle soreness on your back or glutes, the better. However, if you can't hold a massage gun for longer than 5 minutes then buying it isn't probably a good idea.
Noise
Yes, that massage gun brand could very well be the most powerful massage gun ever, but if it makes a noise like a jackhammer then it wouldn't make much of a difference.
The best massage gun has a perfect blend of noise (or lack thereof) and force (more on this later). To put things in perspective, you wouldn't want to be limited to the times you can use it and disturb or wake up people around you.
Noise in decibels will serve as an indicator to how much sound it will produce when turned on. A good range would be somewhere around 50 to 70, tops.
Cost
Cost is relative to budget and features. Before buying, you will want to ask yourself- what do I really need in a massage gun? Also, how much am I willing to invest?
Like most other consumer products, a more expensive massage gun equals higher quality. However, you will need to be able to tell value from overpriced machines.
Does a particular massage gun offer all the features at a reasonable price? Then chances are that you found the right one. If it's missing a key feature or comes out more expensive than you thought, keep looking around and weigh in on the pros and cons of each.
Attachments
Attachments are pieces of hardware that go on the massage gun's pointy end. Each attachment is designed to do a different kind of massage or target a specific area in the body.
Like in the Speeds department, the more attachments the better. Make sure to read what each one does though, and if that fits into what you need in a massage gun.
For instance, a massage gun brand may have an attachment for sensitive or sore areas, one for near the bone and another for the neck or back.
Different athletes will require different massage needs. Spend a bit of time reading and you'll come up with an idea of which massage gun fits best.
Lbs of Force
We also have force or otherwise known as 'pressure'.
As a general rule, the bigger your build the more force you need to get the actual therapeutic effects. A massage gun with a higher max force is good for a deep tissue massage.
Greater force ratings tend to produce more vibrations and therefore, noise. It's probably a good idea to sacrifice a bit of noise (about 10 decibels) for more power than having a quiet but weaker massage gun.
Stall Force
Stall force refers to the amount of force or pressure you can apply with the gun before the motor stalls out.
The higher the stall force is the more aggressively you can use the deep tissue massager and the more force you can put into the massager before it stops.
The higher the stall force the better, especially when looking for a deep tissue massage.
Conclusion
We hope you've come away more knowledgeable about massage guns and what it can do for your post-training or performance recovery.
Remember to weigh in the pros and cons carefully, but if you want a well-rounded massage gun that delivers, consider our top-rated Opove M3 or the Ekrin B37S. Any of these options will have you retiring from foam rolling for good.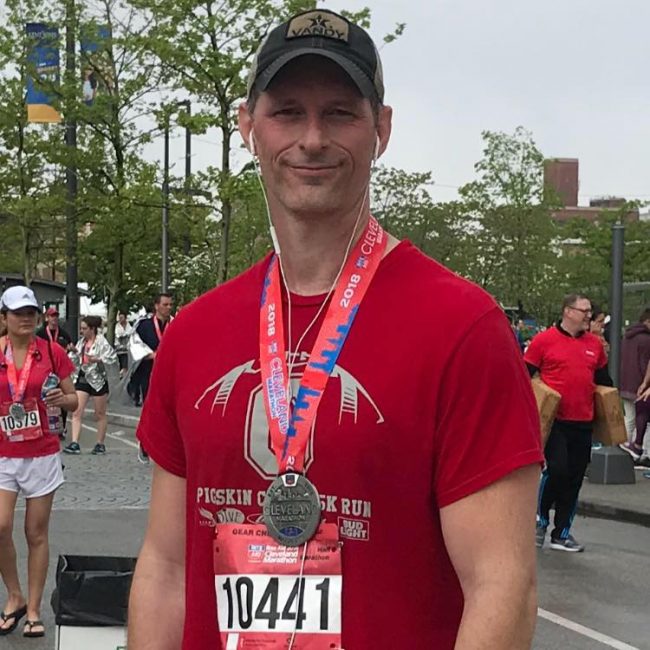 Ryan is a former college wrestler and lifelong fitness fanatic. He has run half marathons, done mud runs, placed in body transformation contests, coached wrestling and now coaches girls soccer. Not to mention he has also tried literally hundreds of supplements over the years and has a vast and thorough supplement knowledge. He has written for Muscle & Strength, Testosterone Junkie, The Sport Review and other publications. He is also the editor in chief of this website. Feel free connect with him on his LinkedIn page below.