(Last Updated On: January 6, 2022)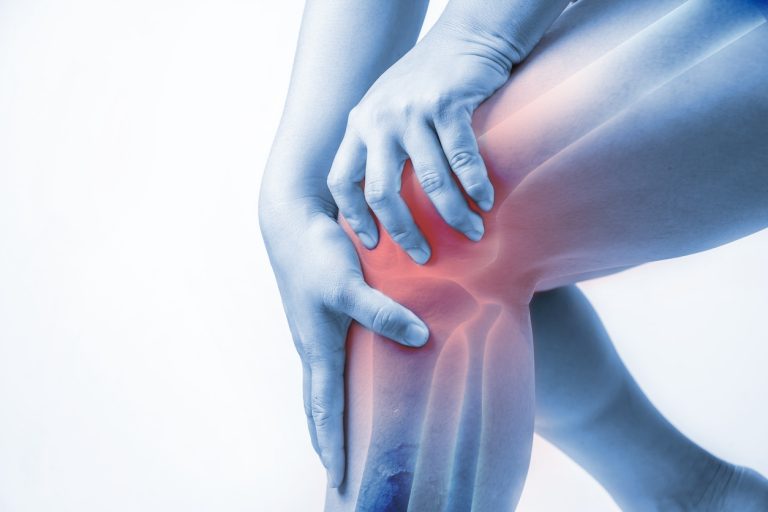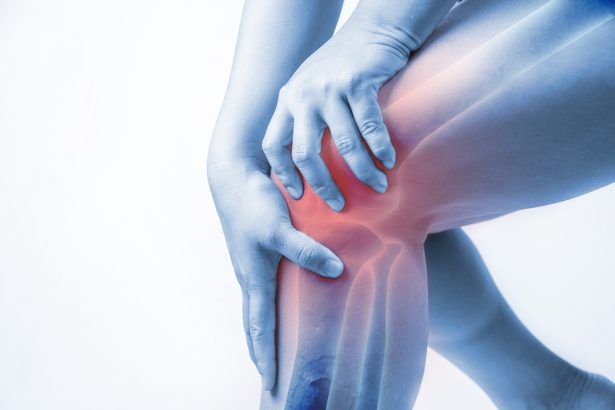 Our joints are just as important as the rest of our body and deserve to be properly cared for.
Joints are responsible for keeping your bones connected and support movement. Athletes will need all the help they can get as they train and put their limbs through its paces each day. That said, if you want your body to work right and work for a long time then you'll definitely want a joint supplement in your diet.
What are the best joint support supplements available from hundreds of products on the shelves? Good question. Today I'll show you what ingredients to look for in a joint support supplement and list the top products you can buy.
Related: Joint Friendly Alternatives to Barbell Exercises
Ingredients to Look For in a Joint Support Supplement
Curcumin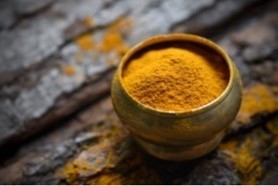 You'd be surprised to think that such a common kitchen ingredient could be so effective for joint health, but it's true. Curcumin is what gives turmeric its golden hue and is absolutely loaded with antibacterial, antiviral and anti-inflammatory properties.
Various research from all over the world cement the fact that curcumin is good for the body and the joints. For one, it's a potent antioxidant that can stave off osteoarthritis, cardiovascular conditions and rheumatoid arthritis, among others. Scientists consider the compound to be a 'master switch' that deactivates inflammation activity.
Also, note that muscle and joint pain are often experienced after a strenuous exercise or training session but curcumin has proved itself an excellent ally in reducing sore muscles and inflammation.
Boswellin Super
Boswellin Super is labeled an 'anti-inflammatory phytonutrient' and contains Boswellic acids (hence the name), a compound that research suggests to be very effective against knee and joint pain. Study
As we age and train our knees' joints and cartilage degrade over time. In studies, Boswellin Super played an impressive role in the reduction of swelling and pain among individuals.
Aside from knee pain reduction it can also improve joint mobility and health, decrease osteoarthritis conditions and give you stronger bones when taken regularly.
Calcium Fructoborate
A naturally occurring SBE, or sugar borate ester, calcium fructoborate can usually be found in fresh vegetables and fruits. It has unique clinical and chemical properties that can be used to lower or stop bodily inflammation altogether as was shown in this study.
Calcium fructoborate contains 3 borates- boric acid, monoester and diester, which all shield your bones against inflammatory responses. It's the compound of choice for when an individual experiences a lack of joint flexibility and osteoarthritic conditions.
UC-II
UC-II is actually Undenatured Type II Collagen harvested from chicken cartilage. It's what makes our cartilage elastic and strong, which means it's better equipped to support your joints. Moreover, UC II helps in binding fibronectin collagen and others.
One of the best things about UC-II is that it's natural and has been proven to be safe and effective for the joints. When taken regularly, you can expect lower mechanical stress, better shock absorption and less friction as shown in this study.
Glucosamine
Our bodies produce glucosamine to keep the cartilage working day in and day out. As we age, its levels drop and our joints experience a gradual breakdown.
Thankfully, we can get glucosamine in supplement products to treat sports-related injuries, low back pain, TMJ, rheumatoid arthritis and for general well-being. It's an important supplement as we can't get it any other way. Since most glucosamine compounds are sourced from shellfish you may want to consult your doctor before taking them.
10 Best Joint Support Supplements
These are the 10 best joint support supplements on the market today.
1. Joint Support by Transparent Labs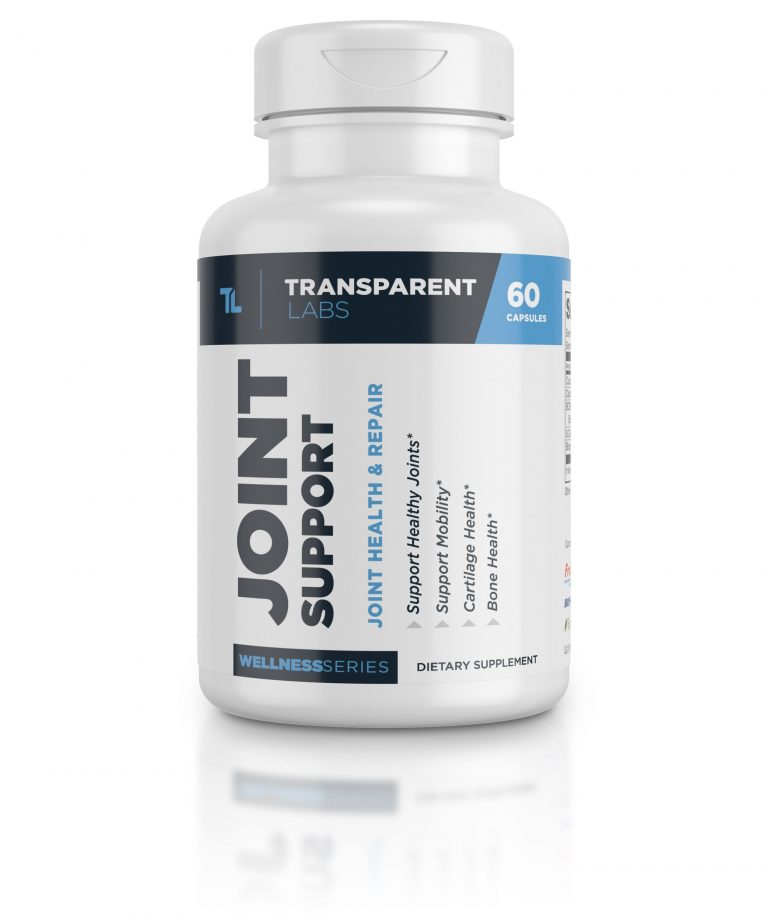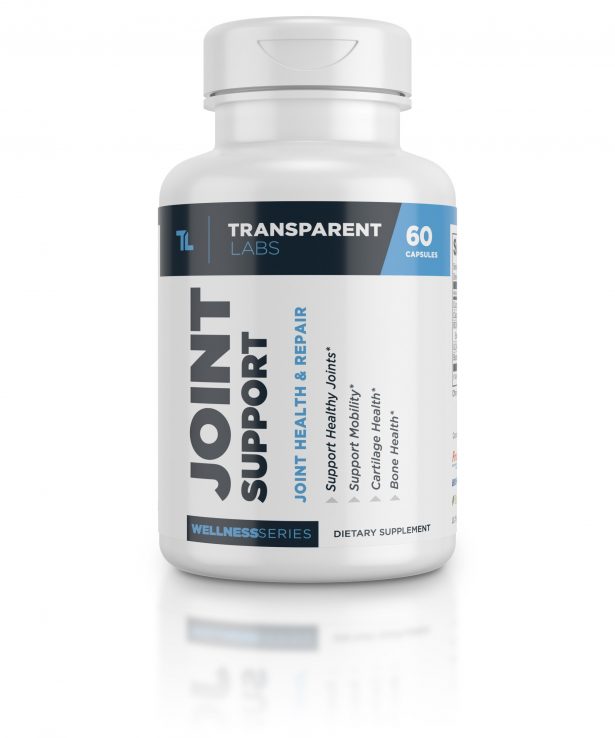 Transparent Labs has always been my go-to manufacturer for the supplements I need, and their joint support product, Joint Support does not disappoint. The moment I began taking it I knew it would rank high in my books.
There's a lot of good things that can be said about Joint Support. One, it manages to include all the ingredients I outlined above at perfect dosages- 500mg of curcumin, 110mg of calcium fructoborate, 75mg of Boswellin Super, 40mg of UC II and 10mg of Bioperine. To those who have been taking supplements, you'll know that Bioperine amplifies the effects since it makes your body absorb nutrients better.
Then, there's the transparency in label and marketing, which is a rarity these days. Most supplement companies hide their ingredients under a 'proprietary label' and thus you wouldn't really know how much or what you're getting. Transparent Labs makes it easy for people to see the contents so they can make an informed decision.
WellnessSeries Joint Support works because it has clinically proven ingredients. There's no artificial coloring, sweeteners, preservatives and GMO products that can interfere with your health or well-being.
You can also save money when buying in bulk on this product. Buy 2 tubs and save $9 or buy 3 tubs and save $28.
On top of that, you can also save 10% on your order by using the coupon code TL10 at checkout and that does not suck.
Athletes, bodybuilders and everyone who wants improved joint function should consider taking a joint supplement. I'd wholly recommend the product from Transparent Labs because of manufacturer history, superior quality and efficacy.
Pros
Made by Transparent Labs
All the best ingredients are here
Excellent value for money
Buying bulk saves money
Coupon code saves you 10% at checkout
Cons
Does not ship to certain countries
Only available on the manufacturer's website
Website: Transparentlabs.com
2. Flex by Performance Lab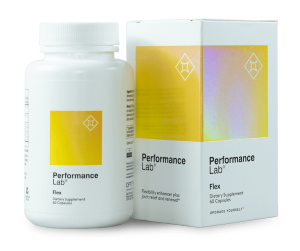 At first glance, it's easy to see how Flex is designed for individuals who work out or train every day. The product name and the pitch are all about 'upgrading' yourself for long-term health.
I was impressed at how all the ingredients in the supplement were sourced from nature. Notable compounds include glucosamine sulfate, Boswellia serrata, curcuwin turmeric and mythocondro.
Explained further in the website are benefits of taking Flex. For older people, mobility problems and joint issues are lessened, thus improving quality of life. At the other end of the spectrum, athletes can enjoy endurance activities and strength training with minimal downtime.
As for the supplement, it has zero GMO components, is free of caffeine and has been tested (and passed) for banned substances. I like how there aren't any synthetics, gluten, soy and allergens that could hamper my training. The formulation is easy on the stomach and won't trouble you even when you take the recommended dosage any time during the day.
Flex is safe to take even for long periods of time. The premium, bioavailable ingredients and minimum effective dosing should help you regain motion and perform your best day in and day out.
Pros
Each botanical-derived ingredient is formulated for optimal results
Supports all kinds of joint, cartilage and tendon activity
GMP certified, non-GMO and gluten-free
Work well to relieve joint pain
Healthy doses of glucosamine and chondroitin
Cons
Website: PerformanceLabs.com
3. Animal Flex by Animal Pak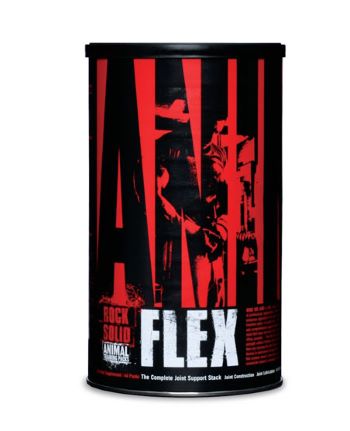 Animal Flex is different from the usual joint supplement in that it comes in powder form. Don't worry- their packaging is convenient, which means you can take it anytime you want.
The list of ingredients is as follows- hyaluronic acid, flaxseed, ginger, turmeric, MSM and glucosamine chondroitin. There are a few vitamins and minerals thrown in for good measure.
The supplement's mechanism of action strengthens the ligaments and joints, thus shielding them from everyday wear and tear due to repetitive movement and strenuous training. Each pack is made to do several things- reduce soreness and promote rehabilitation, lubricate the joints and repair connective tissue.
This one is another one of the best joint health supplements out there.
Pros
Has a vitamin & mineral blend
Good mix of ingredients
Uses glucosamine and chondroitin
Cons
Powder may not be the most convenient consumption method
Website: AnimalPak.com
4. Joint Support by GAT Essentials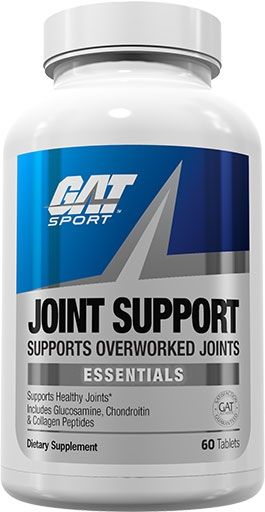 Next on our list of the best joint support supplements we have Joint Support by GAT Sport. The low entry price for a joint supplement may serve to attract those who are looking for a budget product, which is exactly what GAT Sport is aiming for. That said, Joint Support is a pretty straightforward supplement that aims to promote good bone and joint health.
At the heart of Joint Support are ingredients chondroitin and glucosamine, surrounded by a support cast of collagen peptides, lubricating agents, hyaluronic acid and boswellia serrata.
Those who have an allergy to shellfish, lobster, crab and/or shrimp may want to check with their doctors first before taking Joint Support. Otherwise, feel free to order one directly on the website and follow the instructions as directed.
Pros
Cheap
Contains collagen and glucosamine
Cons
Website: gatsport.com
5. Flexatril by Scivation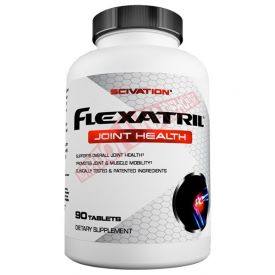 Flexatril aims to be a bodybuilder and athlete's best friend by reducing the level of inflammation and irritation which usually happens after a strenuous workout.
The manufacturer says they don't use the usual ingredients in a joint supplement, but rather three components that are lab tested and proven by science. You get sensoril ashwagandha, ayuflex chebulic myrobalan and microlactin, all of which are exclusive to Flexatril.
Ashwagandha is a compound to help relieve stress. Chebulic myrobalan is rich in antioxidants while microlactin is a sort of derivative to reduce stiffness and osteoarthritis while improving mobility at the same time. The supplement also contains lactase which may not be good for those who are intolerant.
Pros
Unique, science-backed ingredients
Good customer support
Cons
May cause lactose intolerance
6. Ultra Flex Joint Support by Vimerson Health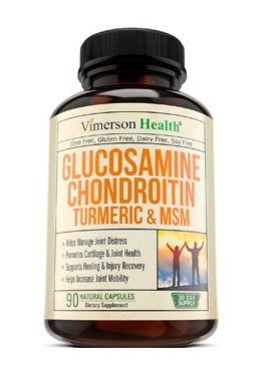 Touted as a 'complete supplement for the joints', Ultra Flex Joint Support eases the pain and discomfort caused by repeated physical efforts and the effects of aging.
The product's unique formula is as follows- MSM, chondroitin and glucosamine. MSM helps with tissue development and joint comfort; chondroitin boosts recovery while glucosamine encourages the formation of healthy cartilage. Also, there's turmeric root extract, Boswellia extract, and quercetin.
You'll be glad to know that the supplement is dairy-free, soy-free, gluten-free and has none of the GMO, sugar and artificial compounds that could ruin your goals.
Pros
Eases joint pain
Made by a reputable company
Cons
May cause unpleasant side effects
Currently unavailable
Website: Vimerson.com
7. Extreme Joint Care by Nutrabio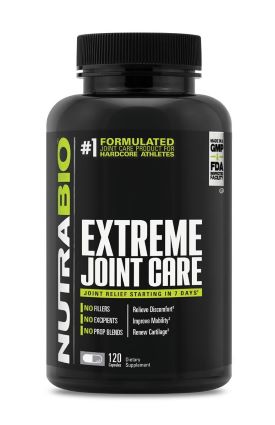 Extreme Joint Care is a muscoskeletal support matrix that has patented ingredients for better joint mobility and function. It features a transparent label that contains ingredients such as opti-MSM (500mg), chondroitin sulfate (540mg), d-glucosamine sulfate (1500mg), meriva curcumin phytosome (200mg), hyaluronic acid, aspresflex, kollagen II (200mg) and more.
NutraBio is the manufacturer of Extreme Joint Care. Dosing is done at 4 capsules a day, preferably with a meal. Also, the manufacturer boasts that each bottle is made in a GMP-certified facility and randomly tested by a third party company for efficacy and quality.
Pros
Has a good mix of ingredients
Comes in vegetable capsules
Cons
More expensive than the others
See this product on Amazon
8. Jointment Support by Universal Animal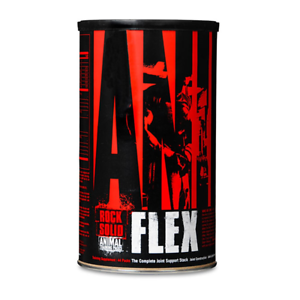 Jointment Sport has been formulated for extra strength and enhanced with glucosamine, chondroitin and MSM. At its core, the supplement works best for athletes and those who work their joints hard every day. Aside from the usual suspects you also get notable ingredients such as flaxseed powder, quercetin, turmeric, magnesium, manganese and vitamin E.
The cost of entry is an absolute steal but then you're left wondering about the supplement's quality and efficacy. Dosage is questionable as well because you're directed to take 6 capsules a day. Furthermore, it contains shrimp, crab and shellfish, something that those with the exact same allergies shouldn't take.
Pros
Cheap
Tailored extra strength for athletes
Cons
Needs a high dose to be effective
Website: universalusa.com
9. Joint Guard by Met-RX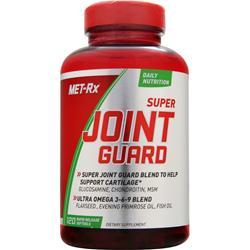 Super Joint Guard contains the usual blend of MSM, chondroitin and glucosamine for cartilage support. Also, the product has evening primrose oil, fish oil and flaxseed as an omega 3-6-9 blend to round out the things you can get from the supplement.
Met-RX's offering is advertised as a joint support supplement for bodybuilders and those who put tremendous stress on their joints, muscles and tendons regularly. The manufacturer recommends adding a protein source for both cartilage and muscle growth.
There's not much information on the website, but reviews of Joint Guard are generally well-received. Nutrient delivery is faster thanks to rapid release softgels.
Pros
Fast release mechanism
Formulated for stressed joints
Uses omega 3 fatty acids
May help ease joint pain
Cons
No curcumin, Boswellia or any of the good stuff
Available on Amazon
10. FlexMode Joint Support by Evlution Nutrition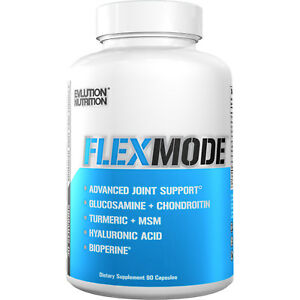 FlexMode by Evlution Nutrition offers cartilage support, joint lubrication, mobility and health within a staple combo of chondroitin and glucosamine. Unfortunately, the ingredients are not what I'd recommend in a joint support supplement.
You get the usual supporting cast of hyaluronic acid, MSM and bioperine per serving. There's zero presence of wheat, gluten, corn, dairy and soy, and each bottle is made in a cGMP facility and certified GMO free.
A significant downside is that the price is a bit steeper than the other joint supplements listed here.
Pros
Allergen-free
Only one serving needed per day
Cons
50/50 reviews online, with some saying it didn't work at all
Available on Amazon
Conclusion
There you have 10 of the best joint support supplements on the market today. Make sure to follow the directions properly to get the most out of each of these supplements.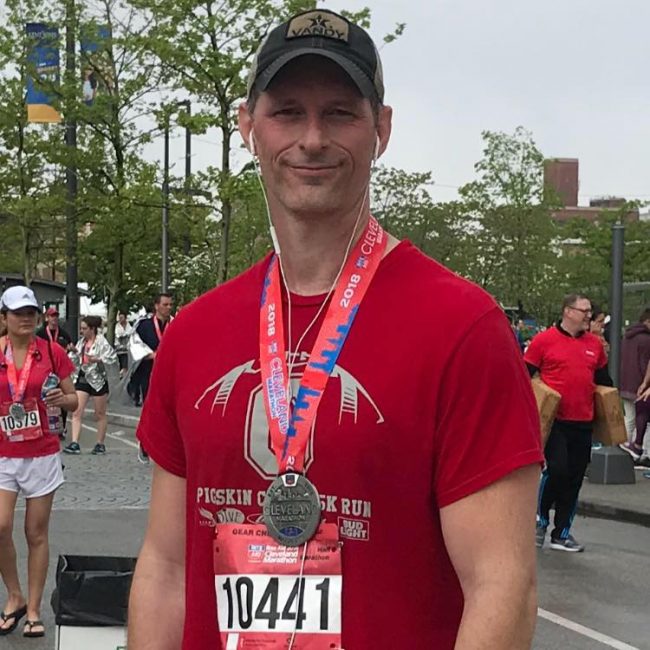 Ryan is a former college wrestler and lifelong fitness fanatic. He has run half marathons, done mud runs, placed in body transformation contests, coached wrestling and now coaches girls soccer. Not to mention he has also tried literally hundreds of supplements over the years and has a vast and thorough supplement knowledge. He has written for Muscle & Strength, Testosterone Junkie, The Sport Review and other publications. He is also the editor in chief of this website. Feel free connect with him on his LinkedIn page below.