(Last Updated On: September 29, 2022)
If you've watched any sports drink commercials, or gone to the coconut water section of your local health food store, you've probably heard that electrolytes are pretty important.
And while most ads for things can be a bit overblown (if not outright lies), here is one time where they're pretty spot-on – at least when it comes to electrolytes, that is.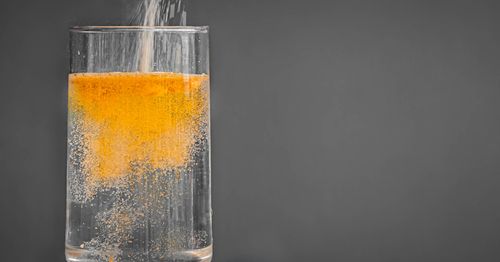 11 Best Electrolyte Supplements
#1. Best Overall – Hydrate by Transparent Labs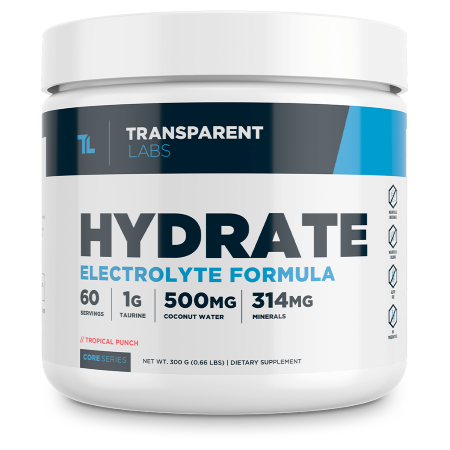 Transparent Labs, overall, has always been a stellar option for just about any supplement you could need. More so than the vast majority of their competition, they have always strived for quality products that are both very clean, as well as entirely transparent, ingredients that you can actively enjoy regardless of your specific dietary or personal situation.
And like all of their other products, Transparent Labs' Hydrate solidly fits the bill. With over 500 mg of coconut water powder, along with a combined infusion of Magnesium, Sodium, Calcium, potassium, taurine, and phosphorus, their Hydrate supplement lives up to its name and then some. Each serving is several times over what most other electrolyte supplements offer while also benefiting from having no additives or artificial ingredients.
The one and only downside are that there isn't a long list of different flavors to choose from. In fact, if you aren't a fan of their one and only flavor, Tropical Punch, you'll probably be a smidge disappointed.
Pros
Absolutely Free Of Additives & Artificial Ingredients
Contains Taurine and Coconut Water Powder Complex
Offers More Hydration & Electrolytes Per Serving
Very Cost-Effective
Cons
Has Only One Flavor To Enjoy
#2. Best Tasting – HydraSurge by Jacked Factory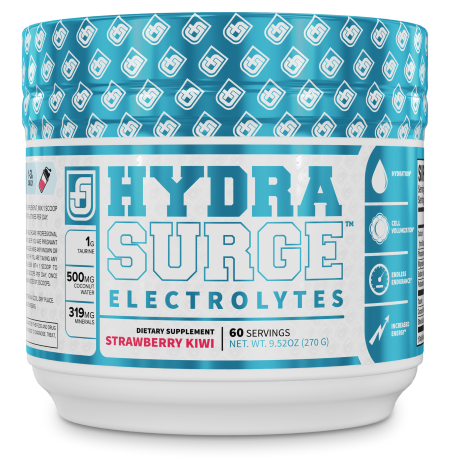 Meant both as a pre-workout as well as a post-workout supplement, Jacked Factory's HydraSurge is an excellent method for staying adequately hydrated while also having your full amount of electrolytes available. Each container hosts over 60 servings of Magnesium, potassium, Calcium, phosphorus, and Sodium. It does not come with any added sugar, which is excellent for those trying to get away from the sports drinks.
HydraSurge also contains the amino acid taurine, which is great for helping the body properly use its electrolytes as well as improve its natural endurance when exercising. In addition, the supplement also includes coconut water powder, a well-known method of improving hydration as well as potassium.
HydraSurge has six all-natural flavors including kiwi, peach mango, strawberry, lemonade, orange mango, watermelon, and fruit punch.
Pros
Very Reasonable Price As A Supplement
Wide Number Of Different Flavors
Jam-Packed With Potassium And Other Minerals
Cons
Does Contain Maltodextrin, Which May Be An Issue For Some
#3. Best for Runners – HydraCharge by Kaged Muscle

Next up, we have a Hydracharge, a super affordable option with over 60 servings per container.
HydraCharge is an excellent supplement for those who love long-distance running and need a bit more than just the standard hydration effects of most normal electrolyte drinks.
HydraCharge has no artificial ingredients in their list of ingredients, containing over 500 mg of Coconut Water Powder and 80 grams of additional potassium. It does contain some amounts of sucralose, so if you are unsure about that, you may want to pass. That said, everything else in this drink makes it considerably and instantly more enjoyable.
Pros
Very Affordable Price Point
Comes With Apple Limeade, Fruit Punch, Orange Mango, and Pink Lemonade
Cons
Contains Sucralose
Not Quite As Potent As Others On This List
Related: Best Branched-Chain Amino Acid Supplements
#4. Best on a Budget – Hydrate by Transparent Labs

We talked about them already as our #1 overall option. However, on top of the fact that they have some of the cleanest, most transparent ingredients available, they also offer some of the most affordable prices imaginable. Now, are there other equally affordable supplements also on this list? Absolutely. However, Transparent Labs is a unique product because it offers these super affordable prices while simultaneously giving out more than most other supplements at a higher and cleaner quality.
For less than $20, you get:
84 mg of Calcium
35 mg Phosphorus
25 mg of Magnesium
125 mg of Sodium
50 mg of Potassium
1,000 mg of Taurine
500 mg of Coconut Water Powder Complex
and 180 mg of Stevia Leaf Extract
Pros
Tastes Amazing Even Without Added Sugar
Offers Complete Hydration and fluid balance
Has More Electrolytes Than Other Like Supplements
Supplements Are In The Right Proportion With Each Other
Cons
#5. Best for Hangovers – Ultima Replenisher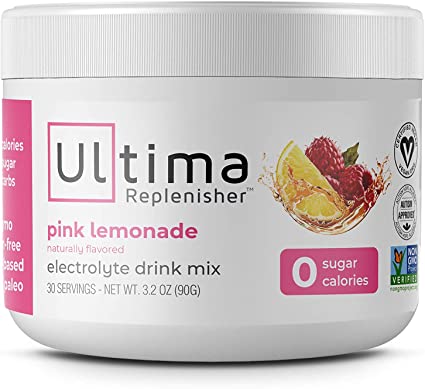 Ultima Replenisher is a top-tier electrolyte hydration powder for a lot of reasons. For one, it contains all six of the essential electrolytes, ensuring that you maintain the optimal amounts of hydration. On top of that, however, the supplement is gluten, sugar, caffeine, and dairy-free and completely accessible to every diet type or modification.
What makes this such a great electrolyte drink, however, is the fact that it contains over 110% of the daily recommended amount of vitamin C; and while there is still a bit of study needed to confirm the connection between the two, there has been a lot of arguments in favor of vitamin C helping the kidneys break down alcohol. In other words, not only is Ultima Replenisher a great electrolyte supplement normally, but because of its high hydration and vitamin C levels, it also has the bonus of being ideal assistance for those dealing with a hangover.
They come with a pretty wide variety of flavors, including lemonade, grape, orange, cherry pomegranate, and blue raspberry. There are two size options: the single-serving and the 30-serving options. While the smaller single-serving packets are great for those on the go, it may be better for some just to get the larger 30-serving container and have some mixed in with some water throughout your day.
Pros
Comes Vegan And Keto Friendly
Has A Variety Of Flavors
Great For Those With A Hangover
Stevia Sweetened
Reasonable Price Point
Cons
Not Quite As Much As Others On This List
#6. Best for Keto – Electrolyte Recover Plus by Key Nutrients

One of the biggest challenges for most people on Keto is the drastic reduction in sodium intake. Similarly, even when considering a good electrolyte supplement, you're going to have to deal with either sugar or carbs, both of which completely ruin a keto experience even at smaller numbers.
The Electrolyte Recover Plus by Key Nutritents manages to completely upend this issue by creating not only a delicious, multi-flavored set of electrolyte supplement powders. This product also has a super affordable price and no sugar, carbs, calories, or artificial ingredients to deal with.
Suppose you are interested in a great drink that is very Keto-friendly. In that case, this option dissolves perfectly when you drink it while also having a 60-day ironclad risk-free guarantee. Simply put, it tastes fantastic, works great for those on Keto, and is simply just a great way to get your intended dose of important electrolytes.
Pros
Reasonably Priced
Keto-Friendly With No Sugar & No Carbs
Also Has No Artificial Ingredients
With 9 Different Flavors To Choose From
Cons
Does Not Have The Same Levels Of Minerals And Perks As Some Of The Others On This List
#7. Best with Travel Packets – Onnit HYDRATech Instant
Great for those on the go or who want a quality mix setup, Onnit's HYDRATech Instant electrolyte hydration supplement will keep you fully hydrated while also ensuring you don't leave any additional powder particles in your cup. Containing potassium, Magnesium, Calcium, and Sodium, each Onnit packet needs only between 8 and 12 ounces of water to have you hitting your required levels of electrolytes.
Each packet not only offers the set basic amount of electrolytes. You also benefit from a dramatically reduced amount of sugar content when compared to many of the other sports drinks out there. In fact, compared to the almost 13 to 20 grams in a single sports drink serving, Onnit barely compares with its mere 7.
Onnit has two available flavors to choose from, Lime and Tangerine. As an "on-the-go" travel pack, rather than a large tub, Onnit contains a 30-pack box, for a single-use daily supply.
Pros
A Great Option For Those On The Go
Mixes Very Well Without Clumps Or Particles
Tastes Amazing
Offers Solid Amounts Of Hydration Availability
Cons
Very Pricey
Does Contain Sugar (Albeit Somewhat Small Amounts)
Only Has Two Flavors
#8. Best Gut-Friendly Hydration – Nature's Hydration by Tiiga
Available in three delicious and healthy flavors (orange mango, lemon-lime, and raspberry lemonade), Nature's Hydration is a gut-friendly and healthy option for those trying to make sure they have as much hydration and electrolytes as possible. Unlike the majority of options on this list, Tiiga has put their works in smaller, more manageable travel packs.
One of the things that separate Tiiga from the others on this list is that they are one of the only options out there that introduce their ingredients in the proper proportion with one another based on science as well as performance-boosting reports. As a result, you can expect a whole new world of quality benefits for your supplement.
Rather than just dumping a bunch in each serving (which is better than just "less" for the sake of not putting as much in) Tiiga has opted to instead put the right amount is based on how they will react to one another. This includes Organic Baobab Fruit, Vitamin B3, Vitamin B3, Potassium Chloride, Magnesium Sulfate, and Pure Stevia Extract just to name a few. These ingredients work to not only give you plenty of hydration and electrolytes but also to do so while ensuring you don't suffer from any stomach or gut-related issues.
The only downside for this stellar option is that it does have its fair share of sugar and carbs. And, while all of these do come from fruits and other natural supplements, the fact is that you may not want to consider this if you're on a keto or low-sugar meal plan. Outside of that, if you can afford this option, it's certainly a great one to consider jumping on.
Pros
Tastes Amazing
Ingredients Are In The Proper Proportion To One Another
Very Gut and Stomach-Friendly
Has Multiple Flavors To Choose From
All Ingredients Are Clean With No Artificial Ingredients
Cons
Does Have Its Fair Share of Sugar And Carbs
Is Pretty Expensive If You Choose the Monthly Minimum
#9. Best on Amazon – Berg's Original Electrolyte Powder

Throughout this list, you've seen a variety of different options available, all of which have their own benefits that make them uniquely suited for specific situations outside of just being useful as a hydration and electrolyte drink. If you are someone that regularly uses Amazon for your shopping (over the main store's website), then there is a good chance you'll enjoy Dr. Berg's Original Electrolyte Powder mix.
This fantastic supplement comes with over 1,000 mg of potassium, 75 g of Calcium, 120 mg of Magnesium, 15 mg of Chloride, 10 mg of Sodium, and 100 mg of a proprietary trace mineral complex. One of the things about this electrolyte supplement, over many others out there, is the fact that Dr. Berg's powder offers much more mineral content per serving. This means the hydration process happens faster while the body's nerve and muscle functions are able to smooth over at a much faster rate.
Dr. Berg's powder is an entirely pure and natural supplement that is completely non-GMO. Each container has 45 servings and comes free of artificial flavors and ingredients, while also being gluten-free and keto-friendly. Adults should take a scoop twice a day while children can take a scoop once a day to hit all of their hydration and fluid balance needs.
Pros
Reasonably Priced
Higher Serving Content Than Competitors
No Sugars Or Carbs Of Any Kind
Promotes electrolyte balance
Cons
Proprietary Ingredients
Only Has One Flavor Available
Related: The 13 Best Multivitamin Supplements for Women
#10. Best Electrolyte Gels: GU Energy Gel Shots

When most people think of electrolytes, they often think solely of the powder type. In rare instances, they may consider the tablet option. However, both methods have their drawbacks and aren't the only available option for people to choose from. In addition to powders and pills, you can also enjoy what is known as Electrolyte Gels. These have all the benefits of popping a pill while still offering a "drinking" sensation that isn't too far dissimilar to drinking a powder-infused drink.
One of the best options out there is none other than GU's Energy Gel shots. These packets come stuffed with over 450 mg of amino acids as well as 55 mg of Sodium and 20 mg of caffeine. They are incredibly easy to take and simply require you to open and "drink" them via squeezing the gel. This is much better than having to properly measure out your water consumption while also ensuring you get the full amount of benefit compared to some of the issues that come from a tablet.
Pros
Great For People On The Go
Very Convenient To Use & Taste Surprisingly Good
Ideal For Long Distance Runners
Cons
A Bit Pricey As An Option
Does Not Have The 1:1 ratio that powder electrolytes have
#11. Best in Tablet Form – Nuun Hydration Electrolyte Tablets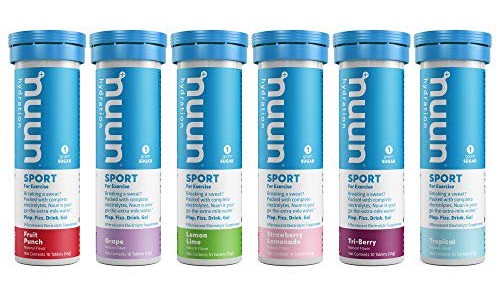 If you're looking to take your electrolyte supplements in a more convenient form, without having to deal with powdered alternatives, a great option to consider is the hydration electrolyte tablets from Nuun. These electrolyte supplements are great for athletes on the go that may not want to deal with mixing their drinks up during their workout or activity.
Nuun's tablets are vegan, dairy-free, and gluten-free. Similarly, they are flavored only with natural fruit extracts as well as stevia leaf extracts with absolutely no harmful artificial sweeteners. Perfect for people watching their sugar intake.
Every tablet contains Magnesium, Sodium, potassium, and Calcium, while only containing around a single gram of sugar and barely 15 calories.
Pros
Is Surprisingly Affordable
Contains No Artificial Ingredients Or Sweeteners
Offers Almost No Sugars Or Calories
Electrolyte Balance Tablets are Easily Transportable
Cons
May Not Be As Precise Or Customizable As The Powdered Form
How We Decided
Price
Price isn't everything, there are good electrolyte drinks that don't cost a lot and there are some expensive ones that don't do much. The hard part, as a consumer, is figuring out which is which.
You also need to figure out how many servings you are getting for your paying price. Some supplements look like a great deal until you realize you aren't getting that many servings for what you thought was a reasonable price.
It's a pretty common trick in the supplement industry to fill a tub halfway and give it a low price to try and get people to think it's a tremendous deal. Sadly it works.
We kept an eye on the price per serving as one of the criteria on this list.
Manufacturer Reputation
This is pretty straightforward. We look at electrolyte supplements from brands such as Transparent Labs, Naked Nutrition, Onnit, Jacked Factory, and Kaged Muscle and favor them above no-names. They have established themselves as leaders in the world of sports and bodybuilding nutritional products.
That doesn't always mean they are better, though; even the best supplement companies can make some dud products. All things being equal, the manufacturer's reputation does help.
Ingredients and Dosing
This is the most essential factor of all. You can have the best packaging and marketing in the world but if your ingredients suck or you have weak dosing the product isn't gonna be very good no matter what else you do.
When deciding on any supplement, it all starts with the ingredients.
Reviews
Reviews can be tricky. There are a ton of fake reviews online pretty much everywhere you look. Some post fake reviews to make their product look better and others post fake reviews to make their competition look worse. Figuring out the truth can be tricky, but we have a few trusted sources that we use for honest reviews.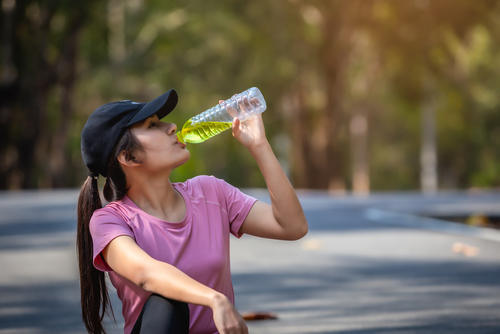 What are Electrolytes?
Made up of a cocktail of essential minerals and nutrients – including Sodium, potassium, Magnesium, chloride, phosphorus, and Calcium – electrolytes are a vital necessity to the body's health. Whereas there are myriad of different things that can be put under the umbrella of what electrolytes help with – assisting pH level modulation, muscle contractions, or body fluid regulation, among many others – the simplest way to describe their use is by essentially ensuring that the body maintains homeostasis.
The good news is that your body naturally works to create and maintain electrolytes, giving you a plethora of physical benefits. Your kidneys, in particular, work tirelessly to ensure that you have the proper amount of fluid and electrolytes at all times. For most healthy people living a regular lifestyle – provided you're eating a balanced diet and consuming the appropriate amounts of water – this should be enough. Unfortunately, more often than not, it's isn't enough.
In most instances, for one reason or another, our bodies aren't able to produce enough electrolytes to ensure that we stay in homeostasis. In many cases, people simply are not as healthy as they should be, either not being at a healthy weight or engaging in activities (like excessive drinking) that work to actively reduce the amount of water and electrolytes in the body.
Even if you are healthy, that doesn't automatically mean your body can produce the right amounts of electrolytes either. Individuals who engage in intense exercise are likely to deplete their electrolytes more quickly (i.e., the sports drinks commercials). In contrast, those engaging in certain low-carb diets (like the Keto diet) are likely to suffer from reduced-sodium if not regularly supplementing it.
So, if electrolytes are essential for us, and being too healthy or unhealthy can potentially lead to us losing out on them, what is the solution?
Well, the answer is obvious – you're going to need to take supplements.
Why Should You Use Electrolyte Supplements?
As already mentioned, electrolytes are an essential aspect of our health and are something that should be maintained if at all possible. Unfortunately, it is incredibly easy to throw off your electrolyte production as has already been mentioned. If you're too unhealthy, your body simply won't have the necessary ingredients required to make the electrolytes. Either that or the kidneys may be so overworked from filtering out other things that they won't have the ability to create electrolytes. On the other hand, those involved in intense exercises or are engaged in a ketogenic lifestyle are likely to suffer from an electrolyte depletion. Either way, you're in a bad spot.
With electrolyte supplementation, you're able to make up the difference lost, regardless of where you lie on the fitness spectrum. This ensures you can avoid various health issues, including muscle cramps, fatigue, lethargy, and many more.
Just some of the reasons electrolytes supplements should be strongly considered include:
Nerve Health Support
Proper Muscle Contraction
Properly Managed pH Levels
An Improved Exercise Routine
Proper Hydration and Fluid Balance
And Many, Many More
As you can see, many benefits can come from having the proper amount of important electrolytes. The problem is that you have to make sure you're taking the right types of electrolyte supplements. The health industry is littered with scam products and snake-oil salesmen. If you're not careful, you're likely to end up paying for something entirely useless.
Below, we've curated 11 of the best electrolyte supplements on the market. While most will work well for everyone, some are ideal for certain people or certain situations (like people doing Keto or are actively traveling). Take a look and find which of these works best for you so you can get started with improving your health today.
Related: Muscle Cramps and Athletes: What Causes them and How to Prevent Them
What to Look for in an Electrolyte Powder Supplement
When it comes to electrolyte supplementation, there are a few things you need to look for. Here are the ingredients to look for in a good hydration multiplier electrolyte powder.
Potassium
Potassium is the primary positive ion (cation) present inside of cells. Along with sodium, potassium is essential for cell-to-cell signaling. It is also an essential substrate for skeletal muscle contraction. A potassium deficiency can cause muscle weakness, fatigue and cramps.
Phosphorus
Phosphorus is a chemical element that has essential roles in the human body. It is almost always found in the form of phosphate. It works in along with calcium to support bone density and be a crucial substrate for energy (ATP) production within muscle cells. A deficiency in phosphorus can lead to weak bones and osteoporosis.
Calcium
Calcium supports cell signaling, cell division, bone health, brain function, and most importantly, muscular contraction. A calcium deficiency can lead to osteoporosis and tooth decay.
Magnesium
Magnesium is essential for nerve function, muscle contraction and energy production. A deficiency in magnesium can cause muscle weakness, fatigue and cramps. Magnesium also helps regulate blood pressure and heart rate. As an athlete, proper magnesium intake is essential.
Coconut Powder
When looking for an electrolyte supplement, be sure to choose one that contains coconut powder. Coconut powder is rich in potassium, phosphorus, calcium and magnesium. It also has a host of other health benefits, including improved heart health, reduced inflammation and better digestion.
Electrolyte Supplements vs Gatorade: What's the Difference?
It's pretty common to think you can just drink some Gatorade and get all the electrolytes and hydration you need. The thing is, Gatorade and other traditional sports drinks are loaded with cheap sugars, artificial coloring, and artificial sweeteners. Instead, electrolyte supplements are carefully crafted with a comprehensive profile of minerals to keep you performing at peak capacity for hours on end.
Dollar for dollar you will be much better off with one of the electrolyte supplements on this list over Gatorade.
Conclusion
So, what's the verdict? Are electrolyte supplements really necessary? In short, yes. Electrolytes are essential for optimal hydration and athletic performance, and even mild dehydration can cause problems like fatigue, muscle cramps, and headaches.
The best electrolyte supplements deliver a balanced blend of minerals that help keep you hydrated during workouts and beyond. If you're looking for an edge up on your competition, consider adding an electrolyte supplement to your routine.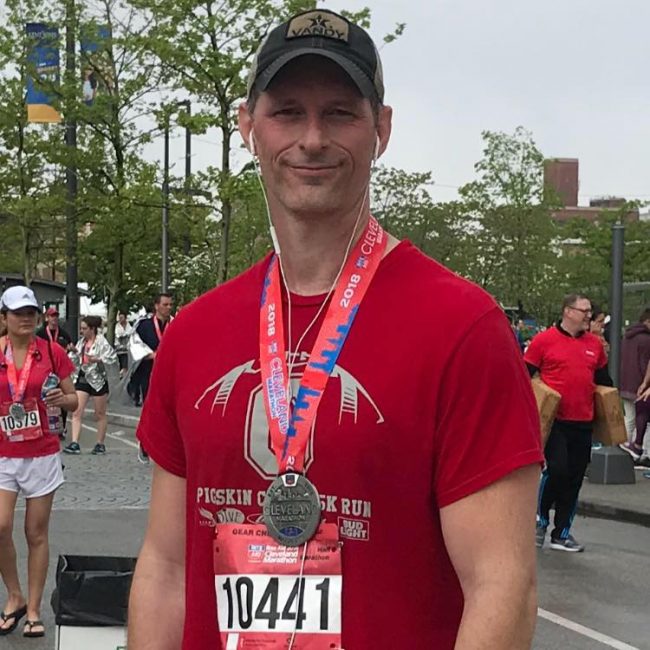 Ryan is a former college wrestler and lifelong fitness fanatic. He has run half marathons, done mud runs, placed in body transformation contests, coached wrestling and now coaches girls soccer. Not to mention he has also tried literally hundreds of supplements over the years and has a vast and thorough supplement knowledge. He has written for Muscle & Strength, Testosterone Junkie, The Sport Review and other publications. He is also the editor in chief of this website. Feel free connect with him on his LinkedIn page below.