(Last Updated On: September 29, 2022)
It's easy to assume that you won't need a multivitamin since you're taking protein shakes and pre-workouts.
Today, men's multivitamin products offer so much more than just giving you extra vitamins and minerals. Aside from bringing you up to speed in terms of nutrition, they can also boost your more essential functions such as gut health, immune system and testosterone production, among others.
That said, it's easy to make a mistake when choosing the best multivitamins for men. However, you can skip that part and pick out from our multivitamins list instead.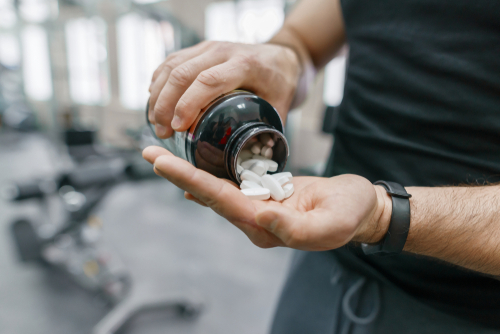 13 Best Multivitamins for Men
Multivitamin from Transparent Labs
Best Multi for Men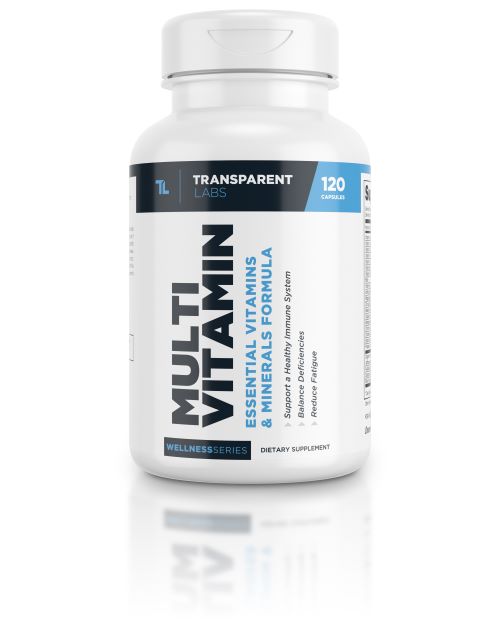 Supplements from Transparent Labs often top our 'best of' charts with good reason. Multivitamin has the right mix of ingredients to support overall nutrition. It fills in the gap you leave in your daily meals. Even better is the fact that the dosage works exceptionally well, and some components make absorption easier.
The 'ultra-potent' Multivitamin consists of bioavailable forms of essential minerals copper chelate, chromium picolinate and magnesium bisglycinate, alongside boron citrate, N-acetylcysteine, CoQ10 and KSM-66, or organic ashwagandha. There's no iron and, therefore no tummy aches and possible side effects.
To start, you need to take four capsules daily and usually after meals. The 100% transparent label that lists the ingredient and the corresponding dosage makes Multivitamin stand out from the rest of our multivitamin hopefuls. There's also the DV, or daily value percentage, so you'll know how much you're getting per serving size.
Transparent Labs leaves nothing to chance for its consumers. Each bottle is tested and checked for artificial preservatives, gluten, GMOs, artificial coloring, and sweeteners. The end result is a super clean multivitamin supplement that turbo-charges your daily routine and allows you to be the best version you can be!
Pros
Contains a spectrum of scientifically-tested ingredients to promote health and well-being
Fully transparent label with dosage and daily value
Features a large 62 mcg dose of vitamin D
Superb value for money
Cons
Ships longer to non-US countries
---
Ritual Essential for Men 50+
Best Multivitamin for Men Over 50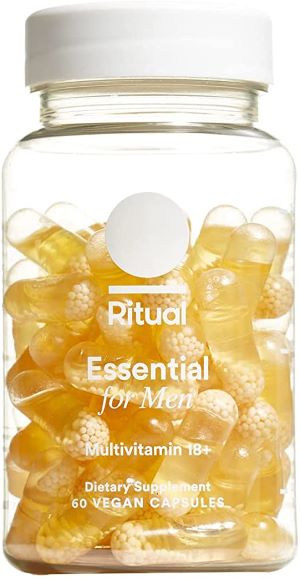 It's a biological fact that men over the age of 50 will have different nutritional needs than those in their 30s, for example. If you want a multivitamin supplement that understands you, we recommend Ritual Essential's Multivitamin 50+.
With Multivitamin 50+, you no longer have to buy separate supplements for plugging in those nutritional gaps. Everything is done for you, and you just have to make sure you're taking the capsules every day and the supplement does the rest.
What's unique about Multivitamin 50+ is that it's designed to release essential vitamins and minerals via a delayed-release mechanism. If you find yourself running out of gas, energy-wise at 6pm, you should probably switch to what Ritual Essential has to offer.
We like Multivitamin 50+ because it covers what's called 'Foundational Health,' namely the heart, bones, muscle, and immune system. Ingredient standouts include magnesium, omega 3 DHA, vitamin A, vitamin D, boron, zinc, vitamin K2, vitamin E, vitamin B12 and folate in traceable form. There's the absence of vitamin C and calcium, something that you're probably getting with real food anyway.
Instead of the usual mouthful, you only get to take two pills daily along with complimentary mint to make it go down easier. As with other multivitamins in our list, you don't get synthetic fillers, GMOs, major allergen compounds or any of the bad stuff.
Pros
The best multivitamin for men 50 and above featuring key nutrients
Delayed-release mechanism for all-day sustenance
Vegan capsules and comes with a mint leaf
Cons
---
Jacked Factory Vita-XT Black
Best on a Budget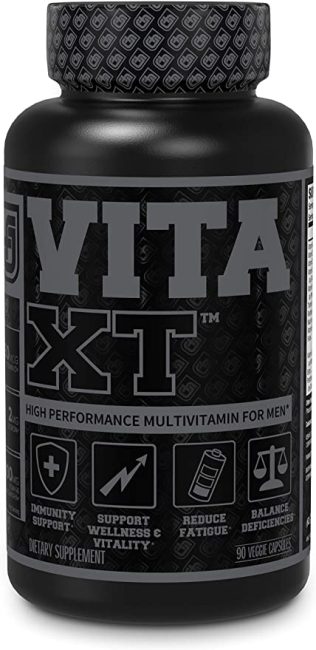 The Vita-XT Black stood out among the rest of budget multivitamin offerings. It has unique ingredients usually reserved for premium supplements. It also has a slew of testosterone-boosting ingredients, which is always a plus in our books!
That said, if you want a multivitamin that can kick-start testosterone production, then you should definitely give Vita-XT Black a try. Dosage is a bit under optimal numbers, but for a dietary supplement with a low price tag you won't see us complaining. Notable standouts include KSM-66 ashwagandha, chelated boron and PrimaVie shilajit blended alongside essential vitamins A, C, D and E.
Once your system gets the infusion of testosterone, you'll feel a notable change in sex drive, vitality and everyday performance. You'll get less tired and can push your workout plateau a bit more. Jacked Factory's multivitamin helps your immune and cardiovascular system as well, so you'll have protection against sickness and heart conditions.
Vita-XT Black meets our standards of being manufactured in a cGMP certified facility. You only need to take 2 capsules daily, and a 90-count bottle should last a month or so. Still, the price is very appealing to those who are new to multivitamins and those who want to dip their toes before taking the plunge.
Pros
Low cost entry to the world of men's multivitamins
Contains testosterone-boosting ingredients
Only two capsules a day
Cons
Dosage a bit on the low side
---
Related: The 13 Best Multivitamins for Women
SmartyPants Men's Formula Daily Multi
Best Men's Multivitamin Gummy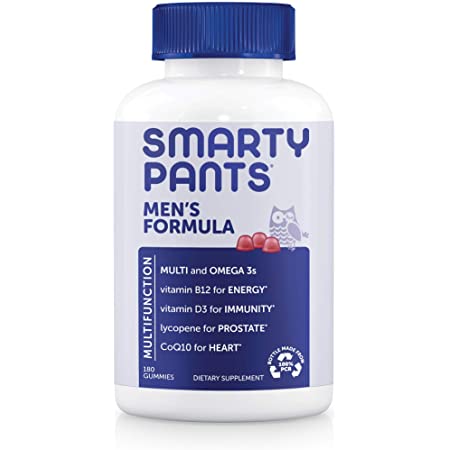 SmartyPants' Adult Complete Daily Multi is the definitive answer for those still finding pills and capsules hard to swallow. You see, every daily dose comes in a delicious and fruity gummy you can chew!
We were somewhat pleasantly surprised to find that a daily dose consists of chewing four to six gummies total. It's convenient in a way that you don't need a glass of water to down your multivitamins, which means you can take them anywhere- in the gym, work or even while in traffic.
SmartyPants has enough ingredients to make it a worthy buy. You get essentials such as vitamin E for all-around support, vitamin B12 for energy, D3 for your immune system, CoQ10 for your cardio health, vitamin K for bone health, and omega-3 DHA. They even included choline, vitamin K2 and B6, and beta carotene to round up the list.
Those with allergies don't have to worry about side effects, as each gummy is free of fish and tree nut allergens, peanuts, soy, shellfish, eggs, or milk. More importantly, the gummies are delicious and have zero artificial sweeteners and flavors.
Pros
Very easy to chew and consume
Well-rounded ingredients that support essential functions
You can take them without food
Cons
So tasty that you're tempted to eat more
---
Multivitamin by Kaged Muscle Naturals
Best Plant-Based/ Vegan Friendly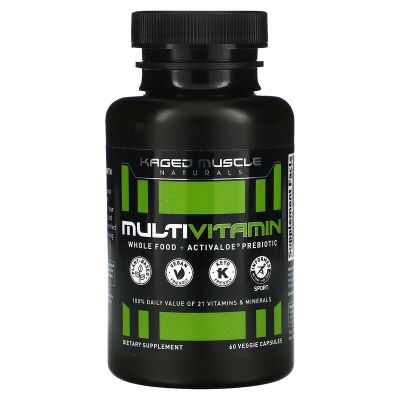 Is vegan a major decision-making factor when picking the best multivitamins for men? We've got you covered. Kaged Muscle has precisely the product you want so you don't have to take chances when it comes to your daily supplements.
Detail-oriented shoppers will find that every ingredient Kaged Muscle Multivitamin has is sourced from real and organic plants, fruits and vegetables (and herbs), thus making it a vegan-friendly product. What's even more worth noting is that the dosage doesn't exceed your DV, or daily value as most other multivitamins do. Scan the label and you'll discover marine-based components and unique ones such as molybdenum, copper, selenium, iodine, iron, calcium, pantothenic acid, biotin, niacin, thiamine and other essential vitamins.
Kaged Muscle further explains that their dietary supplement is different. It contains cofactors such as phytonutrients, peptides and digestive enzymes for utilizing the absorption to a greater extent. Even the capsule is made from vegetable cellulose, making it a 100% plant-based multivitamin for men.
One thing to note is that it contains iron, so if you're taking them elsewhere, then you'll want to play it safe and take the other out of the equation.
Pros
All ingredients are plant-based and organically sourced
Meets your daily value needs without exceeding it too much
Has intangible cofactors enzymes, peptides and phytonutrients
Cons
Limited availability; contains iron
---
NutriGenesis Multi for Men by Performance Lab
Best Gluten-Free Multivitamin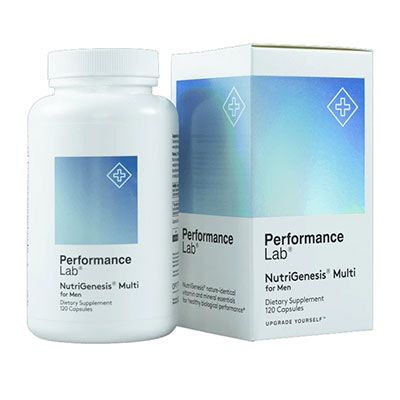 NutriGenesis for Men contains some of the purest ingredients we've seen from a gluten standpoint. Aside from being 100% free of gluten, the supplement also has zero caffeine, preservatives, synthetic additives, GMOs and allergens of any kind.
Performance Lab adopted an 'ultramodern design' and put all the nutritional value men need in a small capsule. Speaking of which, there's an abundance of vitamins and minerals in there to support almost every bodily function. You get a collection of vitamins A through E and notable elements potassium, boron, vanadium, copper, zinc, iodine, iron, and calcium for your bone health, immune system, brain health, muscle, digestive health, metabolic system, and more.
Strict quality measures play a huge role in bringing a clean multivitamin to consumers. Each bottle of NutriGenesis is made in the manufacturer's lab and regularly tested for efficacy. Plus, all the components are lab-grown and eco-friendly, so there's no mining, soil depletion, herbicides and pesticides to speak of.
Dosage is relatively balanced and made in a way that you get all-day nutrition. The capsules are easier to swallow than the others due to its smaller size, and you have to take four total (2 in the morning and 2 in the evening) to get the best results. You also get the prebiotic benefits of fermented tapioca for optimal absorption and digestion.
Pros
Has some of the cleanest ingredients we've seen
Smaller prebiotic capsules for easy swallowing and optimal absorption
Top choice for those who are allergic to gluten
Cons
Twice a day routine might be a bit difficult to implement with a busy schedule
---
Optimum Nutrition Opti-Men
Best Multivitamin on Amazon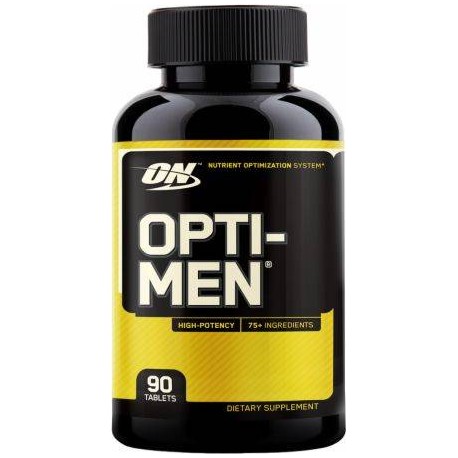 Shopping for the best multivitamin for men is best done through official manufacturer channels. Still, we won't deny the truth that it's more convenient to buy everything you need from a single website. If you're getting your pre-workouts and protein shakes on Amazon, then you might as well try Optimum Nutrition's Opti-Men.
Billed as a 'multivitamin for active men', the supplement is packed with 75-plus ingredients spread across four blends. Notable inclusions are botanical extracts, free form amino acids and a slew of vitamins for energy and plugging in those nutritional gaps.
With multivitamins, manufacturers tend to overdo it with the 'more is better' maxim. 75 is a lot of ingredients for a supplement, and you'd worry that they sacrificed optimal dosing just to fit all of them in a single tablet. Suggested intake is 3 daily and that should cover what you need, along with a healthy diet.
There's nothing that particularly stands out with Opti-Men other than the massive list of ingredients. It's a solid supplement that's well-meaning and works to bring you extra vitamins and minerals. It's also very convenient to buy since it's readily available on Amazon.
Pros
Touts an impressive 75+ ingredients in one product
Can be bought on Amazon
Comes in 90, 150 and 240-tablet variants
Cons
List of ingredients and corresponding dosage not immediately disclosed
---
SmartyPants Adult Complete Daily Multi
Best Multivitamin Gummies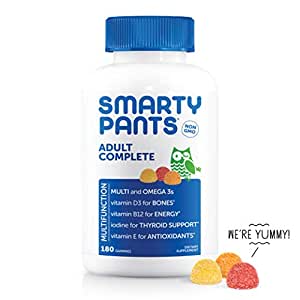 Multivitamin gummy manufacturers are a divisive lot. Either they concentrate on 'the experience' by infusing their gummies with flavor (but at the expense of nutrition) and hope for the best, or they add so many ingredients that it doesn't do much for the user.
Then there's SmartyPants with its Adult Complete Daily Multi. This supplement acts like a true multivitamin hiding in a tasty and chewy shell. It's great for men and supports most functions, but it works for women, too.
We love SmartyPants' offering because its 'multifunction' aspect covers the most important points in overall health and well-being. On the label we see that you get vitamin K for bone healtth, vitamin E for antioxidant benefits, vitamin D3 for immunity and a slew of other ingredients, such as omega 3 DHA, CoQ10 (for the heart), choline and beta carotene. It's worth mentioning that the exact dosages and DVs are listed on the product clearly, so you won't have to guess what you're taking.
Perhaps the sweetest part of the deal is that you get to treat yourself to four delicious gummies a day and get the nutritional elements you're missing from your diet. This can be increased to 6 per day, with zero allergens, wheat, eggs, and milk byproducts. It doesn't contain artificial flavors, so we recommend you give it a try.
Pros
Chewy multivitamin goodness without artificial components
Contains essential vitamins and unique ones such as choline, omega 3 and beta carotene
Good for women too
Cons
Might be too sweet for some
---
Multivitamin by Kaged Muscle Naturals
Best Multivitamin for Male Athletes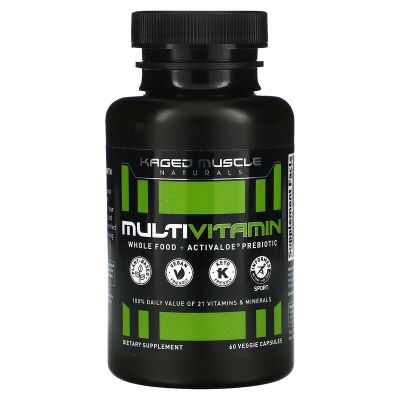 With a multivitamin product coming from Kaged Muscle, you'd expect it to cater to athletes and those who need high-performance support. If this is right up your alley in terms of preference, we wholeheartedly recommend giving it a shot.
That said, there's a significant portion of multivitamins to support lean muscle growth, workout stamina, and performance. We have the usual suspects- iron, biotin, chromium, pantothenic acid, and a veggie extract blend of sunflower seeds, shiitake and maitake mushrooms, chlorella, sweet potato, kale, spinach, and broccoli. To top it all off, Kaged Muscle has added a natural form of aloe vera, in itself containing 200-plus sterols, enzymes, antioxidants, and amino acids.
It's also worth noting that the ingredients are plant-based and organically sourced. There's zero artificial flavoring or components, as well as synthetics that may get in the way of your nutrition. Kaged Muscle claims that you get five servings of organic vegetables every time you take the recommended dose, which will fuel your workout and performance.
You won't need to worry about banned substances and multivitamins interfering with your pre-workouts and other muscle-building supplements. There's virtually no overlap, and the daily value isn't jacked up to the moon (your body won't be able to use a 5000% DV compound anyway).
Pros
The best multivitamin supplement for athletes
Plant-based and organically-sourced ingredients
Has aloe vera for that extra nutritional and antioxidant kick
Cons
A bit more expensive than others in the list
---
Smarty Pants Daily Organic Gummy
Best Men's Multivitamin with Probiotics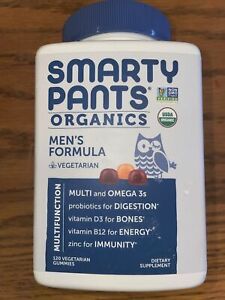 In this list of 'best men's multivitamins' category, the Smarty Pants Daily Organic Gummy deserves special mention. It's actually formulated for women, but the thing that stands out is its probiotic component.
The probiotic blend is a mix of both pro and prebiotic sources to promote better gut and immune system health. You'd be naturally worried about storage since these organisms require a low temperature to survive, but that doesn't happen with the Daily Organic Gummy. Smarty Pants boasts a 99% survivability rate so it can do its job and balance out your gut's microflora.
4 billion CFU of bacillus coagulans and bacillus subtilis should be enough for your daily probiotic needs, but that's not the end of it. You also get biotin, vitamin D3, omega 3, 6 and 9 via organic flax seed oil in gummies that are sweet and easy to chew.
Pros
Contains both pre and probiotic ingredients for better gut and immune health
Certified organic and vegetarian-friendly
Gummy is easier to take in than tablet or capsule
Cons
May not be enough for men
---
Multivitamin from Transparent Labs
Best with Ashwagandha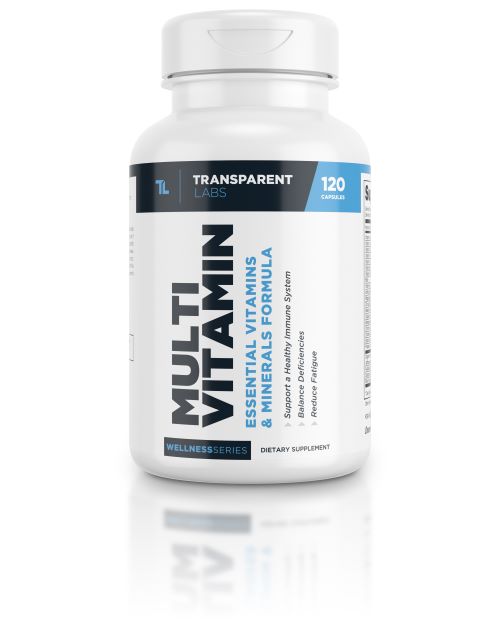 Transparent Labs doesn't have much competition in the 'best with ashwagandha' category. What it has is sufficient enough that it's ultimately the best for men who are looking for a health boost with this particular ingredient.
Ashwagandha benefits men in a variety of ways, notably athletic performance, testosterone production, brain function and lowered stress levels. In fact, we think ashwagandha is so crucial that it deserves its own supplement, but this multivitamin is enough to keep us satisfied.
Multivitamin has 300mg of organic ashwagandha extract in the form of KSM-66, alongside essentials such as boron, chromium, manganese, copper and a slew of vitamins. Of course, with the Transparent Labs branding, you can expect industry-leading quality and a clean label.
Pros
The only one with 300mg KSM-66 ashwagandha
Has the cleanest and most transparent label on the list
Loaded with essential nutrients
Backed by Transparent Labs' branding
Cons
Product packaging a bit bland
---
Rainbow Light Men's One
Best Men's Multivitamin for Immune Health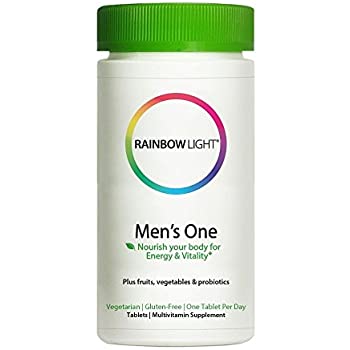 Men's One has an exciting superfood blend designed to boost brain, bone health and immune system health. It also has clean ingredients and B vitamins so you can get more done throughout the day.
The multivitamin's organic rainbow superfood blend is easily the key component and contains staples such as spirulina, beet root, broccoli, kale and spinach, alongside cranberry, carrot, blueberry and blackberry. And if that's not enough, you get lycopene, green tea extract and chlorella, plus a wealth of vitamins and minerals.
If you'd notice, about a third of the ingredients are for boosting the immune system and keeping you from getting sick easily. It's actually good enough to replace other supplemental products such as meal replacements or superfood capsules so you can save yourself the trouble of keeping track of what you're taking.
Pros
Superfood blend is best in class
High potency and quick absorption
Contains beneficial digestive enzymes and probiotics
Cons
Tablet might leave a bitter taste in the mouth
---
Multi for Men by Naked Nutrition
Best for Gut Health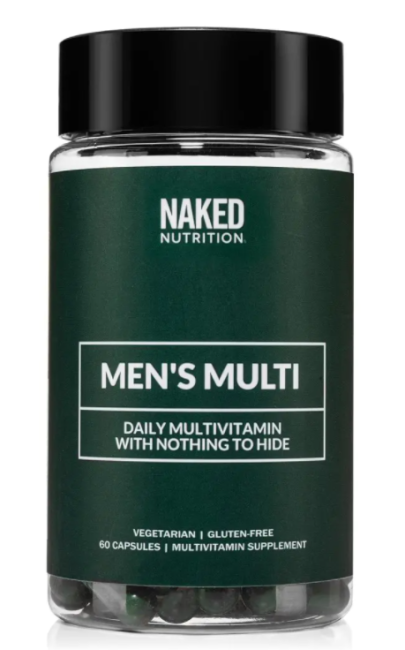 Naked nutrition's tagline is 'nothing to hide,' which applies to their multivitamin for men. Multi for Men offers a well-rounded list of ingredients that support prostate health and, notably, your gut health.
Taking Multi doesn't leave us with a stomach discomfort that's a staple with lesser-quality products. It also has higher bioavailability. Zinc is combined with antioxidants astaxanthin, lutein and vitamins A, C and E to cover non-tangible health and well-being aspects. Furthermore, Naked MV is formulated to allow you to continue working out at the gym and spend time with friends and family with all-day energy.
The supplement boasts a clean label and comes with a women's multivitamin variant as well. Last but not least, it has an array of prebiotic fruits and greens to fix your gut and balance it out.
Pros
Whole food prebiotic greens and rainbow fruits for your gut
Made by Naked Nutrition
Supports prostate health
Strong doses of Vitamin D and Vitamin C
Gluten and allergen-free
Cons
Only available in capsule form
---
How We Decided
Choosing the best multivitamins for men among thousands proved to be a difficult task. However, we based it on solid consumer factors such as the essential nutrients a supplement contains, its potency (quality of the source, dosage and daily value), price, reviews and manufacturer reputation.
Nutrients
Perhaps the most important thing to look for in a men's multivitamins is the ingredients, particularly its key nutrients.
Obviously, you'll want something that can support as many of the essential functions as possible, but you don't want it spread too thin that it won't make a difference. Vitamins and minerals in their organic and whole state are no-brainers so you can fill in the gaps. At the same time, the rest will depend on exactly what you need from a supplement.
Potency
In line with the nutrient aspect, we'd want a multivitamin to give us what we need and at the right amount, too.
For a supplement to be potent, it has to come from a clean and organic source, and it has to be at the right dosage and daily value as well. A 100 to 200 percent DV range is good, but anything greater is considered wasteful. What's more, it has to be free from GMOs, synthetic fillers and artificial compounds such as preservatives.
Price
Price becomes an essential factor in buying multivitamins, especially when supplementing with workout products, shakes and meal replacements.
We cut out multivitamins that are too expensive for their own good and those that are priced too cheap and contain worthless ingredients. The list we have above is average pricing of what an excellent multivitamin should be just enough that you can add it to your daily routine and contains what you need to plug your nutritional gaps.
Reviews
You might think that basing your choice on reviews is simple enough, but that isn't always the case.
A supplement can have perfect 5-star reviews, but most of it could be fake or fabricated. When determining which men's multivitamin is right for you, check how many people have reviewed it and if other sites or platforms share the same sentiment.
Aside from that, you should also consider the brand and manufacturer reputation.
Manufacturer Reputation
It makes total sense to gravitate towards brands and companies that already have a good track record in the industry. That's why you often see us pick supplements from reputable brands such as Transparent Labs, Jacked Factory and Kaged Muscle.
The longer a manufacturer has been around and the more products it has, the higher the chance that you'll get what you're looking for. If your health and well-being is on the line, then you shouldn't second-guess or try supplements from new or shady manufacturers.
Related: Multivitamins vs Powdered Greens: Which is Better?
When is the Best Time to Take a Multivitamin?
Most people usually start their day in the morning, and it's also the best time for you to take your vitamins.
Multivitamins work their best when taken early in the day and with food to ease absorption. For those who experience stomach cramps and are uncomfortable when taking the pills, it's recommended that you take them in the evening.
Taking B vitamins before you sleep might disrupt your rest, though, as it energizes the body. The most important thing is to take them daily and as recommended for the best results.
Wrap up
If you're looking for a good multivitamin to take, we recommend looking for one that contains all the essential vitamins and minerals. But, it's also important to make sure that the multivitamin is tailored to men. Look for one with key nutrients like zinc and selenium that are beneficial for male health. And finally, be sure to choose a brand you can trust. We've provided some of our top recommendations in the post, so be sure to check them out!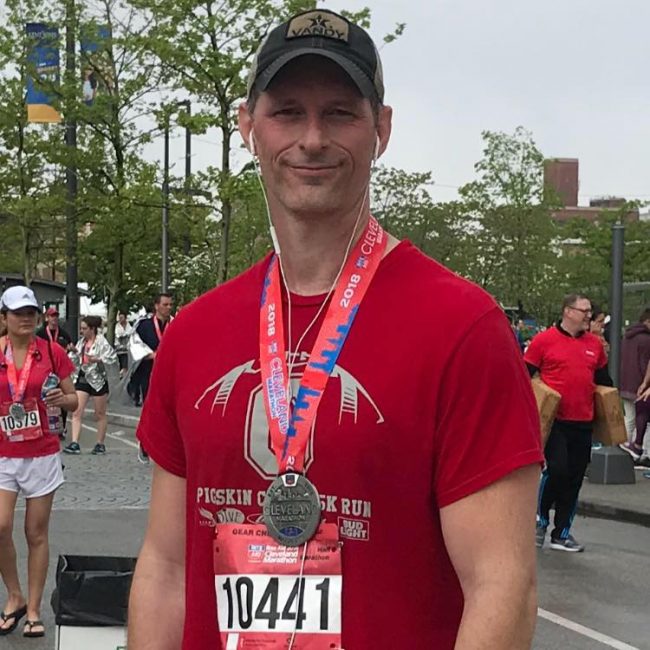 Ryan is a former college wrestler and lifelong fitness fanatic. He has run half marathons, done mud runs, placed in body transformation contests, coached wrestling and now coaches girls soccer. Not to mention he has also tried literally hundreds of supplements over the years and has a vast and thorough supplement knowledge. He has written for Muscle & Strength, Testosterone Junkie, The Sport Review and other publications. He is also the editor in chief of this website. Feel free connect with him on his LinkedIn page below.