(Last Updated On: April 30, 2022)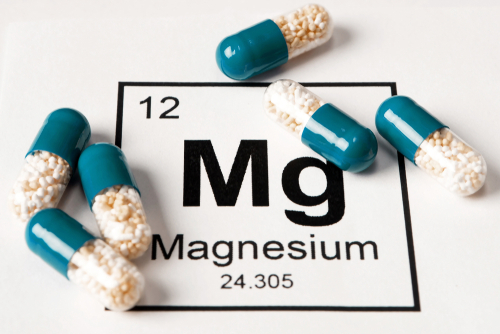 If you think you don't need a magnesium supplement, you're wrong.
Magnesium is often forgotten and usually clumped together with multivitamins. The problem with this is that most brands don't give enough in terms of dosage to make it truly have an effect in your body.
Magnesium supplements are useful in many ways, including giving you stress relief, better sleep and for various muscle functions and relaxation.
Simply going out and buying generic or supermarket products won't cut it, though. Take a look at our best magnesium supplements and pick one depending on what you need.
13 Best Magnesium Supplements
Magnesium Bisglycanate by Transparent Labs
Best Overall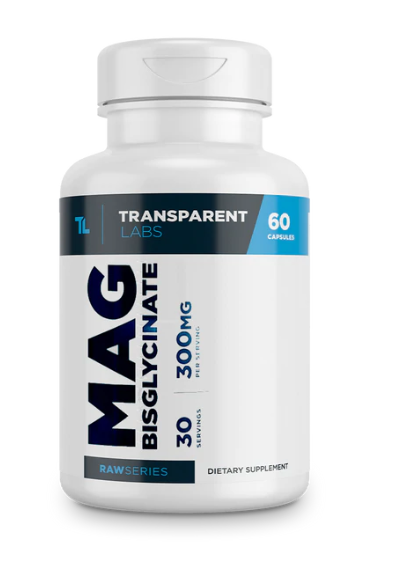 Nothing embodies the title est magnesium supplement' more than Transparent Labs' Magnesium Bisglycinate. If you're looking for the absolute cleanest magnesium product that can boost overall health, then your journey ends here. There's plenty to love about Transparent Labs' creation, including the fact that you don't have to worry about impurity or not getting what you want in a magnesium supplement.
As far as supplementing with Magnesium is concerned, 'More is better' is not always the best choice. When fixing a lousy diet, individuals should always start with a good magnesium product. The mineral is connected with several factors that dictate well-being, including stress, cognitive function, and muscle function. Transparent Labs promises the prevention of genotoxicity, which can curb DNA damage and inflammation, thyroid disease induced by anxiety and better mood throughout the day.
The ingredients list is pretty simple in that there's only one- Magnesium as magnesium bisglycinate chelate, and it's listed at 300mg or 71% of the daily recommended value. We like how the capsules aren't too big and that it's easy to swallow. You can take up to three capsules daily, depending on your health goals. However, we advise that you get a feel by taking one per day as a start.
There's no doubt that this Magnesium will work as intended, and you'll be glad to know that it contains zero artificial preservatives, coloring, sweeteners, GMOs, and gluten. It's a clean and pure magnesium supplement for those who need it.
Pros
Made by Transparent Labs
Greater bioavailability than other kinds of Magnesium
Safe and contains zero gluten, preservatives and GMO
Cons
Comes only in a 30-serving bottle
---
Medi Cramp
Best for Muscle Cramps
You may not know it, but muscle cramps are primarily an effect of the body not having enough Magnesium. It usually lasts for only a minute or two but increases in frequency as you age. Aside from waiting out the spasm, you can turn to Medi Cramp as a way to prevent it from occurring in the first place.
Medi Cramp is billed as a natural anti-cramp solution with several functional components thrown in. The manufacturer believes that solving cramps is mainly a matter of plugging an individual's nutritional deficiency, primarily magnesium and B vitamins. To this end, MediCramp has 300 mg of elemental Magnesium combined with vitamins B1, B6, B12, B2, zinc sulfate and Bioperine. The cocktail is clinical-trial backed, researched, and not found in any other magnesium supplement.
The high-quality magnesium sulfate in this regard is magnesium citrate. While it's advertised to fight muscle cramps, the supplement also addresses other health concerns such as insomnia, excessive stress, muscle weakness, osteoporosis and more.
What we like about Medicramp is how it works quickly and has that complementary mix of B vitamins to supplement your overall well-being. Bonuses include free USPS shipping and how it's made in a US facility.
Pros
Works as advertised
Focused approach with research-backed ingredients
Offers multiple payment methods for convenience
Cons
Only available on the manufacturer's website
---
Performance Lab Sleep
Best Magnesium Supplement for Sleep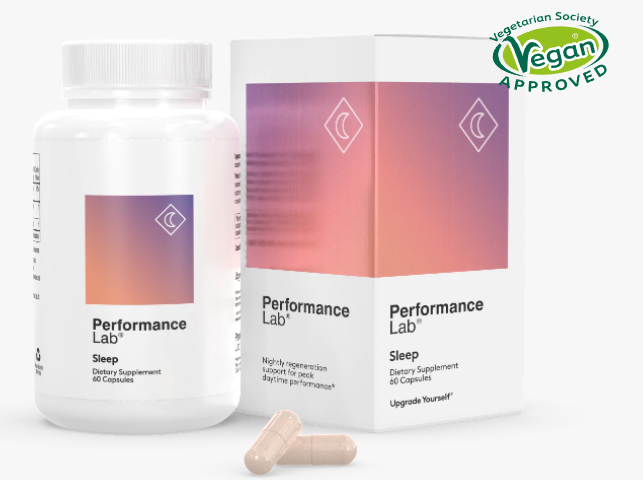 Magnesium's relaxing properties are commonly associated with anti-stress, but it can produce better and deeper sleep when combined with other ingredients. Enter 'Sleep' by Performance Lab, an ultramodern sleep aid that doesn't contain the usual synthetic melatonin.
Unlike other one-dimensional sleep supplements, 'Sleep' has zero melatonin ingredients. Instead, it takes the natural form of Montmorency Tart Cherry and adds L-Tryptophan and two types of Magnesium, specifically NutriGenesis and bisglycinate, into the mix. It's worth noting that the formula is non-habit-forming and allows you to get up the next day without feeling groggy.
'Sleep' is an upgrade over the usual over-the-counter melatonin supplements you can use to reset your circadian rhythm. As a bonus, there's a total of 100 mg of Magnesium to support wellness, such as calming down nerves and alleviating stress. What we like about Sleep is how clean it is- it's vegan friendly, soy-free, and GMP certified, and there are zero synthetic additives, GMOs and caffeine. The capsules are made from fermented tapioca and are easy to swallow.
Pros
Natural low-dose melatonin and magnesium pack a sleep-concentric punch
A significant upgrade over old-school melatonin pills
Clean and doesn't have any morning side effects
Cons
A bit more expensive than your usual melatonin supplement
---
Transparent Labs Wellness Series Multi
Best Multivitamin Magnesium Supplement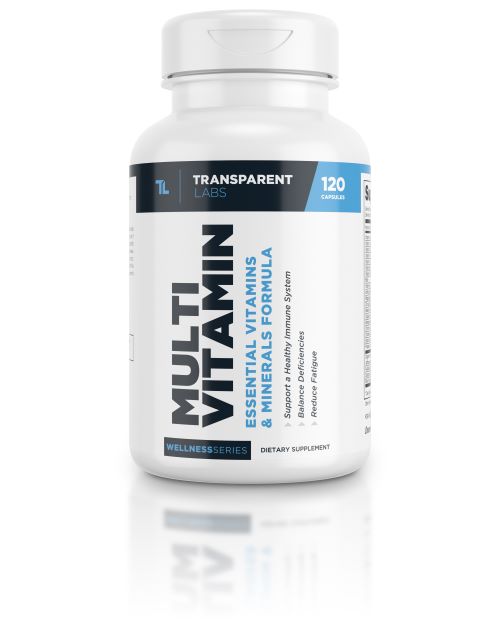 It's perfectly okay to think, might as well get a multivitamin if I were to buy a magnesium supplement' since you'll be getting more value for your money. Generally speaking, multivitamin products tend to stretch themselves thin. They'd pack in a whole spectrum of vitamins and minerals in a single serving, but this isn't the case with Transparent Labs' Multivitamin.
Transparent Labs manages to hit a home run and still includes a significant amount of Magnesium for its benefits. What we like about Multivitamin is how the ingredients are more bioavailable than other multivitamin brands, and how they managed to put in notable additions such as boron citrate, CoQ10, N-acetylcysteine and KSM-66 organic ashwagandha root extract. If you don't know, ashwagandha helps reduce inflammation and increase testosterone production, while CoQ10 reduces oxidative damage and makes you less susceptible to inflammation and chronic diseases.
The magnesium component in Wellness Series Multi is the same as with its other product, Magnesium Bisglycinate. Aside from getting a boost in the stress-reduction process, you'll find yourself in better health due to the essential vitamins and minerals cocktail.
With a brand like Transparent Labs, you already know that you're getting a high-quality product. The same holds true for Multivitamin- it doesn't contain any artificial preservatives, GMOs, artificial coloring or sweeteners of any kind. It's also different from dozens of multivitamins in the market as it doesn't give a tummy ache.
Pros
Contains an adequate amount of bisglycinate
Exceptional value for money
Well-rounded nutrition to support health and well-being
Cons
Testosterone benefits mainly men
Related: Best Multivitamins for Men
---
Nature Made Magnesium Citrate
Best for Regularity & Digestive Function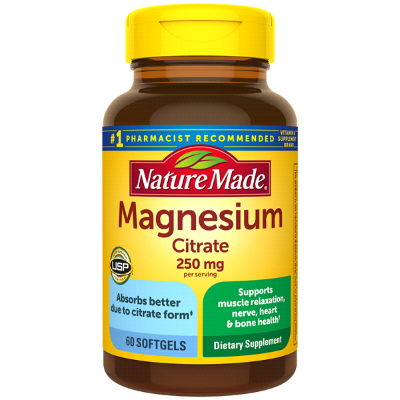 If digestive health and gut microbiome are essential to you, we'd wholly recommend Magnesium Citrate from Nature Made.
It contains an oft-overlooked ingredient, MCT or medium-chain triglyceride, essential for several gut-related things. First, it helps the digestive system absorb minerals and vitamins from food better; and two, water is drawn from the intestines to make your stool softer, aka a laxative effect. Nature Made's magnesium supplement has 250 mg of magnesium citrate and MCTs to make you regular and promote a healthier digestive system.
Although not advertised, the product can help you move more regularly and promotes a well-oiled digestive function. It's actually a decent 2-for-1 deal since you'll be getting the perks of MCT while enjoying the benefits of Magnesium, e.g., reduced stress, better muscle function and more.
Pros
Contains MCT, a natural laxative and gut microbiome helper
Gluten free and no synthetic dyes
Citrate form is usually better absorbed by the body
Cons
Large softgels can make it difficult to swallow
Powher Multivitamin
Best Multivitamin Magnesium Supplement for Women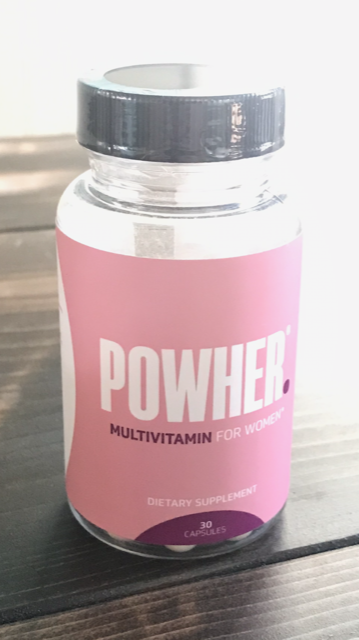 Magnesium supplements for women deserve special mention as they need something that caters to their specific needs and physiology. Again, if you're in the magnesium supplement market, you can consider a multivitamin to cover all your nutritional bases.
Powher is true to its word of being a 'complete multivitamin for women'. On the magnesium side of things, you get 100 mg of magnesium oxide which is absorbed quickly by the body and fills up around 24 percent of your daily value. Expanding further, there are notable additions such as CoQ10, biotin, folic acid, calcium, iodine, zinc, choline, and potassium. It's worth noting that there's 9 mg of iron in here, which makes up 50% of your daily needs. So if you're planning to get Powher, you can forego your iron supplement.
Powher Multivitamin's formula is crafted by registered dieticians and tailor-made for women's physiology. That's why you'll see some minerals and compounds that are more pronounced than others and the addition of vitamins D and B for those who are active and working out regularly.
What impressed us most was how widely available it is and how anyone in the globe who wants to try it could (via worldwide shipping).
Pros
Specially made for women
Ships worldwide from the UK and US
Offers discounts on bundle purchases
Cons
Related: Best Multivitamins for Women
---
NOW Supplements Calcium + Magnesium
Best Magnesium and Calcium Combo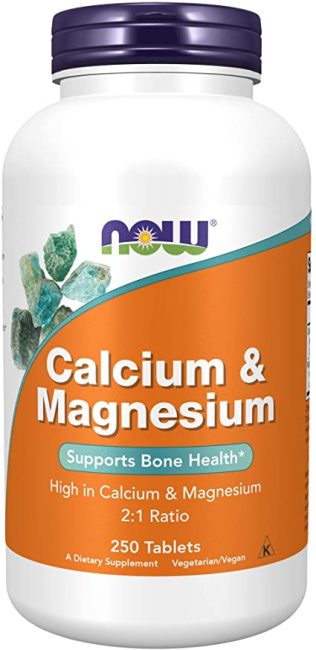 You may be interested in adding Magnesium to your diet, but you won't give up on calcium. What should you do? Thankfully, NOW Supplements has the answer- a single product that combines Magnesium and Calcium in one neat package.
The Magnesium in question is Magnesium Oxide and Citrate at 500 mg, or 119% of your DV, and 1,000 mg of calcium in the form of Calcium Carbonate and Citrate, which is 77% of your DV. Plus, the manufacturer has added 10 mg of zinc and 15 mcg of Vitamin D3 to cover 91% and 75% of your recommended DV, respectively.
With a low price tag, you can get essential calcium alongside Magnesium. We like how each bottle is free of ingredients that can prove to be harmful, such as shellfish, egg, milk, gluten, and wheat. NOW is a trusted brand so you know you're getting your money's worth.
Pros
Magnesium is both citrate and carbonate form (for better absorption)
Won't break the bank or your wallet
Has zinc and vitamin D in significant dosages
Cons
Softgel tend to get sticky in warm environments
---
Magnesium Bisglycinate by Transparent Labs
Best for Athletes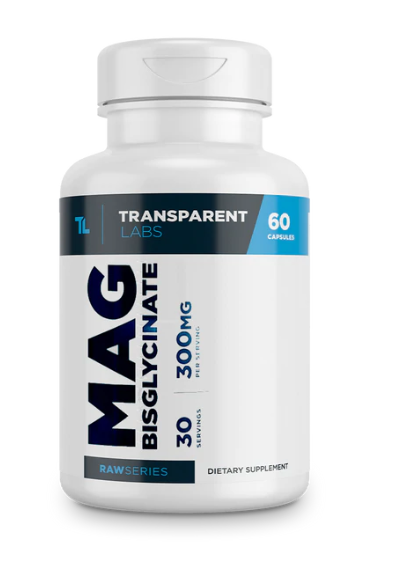 Athletes want their magnesium supplements the way they do their pre-workouts and protein shakes- potent and fast-acting. To this end, we recommend no other product than Transparent Labs' Magnesium Bisglycinate to turbocharge your muscle function and relaxation.
Transparent Labs is no stranger to athletic products, and this one is no different. It's the only mag supplement in the market with 300 mg of Magnesium bisglycinate chelate, which is arguably the purest and most bioavailable form. The mineral is quickly absorbed and turned into usable matter- in this case, after a particularly strenuous workout.
The benefits of Magnesium align pretty well here. Aside from reduced stress, you can get better rest so your muscles will be ready and at their best when the time comes to perform. Plus, a higher level of cognition allows you to focus on the discipline and get closer to your goals. Transparent Labs' product is a high-absorption supplement so you can maximize your training.
As far as a transparent and clean label is concerned, you won't have to worry about other contaminants or fillers with Magnesium Bisglycinate. It's pure and gives a thorough boost to your workouts and rest periods. That's why we put it at the top of our 'best magnesium supplements' list.
Pros
Bisglycinate is the best in class
High absorption and utilization for quick results
No gluten and artificial compounds or fillers
Cons
Does not ship to certain parts of the world
Related: Why Magnesium is Good For Athletes
---
Nature's Bounty Magnesium 400 mg
Best on Amazon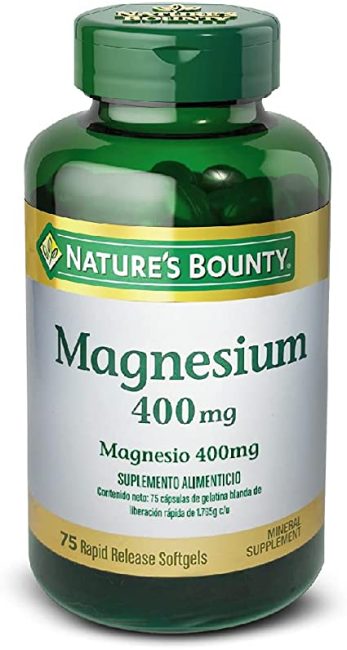 Searching for the best magnesium supplement on Amazon might be a tall order- there are literally hundreds of them to go through. Those who don't have the time or patience can just pick Nature's Bounty Magnesium 400 mg supplement to enjoy the effects of more Magnesium in their diets.
Magnesium 400 mg is different from the 500 mg product from the same manufacturer. You get 75 rapid-release soft gels at 100% daily value. The Magnesium is magnesium oxide, which can cause a laxative effect, so you better take them in the evening. It's a no-frills supplement that works as advertised and can be bought online.
Softgels are suitable for those who have difficulty swallowing, and Nature's Bounty has been around the block as a brand of supplement. However, it contains soy ingredients and saturated fat.
Pros
Available on Amazon
Exact DV of Magnesium at 400 mg
Contains MCT
Cons
Contains soy
Countless clones with same label on Amazon
---
Vitamatic Magnesium Citrate Gummies
Best Gummies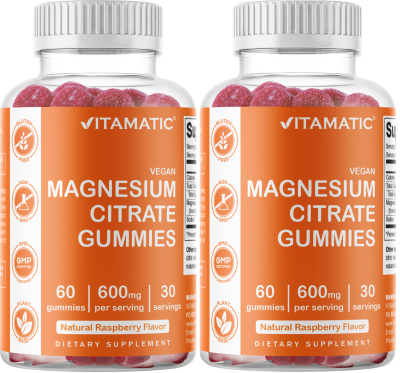 Taking your Magnesium doesn't have to be boring- with Vitamatic's gummies, you'd be looking forward to the time of day you eat the essential mineral.
To become the best magnesium gummy supplement you'll need to do several things- have a bioavailable form of Magnesium and turn it into a delicious gummy with an appealing flavor. Vitamatic has managed to nail both on the head, with magnesium citrate and a natural raspberry flavor. Suffice to say, it's the best-tasting magnesium supplement we've ever tried.
Gummy is suitable for those who hate downing capsules and tablets, and Vitamatic has made it so you only eat two a day. There's 600 mg of magnesium citrate, or roughly 70 mg of mag to cover 17% of your DV.
The features and benefits don't end there. Magnesium gummies are free of artificial flavors, preservatives, soy, starch, and wheat, and it's vegetarian and vegan friendly as well. The label is relatively straightforward, and you won't have to worry about contaminants and GMOs making their way to your system.
Vitamatic offers special discounts on select products time and again, and you'd be lucky to land on one when you buy the magnesium supplement. Still, it's tasty and deserves a special mention in our list.
Pros
Tasty and delicious natural raspberry flavor
Made in the USA
Vegan and vegetarian-friendly
Cons
Only 17% of your magnesium DV
---
Thorne's Magnesium Powder
Best Drink/Powder Magnesium Supplement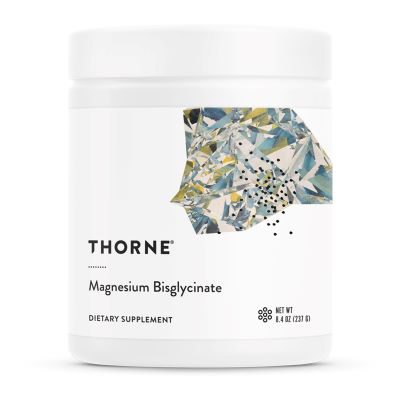 Prefer to drink your supplements? No problem. The Thorne Magnesium Bisglycinate delivers the essential mineral in powdered form so you can take the time and unwind at the end of the day or a workout session.
The formula contains 200 mg of Magnesium in bisglycinate form, which means you won't experience the laxative effect commonly associated with the oxide variant. The supplement facts list is pretty short and straightforward- you get the magnesium and monk fruit as a mild sweetener to make it go down easier. The taste is natural, and it's sure to grow on you.
The supplement includes a scoop you can use to dole out accurate servings. It's worth noting that Thorne's product is NSF certified for sport and does not contain potentially unwanted compounds such as gluten, soy, and dairy.
Pros
Comes in powder form, easily dissolved in water
Bisglycinate offers faster absorption
Natural monk fruit flavor that's not too sweet
Cons
Can be messy
Not for busy individuals
---
Nature Made Magnesium Oxide
Best on a Budget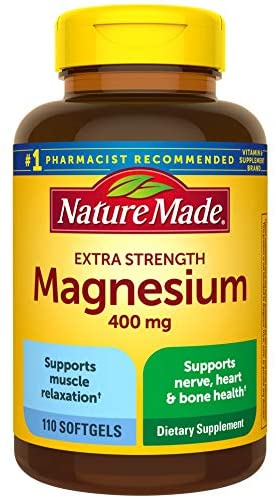 Nature Made's magnesium supplement is the cheapest and the highest-quality out of all the budget offerings in the market. A bottle only costs around two coffees or a fast food meal and tends to last you several months.
It's okay to try a magnesium supplement to try and gauge its effects, but you should always switch to a premium brand or product when you find the experience to be positive. Magnesium Oxide by Nature Made should only serve as a springboard to better magnesium forms, such as bisglycinate by Transparent Labs, or when you need to address a specific concern, e.g., Sleep and Medicramp.
Magnesium here assumes the oxide form (which explains the cost), and it's at 250 mg or about 60 percent of your daily recommended intake. Nature Made claims that the mineral is sourced from natural ingredients, particularly grains, nuts, and greens.
Pros
Best in class for budget-minded individuals
Only 1 tablet daily
Save more with an auto-subscription
Cons
Better magnesium forms are available elsewhere
---
NOW Supplements Liquid Magnesium with Trace Mineral
Best in Liquid Form
The virtue of taking in your supplement in liquid form is many, but what stands out is how your body can quickly absorb and utilize the mineral.
NOW Supplements' Liquid Magnesium gives you a total of 400 mg magnesium spread out in 3 doses for the day or roughly around 96% of your daily needs. If it's your first time taking it, keep in mind that it's a concentrate and should be mixed with water or juice.
Magnesium in Liquid Magnesium is found within trace minerals, which means it's naturally sourced from the Great Salt Lake via solar evaporation method. Along with the mineral, there's about 72 bioavailable components to power biochemical reactions and promote electrolyte balance and neuromuscular function.
As with all our chosen magnesium supplements, Liquid Magnesium doesn't contain soy, nuts, and GMO products, and it's vegetarian and vegan-friendly too. Plus, it has UL dietary supplement certification, so you won't have to worry about quality and potency.
Pros
Contains natural trace minerals
Made by Now Supplements
400 mg magnesium spread in three serving sizes
Cons
Needs water or juice to mask strong flavor
---
How We Decided
Ingredients
It's easy to assume that all magnesium supplements are alike, and we wish it were so. But as it stands, there are several forms of Magnesium and a near-infinite combination of complementary ingredients so your body can make the most of it.
Bisglycinate is arguably the best form of the mineral, which you can find on Transparent Labs' Magnesium. Other excellent additions to Magnesium include B vitamins, MCT, and ashwagandha.
Price
Price does play a significant factor in deciding which magnesium supplement is best for you. However, if you want something that your body can utilize to the fullest, then you should go beyond the cost and focus on what you want from a supplement.
To help our readers, we decided to group them according to price segments and pick the best of the lot.
Reviews
These days it's best to listen to user feedback on just about every product you intend to purchase, and it's the same for magnesium supplements. Highly rated magnesium supplements don't lie- they've been tested and proven to work, which means it's all cut out for us.
It's pretty simple- the magnesium products with the best reviews are tested first and rated according to quality, dosage and ingredients.
Manufacturer Reputation
Much like reviews, we lean towards trusted and reputable brands and manufacturers, which explains the presence of Transparent Labs, Performance Lab, Nature Made and NOW Supplements in our list. As far as supplements are concerned, you'd undoubtedly want potent products that deliver as promised, which is a guarantee with these manufacturers.
The Different Forms of Magnesium
You have probably noticed in the list above that Magnesium comes in many different forms. It is essential to understand these qualities to find a form of magnesium supplementation that is appropriate for your needs.
Magnesium Bisglycinate
Bisglycinate is a form of magnesium that is particularly well absorbed by the body. It is often used to treat chronic fatigue, fibromyalgia, and anxiety. This form of magnesium is non-toxic and has very few side effects.
Magnesium Citrate
Magnesium citrate is probably the most well-known type of supplement in this category. This particular form of magnesium is highly soluble and easily absorbed by the body. While it does have some laxative properties, especially in high doses, this is typically not an issue for most people. Magnesium citrate also supports healthy muscles and nerves, making it an excellent choice for anyone with muscle pain or nerve problems.
Magnesium Oxide
Magnesium oxide is another common form of magnesium found in supplements. The body less easily absorbs this form of magnesium, but it is still effective. Magnesium oxide can help treat constipation and promote healthy digestion. It is also often used as a laxative, although it is not as strong as magnesium citrate.
Magnesium Chloride
Magnesium chloride is another form of magnesium that is commonly found in supplements. This form of magnesium is often used to treat conditions like magnesium deficiency, muscle aches and pains, and restless leg syndrome. It is highly soluble and easy for the body to absorb like magnesium citrate.
Magnesium Glycinate
Another form of magnesium that has become popular in recent years is magnesium glycinate. Magnesium glycinate is formed from elemental magnesium and the amino acid glycine. This form of magnesium is particularly well absorbed by the body and can help treat conditions like chronic fatigue, fibromyalgia, and anxiety. It is also non-toxic and has very few side effects.
Magnesium Malate
Magnesium malate is a form of magnesium that is often used to treat conditions like fatigue, muscle pain, and fibromyalgia. This form of magnesium is particularly well absorbed by the body and can help treat these conditions.
Magnesium Sulfate
Magnesium sulfate is another form of magnesium that is commonly found in supplements. This form of magnesium can be helpful in treating conditions like muscle aches and pains, and restless leg syndrome. It is also often used as a laxative or to promote healthy digestion.
Magnesium Taurate
Magnesium taurate is a form of magnesium that is often used to treat conditions like heart disease, hypertension, and high blood pressure.
Magnesium chloride, magnesium oxide, magnesium citrate, magnesium glycinate, magnesium malate, and magnesium sulfate are all forms of magnesium that have their own unique benefits. It is essential to find a form of magnesium that is right for you in order to get the most benefit from it. If you are unsure which form of magnesium to take, speak to a healthcare professional.
Benefits of Magnesium
Adequate Magnesium intake is perhaps the most underrated mineral for health and well-being.
A large part of the US population is not aware that they lack Magnesium, and it shows in several ways. Aside from being mainly responsible for dozens of biochemical reactions in various aspects such as the blood, muscles and soft tissues, Magnesium plays and important role in muscle relaxation, nervous system regulation and energy conversion.
Athletes should consider supplementing with Magnesium as it's known to boost performance. It's great for bodybuilders and people who love working out as it reduces inflammation within the system.
Furthermore, Magnesium helps combat depression, allows for deeper and better sleep, and supports healthy heart function and blood sugar levels. More importantly, it reduces the unwanted effects of daily stress and anxiety.
Unfortunately, we don't get as much Magnesium in foods as we'd like, and this is where supplementation comes into play. These helpful products plug in your nutritional needs in a convenient pill, liquid or powder form.
What to Look For Before You Buy
Filler Ingredients
Beware of filler ingredients that pad out a pill or tablet components. With magnesium supplements, the shorter the ingredients list the better. Look out for what type of Magnesium you're getting and if it comes with other components.
Third Party Certification
Having a third-party test a supplement for efficacy and truthfulness is always a welcome plus. It's easy to claim that you have the best magnesium supplement, but if the label is hidden in proprietary blends, then there's reason for doubt.
Dosage
Dosage will depend per individual or case, but the sweet spot for Magnesium should be somewhere around 300 to 400 mg, or roughly 70 to 80 percent of the recommended daily value.
If a supplement has other minerals or components, make sure to check its dosage and DV so you won't go massively over (which might bring side effects) or under (that it may not have an effect at all).
Quality
Quality should be right on top of your list when searching for magnesium supplements. It's almost assured in reputable and trusted brands, so you should start your journey there.
Supplement quality also means the ingredients should be highly bioavailable and pure. Look for bisglycinate and avoid the oxide form if you don't want a laxative effect.