(Last Updated On: August 27, 2016)
How did you get started in fitness after you retired from the NFL?
In 2009 I suffered a career ending spinal cord injury with the New Orleans Saints that nearly paralyzed me from the neck down. As a result I gained roughly 50 pounds. The heaviest I can remember was 263 pounds. After about 3 years of rehabilitation I finally regained strength in my left arm that I'd lost due to severe nerve damage. My first goal was to get back into NFL playing shape which for me was 216 pounds. So for me my start began when I decided to take my life back and not let this injury defeat me.
How did training you did for football influence the way you train for fitness?
Throughout my career as a football player I trained under a wide variety of coaching staffs that all different training styles with the over all goal strength and conditioning. Being  exposed those type of training styles allowed me to look at myself  and the improvements that I made and how I felt throughout the years and apply that to the way I train my clients today. I have a wide variety of training styles but I specialize in athletic development a.k.a. go muscles and functional training. This is advantageous because I personally have been through every single workout program I place my clients through I understand what they're feeling, how their body is supposed to move, and the correct technique and fundamentals requires for each exercise.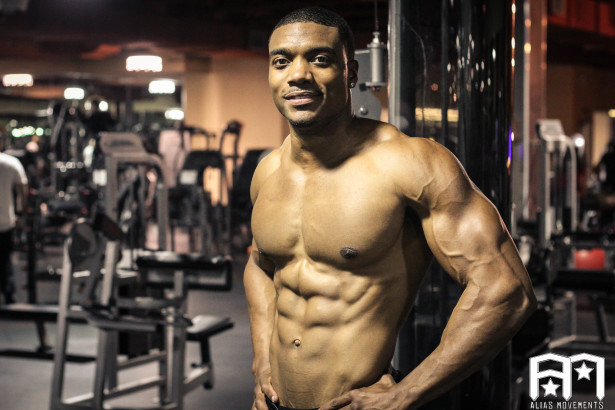 Can you give us a sample of your routine?
First I start each client off with a dynamic warm-up that I put together in order to evaluate them see their weaknesses or areas they may lack inflexibility & balance. From There we go into any explosive routine of exercises using the total body followed by muscles specific exercises targeting specific muscle groups. Ex: hang clean front squat push press. 3×10. Then move in to chest, executing with proper technique, bench press, incline press, decline press, dumbbell flies, cable flies, ending with explosive push ups.
What kind of music do you listen to when you are working out?
My iPhone has a wide variety of genre that I listen to. I normally start my stretches with R and B music everything from August Alsina to the Weeknd. As the intensity of my workouts increase so does the tempo and the aggression in the music that I play moving more into the rap listening to lil wayne, Jay z,  and Big Sean.
We all have at least one, what is the most embarrassing song on your iPod?
The most embarrassing song on my iPod is probably Drunken Love by Beyoncé. I absolutely love the song but it's hard to explain to my workout partners when it comes on in the middle of a squat rep, and we supposed to be getting fired up for the next set.
What does your diet look like when you are trying to get lean?
During my lean out  process I really play with my carbohydrate intake and up my cardio tremendously. I've learned my body over the years and have done the necessary things to get it to adjust. I have a tendency to lean out really fast. I'm talking a 3 to 7 day visible change in my physique.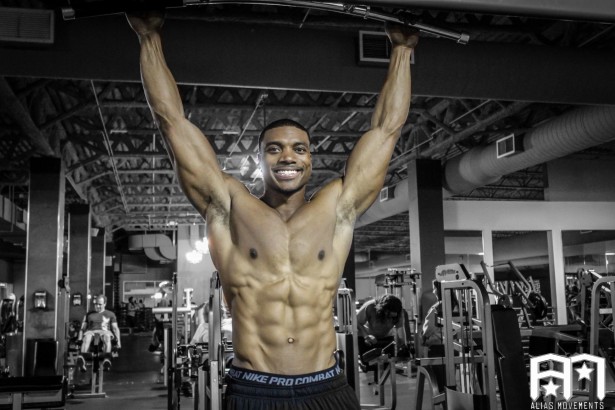 List the top 10 foods we would find in your kitchen
The top 10 foods you will find in my kitchen:
Chicken
Fish
Spinach
Broccoli
Sweet potatoes
Rice
Blueberries
Oatmeal
Eggs and a variety of muffins I'm a sucker for pastries.
What kind of cardio do you like best and why?
I perform two types of cardio on certain days of the week, I do high-intensity cardio on certain days of the week sprints and ploy metrics on the others I do low impact cardio like treadmill and or stair-master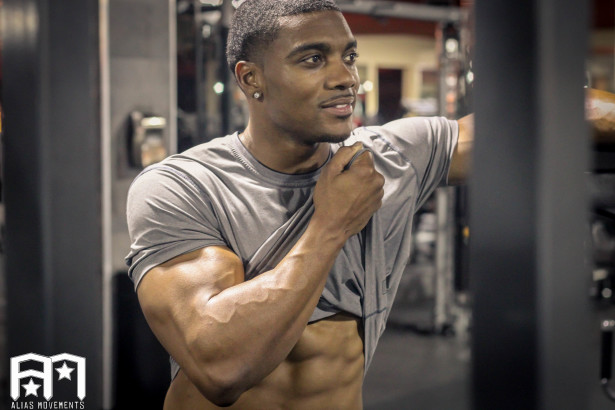 If you could give somebody only one bodybuilding tip what would it be?
The only fitness or bodybuilding tip I would give someone is to be consistent. One day at a time don't worry about the future. Consistency is key. My training motto and philosophy is this "one day at a time, one day after one day, before you know it you have a week, four weeks in a month 12 months in the year but nevertheless it all begins with one day, eat clean train dirty one day after one day and let time do what time does best and that's add and subtract one body get fit"
Favorite cheat food?
I have a wide variety of favorites when it comes to my cheat meals one being breakfast food, I love eating pancakes, sausage and hashbrowns second would be In and Out Burger, it's heaven! And last but not least Canes their sauce…. Next question please lol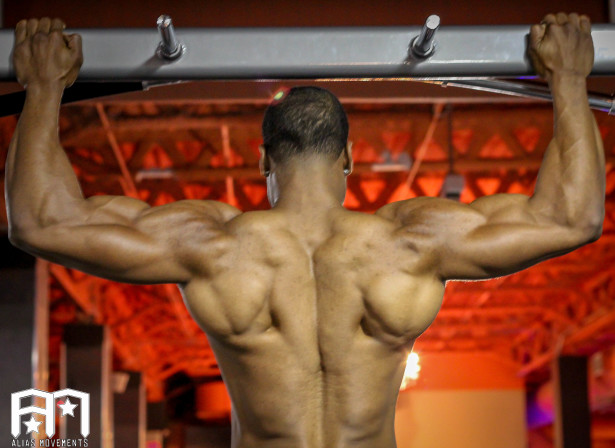 Do you take any supplements?
Yes I do take supplements right now I'm taking a multivitamin fish oil BC AA and glutamine also take a thermogenic/ fat burner before my cardio sessions
What does the future hold for you?
In the future I'm going to show the world how versatile one man can be when he trains go muscles.  I'm going to play multiple sports and train with wide variety of styles to show versatility. Also I will be competing in men's physique competitions my next one is coming up in April in Los Angeles
To keep up with my progress please visit my website & follow my social media pages
Instagram: @WoodsFit
Twitter: @WoodsFit
Facebook: facebook.com/Woodsfit
YouTube: WoodsFit
Website: Www.WoodsFit.com