(Last Updated On: September 29, 2022)
If you're looking to lose weight, consider using a meal replacement shake as part of your diet.
There are many different shakes on the market, so it can be tough to figure out which one is best for you. Here's a look at some of the best meal replacement shakes for weight loss.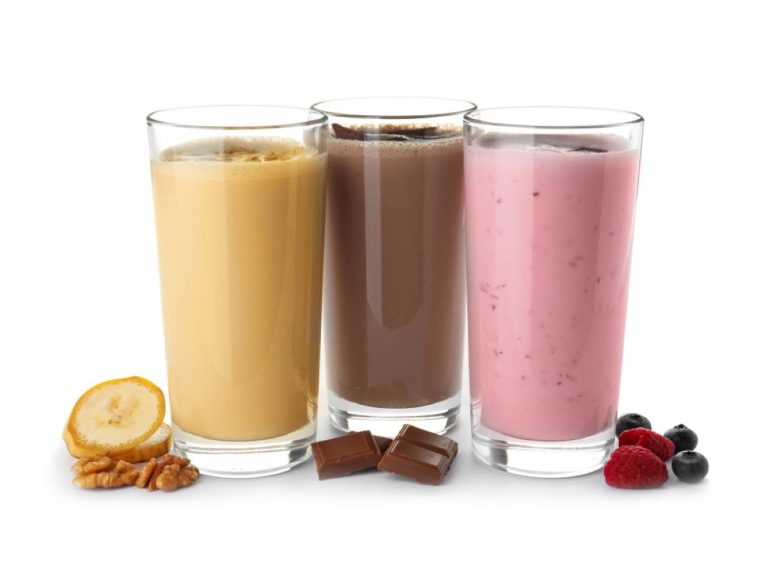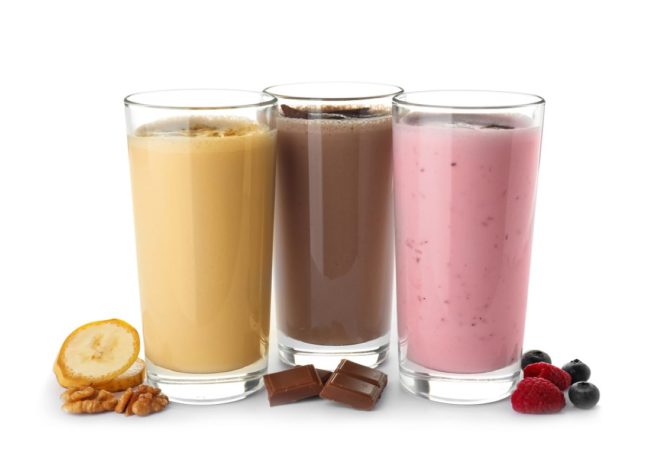 10 Best Meal Replacement Shakes For Weight Loss
#1. PhenQ Meal Replacement (Best Overall)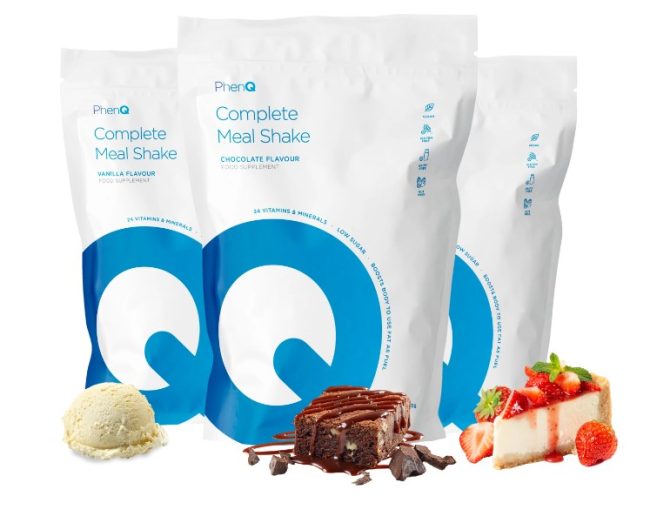 Our top pick and the option with the most going for it, PhenQ's Meal Replacement Shake is packed with over 16 grams of whey protein concentrate per serving with zero sugar added. It also has an all-vegan micronutrient blend of 13 different key vitamins and minerals. What's more, it does all of this (and so much more) while tasting legitimately delicious.
Nutrition & Included Ingredients
Jumping into what this product has to offer, the PhenQ Meal Replacement shake has a vegan vitamin blend that includes all-vegetarian sources for many of the different vitamins and minerals included, such as vitamins C, E, A, K, D, and B12. The shake also includes other things like Riboflavin, Flaxseed Powder, and Niacin.
In addition to the more standard and expected inclusions, PhenQ also makes do with many of the more uniquely developed options. Things DIGEZYME, a unique blend made for PhenQ, includes 5 separate enzymes, including lactase, lipase, protease, cellulase, and alpha-amylase. It also includes a pea starch known as Carb10, which is used to improve digestion while also more effectively absorbing one's carb levels without it ever affecting their blood sugar levels.
Flavors & Additional Info
From a flavored perspective, PhenQ is incredibly delicious while being both gluten and sugar-free. They have three separate brands: Chocolate Brownie, Vanilla Ice Cream, and Strawberries & Cream. Again, they're all legitimately delicious options, which is huge since they also can help reduce your interest or cravings for other foods, especially when you understand. They also have a 60-day money-back guarantee which means that you can enjoy much of it without fear of having a product you aren't interested in.
From a cost and price perspective, Though it's not the best-priced option on this list, it's not for a lack of trying. Each serving costs around $2.56 if you buy over 3 bags at once. Getting only one pack raises to upwards of $2.99 per serving. Even if you do get the standard set of 3 bags, it only comes to around $53.85, something you'll note is pretty affordable, especially compared to many others out there.
Downsides
There aren't a ton of downsides to the PhenQ meal replacement. The one area that it could be better in is the individual bag sizes. While 3 together is fairly affordable and carries over 20 meals, the fact that a single bag barely has enough to get through the school week is a bit disappointing. Not only that, but the price difference between getting 1 pack compared to 3 is so small, that it's often just worth it to try out the 3-pack even if you're only curious.
Pros
Completely Organic
Comes With Several Fat-Burning Ingredients
Has Vegan Vitamin Blend
Legitimately Delicious
Very Competitively priced (At 3 Bags Or More)
Has A 60-Day Refund Policy
Cons
Can Only Be Purchased On Website
Single Bag Option Is Not Worth The Price
---
#2. Instant Knockout Complete
Meant for those that are serious about ensuring their health and fitness are at their best respectively, Instant Knockout Complete acts as a meal replacement shake that helps to control weight and nutrition in all the ways that matter. The supplement was developed specifically for athletes and those in the fitness space to improve their overall performance without relying on experts and expensive meal plans.
Unlike other meal replacement options, which are meant to replace only one meal per day, Instant Knockout Complete works to replace two. This means ensuring that you have enough protein and fiber so that you stay feeling more full for longer while simultaneously keeping your mood and performance up and enhancing muscle growth and repair.
Essentially, this is your one-stop shop when it comes to a meal replacement shake, a pre-workout shake, and a post-workout shake.
Nutrition & Included Ingredients
Spending well over 5 years developing Instant Knockout Complete, this incredible shake has a ton of powerful and useful ingredients in each serving. These range from oat flour, to golden flaxseed, to MCTs, to organic brown rice powder, to Chromium, to even chia seeds and a variety blend of various vitamins and minerals.
Flavors & Additional Info
Currently, the only available flavor is vanilla. Still, as it is meant to show dramatic gains through physical fitness, the single flavor offered isn't the end of the world. Similarly, while not nearly as delicious when compared to PhenQ, it's still tasty enough that you shouldn't have any issues drinking it. Is it a bummer that there aren't any other options? Yeah. Is it a deal-breaker? Not really.
Downsides
Outside of the lack of flavors, there isn't too much negative to say about Instant Knockout Complete. Ultimately, I think the one factor you need to consider is if you're focusing on your fitness or not. If you are, this is a no-brainer supplement to include. If, on the other hand, you're just looking for a meal replacement to help you through the day, you may want to look at something else.
Pros
Made For The Person Looking To Make Gains In The Gym
Has 35 grams of Protein Per Serving
Meant To Be A Meal Replacement Shake As Well As A Pre & Post Workout Shake
Cons
Only Comes In One Flavor
May Not Be Ideal For People Not Interested In The Gym
---
Related: Best Per-Workout Supplements for Weight Loss
#3. MRP: From Transparent Labs (Editor's Choice)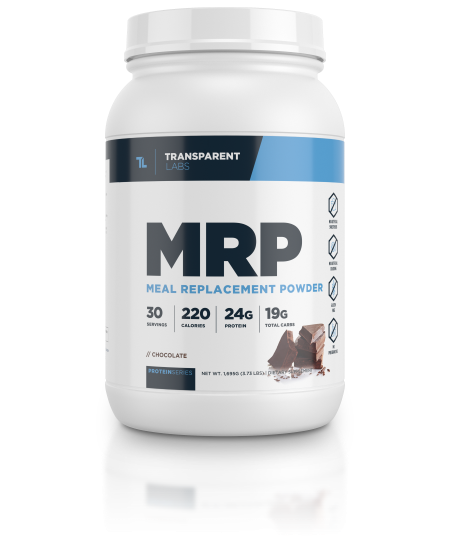 Transparent Labs has been known for making some of the purest, most effective, and artificial-free health supplements on the market to date. Here, we see that that sentiment has stayed very much true as it pertains to their MRP, or "Meal Replacement Powder". A great supplemental option for anyone, whether they be a gym rat, fitness enthusiast, or simply someone that only wants to supplement their existing diet, the MRP formula does everything right with very little wrong.
Nutrition & Included Ingredients
No matter what you're looking to do, Transparent Labs' MRP is pretty much the perfect option for you. Not only does it offer a complete balance of different vitamins and minerals, but it also includes a slow-digesting set of carbohydrates as well as several healthy fats and 24 grams of protein. The supplement has between 210 and 220 calories, based on the flavor of the supplement while offering 7 grams of fat. It isn't particularly keto-friendly, with carbohydrates ranging between 16 and 19 grams, but it's also not quite enough to ruin anything you currently have going on.
From the ingredients side of things, MRP contains an impressive blend of different proteins, ranging from whey isolate and concentrate to bone broth from grass-fed beef, to egg white protein and even pea protein isolate. MRP also includes MCT oil powder, which has been shown to assist in weight loss as well as improve brain health and function. There is also organic flaxseed powder, Carb10, TapiOK (tapioca starch), and various other ingredients.
Flavors & Additional Info
Currently, there are only two flavors (chocolate and vanilla). Both are pretty good, though I am a bit more partial to their chocolate over the vanilla. Still, both are serviceable enough to not taste too bad when going down.
Price-wise, MRP isn't too bad, especially compared to others on this list. For a single 30-serving tub, it costs around $59.99. If you want to double that (2 months' worth), it goes up to $109.98. I recommend the single tub since that will give you more than enough time to know whether this is something you're interested in investing your time and money in.
Downsides
MRP has a lot of things that make it ideal for most people and only a few detractions. In particular, the only area where this supplement flounders is in the fact that it has a lot of whey and dairy-based ingredients. While this shouldn't be a problem for most people, if you are a vegan, vegetarian, or just someone with issues digesting dairy, you may want to consider PhenQ or one of the other options on this list.
Pros
Completely Synthetic & Artificial-Free
Easy To Digest
Has Fast & Slow-Digesting Proteins And Slow-Digesting Carbs For Maximum Fuel Throughout The Day
Very Competitively Priced
Comes With 24 Grams Of Protein
Cons
Only Available In Chocolate & Vanilla Flavors
Not Ideal For Non-Dairy Consumers
---
#4. Labrada Whey Protein Meal Replacement (Top Bulking Option)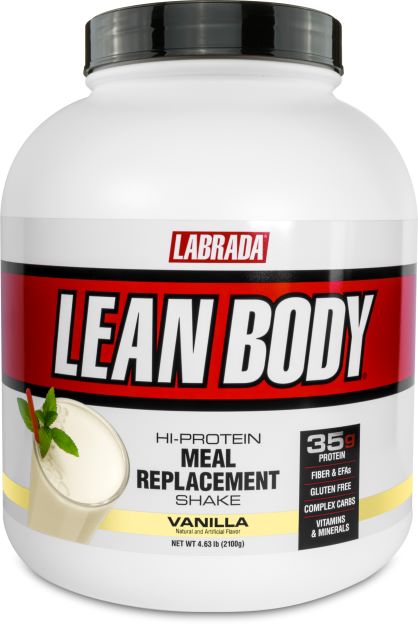 For those looking to see massive gains while at the gym, one of the best options out on the market today is Labrada Whey Protein Meal Replacement. True to its name as a whey protein option, Labrada uses 100% whey protein, ensuring that you receive all of the BCAAs and other amino acids that your body needs to push yourself while at the gym.
Nutrition & Included Ingredients
Particularly excelling in BCAAs, Labrada also is rich in leucine, isoleucine, as well as valine. Because BCAAS are so important to the body's ability to build muscle (1/3rd of muscle protein) it's highly important for athletes and those interested in improving their body's performance at the gym.
The supplement has 140 calories, with only 5 grams of carbohydrates. This makes it, interestingly enough, a pretty good option for those interested in the ketogenic lifestyle. It comes with an impressive 24 grams of protein, making it very filling for the body, whether at home or heading to the gym.
Flavors & Additional Info
Labrada comes in 3 different flavors to choose from chocolate, vanilla, and strawberry. All three are pretty tasty, though (again) I do find myself gravitating more towards the chocolate option compared to vanilla or strawberry. From a pricing perspective, it's just a bit more than what you'd expect all things considered. It costs around $64.34 before shipping costs for a 50-serving tub. I imagine that this will be great for those starting off to take a scoop a day. For those that want to maximize their gains, however, I imagine you'll want to double up, easily cutting this by half. Still, even that isn't too far off from what other options on this list cost.
Ultimately, it depends on if you're trying to improve your muscle growth or not. If you are, you'll want to start with one tub and move on to two. If you aren't looking to see serious gains in the gym, however, you may want to consider another one of the shakes on this list.
Downsides
Despite being a great option for people looking to get ripped, Labrada does have some pitfalls. Namely, there are quite a few items here that are artificial ingredients. If you aren't looking to have a lot of soy or artificial flavorings in your shake, this may not be the ideal option for you. Still, it's not so much of an issue if you're ok with something not being 100% pure and clear. Similarly, if you're trying to max out your muscle gains, these will seem more of an annoyance than anything particularly detrimental.
Pros
Comes With 24 Grams Of Protein
Keto-Friendly
Made With 100% Whey Protein
Offers Full-Spectrum BCAAs
Great Option For Those Looking To Gain Muscle
Cons
Has Standard Flavors That Aren't Too Special
Contains Artificial Flavors & Soy
Not Ideal For Vegans Or People Not Interested In Working Out
---
#5. Complete Meal – From HLTH CODE (Best New Option)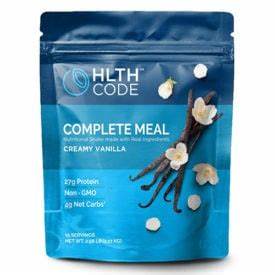 Founded only a couple of years ago, HLTH Code's Complete Meal Meal Replacement Shake is quite impressive. Containing 27 grams of protein per serving, several digestive enzymes for maximum absorption, apple cider vinegar, omega 3s, and various probiotics, they've put together an incredible meal replacement option that has you feeling fuller, giving you tons of energy, and improving your overall metabolism.
Nutrition & Included Ingredients
The Complete Meal is listed as having over 30 different ingredients, though much of this is hidden within their proprietary blend, meaning there is very little that can be said about exactly what is included and to what degree it's added. Still, many things are known about it, including the fact that it takes proteins from egg whites, whey protein concentrate, and grass-fed collagen. The supplement also includes coconut oil powder, olive oil powder, and MCT powder, along with grass-fed Ghee and butter fat.
In terms of their digestive enzyme blend, it includes alpha and beta amylase, protease I & II, lipase, cellulase, invertase, diastase, and lactase hemicellulase. It also includes other ingredients like apple cider vinegar, sunflower lecithin, monk fruit, and other natural sweeteners.
Each serving size has a whopping 400 calories, meaning that you'll certainly want to be careful that you don't eat anything with your shake. Still, it can potentially feel so filling that you won't want to take anything anyway. It has around 13 grams of carbohydrates, with 9 of those coming from fiber. It also has a wide array of vitamins and minerals offered, ranging from vitamins A, C, E, K, B6, and B12, as well as other minerals like Iodine, Magnesium, Zinc, Copper, and Niacin (just to name a few).
Flavors & Additional Info
Flavor-wise, Complete Meal comes in two separate options: Creamy Vanilla and Chocolate Macadamia. They aren't sweetened by sugar, but instead stevia and monk fruit, though maltodextrin and dextrin are also included, meaning it's still not going to be super keto friendly. Overall, the flavor is not too bad, though maybe a bit on the sweeter side. You'll want to factor in how much milk or water you use so that it doesn't come across as too intense.
In terms of the price, it's definitely on the more expensive side. Whereas many options have a cost per serving between $2 and $3, Complete Meal comes to about $4. The one-time purchase option costs around $59.95 for 15 servings. This means you'll realistically need to spend around $120 for a full 30-day supply. The good news is that you won't need to double dip the same way you may potentially need to with others on this list, which is certainly a benefit in and of itself.
Downsides
While there is a lot to like about HLTH CODE, there are also a few things that aren't so great. The main issue is that its taste is a bit sweeter than it should be, its price is a bit higher than it should be, and its ingredients aren't as open as they could be. Still, even with all that said, it's not too bad a swing from a company that only just started. If you're interested in many of the good things this brand has to offer, I'd give it a middling recommendation (albeit not over any of the top 3 options).
Pros
Chocolate Macadamia Isn't Too Bad
Comes With 27 Grams Of Protein
Offers A Full Array Of Vitamins, Minerals, & Enzymes
Contains Multiple Protein Sources
Cons
Price Is A Bit Overblown
Taste Can Be On The Sweeter Side If Not Careful
---
#6. Garden Of Life Raw Organic Meal (Most Accessible Option)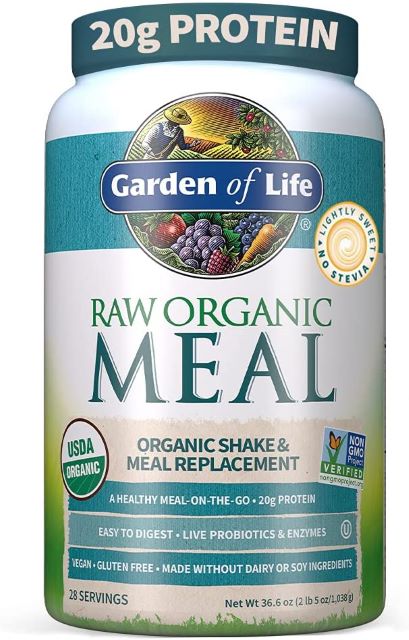 A staple in most health food stores, as well as online locations like Amazon, Garden of Life, is a pretty well-known brand. Here, their Raw Organic Meal replacement shake holds to that goodwill, putting together a whole host of incredible superfoods and protein all in a single serving.
Nutrition & Included Ingredients
From a nutritional standpoint, Garden of Life Raw Organic Meal is pretty much 7 of their other higher quality products all combined into one shake. Made up of over 44 different superfoods and 21 whole food vitamins and minerals, along with several enzymes and probiotics, this offers pretty much everything you'd need in a quality meal replacement supplement.
Each scoop serving comes at 130 calories and has 13 grams of carbohydrates, only 1 of which comes from sugar and 3 more pulled from fiber. It's probably not the optimal option for those interested in following a keto-friendly lifestyle, but it's also not enough of a problem to offset the many positive benefits offered when taking it.
Its most impressive claim to fame, however, is the vast majority of different vitamins and minerals offered. Things like vitamins A, E, C, and K are all available in varying quantities, as well as iron, niacin, zinc, calcium, potassium, and many others. There are also over 13 raw sprouted grains and seeds that similarly make it an impressive option for just about anyone.
In addition, this meal replacement is entirely free from gluten, dairy, soy, and tree nuts. It is also entirely organic, meaning that there are no artificial ingredients as well as artificial preservatives.
Flavors & Additional Info
While they don't have the same number of options as others on this list, Garden Of Life's variety can work for just about anyone. They offer chocolate cacao, vanilla, slightly sweetened, and spiced vanilla chai.
Price-wise, Garden Of Life is one of the most competitive options out there. At 28 servings per tub, you can get it between $27.99 and $34.99 depending on if any specials are happening at the time. Even if you factor in the higher price, it's still much more affordable than a lot of other options on this list, which makes it great even if only for that.
Downsides
Overall, there aren't a ton of drawbacks to Garden of Life's Raw Organic Meal replacement shake. The one area that isn't perfect is the calorie count. While you can realistically finish all 28 servings in a month without too much of an issue, the lack of calories can potentially leave you feeling pretty hungry throughout the day.
Even if you doubled your dose and bought two tubs, you're still under many of the other supplements out there, showing that it's a great deal even then.
Pros
Tons Of Vitamins & Minerals
Very, Very Reasonably Priced
Packed With Protein
Comes With A 30-Day Money Back
Many Of The Flavors Taste Good
Cons
Potentially Not Enough Calories Per Serving
Only 4 Flavors To Choose From
---
#7. Fit & Lean Fat-Burning Meal Shake (Great For Burning Fat)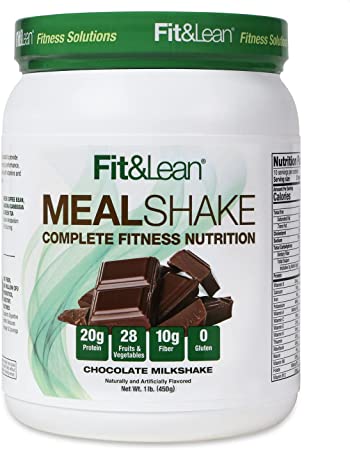 One of the better options on this list when it comes to losing weight and burning fat specifically, the Fit & Lean Fat-Burning Meal Replacement Shake comes with a ton of fiber while also containing a whole host of superfood blends. It's not particularly bad either, making it fairly easy to stick to.
Nutrition & Included Ingredients
Meant for those that are looking to lose weight and improve their fat-burning, the Fit & Lean Fat-Burning Shake does a lot to assist in that endeavor. Here, it includes various things like green tea extract, green coffee beans, and Garcinia Cambogia. All of these three things are known for boosting your metabolism and helping you decrease your appetite.
The meal replacement shake also comes with 28 different fruit and vegetable ingredients as well as 26 vitamins and minerals, all of which work to fuel your body's essential nutrients. The shake also is made from a combination of different proteins, ranging from whey protein to pea protein, to casein. Similarly, the supplement also carries with it a blend of different digestive enzymes as well as probiotics to better promote and improve nutrient absorption and healthy body digestion.
Flavors & Additional Info
The supplement has 4 separate flavors, all of which do not taste too bad. These include chocolate, coffee crumb cake, peanut butter pie, and strawberry shortcake. I wouldn't say any of these are particularly delicious, but they are good enough that you won't be forcing it down or trying to wash it down with something stronger.
Downsides
While it's a great option for those that are looking to lose weight, it has its fair share of pitfalls and drawbacks. The most blatant downside is its cost and size. Here, you'll purchase a single tub for around $30. What makes this such an issue is that each only has a serving size of 10 per tub. This means, for 30 servings, you'll have to pay around $90, something considerably more expensive than other better options on this list.
In addition, it's also got a few artificial ingredients which similarly make it not an ideal option for those that aren't looking to lose as much weight as quickly and effectively as possible.
Pros
Great For Losing Weight
High In Fiber While Also Containing Superfood Blends
Cons
Includes Artificial Ingredients
Fairly Pricey (Requiring 2 Tubs Per Week Rather Only One)
Not Particularly Vegan-Friendly
---
#8. Golden Superfood Bliss (Best Supplemental Option)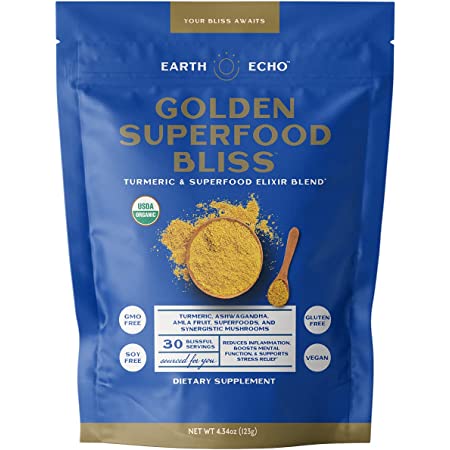 Golden Superfood Bliss acts as an interesting inclusion on this list as they primarily use turmeric, a superfood that has been known for having a lot of benefits over the years. While it isn't something you'll be taking as a meal replacement on its own, it's certainly a great supplement to any other shake you've decided on.
Nutrition & Included Ingredients
Put together by the superfood company Earth Echo, Golden Superfood Bliss does a lot right with its nature as a supplement to your meal replacement shake. It combines 12 powerful and useful ingredients – ranging from MCT oil and coconut milk to cinnamon, black pepper, cardamom, and turmeric itself – to both reduce stress and decrease appetite & cravings.
Relying particularly on the superfood turmeric, Golden Superfood Bliss has been known to help lower depression, improve proper digestion, and help increase weight loss. It is also entirely soy, dairy, gluten, and GMO-free. Similarly, the supplement is keto-friendly, meaning just about anyone can include it in their diet.
Flavors & Additional Info
There aren't a variety of different flavors as it pertains to Golden Superfood Bliss, instead only having a single turmeric-based option. Since this isn't something to be taken on its own, but included with other shakes, teas, coffees, or baked goods, it should be viewed more as a spice to another flavor instead of a flavor all on its own.
Cost-wise, it's fairly affordable. While not calorically dense enough to be a superfood, each bag comes with around 30 servings, with a total price of around $50. Not only is that incredibly competitive all on its own, but when you consider that most people won't use a full serving in all of their dishes, you could easily stretch this out to a month and a half or even 2 months.
Downsides
While Golden Bliss has a lot going for it, there are a few things that are worth considering, namely the fact that it's not a meal replacement option in and of itself, but a supplement to a pre-existing meal replacement shake. This means that you'll need to either get another item on this list (in addition to Golden Bliss) or use this with your coffees and teas.
The other big factor to consider is that it doesn't come with any additional flavors. Essentially, if you're not interested in the turmeric spice flavor, you're not going to enjoy this nearly as much. Still, since it's more of a spiced garnish than anything else, you can modify how much of the taste you experience, from a scoop and a half to barely a quarter scoop.
Pros
100% Certified Organic
Comes From The Turmeric Superfood
Entirely Keto-Friendly
Has A 60-Day Refund Policy
Great Supplement For A Meal Replacement Shake
Cons
Doesn't Have Nearly Enough Calories To Be A Meal Replacement Shake On Its Own
Has No Protein
No Additional Or Alternative Flavors
---
#9. Ample Meal (Best Keto Option)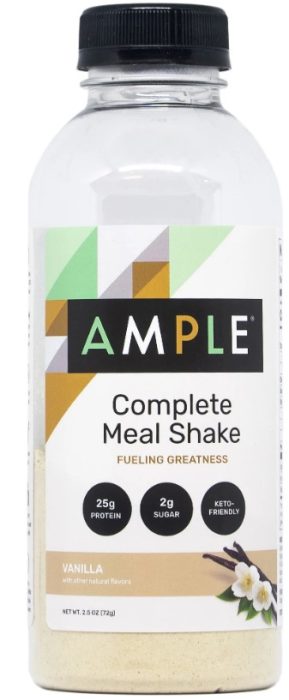 Another impressive option that has only come out recently, Ample Meal offers high-quality ingredients that all have proven and established benefits to your health. Working with food specialists and nutritionists, Ample Meal ensures that all of its ingredients are proven to offer the most benefit to you and your body.
Nutrition & Included Ingredients
Ample Meal is made using grass-fed whey alongside collagen protein. The formula has a breakdown of 25% protein with 56% fat, meaning you'll feel fuller for a lot longer compared to many other meal replacement options out there. While they have a keto-focused option available (as well as a vegan option), we'll be focusing on the standard option. Interestingly enough, even though it's not keto-focused, the standard Ample Meal still has a relatively moderate amount of carbohydrates and sugars, making it accessible for those doing keto.
A 1-scoop serving has around 200 calories while the double scoop has 400 calories. In addition, there are a variety of other ingredients like coconut oil, organic sweet potato powder, monk fruit extract, cinnamon, organic barley grass, organic wheatgrass, pea protein, and grass-fed collagen protein.
Flavors & Additional Info
Flavor-wise, Ample Meal comes in either vanilla or chocolate. Both are pretty smooth to the taste and are pretty evenly matched. I'd probably defer to vanilla in this case, though only slightly. Price-wise, there's no getting around the fact that it's pretty costly. For the 200-calorie option, you'll be paying around $79 for a tub. Conversely, if you want the more filling 400-calorie option, you'll need to invest upwards of $158. That's a pretty high investment per month, especially when compared to many alternatives on this list that offer similar levels of protein and calories at fractions of the cost.
Downsides
The major drawbacks to Ample come down to its price. While everything else is pretty impressive, it's hard to ignore the excessive sticker price, especially when other options can be as low as half for the same overall quality. Still, Ample does taste amazing, and if you have the money, I would recommend trying it at least once.
Pros
Keto-Friendly
Offers 25 Grams Of Protein
All Ingredients Are GMO, Soy, & Artificial-Free
Tastes Amazing
Cons
Price Is Pretty High
Not A Ton Of Flavor Variety
---
#10. Vega One: All-In-One Shake (Ideal For Beginners)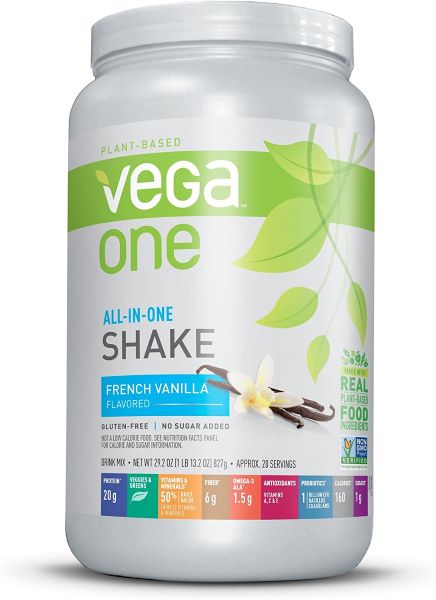 The Vega One: All-in-One meal replacement shake is one I hold near and dear to my heart. While it's not quite on the level as some of the other options on this list, they are a fairly effective starting option for a lot of people that want a quality meal replacement shake but don't know where to start. It's high-quality enough that pretty much everyone can use it without any issues while accessible enough to be found pretty much everywhere.
Nutrition & Included Ingredients
Each serving comes with 140 calories as well as 20 grams of protein. The supplement only has around 10 total grams of carbohydrates, 6 of which come from fiber and only 1 gram coming from sugar itself. The shake is entirely vegan and plant-based, making it ideal for those that aren't interested in whey or are on a ketogenic diet.
In addition, you'll find that Vega One carries various veggies ranging from lettuce, kale, quinoa, chard, spinach, spirulina, maca root powder, and many others. In terms of proteins, it has a blend of several different sources including organic pea protein, sunflower seed protein, and pumpkin seed protein. This helps to deliver all of the 9 amino acids that your body needs. In addition, the various veggies included ensuring you're never lacking in things like vitamin A or C as well as probiotics.
Flavors & Additional Info
From a flavored standpoint, Vega One has a pretty extensive number of options to choose from. Despite only having a single gram of sugar, the shake has 7 different flavors to choose from. These range from Berry, Mocha, French Vanilla, Chocolate, Chocolate Mint, Coconut Almond, and Unsweetened. This is far and away more variety than a lot of other powder shakes, making it much easier to stick to your plan and not cheat.
Each shake serving (one scoop) gives you over 20% of your fiber while the blend itself is certified gluten-free and organic. It has been third-party tested, confirming it meets all of its claims, easily making it worth a spot on this list.
Downsides
Unfortunately, this vegan meal replacement shake isn't perfect. While it's got a ton of strong points, one of the biggest potential issues is that it is processed in an area that also deals with dairy, soy, peanuts, tree nuts, and eggs. This may not be an issue for most people but if you have allergies, this may be a problem.
Additionally, the price for the larger tub size can be a bit pricey ($64.99), especially when you consider that it doesn't last a full 28-30 days (17-20 servings per tub). Still, if you're unsure, about getting started, you can get a smaller tub (9-10 servings) for around $36.99. It's still a bit pricey but that should be enough to know whether it's up your alley, and its tremendous benefits are still well worth it in the end.
Pros
Certified Vegan & Vegetarian
Comes In 7 Different Flavors
Fully Organic
Variety Blend Of Vegan Protein Powders
Cons
A Bit Pricey
Manufactured In A Facility That Processes Soy, Dairy, and Peanuts
---
How We Decided
When narrowing down our list of meal replacement shakes, we looked for a few key factors.
Nutrients
First and foremost, we wanted shakes that provided a good variety of nutrients, including protein, healthy fats, fiber, vitamins and minerals.
Price
We also considered price, as no one wants to spend a fortune on meal replacement shakes. We looked for shakes that provided the most bang for your buck without skimping on quality ingredients. Cheaper does not always mean better. In fact, it's usually the opposite. That said, you don't want to be getting ripped off either.
Reviews
Finally, we read hundreds of reviews to get a sense of what users liked and didn't like about each shake. This helped us narrow down our list to the best of the best. We didn't include any shakes that had consistently negative reviews. Although every shake out there has at least a few.
Can You Live on Meal Shakes Alone?
I know what you are thinking; maybe you could just skip all of your meals and drink meal replacement shakes instead and lose a ton of weight. After all, meal replacement shakes are designed to give you all of the nutrients that you need in a meal, right?
Wrong.
Meal replacement shakes are just that: replacements for meals. They are not meant to be used as meal replacements for every meal of the day.
If you tried to do that, you would likely end up feeling sluggish, tired and cranky. You might even end up gaining weight. That's because meal replacement shakes usually lack certain essential nutrients your body needs.
For example, most meal replacement shakes do not contain enough healthy fats. This can lead to problems like brain fog and fatigue. Healthy fats are essential for hormone production, cell membranes and more.
They also often lack essential vitamins and minerals. While most meal replacement shakes contain some vitamins and minerals, they are usually not enough to meet your daily needs.
This is why it's important to use meal replacement shakes as a supplement to a healthy diet, not a replacement for healthy meals.
Related: Can You Live on Just Meal Replacement Shakes?
The Right Way to Use Meal Replacement Shakes for Weight Loss
If you want to use meal replacement shakes as a tool for weight loss, there is a right and wrong way to do it.
The wrong way is to use them as meal replacements for every meal of the day in an attempt to cut calories. This will likely backfire, as you will end up feeling tired and cranky, and your weight loss will probably stall.
The right way to use meal replacement shakes for weight loss is to use them as a supplement to a healthy diet. This means eating healthy meals for most of your meals and using meal replacement shakes for one or two meals per day.
This allows you to cut calories without feeling deprived or experiencing the adverse side effects that come with cutting too many calories.
It also ensures you get the essential nutrients your body needs to function optimally.
What are the Typical Ingredients in a Meal Replacement Shake?
Meal replacement shakes usually contain a mix of protein, carbohydrates, healthy fats, fiber, vitamins and minerals.
Protein
Protein is the most important ingredient in a meal replacement shake, as it helps to keep you feeling full and satisfied after drinking it. Protein also helps to build and repair muscles, making it an essential nutrient for active people.
Most meal replacement shakes contain around 15-20 grams of protein per serving. This is a good amount of protein that will help to keep you feeling full and satisfied without being too much.
The best meal replacement shakes usually use whey protein or a form of plant-based protein sources.
Carbohydrates
Carbohydrates are the second most important ingredient in a meal replacement shake, as they help to give you lasting energy. Carbs are also necessary for proper brain function.
Most meal replacement shakes contain around 20-30 grams of carbs per serving. This is a good amount of carbs that will give you lasting energy without being too much. That said, there are plenty low carb meal replacement shakes out there.
Typical carbohydrate ingredients in meal replacement shakes include oats, flax seed, brown rice and pea starch.
Healthy Fats
As I mentioned earlier, most meal replacement shakes do not contain enough healthy fats. This is a problem, as healthy fats are essential for hormone production, cell membranes and more.
For this reason, it's important to look for meal replacement shakes that contain healthy fats like omega-3 fatty acids. These healthy fats will help to keep you feeling full and satisfied while also providing numerous health benefits.
One of the biggest ingredients to look for that delivers healthy fats is MCT oil.
Fiber
Fiber is another essential nutrient that is often lacking in meal replacement shakes. Fiber helps to keep you regular while also helping to lower cholesterol and blood sugar levels.
Most meal replacement shakes contain around 5 grams of fiber per serving. This is a good amount of fiber that will help to keep you regular without being too much.
Typical fiber sources include oats, flax seed,
Vitamins and Minerals
Meal replacement shakes also usually contain a blend of vitamins and minerals. These nutrients are essential for proper health but often lack in our diets.
That said, most meal replacement shakes do not contain enough vitamins and minerals to meet your daily needs. This is why it's important to use them as a supplement to a healthy diet, not a replacement for healthy meals.
Benefits of Using Meal Replacement Shakes
There are many benefits to using meal replacement shakes, as they can help you to lose weight, get more energy and improve your overall health.
Convenience
Meal replacement shakes are the perfect food when you're on the go. You can take them anywhere and they don't require any cooking. Plus with all of these benefits, it's no wonder why people love their meal replacements so much, whether for camping trips or long hikes in nature areas near where I live (which is usually far away).
The convenience alone makes me feel like meal replacement shakes are a game changer in the world of nutrition.
Essential nutrients
Meal replacement shakes also offer complete and balanced nutrition, which is important for maintaining a healthy weight. They contain all the essential nutrients your body needs, including protein, carbs, healthy fats, vitamins and minerals. This makes them a great option if you're looking for a nutritious meal replacement. They also tend to be lower in calories than a regular meal, which can help you lose weight or manage your weight.
Weight management
Meal replacement shakes can also be helpful for weight management. They are typically lower in calories than a regular meal (especially the ones on this list), which can help you to reduce your overall calorie intake and lose weight. Additionally, the protein in meal replacement shakes can help to increase satiety and reduce hunger, making it easier to stick to your weight loss goals.
This Meta-Analysis in the International Journal of Obesity and Related Metabolic Disorders looked at six different studies and found that people taking meal replacements had "significantly greater weight loss" than people on a restricted calorie diet. (1)
Then there is also this study, a 40-week randomized, controlled clinical trial that included 90 obese adults. Half of the participants were given meal replacement shake diet, while the other half used a self-selected, isocaloric, food-based meal plan. Both plans were hypocaloric.
The conclusion of the study was, "Our data suggest that the meal replacement diet plan evaluated was an effective strategy for producing robust initial weight loss and for achieving improvements in a number of health-related parameters during weight maintenance, including inflammation and oxidative stress, two key factors more recently shown to underlie our most common chronic diseases" (2)
Final Word
Conclusion paragraph: So, if you're looking for a meal replacement shake that will help you lose weight, one of the 10 shakes we listed above should do the trick. But remember, it's essential to make sure you also follow a healthy diet and get plenty of exercise; no shake can magically make you thin without any effort on your part.
Do you have a favorite weight loss shake that didn't make our list? Let us know in the comments below.
References
Heymsfield, S., van Mierlo, C., van der Knaap, H. et al. Weight management using a meal replacement strategy: meta and pooling analysis from six studies. Int J Obes 27, 537–549 (2003). https://doi.org/10.1038/sj.ijo.0802258
Davis LM, Coleman C, Kiel J, Rampolla J, Hutchisen T, Ford L, Andersen WS, Hanlon-Mitola A. Efficacy of a meal replacement diet plan compared to a food-based diet plan after a period of weight loss and weight maintenance: a randomized controlled trial. Nutr J. 2010 Mar 11;9:11. doi: 10.1186/1475-2891-9-11. PMID: 20222968; PMCID: PMC2851659.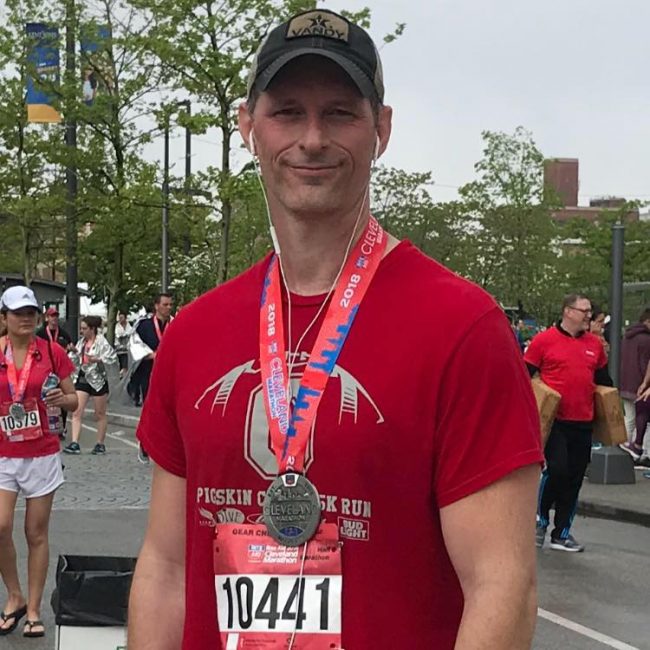 Ryan is a former college wrestler and lifelong fitness fanatic. He has run half marathons, done mud runs, placed in body transformation contests, coached wrestling and now coaches girls soccer. Not to mention he has also tried literally hundreds of supplements over the years and has a vast and thorough supplement knowledge. He has written for Muscle & Strength, Testosterone Junkie, The Sport Review and other publications. He is also the editor in chief of this website. Feel free connect with him on his LinkedIn page below.