(Last Updated On: January 6, 2022)
Inflatable football tunnels are all the rage these days. Friday nights are filled with excitement for the big game. That is where the inflatable football tunnels come in. There is no rush quite like the one you get when you run through an inflatable tunnel during player introductions. And for the players who don't get on the field, it is the only rush they get.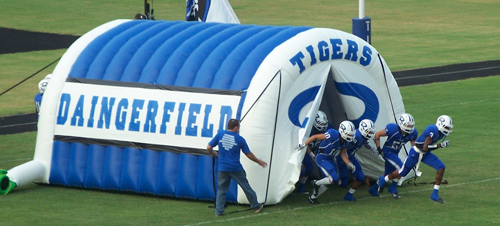 Back in my day, all we had to run through was a giant piece of paper, and the funny part is, we loved. It is actually something I still remember well all these years later. I couldn't even imagine how awesome it would be to run through a giant team tunnel or helmet or even a giant mascot. That is a memory that would last a lifetime.
The tough question is, who do you go with to make your tunnel? It isn't like you can just go to Walmart and pick up a custom tunnel. There are a lot of manufacturers out there, some are good, some are awful and some are from China. You want to go with the good ones.
Different kinds of sports tunnels
When it comes to sports tunnels there are a few different options you can go with. They are:
Regular Sports Tunnel
These are the most common and the most affordable. They come in your team colors with your name down the side and above the door and your team logo on the door. They can also have sponsor banners attached.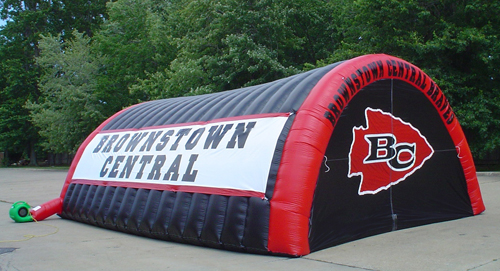 Football Helmet Tunnels
These are also pretty common but are a bit more pricey than the regular sports tunnel. You get a giant inflatable replica of your team's helmet where the players run out through the facemask. It comes in the same colors, stripes, and logo as your helmet and you can also have a tunnel behind it or just the helmet by itself.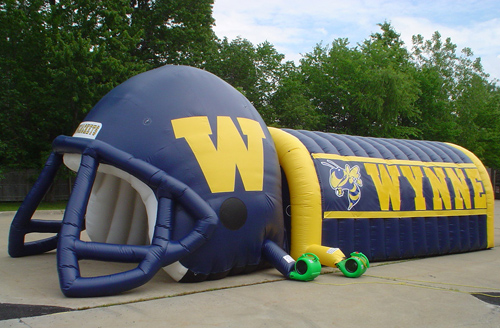 Mascot Tunnel
This is a newer trend where you have the mascot on the end of the tunnel and it can be surprisingly affordable. It also comes in your team colors with the name down the side. Some mascots even where the team's jersey.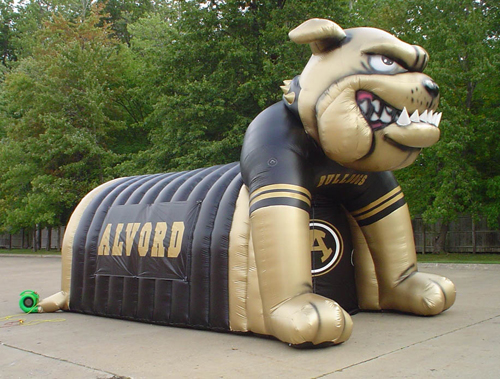 Head Tunnel
These are really cool and look awesome, they are also the most expensive. The tunnel is a giant mascot head where the teams run out of the mouth. It can come in standard colors or your team colors.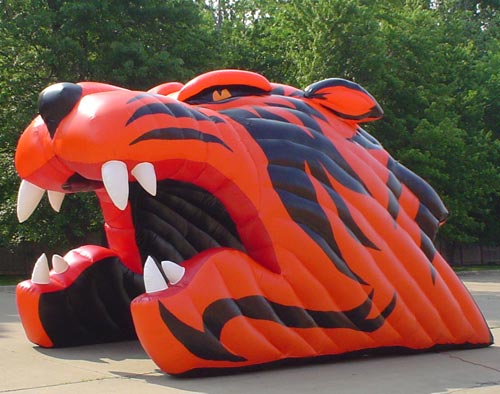 Custom Tunnel
This is sort of the miscellaneous category that all the rest would fall into, logo tunnels and other interesting tunnels that don't fit into any of the other above categories. These can also be very pricey and long to produce.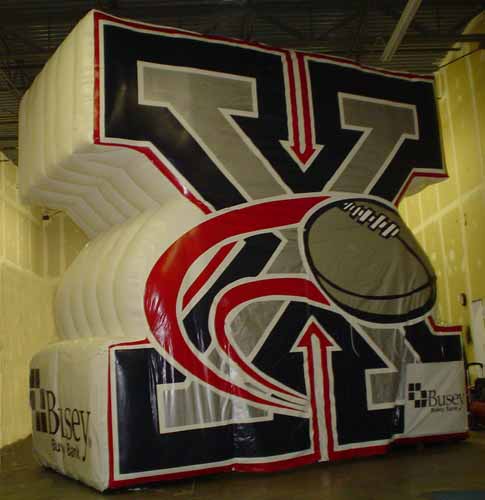 What to look for in a manufacturer?
Here are some things to consider when looking for someone to make your inflatable tunnel. They are not cheap so you best choose wisely.
Made in the USA – This is a big one. Can you get it made for less in China? Yes, but the quality is generally very poor, it takes forever to receive and if you have trouble with it good luck returning it or getting your money back, you are screwed. If you learn anything from this article it should be to avoid buying from China or you could easily get burned.
Use someone reliable – Now that we have warned you on buying from China let's talk about reliability. Some companies say they will deliver by a certain time and then you get left out in the cold once they have your deposit. Then you end up getting your inflatable much later than anticipated and sometimes after the season is over. Luckily we have done the research and have eliminated all the unreliable manufactures.
Design capabilities – If you are looking for a unique tunnel or mascot that will need to be designed then that can be a bit more difficult and not all manufacturers can do that. They just are set up to make tunnels and maybe helmets and that is it. We have found the ones that can design and manufacture something you will be proud of.
Easy to work with – The manufacturer should be easy to work with from start to finish. All call and emails returned and they should be professional and respectful.
Best Sports Tunnel Manufacturer
We have broken it all down, made all the calls, read all the reviews, acted as a customer to test them all out and only one came out on top. Here is the winner:
Big Productions Inc.
These guys are total pros. They are located on Oberlin, Ohio and run a nice tight ship. You get a free custom drawing to see how your tunnel will look before you buy and if you want anything changed on the drawing they get it done fast and make sure it is right. This way everyone is on the same page.
The production is quick and they are honest with how long it will take to get it made. Delivery time is usually about 2-4 weeks depending on what you are ordering and you can check with them any time to see how your tunnel is progressing. They also show you pictures of the finished product once it is done before it ships to make sure everything is just as it should be. Shipping takes 1-5 days depending on where you are in the county and most sports tunnels ship UPS.  If you are looking for a tunnel of any size Big Productions should be the first place you call. They are the real deal and you won't be disappointed.
For more information check out their website at www.bigproductionsinc.com or call them at 440-775-0015.