Can you tell us your thoughts on 14.2 going in and your performance?
Well I ended up redoing this wod. I performed it Saturday and ended up getting a 202. That was eating away at my brain for 2 days, I couldn't stand it and ended up going at it again today. After hitting it a second time I was able to improve and my official 14.2 score is 248. I told myself from the get go I would not be that girl who redid a WOD. You don't get second chances at competitions, so why should I give myself one now. But, being beyond competitive and stubborn, I decided to go against my original thoughts and go again. Mark my words, I will NOT be giving myself that option again. A WOD is a one and done type thing for me….
How was it having the people from Crossfit filming you this weekend?
It was crazy! I never would have thought that I am someone that Crossfit HQ found interesting enough to film/interview for a day 🙂 It was a HUGE honor and an even bigger compliment! I only felt bad because my performance wasn't where it should have been.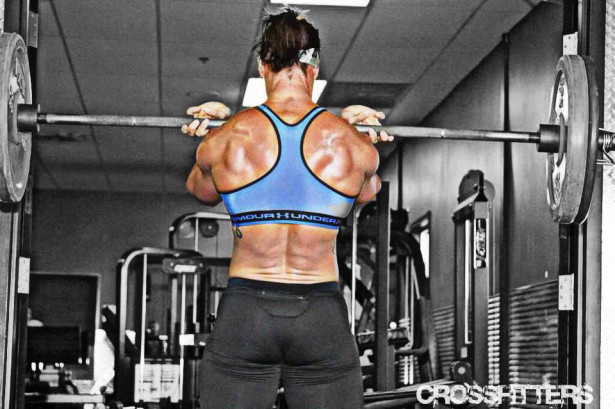 Your put your daily diet on your blog, what does your diet look like today?
Today was a little off because I changed the time of my workout and ended up staying at the gym a lot longer than normal. I typically have 4 meals in before I start to train today I only had 3. I also went longer without eating because of how long I stayed at the gym. So I may end up being 1 meal short. I tried to make up for it by having REAL food directly after my WOD instead of a protein shake. Recovery is KEY at this point. I have to stay on top of my game and nail these training days!
Random question – Are you glad it is finally starting to look and feel like spring?
I was a little mad because the other day I had a running WOD (4rnds of 800m RUN, 50 DUBS, and 20 Dead Lifts) and it was 20 degrees out and the past few days it has been warm! Besides that I have LOVED it. I can't wait to start doing work outside. Walking around the block pulling a sled or my Truck and flipping tires in the parking lot at the gym!
Danielle Sidell
Facebook Page: www.facebook.com/pages/Danielle-Sidell
Website: www.daniellesidell.com
Instagram: @dani_sidell
Twitter: @Dani_Sidell
Youtube: www.youtube.com/user/DanielleSidell