(Last Updated On: June 22, 2022)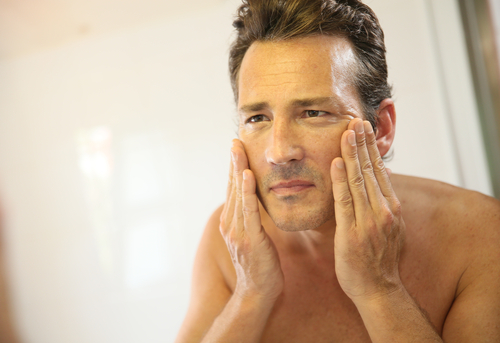 Looking for an anti-aging cream for men that can refresh your face and make you look younger?
Keep reading, you have found what you're looking for!
For men, over 30 years old anti-aging creams are the best way to look healthier and look younger. These anti-wrinkle creams for men tackle common problem areas such as dull skin, eye wrinkles, forehead wrinkles, and mouth wrinkles.
Active anti-aging ingredients power these face creams to give you a better-looking face that will see people complimenting you on your skin daily. We've looked at the most effective ingredients and only included the creams with ingredients that have the highest efficacy.
Anti-aging creams work with your skin to reverse signs of aging and renew your face. There are loads out there, in this article you will find out what the best anti-aging creams are for men and why they work at making you look younger.
Best Anti-Aging Creams For Men
Best Anti-Aging Cream For Men Overall – Liomen
Best Anti-Aging Moisturizer – Particle
Best Anti-Aging Vegan Cream – Algenist
Best Anti-Aging Korean Skincare – Venn
Best Anti-Aging Day Cream – Brickell
#1 Liomen Best Anti-Aging Cream For Men Overall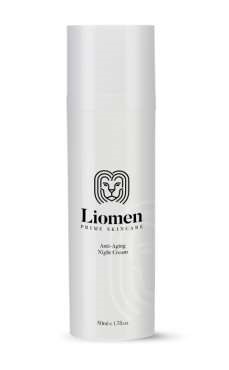 Liomen has scientifically formulated a face cream that works faster and better than anything we've ever seen. Earning the top spot as the overall best anti-aging cream for men is Liomen. They have clearly done their research and made an outstanding cream that works fast to make you look healthier and younger.
Working with your skin to achieve real visible results is what Liomen does best. Healthier and younger-looking skin is their forte. As a single product brand, their focus is specializing completely in anti-aging for men. With all their resources directed towards male anti-aging, Liomen have crafted the fountain of youth in a bottle for you.
Clinically proven powerful anti-aging ingredients that include Retinol, Collagen, Hyaluronic Acid, Vitamin E, Aloe Vera and natural botanicals all work rapidly with your skin. Using their unique 3-step Renew, Refuel and Reverse all-in-one formula, Liomen erases wrinkles leaving you looking healthy.
As a night cream that takes seconds to apply, Liomen is easy to use. No more leaving the house in the morning rush and forgetting to apply your cream! By packing their potent formula into a once-daily application at night before bed it means you remember to use it every day. With daily use you're guaranteed to see the benefits at work and at home of healthy and younger-looking skin.
Talking of guarantees, Liomen offers a full 90-day money-back guarantee. This means you can try Liomen with complete peace of mind.
In summary, Liomen has it all. Clinically proven anti-aging ingredients, all-in-one anti-aging formula for men, easy to use, and a long, long money-back guarantee. All of this adds up to Liomen being the best anti-aging cream for men overall.
Pros
Clinically proven anti-aging ingredients
Soothing cream that sinks rapidly into the skin
90-day money-back guarantee
Free worldwide shipping is available
Easy to use taking just seconds to apply
Cons
Only available directly from Liomen
---
#2 Particle Best Anti-Aging Moisturizer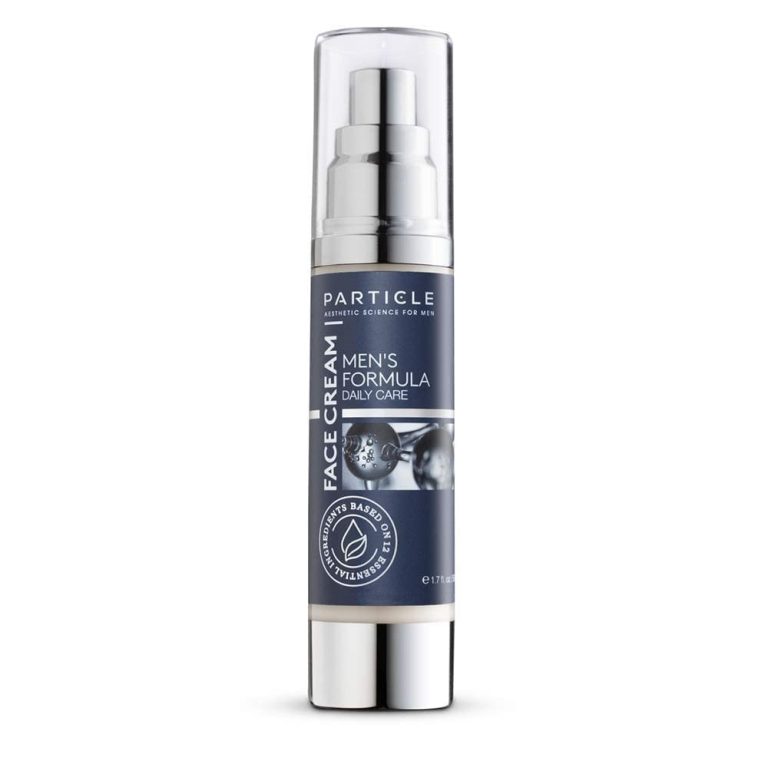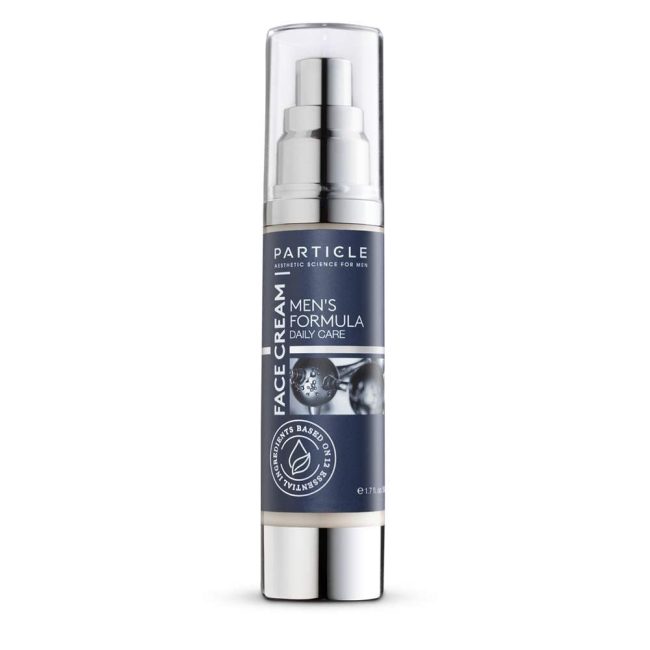 Particle Face Cream has been developed by bioesthetic scientists. This means they know what they're doing when it comes to formulating an effective anti-aging moisturizer.
Having a look at the ingredients, Particle blends powerful moisturizing ingredients like
Glycerin, Shea butter, and Hyaluronic acid to moisturize your skin and erase wrinkles; SymWhite, Vitamin C, and Niacinaminde to brighten dulled skin tone along with Jojoba Oil and Allantoin to help with irritation from shaving.
So, what can you expect once you start up with Particle Face Cream? As an anti-aging moisturizer, you'll notice an improved effect on your skin in the form of softness and less irritation. Over time, typically in around 2-3 weeks, changes will be noticeable to others, too.
Particle advises to begin by using it once a day, and if tolerated, work up to both morning and night applications for maximal efficacy.
As far as anti-aging moisturizers go Particle is the best there is out there. Whilst it doesn't have the clinically proven active anti-aging ingredients such as Retinol and Collagen that Liomen has, Particle still packs a punch. If you're just looking for a moisturizer this cream will work for you.
Pros
Solid moisturizing ingredients
30-day money-back guarantee
Free US shipping
Cons
Twice daily application takes time out of your day
---
#3 Algenist
Best Anti-Aging Vegan Cream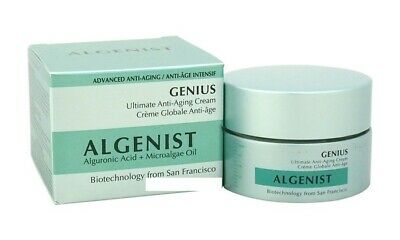 The primary ingredient infused throughout the Algenist brand is Microalgae making it 100% vegan. Can you guess where Algenist get their name from? This Microalgae is such an important part of the brand that it's the reason Algenist claims their anti-aging cream is able to drastically reduce the signs of aging in your skin in as little as 10 days.
The Microalgae component that is so beneficial to your skin is Alguronic Acid, which is Algenist's patented and exclusive ingredient. Sustainably produced, naturally sourced, and used in all of Algenist's formulas to boost the performance and benefits. Alguronic Acid is responsible for regenerating and protecting the algae cell in nature. Believing that this process could be duplicated when instilled into skincare, Algenist harnesses this regenerative power to provide Algenist skincare that claim superior anti-aging abilities.
Another ingredient that Algenist uses is Microalgae Oil. This proprietary Algenist ingredient is rich in nutrients like Oleic Acid, Phytosterols, and Tocopherols. These nutrients help to replenish, moisturize, and protect the skin. Based on results from an in vivo test of 26 women, microalgae oil has the ability to keep skin hydrated 5 times more after 24 hours than untreated skin.
Leading the way in vegan anti-aging creams is Algenist and being available in retail stores is a bonus.
Pros
Vegan formula and ingredients
Sold in retail stores
Cons
No money-back guarantee
Twice daily application costs you time
---
#4 Venn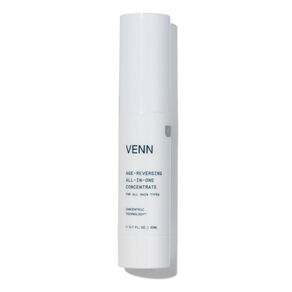 Best Anti-Aging Korean Skincare
Korean skincare is held in high regard worldwide. With smooth skin and timeless faces being common in Korea there has been a boom in demand for Korean anti-aging cream brands.
With that in mind, we found the best of the best that Korea has to offer. Enter Venn, a clinically tested anti-aging cream that hydrates skin and reduces the appearance of wrinkles.
Venn uses their patented technology to hydrate skin and reduce the appearance of wrinkles. Solubilization Technology, Multi-Layer Vehicle Delivery Technology and 3D Hydration Technology work with their proprietary Concentric Technology to deliver high-performance results.
What does all that actually mean? Venn say that it means an "Extensive multi-step routine streamlined and optimized into one supercharged formula". In other words, you can expect results.
The main downside to Venn is its sky-high price tag, at $185 a bottle this brand is definitely at the top of Korean skincare.
Pros
Clinically tested
Popular brand
Cons
Twice daily application takes time
Expensive at $185 a bottle
---
#5 Brickell Best Anti-Aging Day Cream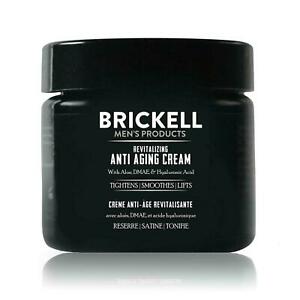 Brickell is a well-known brand in men's grooming. With everything from beard care to hair care, they also have a large skincare range. With this experience in men's grooming, they have created an anti-aging day cream that is impressive.
With this anti-aging day cream, the focus is on three main ingredients for its anti-aging benefits. Vitamin C, MSM (Methylsulfonylmethane), and Borage Oil lead the ingredients list on the jar. Vitamin C helps to stimulate the production of Collagen. MSM is a nutrient found in superfoods such as spinach and kale which reduces age spots and evens out skin color. Borage Oil is a natural source of Linolenic Acid which moisturizes and restores smoothness to the skin.
Once-daily application is recommended by Brickell, but they also say this anti-aging cream can be worn up to two times a day if needed for better results. It's fast-absorbing and leaves no residual stickiness on the skin's surface which is important for a day cream as you head out to face the world on a morning. You'll notice a real change to your skin's texture as it looks and feels resurfaced.
Pros
30-day money-back guarantee
Free sample kit available
Cons
Day creams aren't as effective as night creams
Not for all skin types, only for dry or normal skin
---
How We Ranked The Best Anti-Aging Creams For Men
There are key factors when looking at men's anti-aging creams that sort the rough from the smooth. If you want to know if a cream is worth it, use the criteria we have looked at to help you decide.
Ingredients
By far the most important element of an anti-aging cream for men is the ingredients. At worst your skin will react to bad ingredients, and you'll end up with a face that no one wants to see. At best you'll take years off your face and people will be complimenting you everywhere you go. Look for active ingredients like Retinol, Collagen, Hyaluronic Acid, Vitamin E, and natural ingredients like Aloe Vera. These have all been clinically proven to be anti-aging and if you want to look younger get a product that has these ingredients.
Reviews
Results matter. Have other people tried this anti-aging cream and seen results? If they have before and after pictures with clear visible results then you know that it will work for you. Reviews of the cream are important to know if it will really work for you.
Price
Skincare prices vary massively. Whilst a higher price indicates a higher quality anti-aging cream this isn't always the case. Look out for how much cream you get, if one brand lasts a week versus another brand that lasts a month for the same price then beware. Go for a midrange high-quality anti-aging cream as a general rule.
Money-Back Guarantee
Some companies don't offer a money-back guarantee at all, others offer a basic 30-day money-back guarantee. Anti-aging can take time and 30 days may not be long enough for you to see the results you're looking for. Companies that offer more than a 30-day money-back guarantee are best, if you can find a 90-day money-back guarantee then you've got the time to see results and 100% peace of mind.
What Are Anti-Aging Creams For Men?
Want to stay looking in your prime? Anti-aging creams help men look healthier and younger.
They are creams applied to your face that help your skin rejuvenate to give you a fresh face.
What To Look For In A Good Anti-Aging Cream For Men?
Night creams work the best at anti-aging as they work with your skin as it repairs and renews itself overnight.
Look for a cream that has a pump bottle container as this will shield the active ingredients from light and air which degrade them. A tub or jar will lose potency quickly and is less hygienic.
We looked at the latest scientific studies and found that Retinol, Collagen, Hyaluronic Acid, and Vitamin E have the highest efficacy with natural Aloe Vera also showing good results. Look for these ingredients to see rapid results in your anti-aging skin cream.
Do Anti-Aging Creams For Men Work?
Many do and many don't. Some brands overstate their anti-aging ability and customers are disappointed when they don't see the results they were promised. High-quality brands often exceed customer expectations and deliver skin that looks years and years younger.
There are great anti-aging creams out there that work with proven results from happy reviewers. As a man this is good news, there are anti-aging creams that will give you a healthier and younger look.
Frequently Asked Questions
Are anti-aging creams safe to use?
Anti-aging creams from reputable brands are safe to use. They have been dermatologically tested and proven to be safe for your skin.
Which anti-aging ingredients are the best?
Retinol, Collagen, Hyaluronic Acid and Vitamin E are the anti-aging ingredients that have the highest scientific backing. With numerous studies clinically proving that each of these work for anti-aging, these are the best anti-aging ingredients.
Botox vs anti-aging creams, which is better?
Botox works, there's no doubt about it but there is a risk. Not all Botox procedures go as planned. Botox is a drug that works by temporarily paralyzing the muscles in your face to smooth out wrinkles. To achieve this, Botox is injected into your face. Injecting drugs has risks, and your face can look worse after Botox. Anti-aging creams do not work in the same way as Botox does and therefore have none of this risk. We're sure that anti-aging creams are better and confirmed as being safe.
Is a day cream or night cream the best for anti-aging?
Your skin's needs change from day to night. During the day, your skin needs protection while at night it needs replenishment and renewal. During the day, your skin needs shielding from the elements such as dirt, pollution, and sun damage. If you're outside all day then a high-strength sun cream can do this for you. If you work inside then your skin is sheltered and safe. At night, your skin gets to work repairing and regenerating itself. This is when your skin is most receptive to face care products and why a night cream will always be better than a day cream. A night cream that penetrates deeply into your skin, moisturizes it, and prevents and reverts signs of aging such as fine lines, forehead wrinkles, eye wrinkles, eye bags, and loss of skin elasticity, is best for anti-aging.
When will I see results from using an anti-aging cream?
High-quality anti-aging creams for men produce small visible results within days and longer-term benefits are usually seen within weeks. Our best overall anti-aging cream is Liomen and this cream has both fast visible changes with longer-term results.
Conclusion
There you have the top 5 anti-aging creams for men. If you're looking for the best way to look healthier and younger, a high-quality anti-aging cream will work for you.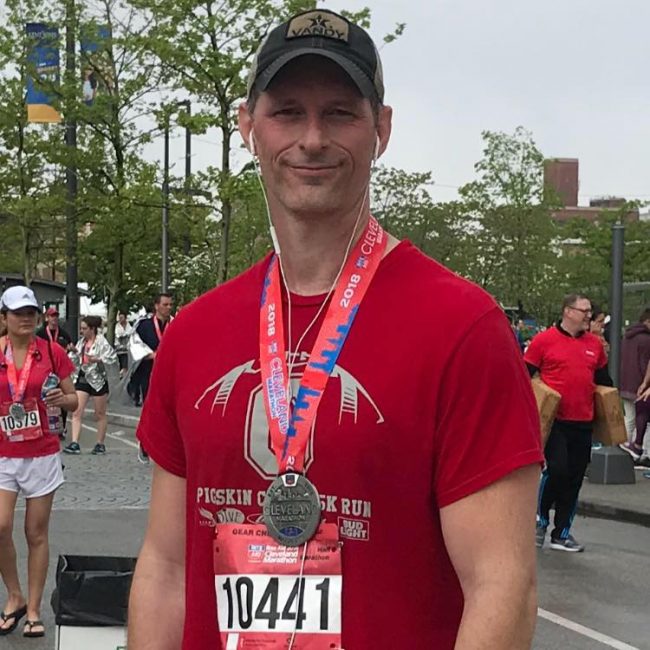 Ryan is a former college wrestler and lifelong fitness fanatic. He has run half marathons, done mud runs, placed in body transformation contests, coached wrestling and now coaches girls soccer. Not to mention he has also tried literally hundreds of supplements over the years and has a vast and thorough supplement knowledge. He has written for Muscle & Strength, Testosterone Junkie, The Sport Review and other publications. He is also the editor in chief of this website. Feel free connect with him on his LinkedIn page below.