Paleo principles are fairly basic- I like to think of it this way- lots of lean meat, veggies, nuts, seeds, healthy fats, minimal starch, no sugar. Or if you operate in terms of what to AVOID- it's a no grains, no legumes, no dairy, no soy approach.
Paleo is more than a diet—it's a lifestyle and "living Paleo" means much more then simply re-examining the food you eat, however, for most of us, the curiosity about the Paleo approach begins with food. What is Paleo? How will is change the way you eat? The way you feel? The way you look? I encourage people to think of Paleo less as a "diet" and more of a framework" or an "approach". It's a way of thinking about your body and about the food you choose to fuel it with.
The Paleo approach is designed to keep an active body properly fueled throughout the day, which is why it's the preferred dietary protocol for crossfitters.  Although this approach is only just finding ground in the realm of physique athletics (bodybuilding, fitness, figure, bikini), if you lead an active life, Paleo is a perfect fit.
I have been a practicing Paleo athlete for over a year now and have successfully prepared myself for the stage 4x using Paleo methods. I've never felt better. I've never been leaner. I've placed top 5 in each show I've prepared for as a Paleo athlete. I sleep well, maintain a high energy level throughout the day, and keep my metabolism humming along. My digestion is great and my body is strong. I don't feel deprived, I don't feel starved- and (here's the great part)- I very rarely count calories, count macros, or log my dietary intake.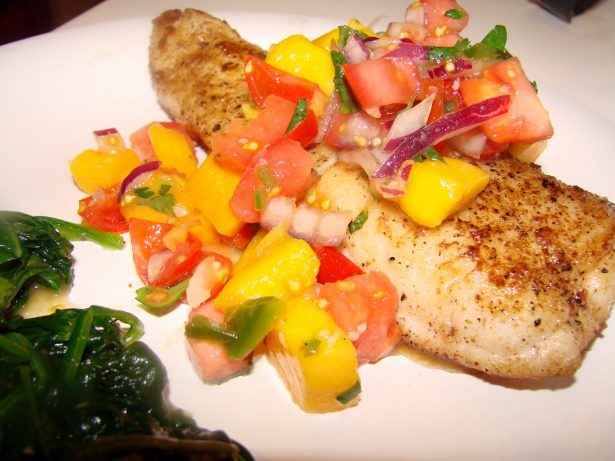 Paleo may seem complicated if you're a newbie, but you'll find that it's easy to maintain and simple to follow. It's a framework really- and within that framework you have freedom to experiment with food types and macro amounts that work best for you, your body, and your lifestyle. It's a delicious way to eat- and incredibly sustainable. Nearly any meal can be made "Paleo". My blog, fitpaleo.com is home to dozens of recipes I use and have used in my own Paleo approach, and I've dipped into the FitPaleo vault to offer up some Paleo replacements to common bodybuilding and fitness style meals.  Try swapping some of your standard meals out for the meals below and pay attention to how you look and feel! You just may be the newest addition to the Paleo community!
MEAL 1: BREAKFAST
THE BODYBUILDING STANDARD: Whole eggs or egg whites with oatmeal
THE PALEO APPROACH: Egg white flax scramble with Sweet Potato Hash
For the egg white scramble:
1 TBSP flaxmeal

1TBSP flaxseed

4 egg whites
Combine all ingredients together and whisk well. Scramble in pan until done.
For the sweet potato hash:
½ cup shredded sweet potato (use a peeler and peel the skin from the sweet potato, and discard. Continue using the peeler and peel off ½ cup's worth of "shredded" sweet potato strands)

½ tsp garlic powder

½ tsp onion powder

½ tsp chili powder

Sea salt and black pepper

1 tsp coconut oil
Warm up a pan on the stove and add the coconut oil. Toss in the sweet potato and brown for a minute or two. Add the spices and continue to cook until well done and crunchy. Remove from heat, plate, and top with the egg white flax scramble.
MEAL 2: SNACK
THE BODYBUILDING STANDARD: Chicken and Broccoli
THE PALEO APPROACH: Lean Pork Tenderloin with Sweet Apple and Onion Garnish
For the Pork Tenderloin
4-5 ounces LEAN pork tenderloin, trimmed, fat removed

Sea salt and black pepper

1 tsp EVOO

¼ cup low sodium free range chicken stock
Warm the EVOO In a pan over the stove. When the oil is hot, add the pork tenderloin and season to taste.  Add the chicken stock and allow to reduce as the tenderloin cooks evenly on both sides.
For the Sweet Apple & Onion
4-6 ounces apple, skin removed, cut into pieces

1/3 cup chopped onion

Sea salt and pepper

1 tsp Ghee
In a pan over the stove warm 1 tsp ghee. Keep the heat LOW. Add the onion and cook slowly, until translucent and then add the apple, stirring slowly and cooking at a low temp. When the apples are soft remove and top the pork tenderloin with the apple and onion.
MEAL 3: LUNCH
THE BODYBUILDING STANDARD: Ground Beef and Salad
THE PALEO APPROACH: Bunless Bison Burger with Macadamia & Avocado Greens
For the Bison Burger:
3 ounces uncooked grassfed bison

1 egg white

2 TBSP chopped onion or shallot

Pinch garlic powder

Sea salt and black pepper

Pinch mustard powder
Combine ALL ingredients together in a bowl, mixing well to combine. Form into a "patty". Sautee in a pan over the stove, or cook on a grill top until well done. Set aside.
For the Macadamia & Avocado Greens
1-2 cups baby spinach

1 tsp macadamia nut oil

½ ounce chopped macadamia nuts

2-4 ounces avocado

4 cherry tomatoes

1 TBSP Balsamic Vinegar
Plate the greens. Whisk together the Balsamic Vinegar and Macadamia Nut Oil and set aside. Top the greens with the nuts, avocado, and tomatoes. Pour dressing over the salad.
 MEAL 4: SNACK
THE BODYBUILDING STANDARD: Tilapia and Brown Rice
THE PALEO APPROACH: Garlic Lemon Hake with Spaghetti Squash and Roasted Carrot Fries
For the Garlic Lemon Hake:
1 hake fillet (4-6 ounces)

1 TBSP lemon juice

1 TBSP fresh chopped garlic

1 TBSP coconut aminos

1 tsp Tahini (sesame butter)

Pinch sea salt
Preheat the oven to 350 and line a baking sheet with foil. Spray lightly with coconut oil spray. Mix together ALL ingredients aside from the fish until well combined. Using a basting brush, brush both sides of the fish evenly. Place on the foil and cover using another sheet of foil. Cover LOOSELY, just enough so that the fish steams up in the dressing without burning. Cook until done.
For the Spaghetti Squash
1 small spaghetti squash (note this yields several servings)

Sea salt and black pepper
Preheat the oven to 400 and halve the squash. Place on a baking sheet lined with foil in the oven. Cook until the skin of the squash "gives" or "bounces" back when pressed. Remove and scoop out the seeds. Discard. Then, using a fork, "shred" the squash into spaghetti like strands.
For the Carrot Fries
1 bag pre cut carrot sticks

1 TBSP garlic powder

1 tsp onion powder

Sea salt and black pepper

1 TBSP EVOO
Preheat the oven to 375. Combine the EVOO and seasonings in a bowl, using a whisk or fork to mix well. Add the carrot sticks and toss well to combine. Place on a baking sheet lined with foil. Place in oven and cook approx 10-15 minutes (depending on oven strength). Remove and flip the fries, or shuffle them around. Return to oven for another 10 minutes.
MEAL 5: BEFORE BED
THE BODYBUILDING STANDARD: Casein Protein Powder and Greek Yogurt
THE PALEO APPROACH: Cacao Coconut Ice Cream Smoothie
You will need:
2 scoops raw coconut ice cream

1 TBSP coconut oil (melted)

1 scoop vanilla egg white protein powder

1 tsp raw cacao powder

1 TBSP Coconut Nectar

2 TBSP reduced fat shredded coconut

½ cup light coconut milk

1 TBSP raw cacao nibs

Ice to taste
Combine the raw coconut ice cream, protein powder, cacao powder,  coconut nectar and coconut milk in a blender. Add ice as desired. Blend until a thick, smoothie like consistency. Top with the melted coconut oil, shredded coconut and raw cacao nibs.
BONUS: Pumpkin Carrot Cake PWO Shake
You will need:
¼ cup pumpkin puree

½ cup light coconut milk

1 scoop vanilla egg white protein powder

1 small jar carrot baby food

1 tsp- 1 TBSP cinnamon

1 tsp ginger

1 tsp nutmeg

Ice to taste
Place ALL ingredients in a blender and pulse until smooth! ENJOY!
For more Paleo recipes and information on the paleo approach as applied to physique athlete visit www.fitpaleo.com and www.predator-diet.com

Allison Moyer B.S, C.P.T, C.S.N
Allisonmoyer@live.com
www.alli-fitness.com