(Last Updated On: September 14, 2017)
I always have had an affinity for sports and physical fitness. As a gymnast, I was familiar with the basics of body weight movements and the effort required to be an athlete.  I took a break from gymnastics for wresting, and returned to gymnastics throughout college. After graduation, I started weight lifting, more for the aesthetics. I worked on the upper body, bench press, arm curls and shoulders, but not much work on the legs.  Legs don't pop out of a shirt!
Growing tired of the gym environment indoors; I wanted to try something else. A friend challenged me to do a ½ marathon.  I hated running, but I'm always up for a challenge.  After completing the ½ marathon in what I would now call walking pace, I started mountain biking.
I enjoyed mountain biking much more than running, and I completed a couple  24-hour races as part of a team. I was challenged to do a full marathon and once again I accepted.  We did the Tucson marathon; it is downhill running which is supposed to be fast.  Not so, if you don't train for it!  I completed it, but at a very slow pace. Next came the Ironman, a 2.4-mile swim, 112-mile bike ride and a 26.2 mile (marathon) run.  I decided I needed a coach, and I hired one, Nick Goodman of DuraPulse. He is now the head coach at my facility. With Nick's help, not only did I complete it, I actually enjoyed it.
The ultra-marathon was next on the list.  Remember, I was not a runner nor did I particularly enjoy running, but when your best friend challenges you there aren't many options.  I trained and trained for the first ultra, which happened to be outside of Tucson in the mountains.  I finished but had to walk the last 20 miles cause of an injury.
The entire time I was training for these events I was also going to the gym, but with no real purpose other than to "workout".  I was always researching for the best performance nutrition and different more effective ways to exercise, but I was doing what I believed would keep me fit and active. Nothing more.
Looking for something new and different, I found a gym that did strongman and lifting.  I was the smallest guy in the gym by a wide margin, and one with the smallest legs, but I enjoyed the lifts, new challenge and seeing my progress with goals.
Then I heard about this thing called CrossFit.  I told my coach and we both looked into it.  I started doing "CrossFit like" workouts and fell in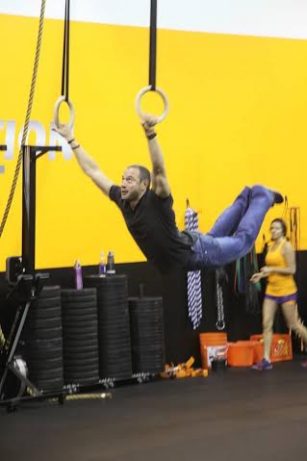 love with it.  Shortly thereafter I joined a CrossFit gym, and knew that I had found my calling.
CrossFit! The sport I had been looking for!  I started to actually enjoy working out again after years of searching.  I decided that this is what I wanted to do…help people become physically fit!  I opened a CrossFit gym in North Scottsdale, AZ.  Power in Motion CrossFit, soon renamed Power in Motion Institute.
How did CrossFit capture my attention and devotion when all the others couldn't?  First, the diversity of their workouts.  The definition of CrossFit is "constantly varied, functional movements performed at high intensity." "Constantly varied" means you rarely, if ever, do the same workout twice unless they are benchmark workouts to test your progress.  That kept it fresh and challenging and eliminated boredom.
Second, the community.  CrossFit is the only sport I know, were they cheer for the last place person more than the first-place finisher! How cool is that?  It's one big happy supportive family.
Third is longevity. CrossFit is a sport I can do for the next 40 years and still have fun.  I have had less injuries doing CrossFit than I've had in any other sport.
The fourth reason I chose CrossFit over all others is "lifestyle".  This is a lifestyle that will keep me healthy, happy and younger than my chronological age. Through it, I can follow my passion for health and wellness, through my gym, high-end fitness and nutrition consulting company and now I even give back through our upcoming coffee lounge benefiting the Special Operations.
Thank you CrossFit for all you have done for us.
About the Author
Joshua is the owner of powerinmotioninstitute.com and goalcountable.com. Be sure to follow him on Facebook and Twitter for more great