If you are looking to take your workouts to the next level, then a good pre-workout supplement would be a great place to start. They have become increasingly popular over the years and for good reason, they are very effective.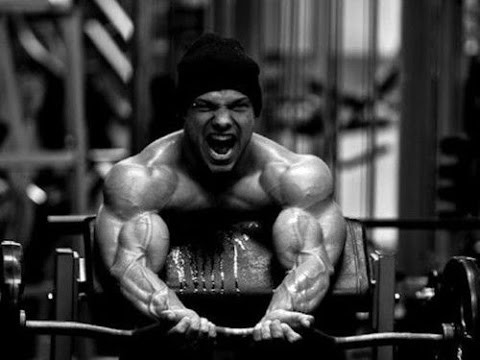 What does a pre workout supplement do?
A good pre-workout works in several ways really. They have ingredients that will increase your level of focus so you can stay on task in the gym. These supplements will also increase energy levels so you have energy to crush your workout even on days you may be feeling sluggish. They even have ingredients like creatine and Citrulline Malate that will help increase strength and power. Some of them even have ingredients to give you an increased muscle pump to have you feeling and looking like a god during your workout.
What are the Best Pre-Workout Ingredients?
If you are looking to get the best supplement out right now you need to find the ones that have the best ingredients. The best and most effective ingredients when it comes to a pre-workout are:
Citrulline Malate – This one is a definitely one of the best ingredients when it comes to pre-workout supplements. Citrulline Malate has been shown in studies to increase strength and power as well as endurance. Many pre-workouts use this ingredient, but more should be doing so.
Beta-Alanine – Beta Alanine is pretty common in pre-workouts. This ingredient has been shown to delay muscle fatigue and is also the one that give you that tingly feeling. If you are not a fan of the tingling you will want to look for a pre-workout without Beta Alanine.
Creatine Monohydrate – Creatine has been shown to be the most effective supplement when it comes to increased strength and power. Add it to a pre workout and you are ready to do some serious muscle building.
Taurine – You need to have tuarine in any supplement that has Beta-Alanine. This is because the beta-alanine interacts with the taurine in your body and if you don't put taurine in the supplement you can get a deficiency.
Caffeine Anhydrous – This one is a rather obvious one. Most pre-workouts have caffeine in them, sometimes a rather large amount to help get you amped for your workout. It also is effective at reducing perceived exertion and muscle pain during exertion.
Betain Anhydrouse – This ingredient is a solid muscle builder and decreases muscle fatigue while training. It has also shown that it can raise your HGH and decrease cortisone levels. This is another important ingredient that the best pre-workout supplements have.
What to avoid in a pre-workout?
Proprietary blends
One of the bigger problems in the supplement industries these days is proprietary blends. This is where the manufacture puts a bunch of ingredients into a mixture called a blend. The problem is, they only tell you how big the blend is, they don't tell you how much of each ingredient is in the blend so you have no way of knowing.
It is always best to have things be transparent and have clear labeling especially on supplements to avoid side effects.
Yohimbe
This one can be somewhat common in supplements but it is best to avoid if you can especially in higher doses. It has been linked to anxiety, sleeplessness and even panic attacks.
Artificial Dyes
Dyes are something you want to avoid if possible, many companies as dyes to make it look nice when you mix it up. This one can be hard to avoid but there are some out there without dyes in them.
Geranium
This one has been banned, but you might still find this ingredient in a pre-workout if you buy outside the USA, Canada, UK or Australia.
Geranium will mess you up. It can cause rapid heartbeat, high blood pressure and a high risk of stroke and heart attack. Not good. Avoid it if you ever come across it.
The Best Pre-Workout Supplements Out Now
We know this is what you have really been waiting for. What are the best pre workout supplements right now? We have done the research on the companies, ingredients and read the reviews and have the best 5 available for you below.
1. PreSeries Bulk by Transparent Labs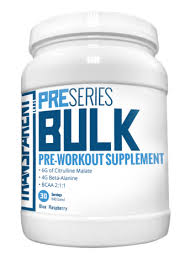 Coming in first place for the best pre-workouts out now we have PreSeries Bulk by Transparent Labs. This one is a new one that has been out for less than a year and it is taking pre-workout supplements to a new level.
The reviews on PreSeries Bulk are top notch and so are the ingredients. This bad boy will have you ready to dominate the gym like never before with renewed energy and focus.
They start off with a large dose of Citrulline Malate which is a proven ingredient for strength, power and even endurance. Then they couple that with Betain Anhydrouse and a strong dose of Beta-Alanine, these two work to increase HGH and lower cortisol as well as delay muscle fatigue. They also use a nice dose of caffeine, enough to get your energy levels up, but not so much that you get the jitters.
We also like that they include a large dose of BCAA's and Mucuna Pruriens to keep you on focus throughout your workout.
Preseries Bulk is different in that it also uses a Testosterone support complex of zinc, boron and Vitamin D3. As you probably know testosterone is the main hormone for muscle growth so having this complex is in a pre-workout is pretty awesome. Looking at the ingredients overall it has everything you would want in a pre-workout if you are looking to add muscle and strength and also have a great workout each time you step in the gym.
The nice thing is if you aren't looking to add muscle and are looking to burn fat and get lean they also make PreSeries Lean. This is a slightly different formula that is designed to deliver awesome workouts, build strength and burn fat with its Thyroid Complex. Whichever you are looking to do they have you covered with the best pre workouts on the market right now. They even make a stimulant free version for those who might be sensitive to caffeine and other stimulants.
They also have a coupon code you can use "TL10" to save 10% on your order at checkout. Or you can pay full price if you really want to.
Pro's
Testosterone Support Complex
Excellent reviews
Coupon code TL10 saves 10%
Large dose of the Citrulline Malate for strength and power
No dyes or additives
Made in the USA, not China
Not too much caffeine like others have
No proprietary blend
Has a version for people looking to lose weight and a stim-free version
Con's
Only available on company website, not in stores.
Conclusion
Preseries Bulk comes in first place with its large doses of the best ingredients, clear labeling and testosterone complex. The reviews are great and they are all true. For now, this one is the top pre-workout on the market without question. New products come out all the time though so someone will probably pass them before long with something even better. Until then, PreSeries Bulk is king!
Website – transparentlabs.com/preseries-bulk-preworkout 
2. Pre Jym by Jym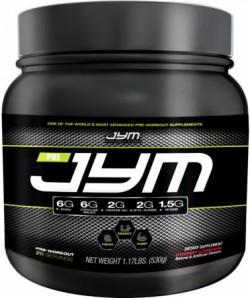 Pre Jym comes from the reputable line of supplements from Dr. Jim Stoppani. This one is another really good pre-workout you might consider.
This one also uses a larger dose of Citrulline Malate. If you can't tell Citrulline Malate is one of our favorite ingredients for pre-workouts because it is so effective. They also use proven doses of Betain, Taurine and Beta-Alanine. Pre Jym also uses a 2-gram dose of creatine hydrochloride which is a solid strength and muscle builder.
Stoppani also hates proprietary blends so you won't find any of those in any products in his line. They don't use any fillers or other junk and everything is straightforward. This is another plus.
Pro's
No Proprietary blends
Uses creatine hydrochloride
Good dose of Citrulline Malate
Reputable line of products
Favorable reviews
Con's
Only available at bodybuilding.com
Some don't like the taste
Conclusion
Pre Jym is a solid pre-workout from a reputable manufacturer that uses good ingredients that should work well for you. The reviews are solid, there are no proprietary blends and everything is as it should be. If you are looking to crush your workouts this is definitely one to consider.
Website – www.jymsupplementscience.com/jym 
3. ENGN by Evlution Nutrition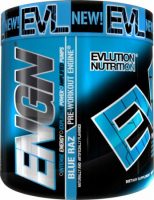 Coming in third place we have another nice product. ENGN by Evlution Nutrition. ENGN is made to give you high energy, intense focus and increased power. To accomplish this, they use creatine complex with three forms of creatine along with a high dose of Beta-Alanine as well as Huperzine A for increased mental focus.
They also use a 300 mg dose of caffeine to boost energy levels. This is great if you like and can tolerate a high dose of caffeine. For some though it may be a bit much. It's also something to be aware of if you train later in the day as you may have trouble sleeping at night.
ENGN has some really favorable reviews, most of the flavors are good except maybe orange and people find it quite effective.
Pro's
Uses 3 forms of creatine
Strong dose of Beta-Alanine
Good reviews
Large dose of caffeine
Con's
Caffeine may be too much for some
Uses a proprietary blend
Conclusion
ENGN is another nice pre-workout. It has a high dose of caffeine which might be too much for some and it has a lot of Beta-Alanine so if you don't like the tingly feeling this one isn't for you. If you don't mind that tingle or a lot of caffeine this one could be one to consider, reviews good and it uses pretty solid ingredients.
Website – www.evlnutrition.com
4. B-Nox by Betancourt Nutrition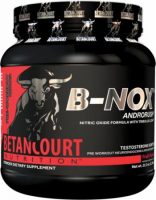 Next on our list of best pre-workout supplements on the market right now is B-Nox Androrush by Betancout Nutrition. This one has been around for a while, but it is still a pretty solid pre-workout that deserves to be on the list.
B-Nox is a testosterone boosting pre-workout that packs a solid punch. They use 3 forms of creatine, Beta-Alanine, caffeine and taurine as the main ingredients for the pre workout aspect of this supplement, all of which are solid.
They also use some pretty solid testosterone boosting ingredients like zinc, magnesium and vitamin B6 all of which has been shown to raise test levels.
The one big negative on this one is that most of the ingredients are in a proprietary blend so we really don't know how much of these ingredients are in there and this makes it hard to determine how effective it can be.
Pro's
Pre-workout and testosterone booster in one
3 forms of creatine
Reviews range from good to mixed
Con's
Uses a proprietary blend
Some people can build a tolerance to this supplement
Conclusion
Overall this is a good pre workout that has a long track record of satisfied customers. It's unfortunate the supplement is mostly blend. People like it anyway, but you might want to cycle off this one after bit as people build up a tolerance to it over time.
Website – www.betancourtnutrition.com
5. Vintage Blast by Old School Labs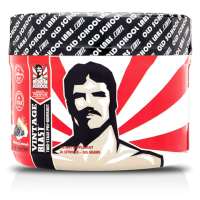 Old School Labs is a newer company in the supplement industry and they are making some really nice products. In fifth place we have their pre-workout Vintage Blast.
Vintage Blast uses a decent dose of Citrulline Malate along with Beta-Alanine and L-Arginine. They also use 250mg of caffeine which is a good amount to get your energy up, but it may be much for some people. They also use a good dose of D-Aspartic Acid which is a proven strength and muscle builder.
This one uses a 2 stage formula that is designed to give you results no matter how long your workout is, so if you like to have long workouts this one will give you results until the end.
Pro's
No proprietary blend
Good ingredients
Long lasting
Con's
Only sold on Amazon
High in caffeine
Conclusion
Vintage blast is another good pre-workout. It has a long lasting formula with good ingredients. The caffeine is high in this one so don't take it if you workout in the evening. This one is not in stores and the only place it is available right now is on Amazon.com. It's not the best on our list, but still not a bad choice overall.
Website – www.oldschoollabs.com
Overall conclusion
There are the best pre-workout supplements that are out now. PreSeries Bulk com is a top-notch product that tops the list with it's top ingredients, doses, and great reviews. If that doesn't work for you there are four other great selections here that will take your workouts to the next level. Be careful with taking any of these near bed time as they all contain caffeine and be sure to follow dosing instructions properly. Now go put the work in, the supplements won't do that part for you.