(Last Updated On: September 29, 2022)
A good pre-workout supplement can really take your workouts to the next level. The problem is most of them contain caffeine and in some cases a very large amount of caffeine. Some pre-workouts have twice the caffeine of a Monster energy drink which is a lot.
This can be a problem for people who are sensitive to caffeine or who workout at night and are unable to sleep after.
Luckily there are pre-workout supplements out there that don't use caffeine or other stimulants and still deliver an excellent workout experience.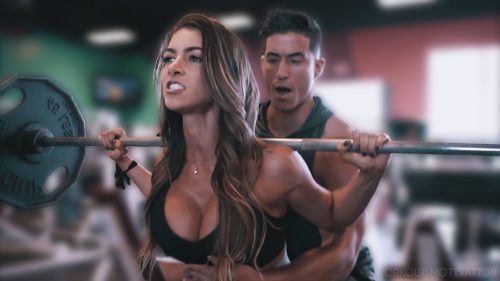 What Do Pre-Workout Supplements Do?
Pre-workout supplements work in a few ways to make sure you will be killing it in the weight room. The first thing they do is give you increased energy generally via caffeine, they have more to offer than just that though. Many pre-workout supplements also contain creatine and citrulline malate which helps build muscle. Another thing pre-workouts do is increase focus so you remain dialed in at the gym. Then there are also pre-workout supplements out there designed to burn fat and get you ripped. No matter what your fitness goal is there is a pre-workout supplement out there to help you reach it.
Best Caffeine-Free Pre-Workout Supplement Ingredients
Creatine – This ingredient is a solid muscle and strength builder and also helps with mental function and even helps with depression.
Citrulline Malate – This ingredient is another solid muscle and strength builder and also increases aerobic performance and muscle endurance.
Beta Alanine – This ingredient helps to increase stamina during intense exercise, promote healthy protein synthesis and increase lean muscle mass.
Betaine Anhydrous – Has been found to increase muscle mass and strength with weight training and also reduce fatigue.
BioPerine – This one helps your body absorb more of the ingredients of the pre-workout rather than just having them pass through your system.
BCAA's – Branched Chain Amino Acids help you recover faster, build more muscle and increase HGH production.
What to Avoid in a Pre-Workout Supplement
When it comes to pre-workout supplements one thing you want to avoid is proprietary blends, it's not easy though, there are lots of them out there.
A proprietary blend is where the manufacturer mixes several ingredients into what it calls a blend. The problem with this is on the label they only tell you the total size of the blend and not how much of each ingredient is in the blend so you have absolutely no way of knowing.
An ingredient you should try to avoid is DMAA which is a powerful neurological stimulant that pre-workout manufacturers used to put in a lot of their products.The problem with this ingredient is linked to high blood pressure, heart palpitations, mood swings, depression and energy crashed. It is similar to amphetamines and is an instant fail if you are in a competition. All that being said, just stay away.
A couple other ingredients you might want to watch out for are synephrine which can cause migraines, fainting and cluster headaches. Another to avoid is Huperzine A which is a cognitive enhancer that causes diarrhea, nausea, vomiting and blurred vision in some people.
Top 5 Pre-Workout Supplements Without Caffeine
Now let's get down to business and reveal the top 5 caffeine free pre-workout supplements on the market today.
1. PreSeries Stim-Free by Transparent Labs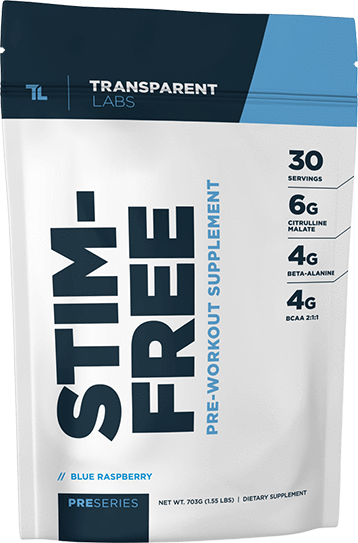 Topping off our list we have PreSeries STIM-FREE by Transparent Labs. This one is a really good pre-workout that will get you an awesome workout without the use of caffeine or other stimulants of any kind.
This one is loaded with 13 active ingredients and has some nice reviews online and for good reason, this product works very well. Now let's take a closer look at the ingredients.
STIM-FREE is loaded with 6000mg of citrulline malate along with 3000mg of creatine monohydrate and 4000mg of BCAA's to build muscle and increase strength. They also use a healthy dose of betaine anhydrous to reduce fatigue and keep you training harder for longer. They mix in a 5g dose of BioPerine to ensure the ingredients are absorbed into your body and don't just pass through your system. On top of that, they use mucuna pruriens to increase focus and peace of mind. Overall some really nice ingredients and they are all in good doses, no wimpy doses like some companies use just so they can say they have the ingredient in the product.
Price wise STIM-FREE is $49.00 for a bag which is above average but it is a superior product. The price does go down when you order more than one and you can also use the coupon code TL10 at checkout to save 10% on your order. They also ship worldwide so no matter where you are you can it.
PreSeries STIM-FREE also contains no artificial sweeteners, dyes, fillers, or harmful additives and everything is straightforward like it should be in a supplement. No shady proprietary blends with this one either, just good ingredients in the right dosages making it a superior product that will take your workouts to the next level and then some.
The Good
13 active ingredients in good doses
3000mg of creatine HCL
6000mg of citrulline malate
Save money when buying more than one
Coupon code TL10 saves 10% on your order
Shipping worldwide
The Bad
Above average price
Not in stores, only available online at manufacturer website
Website: www.transparentlabs.com
2. Pump Surge Stim-Free by Jacked Factory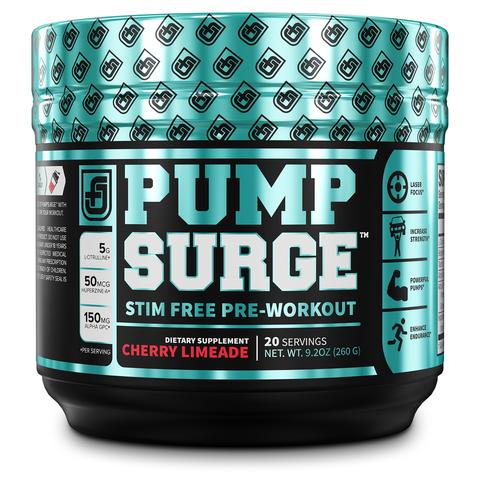 Up next we have another pretty nice product with Pump Surge Stim-Free by Jacked Factory. This one features 10 active ingredients and has straightforward labeling without any tricks or proprietary blends, just as it should be.
This one is a bit different than the others on the list because it relies on fully dosed ergogenic boosters and brain-enhancing nootropic ingredients while not using any stimulants.
Taking a look at the ingredients and this product is pretty loaded with good stuff. They start off with a nice 5-gram dose of L Citrulline and 2.5 grams of betaine anhydrous and taurine for muscle building, endurance and serious muscle pumps. This product also uses Alpha GPC and Huperzine-A for laser focus so you can conquer your workout.
Pump Surge Stim-Free is made in a certified cGMP and FDA inspected facility so it is a clean product and is also third-party tested for the highest quality possible.
The price on this one is currently $29.99. This price is about average but they also don't offer any savings for buying in bulk.
The Good
Uses L-Citrulline, Betaine Anhydrous, and Taurine for muscle growth, endurance, and muscle pumps
Huperzine-A and Alpha GPC promote a laser focus for better workouts
Less expensive
Made in a certified cGMP and FDA inspected facility for higher quality
Good reviews
The Bad
No savings when buying in bulk
Less active ingredients than our top-ranked product
Website:  jackedfactory.com
Related: Best Pre-Workout Supplements for Weight Loss
3. Nitro Drive by 360 Cut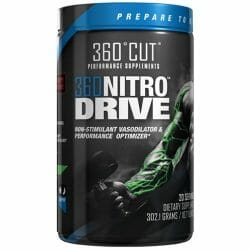 Up next we have another really good product with 360 Cut Nitro Drive. This product also has some pretty nice ingredients and doesn't use any proprietary blends or any other garbage, just a good pre-workout that is stimulant-free.
Looking at the label on this bad boy and it is packed with 12 active ingredients. They start off with a citrulline malate and creatine for muscle and strength. This product also delivers some nice muscle pumps thanks to 2 grams of Glycerol Powder, 750 mg agmatine sulfate, and 750 mg nitrosigine which is a combination of arginine and silicon that really enhances nitric oxide levels.
The dosing on the creatine and citrulline malate are lower than we like with this one but it does have some other really nice ingredients.
The price on this one is around $20 but that is for only 20 servings so when you look at the price per serving it is a bit on the high side. Don't be fooled.
The Good
12 active ingredients
Uses some good muscle building ingredients
Good at delivering muscle pumps
The Bad
Low doses of creatine and citrulline malate
High price per serving
No savings when buying in bulk
Website: 360cut.com/store
4. NO-Explode Caffeine Free by BSN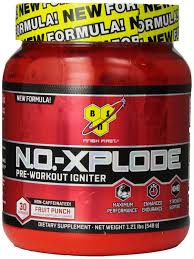 In fourth place on our list of the best pre-workout supplements without caffeine, we have NO-Explode Caffeine Free by BSN. This one is a new spin on the old classic. Let's take a look at what they put in this one.
This pre-workout uses 5 different forms of creatine to deliver muscle and strength building, on top of that they also use 2 different forms of citrulline as well which we like. On top of that, they use L-Arginine which boosts nitric oxide for massive muscle pumps.
The problem with this one is they use the dreaded proprietary blend so it is impossible to know how much of each ingredient is in the product. This is something they should rectify in the future but probably won't. They also don't include any BCAA's in this product either which is a bit of a bummer.
The price on this one around $30 which is decent. The top 2 products on the list are much better though if you can afford them. There is also no savings when buying in bulk.
The Good
5 forms of creatine
2 forms of citrulline
Well known manufacturer
The Bad
Uses proprietary blends
No BCAA's
Artificial flavoring
Website: www.gobsn.com/
5. VasoSport by Musclepharm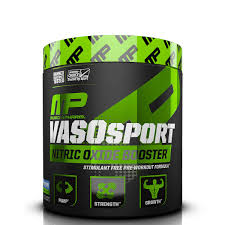 Lastly we have VasoSport by MusclePharm. This one is a newer product in the huge line-up of products from MusclePharm and it is another pretty nice product from these guys.
Taking a look at the ingredients on this one and it is pretty stacked as well. They use citrulline malate, nitrosigine, agmatine sulfate, and taurine to help build strength and ad focus to your workouts so you will be crushing it every time.
The drawbacks on this one are that they don't use any form of creatine and they really only have 4 active ingredients (vitamins don't count as active ingredients in our book).
The price on this one is around $30 depending on where you get it, that makes it one of the cheaper supplements on the list but you would be better served spending your money on one of the supplements at the top of the list in all honesty. Much more bang for your buck. You also don't get any discounts if you buy in bulk with this product.
The Good
No proprietary blends
Good for muscle pumps
Less expensive
The Bad
Only 4 active ingredients
No creatine of any kind
No discounts when buying in bulk
Website: musclepharm.com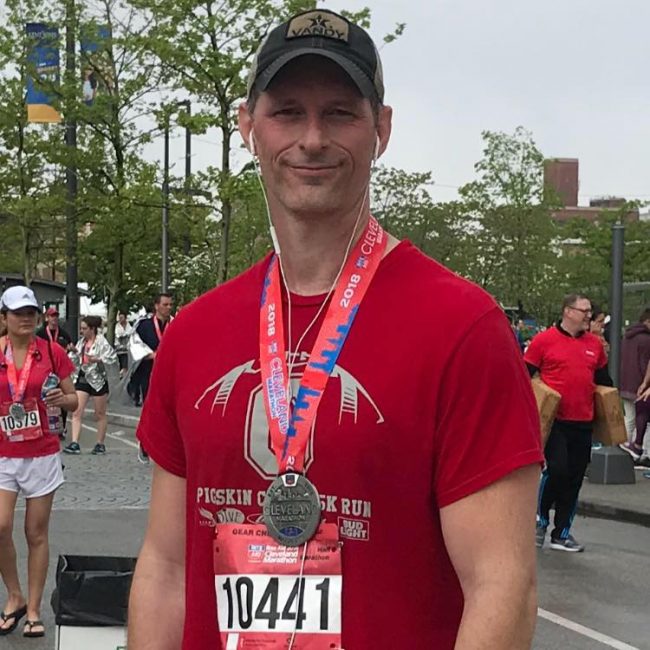 Ryan is a former college wrestler and lifelong fitness fanatic. He has run half marathons, done mud runs, placed in body transformation contests, coached wrestling and now coaches girls soccer. Not to mention he has also tried literally hundreds of supplements over the years and has a vast and thorough supplement knowledge. He has written for Muscle & Strength, Testosterone Junkie, The Sport Review and other publications. He is also the editor in chief of this website. Feel free connect with him on his LinkedIn page below.