(Last Updated On: August 31, 2017)
If you missed our first article on Spartan Race Training you can find it here. This article with the Crixus Workout is our second installment.
This weeks workout:
Crixus
Named after a former gladiator champion this workout is designed to check your lactic acid threshold. After doing it a few times we should be able to push the threshold, which relates to more efficient functioning muscles. Do this no more than twice a week with at least 2 days between of recovery.
Begin with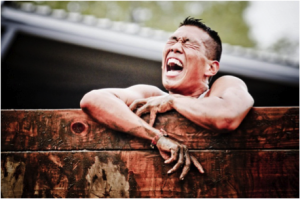 1,5 mile run,
Amrap =as many reps as possible
Amrap for each exercise as you can in a minute
3 rounds:
Pullups 1 min
Body squats 1 min
Pushups 1 min
Do 3 rounds:
Bear complex – Ladies 65lbs, Gentlemen 95lbs
1 round of the Bear complex lasts, 1 min 30 seconds with 30 second break
1 mile run
Remember try to run outside ,ditch the treadmill.
By Wayne Mutata C.P.P.S
Facebook Page: www.facebook.com/pages/ITRAINwithWAYNE