The fight that shocked the world. Rhonda Rousey seemed invincible in the sport of women's MMA. Her last three fights lasted less than 2 minutes combined. She was demolishing the competition. But, like they say, all good things must come to an end. Why did Rousey lose? It's probably a factor of a couple of things.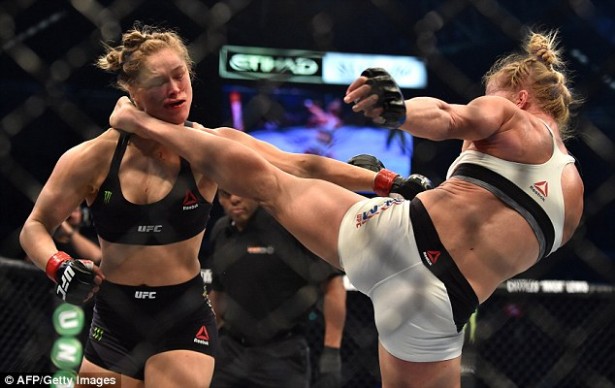 Holm was a better striker
This shouldn't come as much of a shock. Holm is a former professional boxing champ and kickboxer. She has been considered by some as one of the best female boxers of all time. She was able to totally dominate the striking making Rousey look silly at times. In particular when Rousey completely whiffed with a left hand and lost her balance and fell down to her knee. The writing was certainly on the wall after that, if not sooner. Rousey likes to think of herself as a better striker than she is. She had to eat some humble pie that was shaped like fists on that one. Rousey should have tried to get the fight on the ground where she could do her damage and get a submission, but she was only was able to get Holm on the ground briefly and was unable to do anything down there. Holm was so dominant she was even able to get Rousey on the ground, but wisely let her up. If and when they fight again Rousey needs a better plan to get Holm on the ground where Ronda has a solid advantage. Standing up and thowing punches with Holm just isn't going to work.
Overconfident
Can't really blame her on this one. She has been the top tog for a while and hasn't even had a good challenge. It would be hard not to believe your own hype. This leads to maybe not training quite as hard, not studying your opponent the way you should and just going through the motions thinking you are invincible. When she starts talking about beating Floyd Mayweather the overconfidence alarm bells sound on full blast. Now that she has had the reality check she needed she can maybe regain the hunger. As the saying goes "the wolf on the top of the hill is not as hungry as the wolf climbing the hill.
The following video from Firas Zahabi has an excellent and thorough breakdown:
https://youtu.be/p3stwtCmWTA
Who is Holly Holm?
Holly is a 34 year old fighter out of New Mexico. Her boxing career got started when her aerobics instructor who also taught kickboxing saw potential in her. She made her professional kickboxing debut on June 1, 2002 she made her kickboxing debut and amassed a record of 6-0-2 as an amatuer and then went 2 – 1 as a pro.
Holly Holm Boxing Career
She then moved on to boxing and had a very successful career. She has held several welterweight titles, been highly regarded as one of the best female welterweights in the world, and is considered among the best of all time, by some. Now you may understand why Rousey could not match her striking.
In June 2008 she became the undisputed welterweight champion and holder of belts from 140 to 154 by defeating Mary Jo Sanders by decision. She would go on to to win many championships over the years in several different boxing associations, she would be named fighter of the year twice, named most improved boxer twice, be named to the New Mexico Boxing Hall of Fame, be nominated for an ESPY for fighter of the year and countless other awards.While not many had heard of her before the Rousey fight she is far from a nobody.
MMA Career

Holly then made the switch to MMA in 2011 and would go on to retire from boxing in 2013 to focus on MMA. She has a 10 – 0 record and has been through Strikeforce, Bellator, Legacy and now the UFC.  She has one 7 fights by knockout and 3 by decision. Holm is obviously a viscous striker who known for her punching combinations, typically done while her opponents are against the cage. She also uses well timed kicks as Rousey found out. The highlights below give you a good look. If you didn't know, now you know.