(Last Updated On: February 21, 2019)
Yes, you did read the title of this article correct. The people at CrossFit are releasing the official CrossFit Bike and the price tag is a mighty $7950.00.
While that much money could get you a decent used car or enough food to last a you a whole year this bike is pretty sweet.
The bike itself is being made by the guys a Seven Cycles in Boston, Mass and it was inspired by Greg Glassman.
Seven Cycles is a company has a large line-up of bikes that they make from all kinds of different variety road bikes like you would see people using at the Tour de France to mountain bikes and urban bikes and even some tandem bikes. They will also make a custom bike for you if you have something you want them to make. All the bikes they make are high end and retail for several thousand dollars so the CrossFit Bike isn't really much above the bikes they already make price-wise.
Obviously by looking at the tires on this bad boy you can tell it is made for some serious off-roading.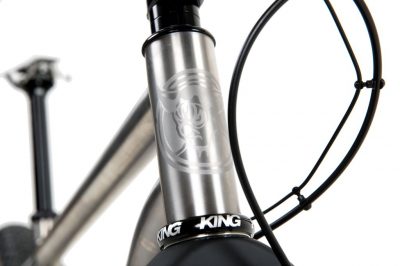 Official CrossFit Bike Specs
Some of the specs include:
Straight gauge titanium frame
Comes in 4 sizes
Tubeless rims
Sold as a whole bike
Frame weight is 3.9lbs
Weight of entire bike is 23lbs
Below is the promo video is below that goes in to how it is made with Glassman and the guys at Seven Cycles.
The bike is handmade and involves top of the line craftsmanship as you can see in the video. Production time to get one of these made is about 5 weeks from the time you place your order and they will update you periodically on the production status of the bike.
Overall the bike does look pretty damn cool I must admit. Is it worth nearly $8000.00? That does seem like a heck of a lot of money for a bike but if you love biking and CrossFit and have $8K laying around go for it. Personally, I'd rather put that money into my kid's college fund or do some home improvements but to each his own.
If this bike is something you are interested in you can get more information and order on their official site.
Update 2/21/19 – Apparently the bike is no longer available, I consider me shocked.