(Last Updated On: December 7, 2017)
How did you get started in MMA ?
I've always liked watching UFC and I wrestled back in middle and highschool. When I heard a mma gym was opening in my area it clicked for me right away. I remember thinking "I can do this..I have to do this", maybe it was the wrestler in me talking. I love the challenge and the competition.
What achievement are you most proud in your MMA career?
I don't think I could choose. Every time I step in the cage I feel a sense of achievement. A lot of hard work and sacrifice goes into every day of training for those few minutes to test myself against a tough opponent. Every day is a test. Inside the cage I get to see it pay off, or learn what I need to do better. My work is never done. I guess I'm most proud of staying hungry. MMA is part of me now, I need it like I need to breathe.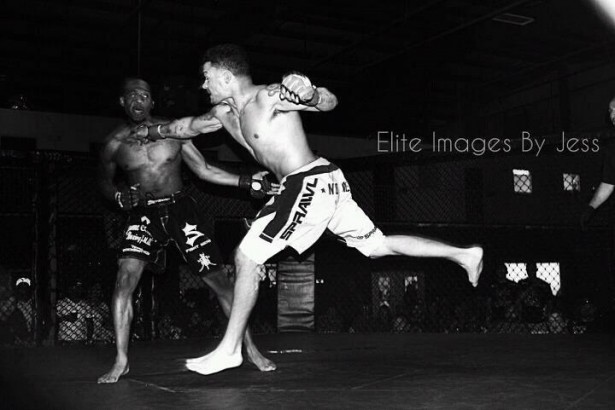 What kind of music do you listen to when you are working out ?
I'm always listening to Weezy. A lot of what his lyrics convey relate to my own struggle. Growing up I never really had it. There was always a struggle in some part of my life. I wasn't the kid with the new kicks and cut on the first day of school. I had to grow up fast. I'm thankful for those times now. It's a source of motivation that pushes me to keep moving forward and chase my dreams. I listen to a speech by Eric Thomas I saw on YouTube about success too. My favorite part is when he says " Sleep? Sleep?!?..I have a opportunity to take a dream and make it a reality…I don't sleep." I feel that way every day.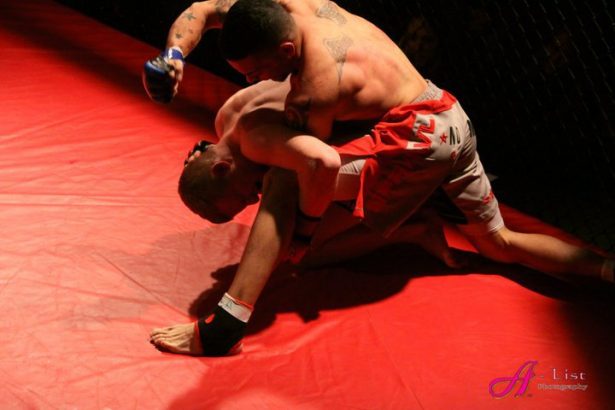 We all have at least one, what is the most embarrassing song on your Ipod?
Oh man, Do I have to tell on myself ?? Ok, ok.. I'll admit it. It's "It Will Rain" by Bruno Mars. I don't know how it got on there..haha. Sorry Bruno!! We still good though, right ?? haha.
Why did you make the switch from wrestling to MMA and how was the transition?
Watching the early days of the UFC growing up sparked my interest. I've always had a competitive nature. Wrestling gave me the base to grow from and take on new challenges. After high school I really missed the competition wrestling offered. MMA seemed like the next step, it felt natural. As far as the transition has gone, I  learned right away there is a lot of skills to develop to stay competitive. Being a well rounded athlete is key. When I began training mma wasn't sanctioned in my state yet, and I had to bounce around to a few gyms to get a solid skill set. Now I'm at  a gym that helps me develop in all aspects of my fight game, including conditioning and the mental aspect of the sport. I feel confident I'm growing as a fighter and a person every day.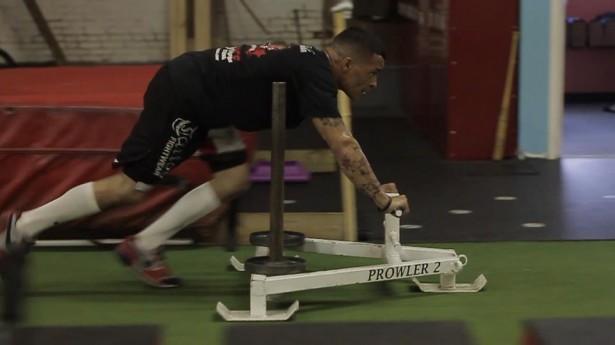 What does one of your typical mma workouts look like?
Haha…Coach is going to get me for this one.  In one word? CRAZY. It's in a good way though. I start my day around 4:30am and get a good 4 mile run in before work, then go to my day job for 8 hours. Then it's home for a short 45 nap before heading off to train every evening. When I get to the gym I'll hit another 4 mile run through the city. It's always fun because I get to meet new people along the way. Back at the gym it's 10 minutes of stretching followed by 45 minutes of grueling conditioning or cardio. My workout is filled with 3 and 5 minute rounds of  dive bombs, med ball jack knifes, pikes, mountain climbers,  tons of squats and burpees, battle ropes, and tire work. Then it's two hours of technique, sharpening my basics and developing new skills. The coaches pushes us all to our limits every session physically and mentally in a real positive way. I go home every night feeling like a champion ready to do it again tomorrow.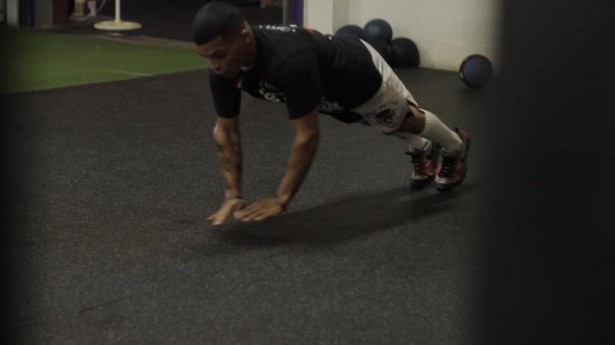 How is training at Integrated Combat Sports ? I'm sure you have had some pretty crazy workouts. What is the craziest workout you have ever had?
A. Training at ICS is excellent. It's my second family. There is not a single ego in the building. We work really hard and laugh a lot. I've been to five gyms in my career and I finally feel like I'm home. It's the only place I've been where they care about you as a fighter and a person all the time. The relationships I've built with my coaches and my fight family don't stop when practice is over and the lights get turned off. It's not one of those places that use the fighter to pump up the gym, it's a place where the gym is the vehicle to all reach our highest potential. The coaches make it all about us. They never take credit for a success and step up to take responsibility when we hit a setback. There's a lot of love inside those walls.
My craziest workout is a 90 minute set starting with a timed 8 mile run, then it's off to 100 tire flips and a five minute push/pull drill with a 520lb tire. Next is 100 box jumps onto the tire followed by 1 minute intervals on the battle rope, switching grip and motion every 10 seconds. Next we head inside for stations. Med ball squat leaps, diamond planks, dive bombs, med ball burpees, ab work on the wheel from standing, med ball high knees, med ball jack knifes, pikes, mountain climbers, etc, all on 3 and 5 minute rounds. Then we pair up for med ball sit ups, push ups, death crawls, caterpillar walks, crab walks, shots w/ lifts, squats with med ball transfers. We finish with a stretch then another 4 mile run through the city and one more stretch before getting into 2 hours of technique. I sleep pretty good when I get home…haha.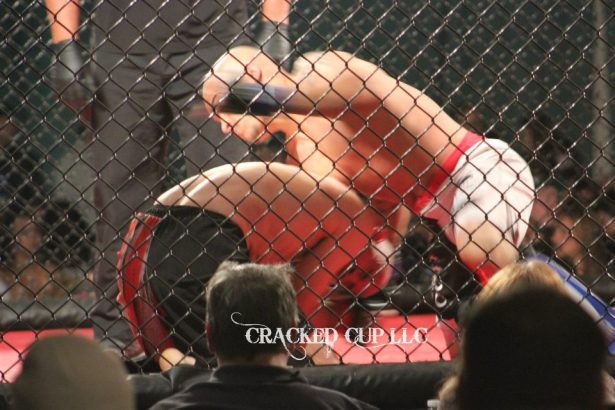 What does your diet look like when you are trying to get lean/cut weight?
I make it a point to eat healthy all the time and stay within 5-7lbs of fight weight throughout the year. A day or two after a fight I'll cheat a little but never more than 48hrs. My diet consists of a lot of  chicken, fish, green vegetables, fruits, berries and nuts. A normal meal for me would consist of grilled chicken breast, sweet potatoes, and broccoli, followed by some blueberries for dessert. I also drink lots of ice water throughout the day and with meals, with a slice of lemon or orange. I make ice cubes in the freezer using Pedialyte sometimes to give the water some flavor.
What kind of cardio works best for you and why?
I really like the cardio work at the gym. We do high intensity intervals on the bags with bursts of speed and power mixed in with jumping jacks, clap jacks, and squats to high knees. It gives me a opportunity to work on my cardio and sharpen up my strike combinations at the same time. I also do 15 and 30 second intervals on 10 minute rounds on the Airdyne switching between sprints and a steady cadence. One of the tenets of our gym is " Skills can pay your bills, GAS will save you're a** "…haha. It's true.
If you could give somebody getting into MMA only one tip what would it be?
The most important tip I think is to stay focused on your dreams and goals. There's going to be lots of struggles, sacrifices, and setbacks along the way. You'll run into people who have negativity and will doubt you. Stay positive and learn something from every experience whether it's a good one or a bad one.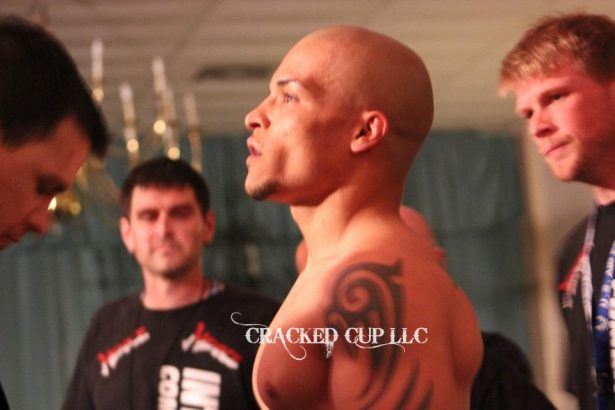 Tell us about your biggest athletic influence.
Emmit Smith. I'm a huge Dallas Cowboys fan and Emmit is a really hard worker. I remember the commercial I saw after Dallas won the Superbowl. Emmit is pumping weights and says he just won the game and he can take a break. Only two seconds go by and he's back to pumping the weights. He's super talented but I think it's the dedication and the hard work he puts in that makes him special. It would be great to meet him and shake his hand some day.
What is your favorite cheat food?
A. Ahhh….you're killin' me…haha. If you have to know, it's home made chicken cheesesteaks but, they have to be made on Alfred and Sam's sub rolls. They're the best. I don't cheat on my diet very often but when I do I have a special relationship with food..haha. Now, I'm getting hungry.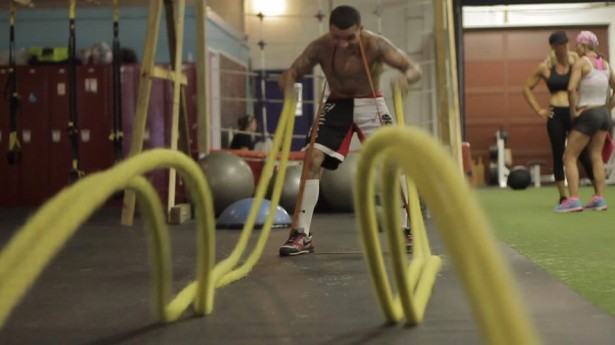 Do you take any supplements?
A. I keep it simple. B12, Fish Oil, and  a Multivitamin. I do my best to get what my body needs incorporated into my diet without the need for too many supplements.
What does the future hold for you?
I always take things one day at a time, stay grounded, and focus on what I need to do to be successful against my next opponent. I'm looking to go pro some time later this year and hopefully I can do that close to my home. I'm going to work hard, stay hungry, humble, and keep my focus on what's next.  My dream is to one day enter the UFC and fight in the octagon.
Michael "No Mercy" Serrano
Facebook Page: http://www.facebook.com/NoMercyNation
Get absolutely ripped in just 90 days with P90X – Click here