Post updated on
So, you are getting older, slowing down, maybe you have even put on a few lbs. You assume that this is just the way it is, and if you don't do anything about it then it probably will be.
Most guys out there don't realize the important role testosterone plays in how they feel on a daily basis. If your testosterone levels are down you will feel the effects, make no mistake about it.
Worse yet your testosterone levels will continue to decline each and every year as you age, so the problem is only going to get worse unless you take action.
The good thing is, there is something you can do about. A good testosterone booster can help you get those testosterone levels back to where they were when you were younger and had more virility. Sometimes you can even exceed those levels.
Let's go over the information you need to know about testosterone and testosterone boosters and find out which are the best ones on the market today for virility.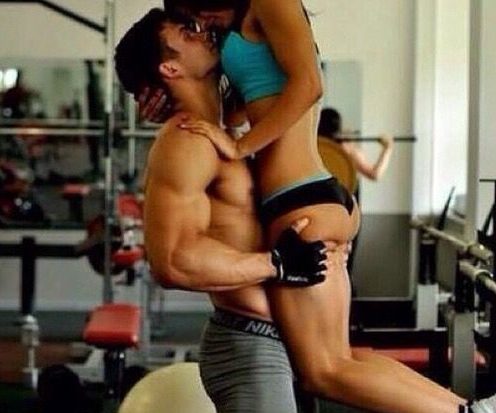 Signs of Low Testosterone
When your testosterone is low there will be some signs and symptoms for you to recognize, as you get older they will slowly get worse. Here are some of the main symptoms of low testosterone:
Lowered sex drive
Fatigue
Loss of muscle
Increased body fat
Lowered bone mass
Lower semen volume
Lower quality erection
These are all signs of lowered testosterone and are pretty typical of most guys as they age. It doesn't have to be that way though.
Natural vs Synthetic
When it comes to increasing your testosterone levels you have two choices. You can increase it using natural testosterone boosters or you can go the synthetic route.
Going the synthetic route means you will have to go to your doctor and get shots on a regular basis. The main problem with going synthetic is it tends to shut down your body's natural testosterone production and it doesn't come back. This means you will be stuck getting shots from your doctor for life and if you stop you will have no testosterone production.
The natural way is most definitely preferred. Natural testosterone boosters work to increase your body's own natural production of testosterone. And the nice part is, if you stop taking a natural testosterone booster your testosterone levels will simply go back to where they were before you started and there are very few if any side effects.  No harm no foul really.
The Benefits of Natural Testosterone Boosters
Since we have covered why you will want to go with natural testosterone boosters let's go over some of the benefits.
Some of the key advantages to natural test boosters are:
Increased virility
Increased energy
Enhanced libido
Enhanced feeling of manliness
Increased sexual function
Increased lean body mass
These are all solid benefits you can expect when you increase your testosterone levels using the best natural testosterone boosters on the market.
Best Test Booster Ingredients
When it comes to a test booster that will increase virility and libido there are certain proven ingredients to look for that your supplement should have. If it doesn't have most of these ingredients there is a good chance it could be sub-par.
The best virility ingredients include:
D Aspartic Acid – This is one of the biggest ones when it comes to virility. D Aspartic Acid is an amino acid and neurotransmitter that helps with the release of luteinizing hormone. The luteinizing hormone stimulates the testes to produce more testosterone. D Aspartic Acid has been shown to have a powerful effect raising testosterone levels by 42% and has been shown to increase semen concentration and improve sexual potency.
Zinc – Zinc is one of the best ingredients when it comes to testosterone production and virility. Low zinc levels decrease the releasing of luteinizing hormone needed to stimulate testosterone production. Using zinc supplementation, you can get your zinc levels back up and get your body producing more testosterone again. Many studies out there have also shown that taking a zinc supplement will increase testosterone levels significantly in just a few months.
Bioperine –  Bioperine is a good ingredient to look for if you are older because as we age our bodies can't absorb nutrients as well as it did when we are younger. Bioperine has been shown to improve absorption of dietary supplements by up to 20 times. This will help make sure all the ingredients make it to your bloodstream.
Magnesium – Magnesium is another good one, especially when it comes to virility. This is because magnesium has been shown to effectively increase the free testosterone in the body. Free testosterone is the one that delivers the male potency and sexual health benefits. Make sure your supplement has magnesium for this reason.
Ginseng – Ginseng is a root that is used for all kinds of things nowadays, something it is good for is testosterone and vitality. Ginseng has been found to increase testosterone levels, improve erection quality and performance and sex drive.
Nettle Root – Bound testosterone that has bound to globulin is essentially useless in the body. The compounds in stinging nettle have been shown to bind with globin in place of testosterone. The result of this is more free testosterone in the body which is what you want.
Pomegranate 40% Ellagic Acid – This ingredient comes from pomegranates, obviously. It has been shown to increase blood flow and this study found it lead to better erections.
Cordyceps – This fungus has long been used in Chinese medicine as a libido enhancer that also helps with sexual function.
What to Watch Out for
One thing you definitely want to watch out for is proprietary blends. These are becoming more and more common in the supplement industry and it has become a bit of a problem.
What they do in a proprietary blend is they mix several ingredients and call it a blend and they tell you how big the blend is. The problem is they don't tell you how much of each ingredient is in the blend so you have no way of knowing. It is best that the manufacturer has complete transparency so you know how much of each ingredient you are getting and to help prevent side effects and so you know what you are getting.

Best Testosterone Boosters for Sex Drive and Virility
We have already covered the best testosterone boosters on the market overall but now we are going to cover just those that are made to increase virility and sex drive. Most people don't know this but there are actually 2 different kinds of testosterone boosters out there. There are the testosterone boosters that build muscle and the kind that increases virility and libido. While the two are similar, there are some differences in the ingredients depending on if you want muscle and strength or if you want to be more virile and manly. In this article, we will obviously be reviewing those that will bring out your virility.
#1 Testogen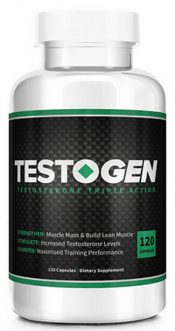 Testogen tops off our list and is a really good testosterone booster that is great for sex drive and virility and is also a good muscle-building testosterone booster.
This one is also a cheaper option than many others but is still very effective.
Taking a look at the ingredients and we can see why it is so effective for guys in the sexual performance department. They use a heavy dose of Ginseng Extract which is a well-known aphrodisiac along with Zinc Gluconate which is another aphrodisiac and it is also useful for the creation of healthy sperm and other functions. On top of that it also uses a healthy dose of D-Aspartic Acid which is an effective muscle booster and also a libido enhancer.
The price on this one starts at $59.99 for 1 bottle but you can get some great savings when buying multiple bottles. They offer a buy 2 bottles and get 1 free deal as well as a buy 3 bottles and get 2 free along with a free e-book. All the offers come with free shipping and a money-back guarantee if you are not satisfied.
Reviews on this one are solid as well and it is another great choice for guys looking to increase libido and sexual function and also build muscle.
Highlights
Less expensive than many options
Solid for both sex drive and muscle building
Friendly doses of Ginseng Extract, Zinc Gluconate and D-Aspartic Acid
No proprietary blend
Solid reviews
Any Negatives?
Can only be bought on manufacturer website
Website: www.testogen.com
#2 Male Extra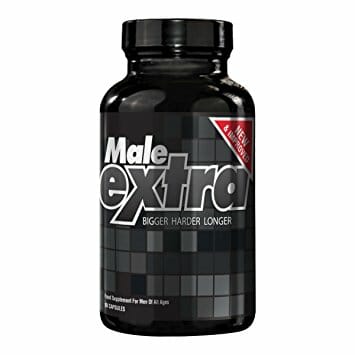 Next on our list we have Male Extra, this one is top notch if you are looking to increase sexual performance and test levels.
Male Extra is designed to give you bigger and fuller erection, increase your sex drive and even have you lasting longer in bed all while increasing your testosterone levels.
Taking a look at the label on this one and it is loaded with ingredients meant to increase blood flow to give you incredible erections. They use Pomegranate 40% Ellagic Acid, MSM, Niacin and L-Arginine. All are solid ingredients to increase blood flow. Then they also use Cordyceps which is a type of fungus that has been shown to increase sex drive and sexual function. Another key ingredient they use is L-Methionine which helps to delay ejaculation by reducing the amount of histamine in the blood so you can last longer in bed. Lastly, they use a nice dose of zinc which is the top mineral out there to boost testosterone levels.
The price on this supplement currently is $64.95 but you can save money buying in bulk as they offer deals like buy 3 get 1 free and also buy 4 get 2 free. They also offer free shipping worldwide which is a nice bonus. They also have a money back guarantee so there is really no risk.
Taking a look at the reviews online and they are mostly positive which isn't a surprise.
This one is definitely the one to choose if you are looking for a boost in sexual performance and libido but is not the best if you really want high testosterone levels.
Highlights
4 Ingredients for increases blood flow and better erections
Cordyceps for increases libido and function
L-Methionine to delay ejaculation
Good reviews online
Save money when buying in bulk
Ships free worldwide
Money guarantee
Any Negatives?
Only available on customer website
Missing some ingredients for boosting testosterone
Website: www.maleextra.com
#3 Prime Male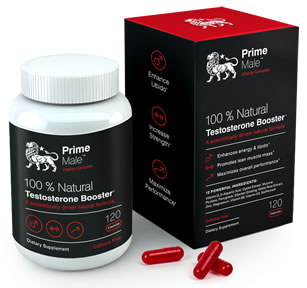 Prime Male has been out for a few years now and it has become well known in the industry when it comes to increasing virility and youthful vitality. This one is of course geared towards guys who are over the age of thirty and are looking to reverse some of the effects they have begun to suffer from as they age.
Prime Male is made to increase sex drive and performance as well as increase energy, improve mood, boost strength and muscle mass as well as other positive effects of higher testosterone levels.
One of the important things Prime Male offers is higher bioavailability. As we discussed earlier this means that the nutrients in the product are more easily absorbed. This is important because our bodies have trouble absorbing nutrients the older we get. To achieve a higher level of bioavailability they use Bioperine along with boron which are both proven winners at improving the rate of absorption in supplements geared toward people who are getting older.
Taking a further look at the ingredients in Prime Male we really like what they have done. They use a powerful dose of D-Aspartic Acid Calcium Chelate which is a solid testosterone and sexual potency ingredient and is proven to be even stronger than regular D Aspartic Acid. They also use a healthy dose of zinc and magnesium which are the top minerals for increased testosterone production, male potency and sexual function. They also include friendly doses of Nettle Root and Korean Red Ginseng along with vitamins B3, K2 and D3 all of which have testosterone boosting properties.
The dosing is 3000 mg per day broken up into 4 pills per day. we like that they broke it up like that and spaced it out so your test levels don't start to drop between doses. Many testosterone supplements have just one or 2 doses per day which is insufficient to keep test levels high. They also offer a money back guarantee so there is no risk involved at all.
Overall there isn't much not to like about Prime male. It has the best ingredients overall and the reviews are excellent.
Highlights
Large dose of D Aspartic Acid Calcium Chelate
High level of bioavailability
Made for guys over 30
4 doses per day to keep test levels up
Higher sex drive
Money back guarantee
Excellent reviews
Proper dosing
Negatives
Only available on the company website
Higher than average price
Website: www.primemale.com
#4 Test Freak by Pharmafreak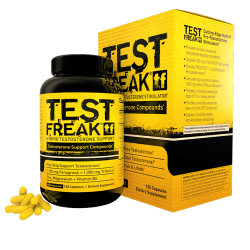 Next on our list, we have Test Freak made by the guys at Pharmafreak. This one is made to enhance sex drive and libido as well as build muscle.
Test Freak uses solid doses of zinc, magnesium and vitamin B6 which are all solid and recommended. Then they use three complexes on top of that for testosterone production and estrogen suppression.
The Testosterone Support Complex features a large dose of Fenugreek which is another good test boosting ingredient that we haven't mentioned to this point. They also feature a DHT Complex to help control estrogen, it features stinging nettle and saw palmetto, both of which have been shown to have estrogen lowering properties.
The third complex is another estrogen support complex to keep your levels in balance. It features Hesperidin, Apigenin and Resveratrol to accomplish this.
Unfortunately, all of the complexes are proprietary blends so we can't be sure on the exact doses of all the ingredients.
This product can actually be stacked (used in conjunction with) their other testosterone booster Anabolic Freak for amplified effect. Anabolic Freak does have a nice dose of D-Aspartic Acid in it so there could be a benefit there, the rest of the ingredients are nothing special though.
Overall Test Freak is another pretty good product. It has pretty solid ingredients and most of the reviews online are favorable.
Highlights
Three complexes to boost testosterone and suppress estrogen
Large dose of Fenugreek
Can be stacked with Anabolic Freak
Negatives
Uses proprietary blends
Some negative reviews
Website: pharmafreak.com
#5 Super Test by Beast Sports Nutrition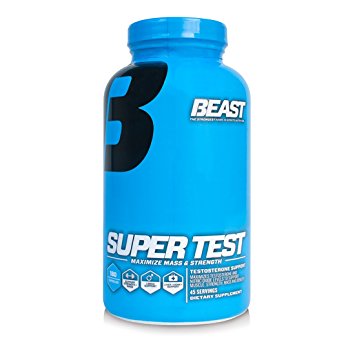 Rounding out our list of the best testosterone boosters for virility is Super Test by Beast Nutrition. This one is made to be both a strength and muscle builder along with libido support.
Super Test boasts the zinc, magnesium and vitamin B6 that most testosterone boosters have. Then they have 5 complexes that boost testosterone, control estrogen and DHA, one for kidney and liver support and one more to increase nitric oxide levels. The nitric oxide support is to increase blood flow to the muscle as well as the sex organs for increased performance. The ingredients on this one don't look quite as good as the ones above it and almost the entire thing is a proprietary blend so it's hard to tell the doses on most of the ingredients.
One plus for those that don't like swallowing capsules is that Super Test is available in powder form. The only problem is the reviews on the taste of the powder is pretty bad. Try mixing it with Gatorade and that might help make it more tolerable, if not you will have to try and choke down the capsules. To be fair pretty much all of the testosterone boosters that come in powder form have bad reviews on the taste though so this one definitely isn't alone on that.
Overall this one does have some pretty decent reviews but we wish they didn't use proprietary blends and the ingredients could be better we feel. If you don't like capsules this one could work for you if you can manage to get past the bad taste.
Highlights
Uses a nitric oxide blend for blood flow
Good reviews
Available in powder form
Negatives
Proprietary blends, lots of them
Missing key ingredients
Expensive
Powder form has bad reviews on the taste
Website: www.beastsports.com
Other Ways to Boost Testosterone
Now that we have covered the best testosterone boosters for virility let's go over some other ways you can increase your testosterone levels. While taking a supplement is the easiest and most effective there are other things you can do as well to take your test levels even higher.
Eating for Higher Testosterone Levels
Believe it or not, your diet can have quite an effect on your testosterone levels. Here are 10 foods you might want to add to your diet to get those test levels even higher.
10. Pomegranate – The juice from a pomegranate can raise test levels by 24% and it also lowers blood pressure.
9. Eggs – Eggs contain cholesterol and you may not know this but testosterone is made from cholesterol so you want to be sure to get enough. They are also high in fatty acids which are also helpful to testosterone production.
8. Potatoes – Potatoes are the carbohydrate of choice. This is because potatoes do not contain any gluten which can mess with your test levels. You also need carbs for testosterone production. This makes potatoes the premiere carb selection for test production.
7. Steak & onions – Sounds delicious, doesn't it? Make it a grass-fed steak if you can because they are full of healthy fats and omega 3's that are beneficial to testosterone production in the body. Onions have also been shown to increase test levels significantly in rats so these two food together are quite the combination.
6. Garlic – It's bad for your breath but good for your test levels. Garlic has been shown to increase testosterone levels and also lower cortisol levels. Cortisol has been shown to keep test levels down so this is a nice double whammy.
5. Avocados – Avocados are another food that are full of healthy fats. These healthy fats, as we mentioned earlier are very beneficial to testosterone production.
4. Salmon – Salmon is a really good one when it comes to testosterone boosting. It contains lots of healthy fats which we have already said are beneficial. It also contains vitamin D which has been shown to boost testosterone levels as well. On top of that salmon also has a good amount of zinc and that is one of the best things you can take to increase testosterone as mentioned above.
3. Macadamia Nuts – Nuts overall are beneficial to testosterone levels but macadamia nuts, in particular, have a high amount of saturated fatty-acids and monounsaturated fatty acids. Both of these are great for testosterone production so be sure to chow on the macadamia nuts. Brazil nuts are also a pretty good choice as well.
2. Extra Virgin Olive Oil – This is another that is loaded with those healthy fats your body loves for test production.
1. Oysters – Oysters are definitely the food of choice when it comes to increased testosterone production. They contain a high amount of zinc which we have already discusses and they also have a large amount of magnesium which is another big test boosting ingredient. They are also high in protein which is also beneficial to test levels.
More ways to raise testosterone levels
Get your sleep!
When you are asleep is when your body makes most of its testosterone so it is important that you get a good night's sleep. To take it a step further most of your testosterone is made during the deep REM sleep so you want to try and get an uninterrupted night's sleep when possible.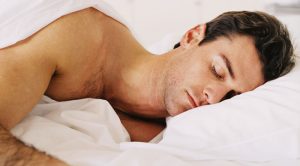 Avoid Stress
We talked earlier about how cortisol can have negative effects on your testosterone production. This is why you want to avoid stress as much as possible. When you get stressed your body releases cortisol and your test levels drop. Avoid stress for your test levels along with the other negative effects stress has on your health.
Do Compound Exercises
Compound exercises are exercises that use more than one muscle group. Some examples of compound exercise are squats, deadlifts, and bench press. These exercises have also been shown to build more muscle and increase testosterone levels.
Hold Back on Long Endurance Training
Long distance running and endurance traing is not as healthy as some people might like to think. Long distance training has been shown to lower testosterone levels. If you are looking to do some cardio try HIIT, it is much more testosterone friendly and will help more with fat loss too.
Lose weight
Studies have shown that carrying excess weight, particularly in the mid-section has many negative effects on the body. It also has been shown to be connected with lower test levels. The good news is if you do lose the weight your testosterone levels will rise so it is reversible.
Stay Hydrated
Being hydrated is always good. It's good for your joints and organs as well as your testosterone levels. Being dehydrated leads to increased cortisol and decrease testosterone levels so be sure to drink plenty of water throughout the day.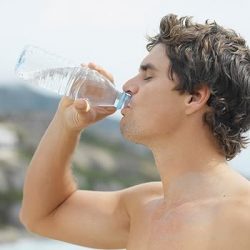 Go Organic
When it comes to your diet you want to go organic with your foods as often as possible. This is because some of the most popular pesticides and herbicides that farmers use have been shown to have negative effects on your testosterone production and they are not good for other bodily functions either.
Cut Back on the Booze
Heavy drinking is bad for your health in many ways including test production. The good news is light to moderate drinkers don't usually have any negative effects from alcohol as far as testosterone is concerned. Heavy drinkers have been shown to have increased levels of estrogen though. This is not something you want unless you enjoy having man boobs. Cut back on the booze and keep your estrogen in check.
Conclusion
So, there you have the top testosterone boosters for virility and sex drive on the market today.  Testogen is a real game-changer in this department it has all the best ingredients and in strong dosages, not to mention the reviews on this supplement are outstanding. Male Extra is another really good option you may want to consider that really increases test levels along with performance.
Add one of these supplements to your routine along with some of these testosterone boosting foods and lifestyle changes and you will become a manly, virile testosterone machine.