(Last Updated On: October 7, 2016)
If you are looking to take your workout to the next level. you have come to the right place.
A good pre-workout supplement can help you take your workouts to the next level and have you ready to slay the weights like never before. It can also take you from feeling like a lazy slug to beast mode in about half an hour.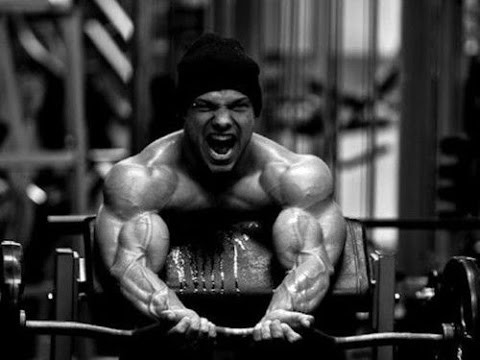 Benefits of a pre-workout:
Increase focus –  Not time for chit chat when the pre workout kicks in.
Increased energy – Energy to smash the weights for longer than ever before.
Increased endurance – A good pre workout will delay the onset of fatigue so you can go heavy longer.
Increase Strength – Most pre-workouts contain ingredients that build strength and muscle
Pre workouts are designed to enhance your workout experience and help you get the most out of each and every trip to the gym. When you combine all of these benefits a good workout is sure to be had.
What Makes a Good Pre-Workout?
Pre-workout supplements are relatively new to the market as far as supplements go and they are not all the same.  Luckily we have done the research to help clear things up and bring you the most effective pre-workout supplements on the market.
When it comes to pre-workouts the most effective ingredients that are safe and include:
What to avoid in a pre-workout
There are a few things to look out for when it comes to pre-workout supplements. Be sure to watch out for:
Yohimbe – This one is somewhat common in many supplements. It is said to help with "male health" as well as mood enhancement, but has also been linked to anxiety, panic attacks and manic episodes. Avoid this one if you can.
Geranium– Geraniums are good plants, but not very good supplements. This ingredient has been shown to cause rapid heartbeat, increase blood pressure as well as increasing the chance of heart attacks and strokes. Needless to say, stay very far away.
Proprietary Blends – These are a real problem in the supplement industry. A proprietary blend is when the manufacturer mixes a bunch of ingredients together and calls it a blend. Rather then listing how much of each ingredient is in the blend. They tell you what is in the blend but not how much each ingredient there is. This can lead to very misleading label reading. Luckily none of our top picks have a proprietary blend.
Best Pre Workout Supplements for Insane Workouts
We've spent a lot of time researching the ingredients, company's reputation and reading the customer reviews on the best pre-workout supplements available right now. Here's the run down:
1. PreSeries BULK by Transparent Labs.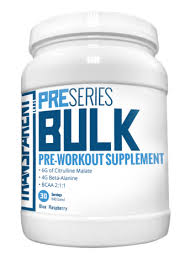 Coming in first place is a  monster of a pre-workout. This one is relatively new to the market and has received some great reviews and they are all true. Preseries Bulk has all the ingredients we recommend and then some. It also boasts a potent testosterone support complex. As you know, testosterone is the big daddy of muscle growth hormones so this is a big plus when it comes to making muscular gains. It also has a nice 6000 mg of Citrulline Malate as well as friendly doses of  betaine anhydrous, beta-alanine and taurine. There are zero colored dyes, unnecessary fillers, or harmful additives and everything is transparent as the company name suggests.
Transparent Labs designed this product for bodybuilders and performance athletes looking to increase strength, size and muscle mass and it does just that and then some. PreSeries BULK gives you the increased performance, focus, pump and endurance to slay the weights like never before.
We also like that they make a PreSeries LEAN for those that are looking to cut weight. It features a fat burning and thyroid support complex to help shed pounds while delivering an epic workout experience. They also feature PreSeries STIM-FREE for those who want a great pre-workout without the stimulants.
PreSeries Bulk had a good taste and mix-ability and the energy boost had us slamming the weights in full beast mode for over an hour. Our focus and energy were high and we were totally in the zone, it was pretty awesome and better than any of the others we have tried. There was also no crash after which was great. The caffeine level was perfect, some companies jack the caffeine up so high that you feel like your head is going to explode but PreSeries Bulk had the perfect amount to give you energy, but nothing over-the-top or more than you need. They definitely did their homework on this one and it shows. We preferred the blue raspberry flavor over the green apple, but both were above satisfactory. Overall this bad boy was like the holy grail of pre-workout supplements and it delivers everything you could want in a pre-workout supplement. It is easily the best pre-workout we have used to date, that is why it got our vote for the top spot hands down.
They have a coupon code "TL10" you can use at checkout to save 10% if you like saving money and who doesn't
Highlights
Coupon code TL10 will save 10% on your order
6000 mg of Citrulline Malate which is proven to build strength and build muscle
4000 mg of Beta-Alanine which fights fatigue and adds lean muscle mass
No dyes, fillers, additives or proprietary blends
Testosterone support complex to for added muscle growth and strength
Ingredients that are backed by science
Tastes good, we like the blue raz
Excellent reviews
Any Negetives?
This supplement is not available in stores, only on the company website
Visit transparentlabs.com/preseries-bulk-preworkout for more information about this supplement.
2 Vintage Blast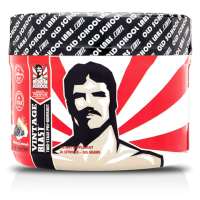 Vintage Blast is a newer product on the market that has has some nice buzz and good reviews so we looked in to it and we were not disappointed. This one features a two-stage formula. The first stage gives you energy at the start of your workout and the second stage delivers longer lasting energy to keep you training harder for longer.
This features 5000 mg of Citrulline Malate along with beta-alanine, L-Arganine and cartinine tartrate. It also has 2 servings of caffeine, one to get you going at the start and one that is an encupsulated version to kick in later in the workout and keep you going, which is great. We also like that the labeling is very clear and that there are no proprietary blends. It uses a natural Stevia sweetener along with a natural pineapple juice powder and other fruit extracts to give it the flavor naturally. It is also packed with vitamins and minerals which is a nice bonus.
Overall our experience with Vintage Blast was on point. The two-stage formula kept our energy level up for longer with no crash after. The focus was acceptable and it delivered a pretty good pump. We tried the blueberry lemonade flavor and it was above average. Not the best flavor we have ever tried, but the fact that it is all natural is a big bonus. Overall we like this product a lot and are very comfortable having it in second place.
Pros
Long lasting energy
Good reviews
Natural flavor
Excellent ingredients
Cons
Only available on Amazon
High cost per serving
Mixability is an issue
Visit www.oldschoollabs.com/vintage-blast for more information on this product.
3  Jym – Pre Jym

Pre Jym is another solid product on the market. It was developed by fitness expert Dr. Jim Stoppani and all of his products are pretty good, this one is no exception. Pre Jym boasts a large 6000 mg dose of Citrulline Malate. It also has ideal levels of creatine, tuarine and betaine and we like that it contains BCCA's as well. Overall this product is solid.
Pre Jym delivered a high level of focus, probably the highest of all the pre-workouts we have tried. The energy level was nice, but not so much to the point that you feel like you might have a panic attack. It delivered a satisfactory pump sensation during the workout as well and has us lifting harder and longer than without pre-workout. Overall Pre Jym did its job well, especially in the focus department. We tried the orange mango flavor and found it to be about average but it had great mix-ability.
We really like they didn't use proprietary blending and had straightforward labeling and ingredients. Nothing is hidden and everything that goes into it is cut and dry. Stoppani basically always does well with his products so it's no surprise. This one is another good product that finished in third respectively.
Pros
No proprietary blend
Reputable name
Delivers great focus
Good ingredients
Cons
It is only available from bodybuilding.com
High cost per serving
Visit www.jymsupplementscience.com/jym for more information on this product.
Conclusion
So there you have the best pre-workout supplements available on the market right now, our best choices being PreSeries Bulk for building muscle and strength, and Preseries LEAN if you are looking to lose weight and get ripped
Each of these products will have different dosing instructions, so be sure to read up on how to take each one properly in order to see optimal results.
And remember, no pre-workout will be as effective unless it is also paired with a proper diet plan and a good workout. They can only help you get there, you have to do the work.