Ok guys, today we are going to look at the testosterone booster Alpha Power by InfoWars Life.
InfoWars is a right-wing conspiracy type website that also sells products for men including testosterone boosters and other products for virility. What a conspiracy theorist knows about formulating supplements I am not sure but we will take a look and see if this product is worth your time and hard earned money.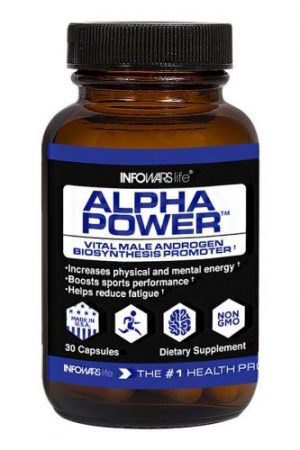 Alpha Power Initial Thoughts
One weird thing about this product is that when you look at the bottle it doesn't really say that it is a testosterone booster. It says all kinds of things to insinuate it but being an alpha and says it's a vital male androgen but the bottle doesn't really come right out and say it's a testosterone booster. It's not until you look on the website that it says that it helps boost testosterone and when you look at the ingredients they are pretty typical of what you would see in a test booster. We aren't sure why they refrain from calling it a test booster on the bottle, maybe something to do with marketing.
Now let's take a look at the ingredients and see what this product is really made of.
Alpha Power Ingredients
When it comes to any supplement the ingredients are what really matters, all the rest is just marketing. Let's see what is in Alpha Power.

Niacin (5mg) – Niacin is a vasodilator that helps improve blood flow throughout the body and helps deliver better muscle pumps when lifting weights and also improves sexual function. The 5mg doing is a bit on the low side to get much of an effect out of it.
Zinc (10mg) – Zinc is probably the best mineral when it comes to boosting testosterone in the body. Many studies have shown that zinc supplementation increases testosterone in the body. On the contrary, studies have also shown that if you restrict zinc intake it will lower testosterone levels. The dosing on this ingredient is also pretty low at just 1omg. To contrast, Prime Male which is our top-rated testosterone booster has 3 times as much zinc as this product does at 30mg.
Longjack (Eurycoma Longifolia) (150mg) – This extract from the Eurycoma Longifolia root ofter goes by the name Longjack or Tongkat Ali. This extract has been known to increase libido as well as sexual function. There is also evidence that longjack can improve sperm quality and concentration (Tambi & Imran, 2010). Longjack has also been shown to increase testosterone levels and lower cortisol as well. They got the dosing right with this one at 150mg which is the recommended dose.
Maca Root (150g) – This is a plant root that is supposed to be used for libido and testosterone levels. The problem with Maca Root is it doesn't work. This study found that it had no effect on libido and this study found that it had no effect on testosterone levels even in high doses.
Horny Goat Weed  (100mg) – I am sure you can guess what this ingredient does just by the name. Horny goat weed is a pretty well-known aphrodisiac and is also used for testosterone support. Unfortunately, this ingredient is way under-dosed in this product. A 150lb person should take 900mg of Horny Goat Weed and this product only has 100mg, Txsedehat's not gonna get the job done.
Tribulus Terrestris (75mg) – Last on the list of ingredients we have Tribulus Terrestris. This is an herb that used to be quite popular in for its testosterone boosting abilities. It has lost popularity though due to the fact that it doesn't work. Numerous studies including this one say that this herb does nothing for testosterone production.
Overall on these ingredients the only one they got right was the Longjack. All of the rest are either under-dosed or ineffective.
Dosing
The dosing on this product is only 1-2 capsules per day. This is a pretty low dose. We recommend 3-4 servings per day so that your testosterone levels won't drop in between doses like it will if the doses are too spaced out.
Alpha Power Pricing
The price of this product is currently listed at $59.95 per bottle. This is about average when it comes to a test booster. They do offer a slight savings when buying in bulk, buying 2 bottles would currently save you 5 dollars.
Alpha Power vs Prime Male
When you compare Alpha Power to our top-rated testosterone booster for older guys which is Prime Male there isn't much of a comparison. Prime Male has 12 active ingredients, all at proper doses while Alpha Power has just 6 active ingredients and 3 of them are under-dosed and 2 of them don't even work. Not to mention Prime Male uses 4 doses per day so your test levels won't dip between doses. Prime Male also has excellent reviews all over the Internet and has a solid reputation as an industry leader. The cost of Prime Male is about $10 more than Alpha Power but you get a lot more for your money and they also offer bigger savings when you buy in bulk like buy 3 bottles and get 1 free. As we said earlier, no comparison.
Review Conclusion
This is a supplement that uses 6 active ingredients and it looks like only one of those ingredients is effective at increasing your testosterone and that is zinc which is under-dosed. If you are looking for this product to increase your testosterone then this product is not going to get the job done. This might be why they mainly insinuate that they are a testosterone booster while hardly mentioning it on their website.
This product does have some decent ingredients if you are looking to boost your sexual performance though. They include horny goat weed and niacin along with having a nice dose of Longjack. These ingredients can help you with both libido and sexual performance. While it isn't nearly as good as Male Extra for sexual performance, it will likely give you a slight boost.
Highlights
Good dose of Longjack
Uses 3 ingredients that boost sexual performance and libido
Any Negatives?
Only one ingredient that boosts testosterone
Uses 2 ingredients that are ineffective (Maca and Tribulus Terrestris)
Niacin, zinc, and horny goat weed are all under-dosed
Not much savings when buying in bulk
Overall Conclusion
Overall if you are looking for a good testosterone booster Alpha Power won't really do anything for you. If you are looking for something to give you a boost in the bedroom you might feel some positive effects from this product but it won't be anything substantial and there are other products out there that will do much better. Also, the fact that they use 2 ingredients that have repeatedly been proven ineffective means they either don't know what they are doing or don't  care. If I were you I would pass on this product.
Grade = D