Sprints will keep you lean during a bulking phase.
Sprints will shred fat when dieting down due to their impact on insulin sensitivity.
Sprinting before lifting will potentiate the CNS for greater gains in strength.
Sprinting helps you build powerful hamstrings and glutes and may be the key to conquering your muscle building plateau.
While sprinting is typically been associated with athletic development, lacing up the Nikes and hitting the track improves your conditioning, athleticism, and shreds ridiculous amounts of bodyfat, all while preserving your hard-earned muscle.
Yes, even when you're looking to gain muscle.
The fact is that even skinny dudes need conditioning work. Hoisting weights isn't enough, especially when the end goal is a body that's shredded and athletic.
In all honestly, what's the point being strong and jacked when you're gassed walking up the stairs or can't sustain your beastly skills a simple pick-up game?
Don't be like most people who slug away on the treadmill or scan Facebook with a half-assed eliptical workout for 30 minutes, four days per week. Most of all, don't skip conditioning altogether.
Drop the "conditioning keeps me small and weak " sob story.
It's time to maximize your training by unleashing the power of sprints. You'll stay shredded, uncork new power and athleticism, and when combined with a muscle building diet, add muscle onto your glutes, hamstrings, and quads.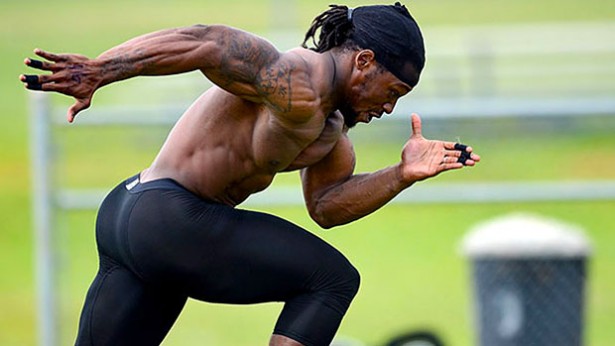 Here's Why You Must Sprint
Speed Work Potentiates the CNS for Gains in Strength
Place your sprint training directly after a dynamic warm-up and movement prep to supercharge the nervous system for more strength. From sprinting, your central nervous system (CNS) is fired up to speed up your rate of force development via two potential mechanisms:
According to Hamada et. el (2000), there is an increased phosphorylation of myosin regulatory light chains during a maximum voluntary contraction (MVC). This allows the actin and myosin binding (for muscle contraction) to react to the increased calcium release. This reaction triggers a cascade of events leading to enhanced force muscle production at the structural level of muscle (Horwath & Kravitz ). Thus, increased muscle activation yields a greater duration of calcium ions in the muscle cell environment, yielding a greater phosphorylation of the myosin light chain protein (Rixon et al. 2007).
The second theory is based on the H-reflex, an excitation of a spinal reflex elicited by afferent muscle nerves. It is theorized that the PAP intervention enhances the H-reflex, thus increasing the efficiency and rate of the nerve impulses to the muscle (Hodgson, Docherty, Robbins, 2005).
Sprinting before lifting is ideal for improving performance in athletes and potentiating the nervous system for heavy lifts and explosive training. Start your training by doing sprints to hack your nervous system and improve strength performance.