Andrea Smith is an WBFF Diva Bikini Model Pro. This is her workout routine and diet plan.
Workout:
I followed this split a few months ago I really liked it:
Training Split
 Mon – 20min HIIT/Upper
Tue –  Rest
Wed – 20 min HIIT/ Legs
Thu – 20min HIIT/Rest
Fri – Shoulders/Arms
Sat – 20min HIIT/Core
Sun – Glutes
Upper  
Straight arm standing pulldowns x 15 HEAVY x 4
Seated Low back row –—heavy x 15 x 3
Tricep pulldown with rope x 12 x 3
Incline chest press with dumbbells- heavy, x 15
Concentrated bicep curls x 15 per arm
Chest flies on flat bench x 15
Burpees with pushup x 12
Shoulder or Arnold press x 15 x 3
Finisher: 100 chin ups, assisted. Take a long as you need and your goal is to beat this time weekly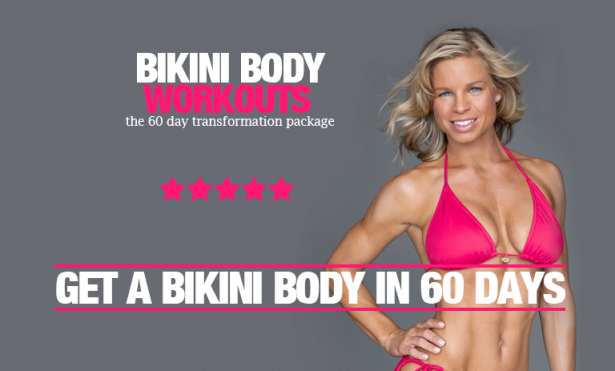 Legs 1-0-1-1
1 legged lunges/split squat x 15 per leg, 1 leg on the bench 1 leg on the ground holding weights  x 3
lying hamstring curls or seated. X 20 x3
30sec 1-legged london bridge (same as regular London bridge but one leg is in the air)  x 3
Repeat
Leg press x 15 x 3
Leg extension machine x 15 x 3
Smith squats x 10 x 3
Finisher: 100 jump squats. Take as long as you need and aim to decrease your time every week
Shoulders/Arms focus day
DB lateral raises 15 x 3
DB alternate bicep curls 15 x 3
DB tricep kicks 15 x 3
OB military press 15 x 3
French press 15 x 3
OB bicep curls 15 x 3
BB upright rows 15 x 3
SG pull ups 15 x 3
Parallel bar tricep dips x 3
Finisher: Knee pushups or regular pushups x 100
Core
Superset
DB oblique crunches 15 x 4 (each side)
(Unweighted) Leg raises 15 x 4
superset
(Unweighted) Knee raises 15 x 4
Bench crunches 15 x 4
Planks 60 sec x 4
BB rollouts 15 x 4
Bridge 60 sec x 4
Finisher  – 100 rep swiss ball jack knife challenge (Time as long as it takes you to perform 100 swiss ball jack knives, your goal will be to beat this time weekly).
Glutes 1-0-1-1
Warm up: bike for ten mins.
Superset
20 Deadlifts x 2
20 low back extensions x 2
Superset
30 squat jumps x 2
60sec london bridge hold   x 2
Superset
40 90 degree kickbacks x 2
30 heavy sumo squats and hold for 3 seconds pulsing each one x2
30 seconds torpedoes per direction per leg, x 2
20 lying hamstring curl machine x 2
30 Deadlifts x2
30 hip abductor machine x2
30 hip adductor machine x2
Finisher: 100 walking lunges with kickbacks
What does your diet look like when you are trying to get lean?
Starts with more carbs less fats then switch to less carbs more fats. Less cheat meals and more vegetables! Example of my diet right now: Toast, avocado and egg whites Rice cakes and peanut butter with a protein shake Turkey and sweet potato and veggies Post workout shake with fruit Chicken veggies ( and couscous if weights day)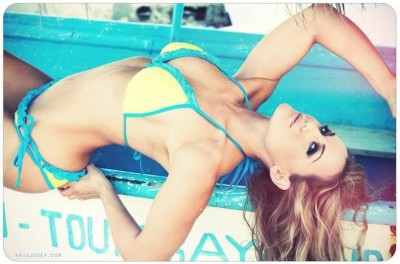 List the top 10 foods we would find in your kitchen
apples
nuts
chicken
cheese
protein bars
couscous
avocado
dark chocolate
spinach
ground turkey
Photo Credit: GW Burns, Kris Joseph
WBFF Pro Andrea Smith
Twitter: @Dreiasmith
Instagram: Dreiasmith
Facebook: https://www.facebook.com/AndreaSmith\
Website: Getreadygirls.ca