This is a home workout, it is appropriately named Sparta, home to all Spartans. Try to take as little rest as possible, no more than 45 seconds between exercises.
Sparta:
25 Push ups
25 Dead Burpees – Arms and legs up and out at bottom, only the belly on floor as seen below.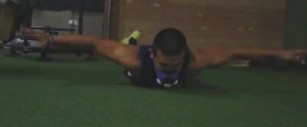 50 mountain climbers
20 Burpees
50 Mountain climbers
Hold the starting point of a push up for 1 min, so keep arms extended and hold.
15  Burpees
25 Inch worms with a push up
Inch worm shown in video below, add a push up in with each inch worm.
[youtube width="213″ height="167″]https://www.youtube.com/watch?v=Km0RN-b8YSk[/youtube]
50 Pushups, each time you come up tap your shoulder alternating sides.
If you're a warrior, take a 3 min break and do the workout backwards, from 50 pushups to 25 pushups. For those that want to be gladiators take a 2 min break . Spartans will take 1min 30 seconds or less, which are you? Man or Spartan?
By Wayne Mutata C.P.P.S
Facebook Page: www.facebook.com/pages/ITRAINwithWAYNE
Website: www.itrainwithwayne.com
Have you Pushed Yourself Lately? Reebok Spartan Race Voted Best Obstacle Race by Outside Magazine in 2012! Get 10% off, Use Code: FINISH10 – Sign Up Now!
// ]]>