Brock Lesnar Muscle Building and MMA Workout
Quick Bio
Brock Lesnar was born in  on July 12, 1977 in the rural town of Webster, South Dakota. He grew up there and attended Webster High School. There he had a wrestling record of 33–0–0 in his senior year. Though he was a star on the wrestling team he was not a star student, he admittedly finished last in his class of  54 students. After high school he went on to Bismarck State College in North Dakota for 2 years where he was a 2 time Junior College All American, he then transferred to The University of Minnesota where he would win 2 Big 10 championships  and take second place at the NCAA tournement in 1999 and become the 2000 NCAA heavyweight national champ.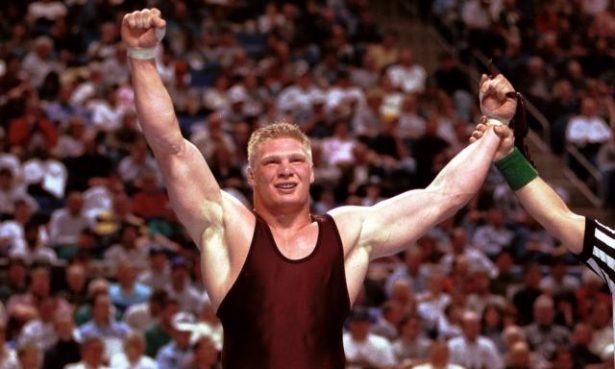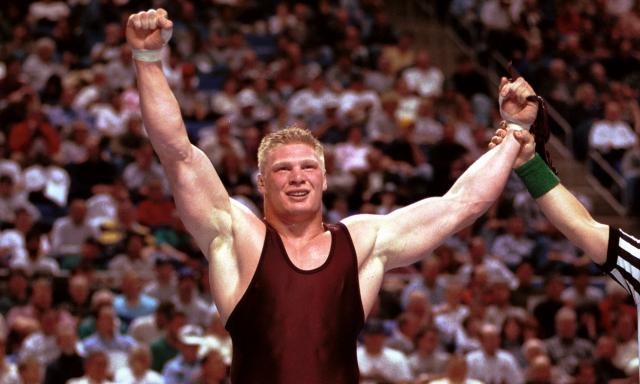 When his college wrestling career ended Lesnar made his way to the world of professional wrestling with the WWE from 2002-2004 where he became a 3 time champion and was the youngest champion of all time at the age of 25. He also won the 2002 King of the Ring and the 2003 Royal Rumble. After leaving the WWE he perused a pro football career, he tried out with the Minnesota Vikings but was cut from the team at the end of pre season. He then went back to professional wrestling this time in Japan from 2005-2007 where he was again champion.
In 2007 Lesnar made his debut in the UFC. Many were skeptical as to how he might do but after losing his first match to Frank Mir he went on to become heavyweight  champion and avenge his  loss to Mir.  He battled diverticulitis off and on during his UFC career and would lose his belt to Cain Valazquez and then lose once more to Alistair Overeem before retiring from the UFC . He has since returned to the WWE.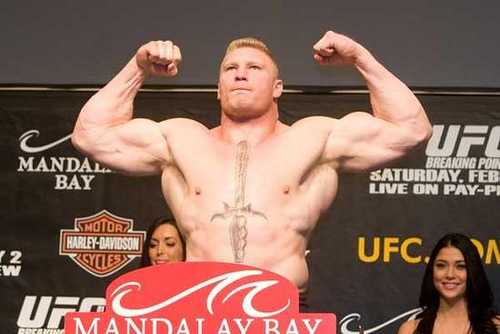 Workout

Below is the workout Brock uses to build his size and strength, further down you will find the cardio and endurance training routine he used for his MMA training.
Day1:  Chest/Triceps

Day 2: Back/Biceps
Day 3: Shoulders
Day 4: Legs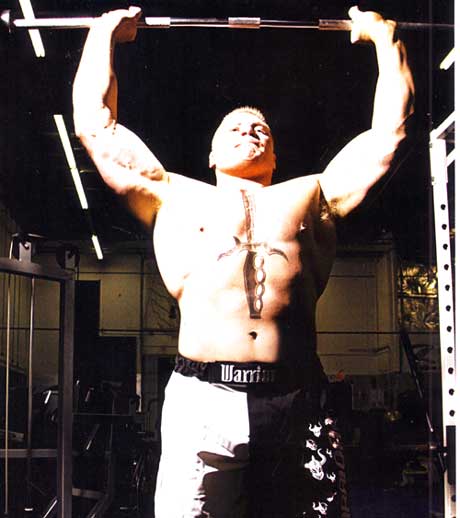 Get The best in online MMA Training with Damage Control!
Cardio and MMA Training
Grappling Training: 4 times a week
5 – 1 Minute Rounds
5 – 1 Minute Standing Drills
Striking and Ground and Pound Training: Twice a Week
5 x 5 minute rounds
1 minute breaks
25 total minute workout
Muscular and Cardio Endurance Training

First Round: Pushing Muscular Endurance Round 1 Minute
Spiderman Push-ups
Plyo Push Ups
Pushing Tire
Mounted Punching
Hand Switch
Second Round: Pulling Muscular Endurance Round – 1 Minute
Recline Pull-Ups
Bodyweight Pull-Ups
Pulling/Pushing Tire
Jumping Pull Ups
Heavy Bag Twirl
Round Three: Cardiovascular Endurance Training –  1 Minute
Airdyne Bike (70 RPM)
UBE Machine
Incline Treamill (as high as possible)
Windsprint Bike (Stnading full time)
Airdyne Bike
Fourth Round: Hybrid Strength Training
Jammer Machine
One Arm Sledge Hammer
Medicine Ball Sprawls
Bear Crawls
Transition Station
Fifth Round: Most Intense Round
Same as round 3 with no rest


References: www.bodybuilding.com, www.Wikipedia.com, www.youtube.com